The customer experience is changing and so are the tools needed to engage customers. With 35% of U.S. consumers saying they would be happy if they never made an in-store retail purchase again, being able to attract and delight customers online is crucial. Brands that use digital channels to create captivating experiences, will forge stronger relationships with their customers, leading to loyalty and growth. A great customer experience is no longer something nice to have—it is a must-have! With many online touchpoints and audiences, this is far from easy. Adobe Experience Cloud is a market-leading digital experience platform solution to help you create an exceptional customer experience across all digital channels. 
Contents:
1. What is Adobe Experience Cloud?
2. Why Should I Use Adobe Experience Cloud
What is Adobe Experience Cloud?
Adobe Experience Cloud is an all-in-one solution for delivering great customer experiences. It offers solutions for marketing, analytics and commerce, which work seamlessly together. With Adobe Experience Cloud, you can provide a well-designed, personal and consistent experience that delights customers every time you interact with them.
Adobe Experience Cloud uses Adobe Sensei machine learning and artificial intelligence to help you make better-informed decisions and provide a fully-automated customer experience. From product recognition and matching to customer behaviour predictions, Adobe Sensei makes designing and delivering the perfect customer experience easier.
Adobe Experience Cloud consists of Marketing, Analytics, Advertising and Commerce Cloud. It is built on an open, scalable platform, with all of the products working seamlessly together, allowing for real-time data sharing and creating a truly personalised customer experience. It is also integrated with Creative and Document cloud, synchronising content, streamlining creative workflows, and powering paperless customer interactions.
Adobe Marketing Cloud
Adobe Marketing Cloud is an end-to-end marketing solution that allows you to manage, personalise, optimise, and orchestrate cross channel campaigns.
To connect with every customer one-on-one, you need to use automation. Adobe Experience Manager optimises the authoring, management, and delivery of content and digital media. You can easily tailor campaigns to all of your customer segments, make microsites, and create consistent digital experiences across your channels.
In today's competitive eCommerce market, making every experience relevant and personal is crucial in attracting customers. Adobe Target helps you determine and deliver the right personalised experience across all channels. You can test multiple elements for continuous optimisation of your conversion rates, automatically target the winning test experience, and personalise product suggestions.
Being able to communicate with your customers across all channels in a relevant and contextual way will help you drive customer satisfaction, loyalty and purchase behaviour. Adobe Campaign gives you a single place to design, manage and deliver personalised communications across all online and offline channels. You can collect and use customer data to understand unique customer segments to target them with meaningful campaigns.
To reach digital customers, consistent and captivating digital marketing is essential. Adobe Marketo Engage provides marketing agility at every touchpoint. You can manage audiences, channels, touchpoints and data sources across time. AI will help you clone campaigns and build audiences. You can also access centralised marketing and sales data to optimise your marketing impact.
Adobe Analytics Cloud
COVID-19 pandemic accelerated the shift to eCommerce by 5 years and online sales will only increase in 2021. With most customers moving online, it's critical to know where customer data is, how it's used, and how to manage it. After all, you will struggle to personalise your digital experience without using your customer data.
23% of marketers believe they lack the customer data to leverage their marketing technology products. Adobe Analytics Cloud helps you discover deeper insights from each customer experience through machine learning and automation. You can gather every scrap of internal and external data into a single audience profile and analyse it with award-winning tools, which provide you with precise insights everyone can act on.
Adobe Advertising Cloud
Adobe Advertising Cloud unifies and automates all media, screens, data, and creativity, giving you control over the entire advertising landscape. You can plan, optimise, and measure everything in one place. You can streamline the creation of meaningful advertising experiences and utilise AI and data integration in Search Marketing.
Adobe Commerce Cloud
Adobe Commerce Cloud is a flexible and extensive solution incorporating digital commerce, order management, business intelligence, and shipping to manage all aspects of the commerce experience.
With 73% of customers using multiple channels during their shopping journey, it is crucial to reach your customers wherever they are. Adobe Commerce Cloud helps you deliver intuitive experiences to all customers by supporting mobile solutions and Progressive Web Apps and offering B2B, B2C and Marketplace solutions.
Adobe Commerce Cloud offers a highly customisable and scalable solution with global, multi-site, and multi-brand deployment options. It has rich out-of-the-box features and supports effortless third-party integrations with a vast global network of solution and technology partners to help you grow without worry.
Why Should I Use Adobe Experience Cloud?
Customer expectations are increasing and providing personalised experiences is becoming increasingly important.
The number of digital touchpoints is growing fast, whether it's apps, advertising, marketplaces, social platforms, or your channels such as websites, stores, and eCommerce offerings. Customer journeys are not linear, as customers constantly shift across channels in their purchasing journey. So companies need to understand all these channels and how their customers are using them.
This shift to omnichannel can be quite challenging, and companies are responding by choosing suites, such as Adobe Experience Cloud, over point solutions. While point solutions offer the best option to solve a specific problem, they require resources and patience to integrate them into your business. With resources and patience in short supply, all-in-one suites — an integrated system of tools from a single vendor — are taking over. For example, 59% of marketers preferred marketing suites compared to 36% who chose the best-of-breed solution. This new direction is known as experience-driven commerce, where you assist customers from start to finish regardless of the sales channel. Adobe Experience Cloud offers a comprehensive customer experience solution.
Adobe Experience Cloud powers top brands like Mercedes-Benz, HP, Pfizer and Helly Hansen. Adobe has been awarded the status as a leader in Digital Experience Platforms for multiple years in the row:
Magic Quadrant for Digital Experience Platforms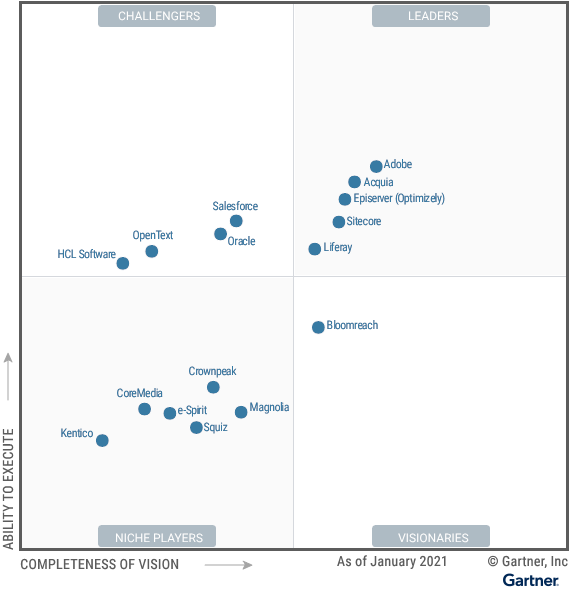 Gartner – Magic Quadrant for Digital Experience Platforms, Published January 2021
Helly Hansen Case Study
Born in 1877 when sea captain Helly Juell Hansen and his wife began creating waterproof gear to withstand the severe Norwegian weather conditions, Helly Hansen has grown into an iconic fashion brand, worn and loved by many all over the world. Working with Vaimo, Helly Hansen has successfully brought their offline success online and grown its international brand presence with multiple stores and eCommerce sites.
In 2019, Helly Hansen adopted Adobe Experience Manager, which allows them to quickly scale to new languages and put the content out in the relevant places at relevant times with a simple click of a button. They also use an online design system that integrates with Adobe Experience Manager. They aim to gradually move content over to Adobe Experience Manager to blend commerce and content and offer an even better customer experience.
Helly Hansen has 55 stores on Adobe Commerce installation with 35,000 products per store and 10 different language options, payment methods and shipping rules. When comparing their results before and after adopting Adobe Experience Manager, Helly Hansen saw a 20% increase in traffic and a 40% increase in revenue. Their mobile focus is also having a positive impact, with a 37% increase in mobile traffic and a 68% increase in transactions from mobile devices.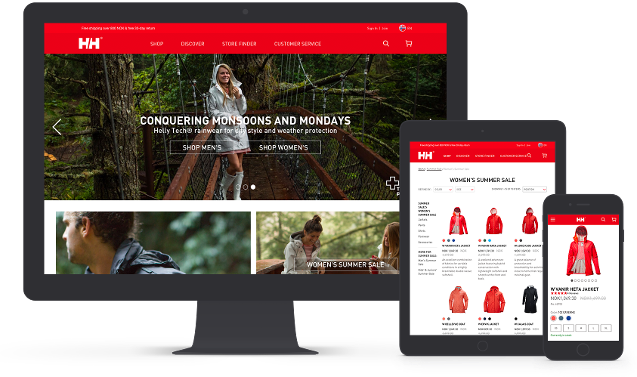 Want to find out more about the success story of Helly Hansen? Click here.
About Vaimo
Vaimo is one of the world's most respected experts in digital commerce. As a full-service omnichannel agency, we deliver strategy, design, development and managed services to brands, retailers and manufacturers all over the world.
Our sharp focus, broad experience and deep expertise within B2B, B2C, PIM, Order Management and ERP integrations makes us a key partner for driving success in digital commerce. Our 10+ years track record of technical excellence coupled with our proven results in helping our clients succeed with business development, digital strategy and customer experience design is proudly manifested in our status as an Adobe Platinum Partner.
With local offices in 14+ markets across EMEA, APAC and North America and over 500 employees, we provide an international presence that allows us to cultivate close, long-term relationships with our clients.
Interested in finding out how migrating to Adobe Experience Cloud can help drive your eCommerce success? Contact us here.