Work at Vaimo
Make your mark on the booming digital commerce industry and build your career surrounded by skilled, creative and passionate people.
åbne positioner
Vores historie
Vaimo blev grundlagt i 2008 i Sverige og er vokset organisk fra en iværksættervirksomhed med 3 personer til en global leverandør af komplette handelsløsninger med over 500 medarbejdere på 20 kontorer i 15 lande. Vi er betroede handelseksperter og langsigtede strategiske partnere for B2B-, B2C- og B2D-virksomheder.
Vi lever og ånder for digital handel.
Navnet VAIMO er afledt af det samiske ord for "hjerte" – og intet andet ord beskriver bedre vores arv, vores drivkraft og vores passion for det, vi laver. Vores formål er at fremme succes inden for digital handel. Det er det, der begejstrer os og får Vaimo-medarbejderne til at stå op hver eneste morgen. Vi stræber efter at finde nye og bedre måder at hjælpe vores kunder til at opnå en fremragende forretningsevne, transformere deres virksomheder og nå deres fulde potentiale.
Vaimos arbejdsmiljø er præget af en passion for at lykkes som en helhed. Omfavn dit indre eventyr, og vær med til at forme fremtidens handel sammen med os.
Se ledige stillinger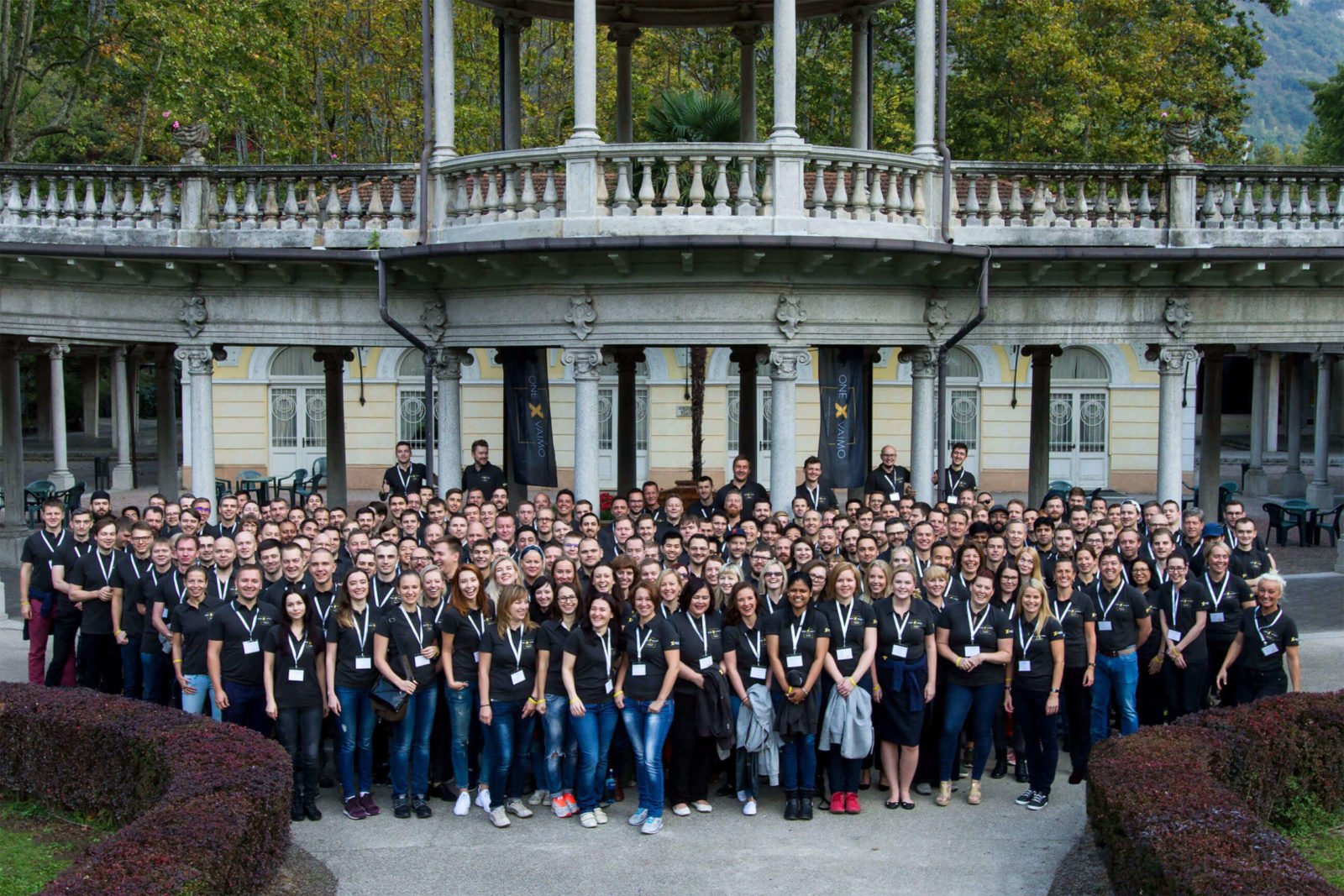 Hvorfor arbejde hos Vaimo?
Du bliver en del af en mangfoldig og passioneret gruppe, der brænder for det, de laver.

Du får avancerede værktøjer og et miljø, der giver dig mulighed for udvikling, diversificering og en styrkelse af dine færdigheder.

Du vil blive værdsat for dit talent og dine ambitioner, og du vil få gode muligheder for at avancere i virksomheden.
Vores værdier forbinder og inspirerer os
Vaimo handler om åbenhed, ærlighed og gennemsigtighed. Vi forbinder mennesker gennem kommunikation, socialt samvær, deling og samarbejde. Vi tager hånd om hinanden, opfordrer til teambuilding, anerkender succeser og fejrer fremragende resultater. Vi tager imod udfordringer, skaber forbedringer og går forrest som et godt eksempel.

Sammen med ekspertise, åbenhed og teamwork er vores anden kerneværdi her hos Vaimo sjov. Og den spiller en stor rolle for Vaimos personlighed og daglige drift.

Vi er en social, positiv og legesyg flok, der nyder hinandens selskab, lige fra filmaftener til morgenmad og sommerfester til crossfit-ture. Marketingchef hos Vaimo

Ella Molin

Ella er nysgerrig og innovativ af natur, og hun er vores digitale marketinggeni, som er fascineret af digital kommunikation, teknologi og menneskelig adfærd. Når hun ikke er i gang med at tilføre vores gruppe positivitet og marketingekspertise, tager den uddannede skuespiller Ella på rejser, underviser i yoga og drømmer om en dag at se sin Neva Masquerade-kat, Sasha, på et officielt svensk frimærke.

Chef for teknologitjenester hos Vaimo

Olga Gutenko

Olga, der er chef for teknologitjenester, overvåger og styrer platformen, teknikken til sikring af webstedets pålidelighed, intern IT og sikkerhedsteams. Efter arbejdstid sætter rejseentusiasten Olga pris på de finere ting i livet, hvad enten det er udsøgt slik, gourmetmad eller en mindeværdig kop kaffe; men de smager alle bedre på en rejse til Paris eller Singapore.

Indholdsforfatter hos Vaimo

Renetta Kjeldsen

Det er nemt for vores indholdsskribent Renetta at skrive tekster, og hun kalder det at vende tilbage til Vaimo for "at komme hjem" Hun tror på at levere værdi til læserne gennem det skrevne ord og på at udarbejde historier med omtanke for at kommunikere Vaimos mission. Når hun ikke skriver om sig selv i tredje person, kan Renetta løbe rundt i skoven eller søge på nettet efter de nyeste koreanske zombiefilm.
Vi søger dig
Har du lyst til at arbejde med verdensberømte brands på tværs af sektorer og internationale markeder og cementere både deres og din vej til succes?
Vaimo Estonia har modtaget et tilskud til udenlandsk rekruttering til som hjælp til rekruttering af udenlandske specialister inden for informations- og kommunikationsteknologi (IKT).

Positions
Se ledige positions nedenfor