Customer experience (CX) has become a widely-used term in the business world and for good reason: it represents almost every touchpoint your client has with your company. The broad range of CX, however, may cause you to scratch your head: What is customer experience? Why improve customer experience? What is a customer experience rating?
What is customer experience?
"Customer experience is the internal and subjective response customers have to any direct or indirect contact with a company." – Harvard Business Review
Still, many businesses struggle to understand the wide-ranging definition. At a glance, customer experience encompasses a multitude of dimensions.
Why improve customer experience?
Ease of use is often the top priority for your potential customers. According to Forrester, 78% of users place the highest level of importance on the overall usability of a site or application. The ease of usability translates into higher conversion rates which then generate more sales.
A priority amongst all companies is a better customer experience across every channel and at every touchpoint. And they do this for a good reason! Econsultancy/Adobe Annual 2020 Digital Trends Report found that organisations which classify themselves as very advanced at CX are almost three times as likely than their peers to have exceeded their top 2019 business goal by a significant margin (40% vs. 13%). This margin has widened compared to 2018 results on the exact same measurement.
Responding to change
In an ominous suggestion in the 2020 report by Adobe, two types of companies are highlighted:
A Chronophobic Company: One that is

afraid

of the future.
A Cutting-edge Company: One that is

embracing

the future.
By the connotation of the names, you can tell which profile is favoured. The companies that are increasingly successful in the area of customer experience also allocate a larger portion of their budget toward CX. This is because spending money on CX is much cheaper than spending it on customer acquisition in the long run and generates increased revenue. According to Price Waterhouse Coopers (PWC), 86% of buyers are willing to pay more for great customer experience. In addition, a Temkin Group report considers that companies with an annual turnover of $1 billion or more will see a 3-year growth of $700 million through investing in CX. Not only your bottom line will see an improvement from investing in CX, but your brand and influence will benefit. In our article regarding Customer Experience and Loyalty, we state:
"The one-time transaction might bring in some short-term results, but it's the true fans of your brand and products who will be lifelong shoppers"
The customer experience shapes consumer demand for your brand and expands your company's influence.
Investing in customer experience technology
At Vaimo, we emphasise a few key aspects of optimising your technology stack and wider customer experience:
"Since many CXO technologies have a high ROI attached to them, they can ask quite some money for them." Invest 80% of your budget on people and 20% on technology.
When narrowing down a budget, a few aspects should be considered:
Demonstrate value to upper-level management by showing the connection to the overall business goals and strategy as one-third of CX leaders face inadequate budget allocations.
Cross-team strategy – whowill use this new technology? Increasingly, larger companies are struggling to acclimate to the rigours of shifting technology and workflows. Adobe/Econsultancy stated in their 2020 report, "

Outdated workflows that slow down our processes,

" is the top reason for 32% of CX leaders, 53% of large companies, and 41% of SMBs. This means that the investment in customer experience optimisation must focus on the challenges of tomorrow. For the budget to pass, a cross-departmental approach can be a good start to adopting new technology.
Link to your fellow optimisers: "leading organisations that are most successful in managing customer experience have remade themselves in the image of the customer journey."
What IS Vaimo's Customer Experience Rating (CXr)?
Wait, let's take a step backwards. Before investing in new technology and reworking your teams to match the customer journey, perhaps it would be better to gather some insight about where your main focus should be.
At Vaimo, we have 10+ years of experience and have defined best practices in the area of CX. We have distilled this insight into a 12 area model, measuring more than 150 parameters to create the CXR – The Customer Experience Rating.
Vaimo's CXR can be filtered into 12 main criteria: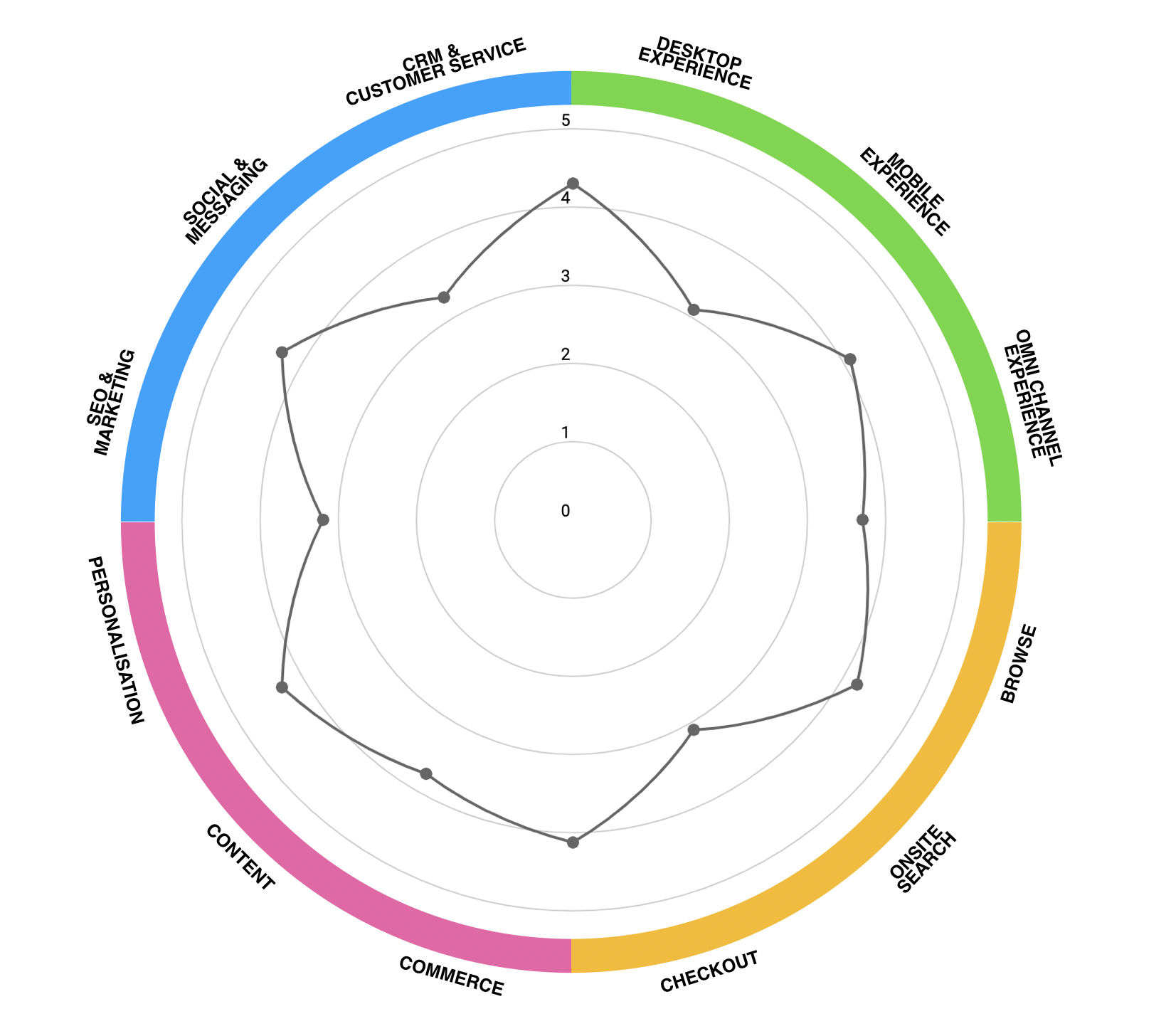 The CX rating helps you to understand what improvements you should make on your site. This can save significant budgetary resources from going to waste by focusing only on the areas of high impact.
What you'll get from Vaimo's CXR:
Identify and Measure CX Improvements
Classified recommendations for easy selections of areas with the highest impact
Examples of experiences for every area of the report
Benchmarks against your competitors
About Vaimo:
Vaimo is one of the leading global digital commerce experts. Do you know what best in class customer experience looks like? We know. We've helped create it over the past decade. Today, two-thirds of companies compete primarily on the basis of customer experience. If you're not moving forwards, you're moving backwards. We use it in our detailed advisory process to help your business leverage insights for data-driven decisions to generate more sales and reduce acquisition costs. CXR is the key for you to not only move forwards but leap ahead of your competitors. If you would like to learn more, feel free to get in touch with us here.