On March 13th, Vaimo hosted a webinar on the subject of Magento 2 migration. The webinar, which featured commerce experts from both Vaimo and Magento, explored how Magento 2 can help your business to leverage performance, user experience and conversion rate optimisation.
And on top of all that, details of Magento 2's future roadmap were discussed—3 weeks ahead of general release!
The webinar was packed with useful and practical insights into the Magento 2 platform and how it can help your business to achieve its commerce goals. Let's now take a closer look at some of the key takeaways from the session.
The Commerce Context
Before plunging into the specifics of M2, it's important to take the current eCommerce landscape into consideration. The dynamics of commerce are shifting rapidly. The modern-day customer—with their fragmented buying habits—demands experience-driven purchasing across channels.
To keep up, businesses must offer customers personalised and compelling experiences in order to nurture and develop long-lasting relationships. And to do so, they need to provide faster performance at scale.
Enter, Magento 2…
More than just an upgrade
Structurally, Magento 2 is completely different than M1—there is a marked difference in how it can affect your company's performance.
While M1 was mainly concerned with just your online store, Magento 2 represents more of a suite of solutions including many more functionalities and features.
For example, if you're a B2B store doing order management, there's a SaaS solution that is a separate instance to Magento that offers click and collect, multi-warehouse and multi-distribution centres which ties into your Magento store. And if you're a B2C company with lots of shops, Magento 2 allows for a truly omnichannel approach.
Business Intelligence also comes as standard with M2—allowing you to make the most of analytics for informed strategic decision making.
These are just some examples of the suite of features available in M2 which allow you to scale your business with ease. You can see a full list of features here!
The roadmap
Magento's current roadmap is centred on the Magento 2 platform and how it can deliver value and continue to innovate around the following headings:
Superior Experiences

(best-in-class B2B and B2C experiences to drive your sales)

Omnichannel Innovation

(multi-source inventory to help you sell and deliver anywhere)

Commerce Intelligence

(uncover new insights with AI to offer more intelligent experiences)
Out of the box
Magento 2 delivers many features and functions natively out of the box, which were only offered through extensions in Magento 1. This gives your business the flexibility and agility required to deliver exceptional customer experiences and strong sales. With Magento 2, you'll be able to react to market conditions at speed and innovate with confidence to keep ahead of the commerce curve.
Virtually all your needs are covered when it comes to delivering exceptional digital experiences through M2. From content and customisations to personalisation and site optimisation, there's been a huge increase in the number and diversity of extensions in Magento Marketplace.
Download our new M2 whitepaper to learn everything about migrating and the increased functionality of M2
Results
On paper, Magento 2 clearly provides businesses with a greater range of tools to grow and succeed. But what does it actually look like in reality?
Well, the numbers speak for themselves…
Magento clients who have migrated have seen a 49% growth in revenue, 39% growth in conversions and 10% increase in AOV! And below, you can see the average results of Vaimo clients who have made the move to M2: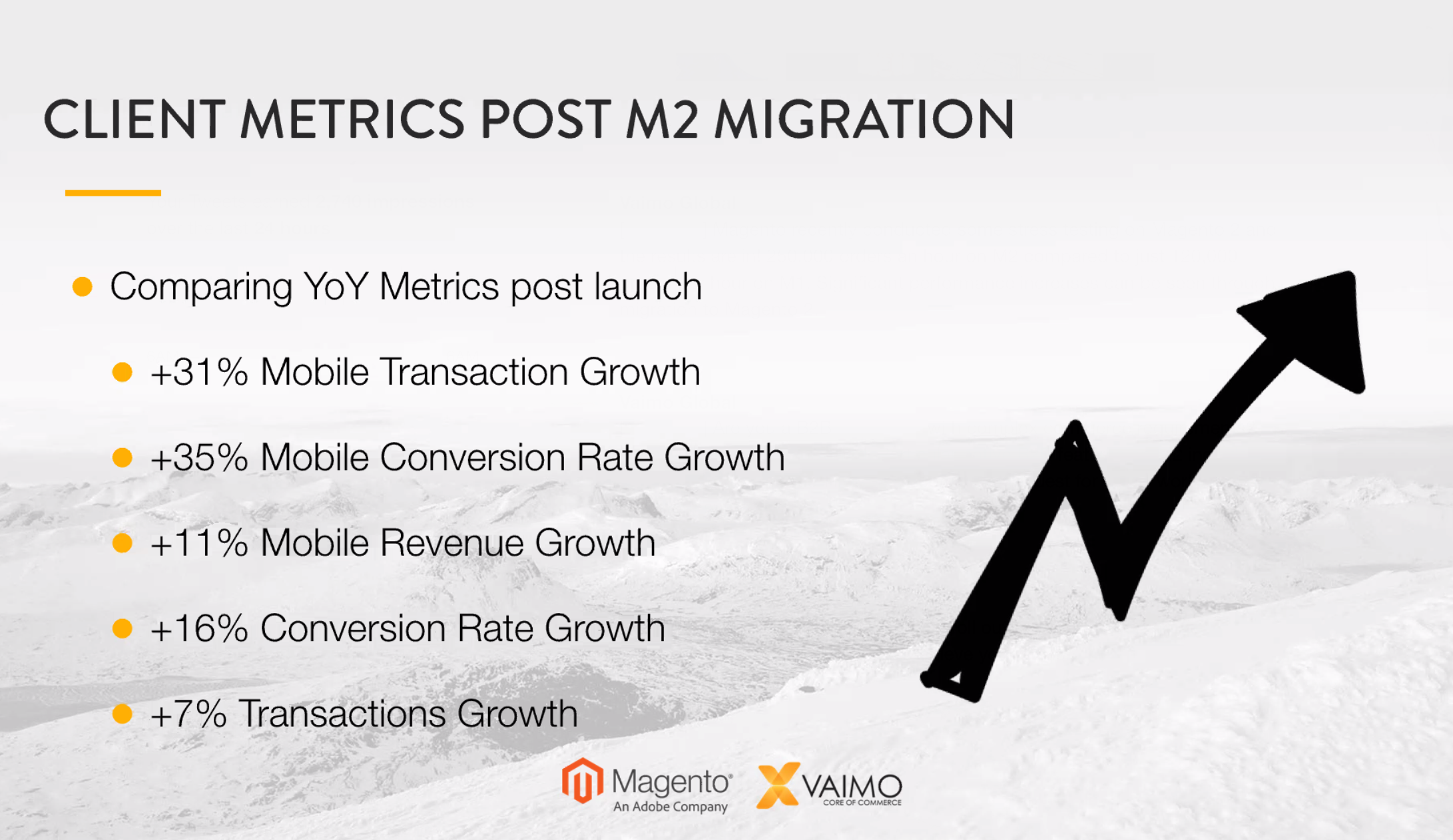 If you'd like to learn more about Magento 2's power in driving compelling digital experiences across devices and channels then download our whitepaper today!