When was the last time you received a birthday present you didn't like or want?
We might not like to admit it, but it happens. An item of clothing in your least favourite colour, a household item you already own, a piece of jewellery that isn't your style or a bottle of something you've never liked the taste of.
If you've ever been in that position, then you know the feeling. Rather than excited, you're left feeling deflated as you unwrap the present.
But have you ever wondered why you received something you didn't want?
More than likely it's because that person didn't know you well enough. They didn't know your passions, interests, lifestyle or motivations and took a chance on a gift idea. Or they might have gone for something safe and generic, hoping it would cover all bases.
But what if these people knew you a little better? What if they knew you've just taken up photography as a hobby, that you recently bought a new bicycle and that you've been practising your baking every Saturday morning. With these 3 nuggets of personalised information, they'd have a much better stab of getting something that would provide you with real value and enjoyment.
Or let's flip this around.
Compare buying a gift for a new colleague you've known for 2 days vs. buying for a very close friend who you know inside out.
Without any real information on your new colleague, you take a wild guess or go for something that could be used by anyone. On the other hand, you'll have lots of juicy information about your friend. And with this, you'll be better equipped to buy them a present that they'll want and enjoy.
And this is exactly the same when it comes to your customers.
If you're able to give customers something personalised to their needs in a manner that suits them, you're going to see repeat and happy customers. But if you offer inappropriate content, products, communication or promotions, then just like in the earlier example, they're going to feel disgruntled.
With customer expectations higher than ever, providing personalised experiences is crucial for your company's success. Indeed, a staggering 78.6 % of consumers said they are only likely to engage with a brand's offers if those promotions are directly tied to previous interactions. In today's competitive eCommerce landscape, personalised customer experiences are becoming the key differentiator for brands the world over.
Rather than being in a position of guessing and hoping, your business needs to be anticipating customer needs and personalising their purchasing journeys at every step. You should be leveraging the power of data and customer behaviour to gain real insight into what makes them tick and use this to create individualised experiences. Not only does this provide customers with real value but it also helps to develop and nurture your relationship with them.
Discover how Vaimo partnered with apparel giant, Helly Hansen, to increase traffic, conversions and revenue by incorporating elements of personalisation.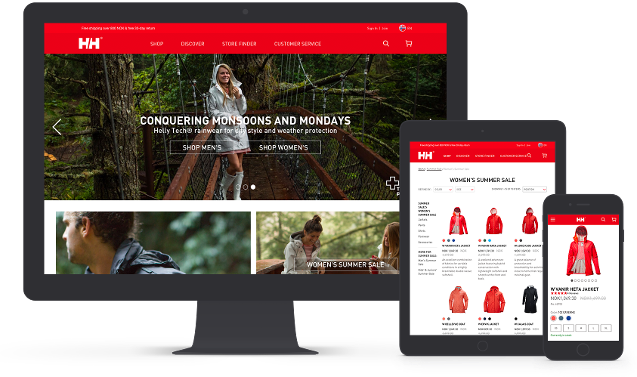 Luckily, through various commerce tools and platforms, you can incorporate personalisation into your eCommerce operations to delight and inspire your audience.
At Vaimo, we help our brand, retail and manufacturer clients around the world to offer personalised digital experiences. Whether it's through email marketing, search, targeted promotions or product recommendations, we bring personalised experiences direct to your customers for long-term business success.
Download our Partners Guide to learn how we work with our technology partners to implement AI-driven personalisation solutions.
If you'd like to learn more about how we deliver proven results for our clients, then get in touch with a member of our team today!