Founded in 1995, HobbyLink Japan (HLJ) is one of the world's largest online hobby stores, offering hundreds of thousands of products to loyal customers around the world. Located in the foothills of Japan's Tochigi Prefecture about an hour north of Tokyo, the company operates its own self-contained logistics and distribution facilities, exporting products to nearly every country in the world. HLJ's 100-strong team is passionate and knowledgeable about their products and this shows in their levels of service and the strong growth they've achieved in the past 23 years.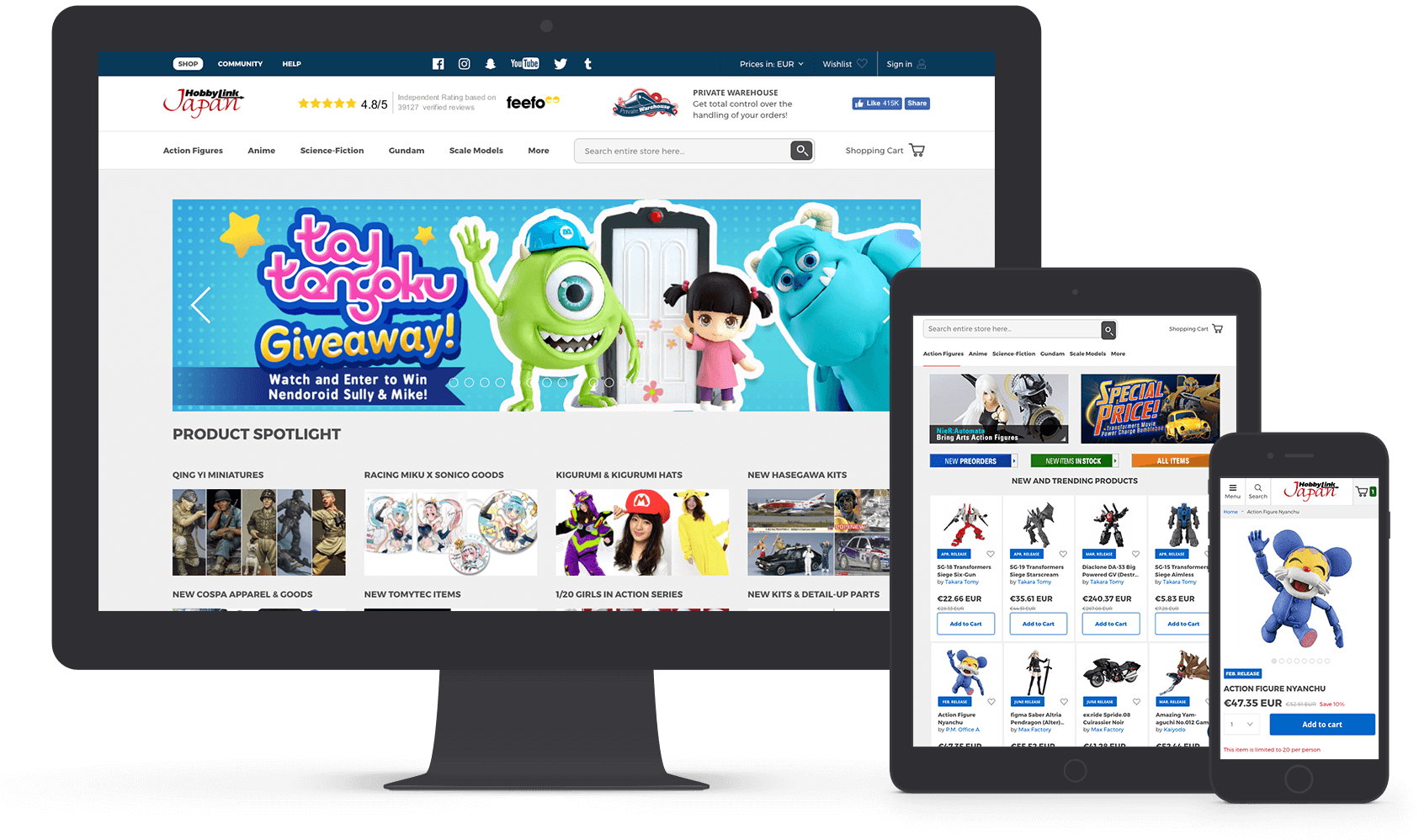 When initial discussions began with Vaimo in January 2017, HLJ's site was suffering in areas that the company felt were holding them back in terms of growth and success. This included a laboured CMS and a site that lacked flexibility—which did not allow for the easy addition of new product ranges. The company also wanted to update the look and feel of their site with something more modern, intuitive and fresh that would work equally well across desktop, tablet and mobile. HLJ's extensive product catalogue and unique business features demanded a robust solution with a flexible and collaborative approach.
Vaimo created a responsive and agile site with an intuitive and slick design. The scalable site provided the flexibility that the company had been seeking. The integration of Vaimo's CMS gave HLJ more autonomy and freedom when updating their pages, allowing them to make updates quickly and efficiently, without the need for extra resources. Vaimo also implemented some unique features on the site, including an interface for the company's innovative 'Private Warehouse' function, which gives customers complete control of the handling and delivery of their orders. Overall, great emphasis was placed on delivering a site that would work seamlessly across mobile and desktop for HLJ's customers.
(Comparing  Aug 11, 2016 to Aug 11, 2017)
Increase in online turnover
"The launch of the Jack Daniel's store gives us a new route to the consumer and a new platform to tell our authentic brand stories on. This is a great opportunity for us to make our products more accessible to our consumers, and a new and a unique way for our consumers to engage more deeply with the Jack Daniel's brand."
Ffion Jones, Senior Brand Manager at Jack Daniel's UK
• Vaimo CMS
• Private Warehouse module
• Live pricing
• GoInterPay integration
• Feefo integration
• SLI search integration
Representatives from both HLJ and Vaimo initially met at the Meet Magento Japan event at the end of 2016. Discussions then began, where HLJ learned more about Vaimo's strong portfolio of clients and the success that it had driven in their respective eCommerce sites. A discovery phase began in July 2017. Full-scale development began later that year, and the final site went live on September 25, 2018.
"As a Magento Global Elite Solution Partner, and a company with a strong international presence, we were drawn to the expertise and experience that Vaimo could offer in the development of our site. And after initial discussions Vaimo's team filled us with confidence that, despite our store's unique features, they were the right company to support us and drive our project forward"
Scott T. Hards
HobbyLink Japan's future goals centre on continuing to provide their customers with an exceptional, personalised commerce experience while expanding their already vast product offerings even more. One key area of focus will be expanding and developing the company's loyalty program. In conjunction with Vaimo's input and expertise, HLJ looks to stay ahead of the eCommerce curve—making sure they're operating as efficiently as they can, and continuing to exceed customers' expectations.

Enter the world of HobbyLink Japan where you'll discover a huge collection of hobby products, toys, anime collectables, books and more to suit every taste.

Proactiv+ webshop had been built on hard-coded, completely inflexible templates that drastically affected the stability of the shop. They wanted to switch to a responsive-first design to cater to a heavily mobile-driven target group to enhance the customer experience and make the shop easier to update internally. Vaimo's solution did all that and more.
Björn Borg wanted to make its eCommerce site more user-friendly, improve the check-out process and make the site more cost-effective. The company selected Magento as it was recommended by other eCommerce companies which later lead them to Vaimo, due to Vaimo's extensive knowledge and expertise in eCommerce.
Rosenlundsgatan 40
Stockholm, Sweden
118 53
T: +46 8 452 26 50
E: info@vaimo.com
a World-leading ecommerce supplier
Vaimo helps clients all over the world achieve eCommerce success. By helping over 400 B2C and B2B online store owners grow their online business without compromise, we have become one of the top Magento solution providers.