Milla Boutique
Founded in 2007, Milla Boutique has blossomed into one of Norway's leading interior and lifestyle shops. The brand's sole brick-and-mortar shop is located in the heart of Oslo, with hand-picked inspirational pieces from home and abroad. The shop also features Norway's only YellowKorner, part of the French art gallery chain.
View Live site
Content-rich eCommerce site
Milla Boutique had a small online solution for nearly 9 years which no longer fulfilled the needs of the growing specialty shop. Milla Boutique wanted an online store that would reflect their meticulously curated shop in Oslo. A site was needed which would allow for selling via storytelling and inspiring images which would then culminate in customers seeing a whole interior created before their eyes. The boutique also wanted a blog platform that would allow staff to write stories around their selection of interior pieces. Of course, this all would require a design that could easily and quickly be updated.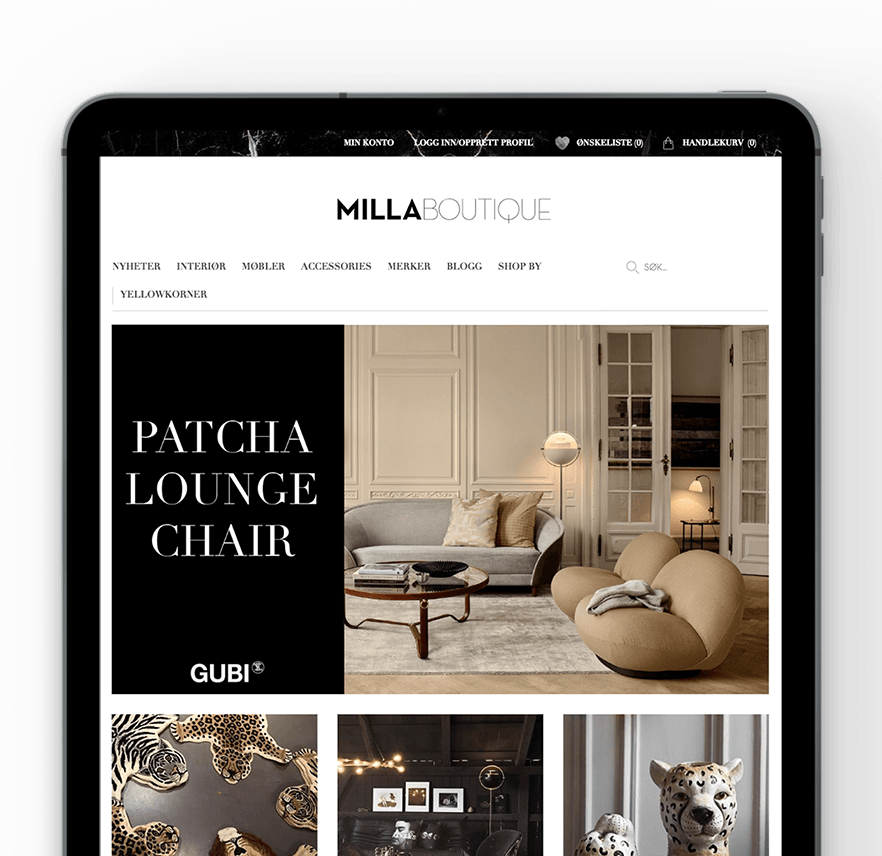 30%
Decrease in average page load time
35%
Increase in new sessions on mobile
50%
Increase in average order value
Comparing Mar - Aug 2016 to Aug 2015 - Feb 2016
The solution
A new eCommerce website
Vaimo constructed a simple yet engaging responsive solution on Magento 2 that allows Milla Boutique employees to effortlessly update the website with the Vaimo CMS module. As one of the first web shops to run on Magento 2 in Norway, the Milla Boutique solution features a customised Pinboard Wish List which acts as a visual gift registry for customers planning a party or a wedding. For the boutique, the new blog platform is indispensable for marketing purposes, and the shop has published several stories about visiting Milla Boutique employees to show how they incorporate the Milla Boutique style at home.
"We spoke with many other merchants, and we are aware of the sheer number of solutions out there to choose from. A couple of people that we know, successful in our niche industry, highly recommended Magento as the platform and Vaimo as the solution partner. That was the starting point for us. Magento is easy to use, and we especially love the Vaimo CMS module; we can change our design and campaigns as and when we want it."
Pernille Haugen
Digital Media Manager

Defined eCommerce strategy
According to Vaimo Norway, the delivery process for Milla Boutique was fairly simple as the client knew exactly what they wanted from the web shop. Along with constructing and designing the new solution, Vaimo was also on board with eCommerce strategy and planning. The go-live of the new shop occurred right before Black Friday 2016, and the boutique offered 20% off from their whole online selection. The only issue was that Milla Boutique received over 200 orders over a single weekend – an unprecedented amount for the exclusive furniture shop! It's no wonder – the boutique's Instagram, now connected to their new site, already boasts 36.9k followers.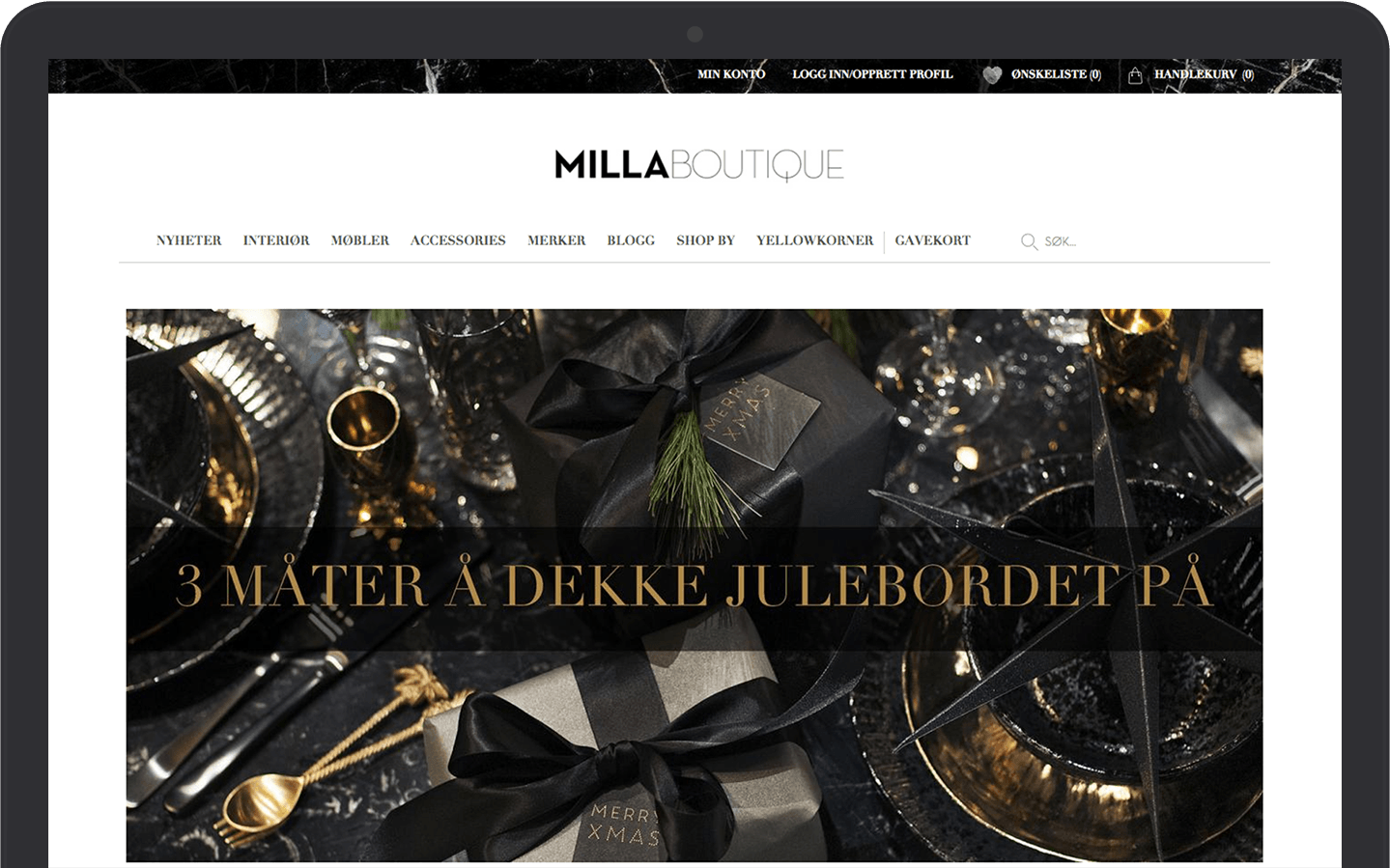 eCommerce automation
Vaimo Norway is currently implementing a chat function and management of customer support tickets via Zendesk for Milla Boutique, as well as integrating the stock management system and helping to automate processes in general. Milla Boutique plans to connect with Cargonizer, a freight module that is linked to the majority of international couriers and allows merchants to select an active courier for a specific market, both locally and internationally. Along with the brand-new web shop, the boutique's focus is YellowKorner, the first of the French gallery chain to land in Norway, which launched at the same time as their new eCommerce solution.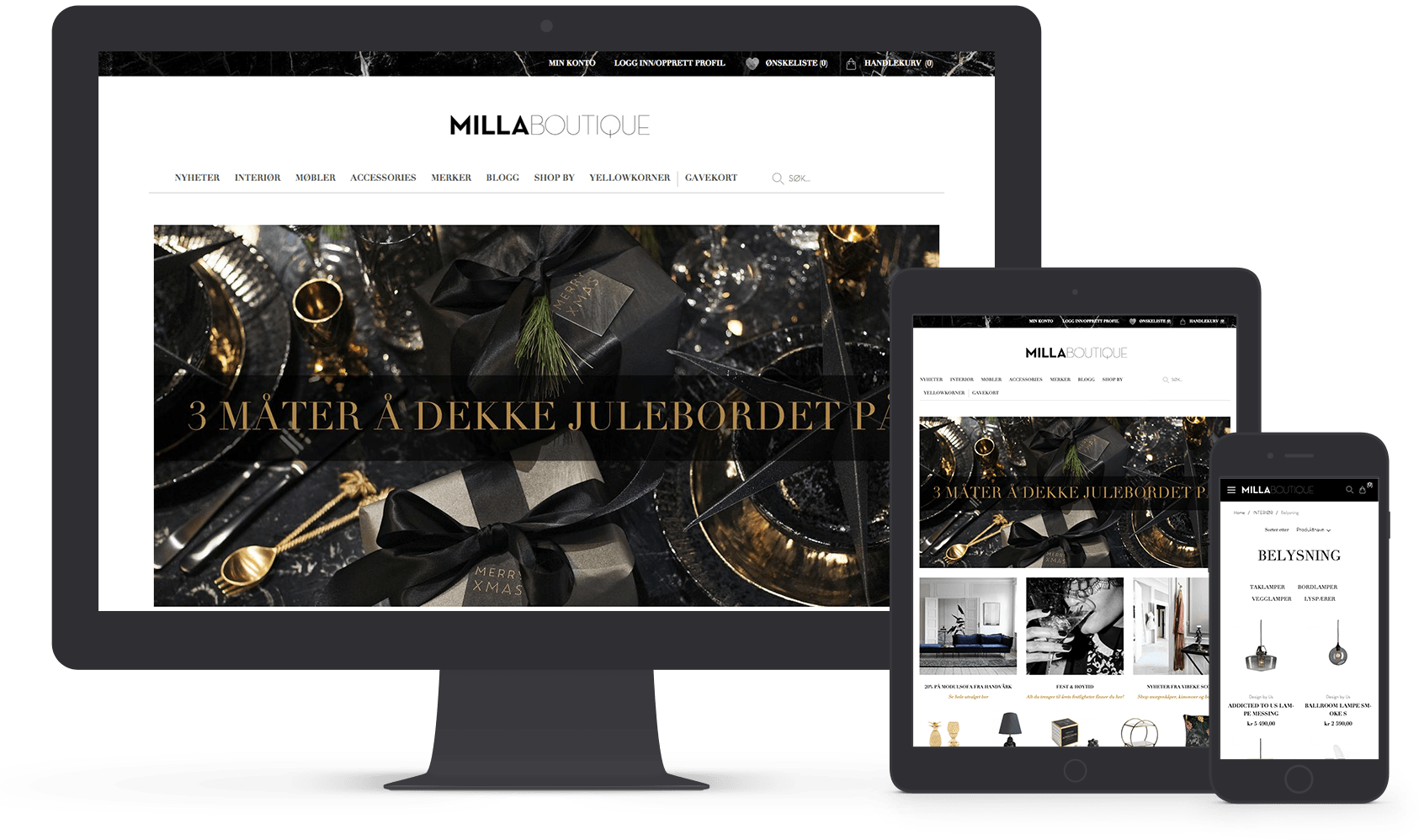 Features implemented
Vaimo CMS
Klarna Checkout
Pinboard Wish List Function
Integration with stock order management system Tellix
Want to accelerate your online sales?
Vaimo builds digital experiences to help your business drive online sales and growth. Get the competitive edge today by partnering with our team of knowledgable commerce experts whose number one aim is to help your business succeed.
Get in touch