We spoke to Gunnar Obolenski, Ecommerce Manager at Selver, one of the largest and most prestigious grocery store chains in Estonia and our client about their eCommerce journey, what they have achieved, what they have learnt in the process and about the challenges grocery stores are facing in general when selling online.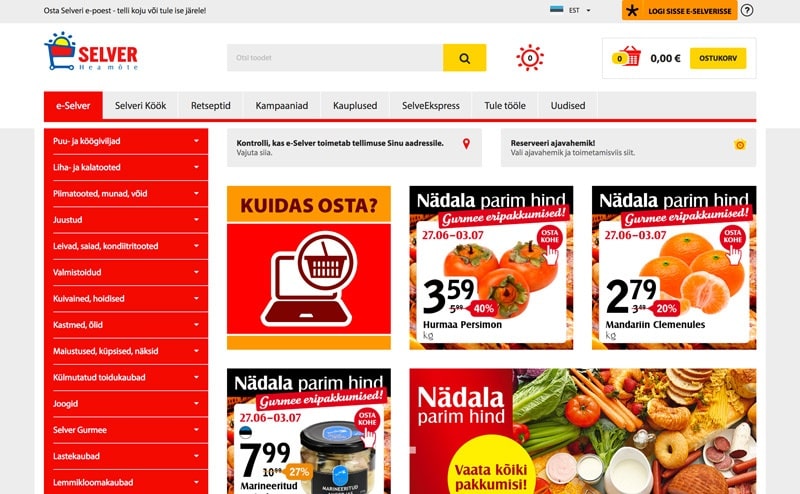 What has changed since Selver's eCommerce launch in November 2015?
We are currently in the process of slowly increasing the area that we serve with our online deliveries. In 2015, after the launch of the e-Selver online store, we serviced only Tallinn, but now our grocery delivery service covers almost the entire county of Harjumaa, which includes about 600,000 people. Our growth plan was to gather experience in Tallinn first, and expand based on our initial learnings. It was very important for us to maintain quality as our shoppers still got used to buying groceries online.
Of course, our customers further away wanted us to deliver to their areas as well, but our growth plan was based on our ability to not only deliver orders, but also pick and pack them properly. Because our online store's warehouse is actually our largest hypermarket, Järve Selver, our physical growth is currently limited. Our actual current growth was predicted to occur in three years' time; therefore, we weren't prepared to have three times the space and the workforce necessary to serve our customers.
Selver.ee allows customers to easily pick suitable delivery times and whether they want the groceries to be delivered by the courier company to their preferred address or whether they want to pick up the groceries from a selected Selver store.

How much growth has Selver experienced?
Selver has experienced about 200% organic growth in revenue over the past year, but if we were to include the first few months post-launch, our organic growth is about 500%. We didn't allow ourselves to grow faster because we wanted to allocate enough time to ensure we could make high-quality deliveries, which means checking expiry dates on products and reviewing fresh produce.
How will you manage your steady growth?
We will eventually move to an online store warehouse, because with our current space and resources, we have reached the limits of our growth capacity. We started out with five staff members who pick and pack orders every day, and today, we have reached twenty with our workforce. This means that these twenty employees are constantly removing things from our Järve Selver store shelves, which also means the actual store needs more staff to replace all these items in-store. Consequently, two problems occur – the products don't make it to the shelves and we are unable to include them in orders, or the regular customer in-store is unable to find these items.
How has collaboration with Vaimo impacted your online store?
We've had the honor of working with a great eCommerce partner, who has not let us become entangled in our own ideas. While the online grocery store industry is very specific, Vaimo has enough experience with eCommerce to know when to say no to our development ideas and advise on the best course of action that is most useful for our customers. It's important not to rush with development and make sure things are working well before implementing new features.
The functionalities that Vaimo built for us are all designed with our customer's experience in mind. The customer may not actually realize we have updated something behind the scenes, such as optimised page load times or an enhanced search functionality, but they feel good, because our online shop is clean, fast, comfortable, and works well.
Selver's login is as safe as an online bank's.

What have been the major developments during the last year?
We've recently developed a separate functionality for our business customers. When we started, only private customers with our loyalty card or a guest could make purchases. Today, a company can input their company registry code and their information automatically appears in their new account. We realised that our business customers felt uncomfortable; they were only able to make purchases as an individual guest, without the option of saving shopping lists or receiving a special invoice.
We are also in a constant state of fixing things that are related to the user experience. For example, when we first launched, when you searched for "milk," you would receive options ranging from actual milk, to body lotions and other products that contained "milk" in the description. Today, our search and filter functionalities are much smarter. So while it may seem like nothing has changed, what we are doing constantly behind the scenes is making sure everything works logically and supports the customer behaviour in our online store.
We have also added information badges to products which differentiate ecological products, products that don't contain lactose, etc. This means that our customers don't have to pour over an ingredients list to understand what category a product fits into, and this is great for people with dietary choices or concerns.
This product shows a drop-down menu with known allergens. Products can be easily filtered by brand, by type, and by origin.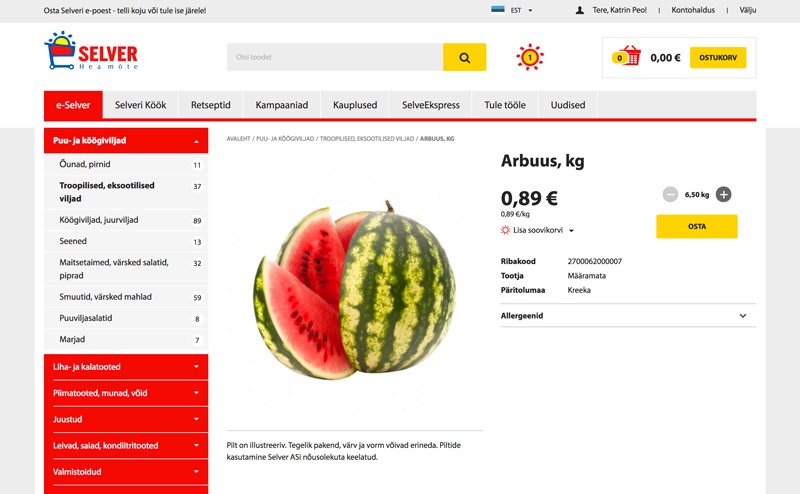 What's been something you've done that has really paid off?
Adding detailed descriptions to our products has really been worth the effort. When you go to an actual store, you can read the full label on the product, so it's quite unfair to exclude this in an online store. We don't want to deprive our customers of any of the comforts of in-store shopping.
Has your online store changed your overall business strategy?
When we opened our online store, we increased our special deals meant for loyalty card holders to motivate customers to sign up for a loyalty card. The ratio of guest customers to loyalty card holders has steadily decreased over time since we launched; 20% of customers were guests when we started, and now, only 10% remain guests who do not use the loyalty card.
Do customers behave differently in-store and online?
We learned that Estonian consumer behavior differs wildly from in-store to online. That's why we want to be very careful about whether the things we develop are actually useful and necessary.
For example, we added the Russian language to our site in addition to the main Estonian language. Because a large percentage of the Estonian population is Russian-speaking, we felt that this was naturally needed, and we implemented it quickly. Interestingly enough, our Russian customers make up a very small part of our customer base. We initially predicted that 3 out of 10 Russian speaking customers would use it, but it's actually more like 1 out of 100. This perfectly illustrates that it's not smart to run head-first into developing new features without taking the time to analyze consumer behavior first. We're not in a race for the newest and most grandiose web store functionality; the important thing is to be the best in quality. You can have the trendiest functionality, but if it doesn't work well, your customers will go somewhere else.
One thing that is unique to Estonian online grocery shoppers is that delivery is paramount; whereas in other countries, many customers prefer to pick up their orders, 9 out of 10 Estonian shoppers opt for our delivery service.
What's a major challenge you have faced?
A major predicament for us has been the issue of product replacement. When a product is not in stock, should it be replaced? And if so, using what logic? And who pays for the price difference?
For example, let's say a customer orders a 150 gram stick of butter, but we don't have this particular product in stock. So we replace it with a 200 gram stick of butter. These two products will have a different price per kilogram and a different total price. In this case, we (Selver) are paying for the difference. But if we replaced it with a 100 gram stick of butter, the customer is at a loss.
So we needed to determine how we can satisfy our customers with the price difference and with the product they didn't order. It's not as easy as matching two products with the same price tags; we realised that product replacement must be handled very precisely.
The answer is that the customer must never feel like they have lost anything. We may be the ones losing by using this logic, but we must be transparent and show our customers exactly how we decide to replace an out-of- stock product. People in general feel very protective of their money, so when their order includes products they didn't choose, they want to know exactly what has been replaced, and at what cost to them.
Should the missing products be replaced or the customer's money reimbursed?
It's always better to replace the product. However, on our checkout page, we offer the option to note whether you are okay with having your products replaced, or none at all. You can also tick individual boxes to indicate specific products that you allow Selver to replace if the ordered product is out of stock.
But here we arrive at another aspect of product replacement. Say the customer wants 2% Alma milk, in a carton. If we don't have this particular brand, at this fat percentage, in a carton, should we replace it with the same brand and fat percentage in a plastic bag? Actually, in this case, we would replace the milk brand, but keep the fat percentage and the packaging the same.
Selver's shopping basket allows customers to decide whether Selver will replace all or some of the products in the basket with a similar product if the ordered one is not available or is out of stock.

What's another unique challenge you have faced as an online grocery store?
Some decisions need to be made based on the customer's purchasing history. For example, orders involving fresh fruits and vegetables are tricky, to say the least. We had a customer who ordered 3kg of bananas; we packed yellow bananas for the customer. This customer wasn't satisfied, because she expected us to include yellow and green bananas, so they would last the whole week.
For the next order from a different customer, we packed yellow and green bananas, and we were once again met with dissatisfaction, as this customer was hosting a party, and expected all of the bananas to be eaten that day.
This just goes to show that you learn as you go.
What have you learnt from your competitors?
We've discovered that you shouldn't copy-paste another online store and repeat their mistakes. We never rush our development, and we also don't try to do ten different things at once, because then you end up with several new functionalities that may not be working well yet. We develop conscientiously, step by step, and ensure it works well before moving forward with something else.
Also, when our competitors started, they had a very small selection of the most popular items. But customers want a bigger selection to browse, even if they usually buy the same things. Selver has the largest selection of products, with simple navigation and fast delivery. This is what was missing from the market; you could buy groceries online before, but the experience was very limited. All of these factors helped push our growth.
What do you think your competitors are doing wrong in Estonia?
Our competitors in Estonia don't have responsive eCommerce solutions, and we think it's because when it comes to our particular industry, it's not very comfortable to purchase groceries on mobile. While usual online orders may include a handful of products, a grocery list usually includes twenty or more, and it's difficult to scroll through a long list on a small screen. About 70% of our purchases come through on desktop, and maybe that's what made our competitors skimp on responsive design.
However, we can see that our customers browse our online shop heavily on mobile, and then purchase on desktop. Mobile is growing in the online grocery store industry, because phones are getting bigger. The great thing is that saved shopping lists make repeat orders easy, even on a smaller screen. It simply won't work to say, "People don't purchase groceries on mobile, so maybe it's not worth it." The smartphone is with our customers all day long, so even though the final purchase may be on desktop, the mobile site is an integral part of the customer journey for us.
We currently own over half the market, but we weren't the first ones on the market; this illustrates that our technical decisions and quality work ethic has given us an advantage over our competitors. Our customers are shopping for simplicity, speed, and comfort, and that means that we need to be available to them everywhere seamlessly – in their pocket, when they are browsing groceries on the way to work in the morning, on their tablet as they are compiling an order, and on their desktop, when they are finalising their order in the evening.
Selver's mobile site plays an important role for customers in their shopping journey.

What else have you learned along the way?
We have learned not to make things too complicated. No one is interested in "sharing" their grocery list on social media, nor is every new widget on the market a necessity in your web store. You don't need ten new widgets complicating things; this will not benefit your customers and it will slow down your site and may even influence your security.
A couple of months ago, we achieved our highest level of security certification. This has taken immense effort to achieve, but our customers don't know this. New developments mean that we don't lose speed as the result of additional security measures across our site, and we are more than happy to make sure our customers are as safe as possible on every page in our digital store.
How do you cater to your specific customer needs?
Our goal is the highest quality, and our customers value quality above all else, along with the unique variety of specialty goods that may not be available in other stores.
Estonia is a small country, and most people in the city have a shop nearby, so online shopping for groceries is a very new thing. Seven out of ten of our customers are women, so we cater to these customers especially. These are women who are in charge of the family's shopping needs; with the option to order online, they free themselves of the task of driving to the store, looking for a parking spot, carrying heavy bags, and perhaps managing children in the process. By shopping online, they have the peace and privacy to peruse and shop at their convenience.
How do you incentivise your customers to purchase more?
Our statistics show that over the last year, our customers' shopping carts have increased by 30% – because they're shopping in one place, instead of at several specialty stores. We offer free delivery with a purchase of forty euros or more, and our customers take advantage of the convenience of having everything delivered to their door.
Interestingly enough, our customers still buy on impulse in our online store, much as they would in a physical store. In a regular store, you don't really have the opportunity to review all the items on sale; in an online store, you can actually review all products on sale, look over your favorites, and then purchase your regular items. This means that at the end your shopping cart is actually bigger.
Selver's online store has a clear and intuitive user experience and is easy to browse.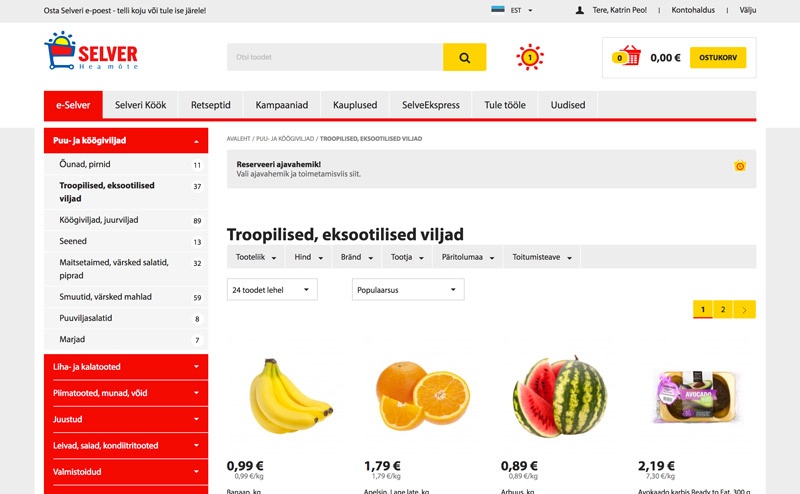 How have you driven omni-channel success in Selver.com?
I believe an omnichannel solution won't be as effective without being preceded by a good reputation. When you are new to the market, you can't rely on case studies about omnichannel success from companies with long-standing heritage and legacy. You need to build the trust of customers before expecting them to meet you at different touch points.
Selver has been around for over 20 years, during which time we have earned the trust of our customers. We are locally-owned, and Estonians love to support local companies; we also focus on selling Estonian-made products. We've taken advantage of our rich heritage and background and the trust that our customers have placed in us to create an omni-channel solution that works.
We know that about 70% of our customers acquaint themselves with items in our online store before going to the store to purchase them, and we also see a lot of online visitors from areas that we don't currently deliver to. This shows that customers love to go online and check out the selection before they visit your store. WHERE the customer purchases the product doesn't really matter anymore, as long as you are available everywhere for the customer.
What determines quality for the end customer?
Your platform and systems need to be reliable and support you, but at the end of the day, the order compiler is the one deciding which products the customer receives. The compiler checks the expiry date, the fruits and vegetables, and decides which missing products to replace. And inevitably, this is what determines quality for the customer. When our customers go to our physical stores, they pick the fruit, and they check the expiry date. When they order online, they place an immense amount of trust into us, to choose their products on their behalf. The quality of our web store means nothing if the order isn't compiled in a careful manner.
What are Selver's future plans?
Our priority right now is reaching all of our customers that are currently out of bounds of our delivery service, as well as developing existing features, like our business customer functionality. We also have an idea to make "shared shopping baskets" from different linked accounts in the future, which would make shopping for families easier.
In a year, we want to get another service website of ours, Selver Kitchen, on the same platform with selver.com. We are also working on "shopping recipes" which means customers will be able to select a recipe which will then deposit all the ingredients into your shopping basket. Of course, you can then remove items from the list you may already have, but it still saves you the time it would take to browse for individual items.
Selver's eCommerce Do's and Dont's
Master the basics and make sure your site works REALLY well
Know your customers
Research before you develop
Don't allow yourself to become distracted by digital bells and whistles