This year, 9 Vaimoers flew in from our offices worldwide to join Magento's Imagine Commerce 2017 in Las Vegas, Nevada, USA, at the Wynn Hotel. Magento Imagine sees over 2,500 eCommerce merchants, developers, agencies, technology providers and eCommerce enthusiasts from over 45 countries unite to share knowledge, learn the latest updates from the industry and dive deep into the world of eCommerce.
Vaimo CSO Markus Åberg (far left) took part of the Big Dam Run at Hoover Dam
At the Partner Summit on Sunday, April 2, 2017, Vaimo was named the Magento Commercial Partner of the Year EMEA. Last year, Vaimo received the EMEA Magento Omnichannel Partner of the Year Award. We are also delighted to share that Magento has published two customer success stories from our clients who are finalists at this year's Excellence Awards: grocery store chain Selver and Absolut Art.
Check out our Twitter for live updates and check this blog for new posts every day on the wide array of sessions we will all be partaking this year at Imagine.
The Vaimo team woke this Monday morning, April 3, 2017, to the Wynn Hotel alive with the buzz of Magento lovers picking up their Magento swag and rushing to find their session rooms with breakfast buns in hand. We spread out and tried to cover as many sessions as possible to infuse ourselves (and our readers) in fresh Magento knowledge.
Magento Business Intelligence: Data-Driven Strategies for Online Growth with Robert J. Moore, Head of Magento Business Intelligence, Magento Commerce
"Our mission is to inspire and empower data driven people."
There was BIG interest for Business Intelligence at Imagine, as the room was jam-packed with attendees. The presenter, Robert J. Moore, was part of RJ Metrics, an advanced cloud-based analytics solution that Magento acquired last year. Robert talked about how segmentation is all about understanding which customers are good for your business, applying a data-driven strategy, and knowing the customer across platforms with aligned identification. According to Robert, BI can be used for more in-depth analysis of your customer database, so you can segment your clients, and identify big spenders. Robert stressed that 68% of customers will never purchase a second time, and the retention rate will rise over the amount of orders by the customer, who get more loyal over time.
"The Magento BI is an efficient way to align all your customer and business metrics in one easy and flexible platform."
Robert also shared interesting insights into customer segmentation:
Segment customers by early behavior, such as orders, downloads, and combined actions
Look at long-term patterns, such as whether downloads have a positive or negative impact on repeat purchase behavior and CLV
Apply strategy and use these insights to shape customer acquisition focus
Robert reiterated his most important points:
Being a top performer guarantees outsized returns and opportunities
Top performers outperform their peers at acquiring then retaining customers and driving their CLV
Data-driven strategies are the key to this performance
Technical Deep Dive: Omnichannel Solutions with Magento Commerce Order Management with Mark Hatch, Director Product Delivery, Magento Commerce
MCOM is a modular, cloud-based platform designed to provide centralised inventory, order and fulfillment. It provides more advanced order and stock management to Magento and it's a SaaS product, hosted on Amazon AWS that offers out-of-the-box connectivity to Magento Digital Commerce.
"Magento Commerce Order Management offers an advanced but still simple solution for omnichannel retailers and B2B companies to manage stock across several locations – providing the best and fastest delivery option to the customer, while optimising order handling time and cost."
So what can MCOM do?
Pool your stock across warehouses and stores
Set up different shipping rules; for example, to have safety stock margins in your store to ensure you don't sell stuff you don't have
The ability to source items and order from the best location according to defined rules, such as opening hours, or when the courier comes to collect
Optimise your order packing flow
Support many different fulfilment cases
Ship from own locations
Ship from distributors
Drop-shipping
Digital content
Pre-shipped orders
In-store pickup / Click & Collect
Ship to store
The MCOM client panel featured our client, Helly Hansen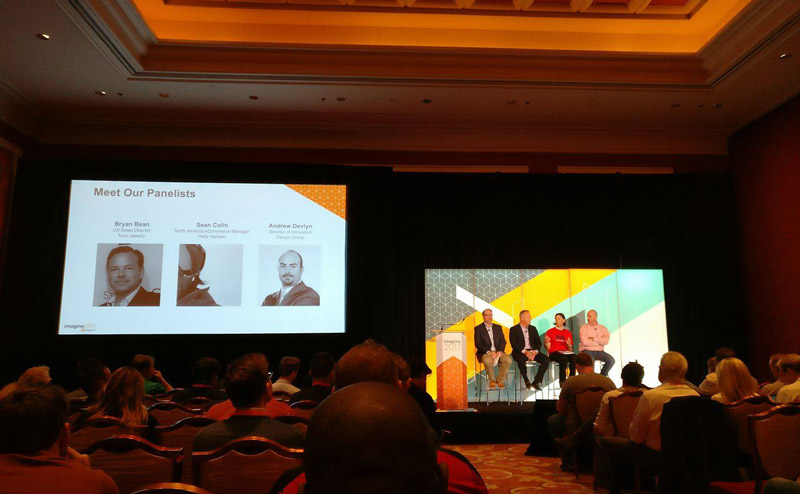 Most importantly..
With MCOM, merchants can leverage more on stock across locations and make local stock global, which gives the local store more flexibility to sell seasoned goods, or over stock capacity. MCOM also offers an in-store interface to handle click & collect orders. For retailers, MCOM closes the GAP between the stores and online – and offers a more advanced control inventory. Many merchants have legacy ERP solutions, and MCOM provides an opportunity to support a true omnichannel solution without being completely dependent on the ERP solution.
Technical Deep Dive: Expert Guidance on Migrating from Magento 1 to Magento 2 with James Cowie, Technical Architect, ECG, Magento Commerce Gordon Knoppe, Business Solutions Architect, ECG, Magento Commerce
This session was all about understanding what your eCommerce platform is like today and what your future plans are before you plan a migration. Architects from the Magento Expert Consulting Group defined the best practice for crafting a migration strategy, and shared practical advice for data and code migration.
We learned that preparation is fundamental to a successful migration, and that should always begin with analysis:
Requirements (get rid of obsolete features)
Code audit (remove unused deprecated code/functionality)
Theming (create theme approach)
Testing (mapping test to requirements)
If you have third-party extensions, check that the feature list matches between M1 and M2 extension versions.
In regard to development:
Consider the time needed for the rewrite (learning M2 & implementing functionality)
Be selective with functionality migrated
Use [data-migration-tool] to migrate database (Store config, Products, Customers, Promotions, Orders)
Consider using [code-migration] to create the first "prototype"
Design Thinking: Design Review Workshop with Eric Erway, UX Manager, Magento Commerce, Ann Hudspeth, UX Design Manager, Magento Commerce, and Guliz Sicotte, Director of Product Design, Magento Commerce
Design thinking is a repeatable method for creating great ideas and products. It's based on an undertsanding of your customers and their needs. This framework is practiced by the Magento User Experience Team and was a big part of Magento 2 and other new Magento products.
The key elements of great design are:
Empathise: Gain a real understanding of your users and problems
Define: Synthesize the data and understand root causes
Ideate: Brainstorm solutions to the problems identified
Prototype: Build a simulation to better understand your design
Test: Evaluate your design to learn if your solution really works
Understanding the Total Cost to Migrate & Implement on Magento with Richard Adams, Sr. Consultant, FitForCommerce, Alex Barbier, Digital Marketing Director, Oliver Sweeney, Craig Peasley, Sr. Director of Product Marketing, Magento Commerce, Jonathan Stephens, General Manager, Audio Advice
Magento 2 has been on the market for 17 months, and now has 200 active Enterprise Edition sites. But what is really required to re-platform a web store? FitForCommerce interviewed 20 clients on M2 to find out what it cost and how long it took to implement M2.
FitForCommerce covered three different types of projects and spoke to 20 merchants in the US and Europe, including Scandinavia. They developed two profiles: standard and complex. The results of the research did not include branding, content creation, or hosting. They found that the average implementation time for a standard implementation is 4.2 months and the cost is 205,000 USD. They also asked respondents how much effort the different activities took. The session also covered an M2 case study with Oliver Sweeney and an M2 case study with Audio Advice.
Technical Deep Dive: Everything Was UI Components & Nothing Hurt with James Zetlen, Frontend Architect, Magento Commerce
This session introduced UI Components, new and powerful tools in the Magento-verse.
The Magento team covered things that could be improved in UI components:
xml "ergonomics" readability
extension points
documentations
error messages
Should we use them today? Well, everything can't be a UI Component yet; the team reocmmended to use them for admin work only for now.
"UI Components are just complicated enough, but just complicated enough to work."
The day closed with a networking dinner event out on the Sunset Terrace with a live band and plenty of food and beverages to go around. One tip though – avoid the soft pool side lounge chairs; they may not be entirely dry, as the signs promise (we  may have learned this the hard way..)!