We are pleased to announce that the Core of Commerce podcast (brought to you by Vaimo) will be launching its first episode on September 24th! But for now, go check out the Core of Commerce sneak preview to hear more about what you can expect from this podcast.
Don't miss a beat; to make sure you get the first Core of Commerce podcast delivered straight to your speakers:
Hosted by Vaimo's Senior Digital Consultant—Guido Jansen—the Core of Commerce podcast explores the commerce strategies and technological innovations that are driving the growth of eCommerce for European merchants and agencies. Featuring professionals from a range of industries and markets, Core of Commerce provides you with the cutting-edge knowledge and practical tools to help your business succeed in eCommerce. Whether you're a business leader, eCommerce manager, digital marketer or you work on the technical side of eCommerce implementation, this is the podcast for you.
Check out the Core of Commerce trailer now to hear more about what's in store!
Next Episode: 24th September
Tune in to our first episode to find out how you can turn your data into actions that will increase retention, conversion and revenue. Karl will be unpacking the RFM (Recency/Frequency/Monetary) model for eCommerce and exploring how you can leverage it to provide personalised experiences and build your customer lifetime value.
Meet The host – Guido Jansen
And with the countdown to the first episode well and truly on, we caught up with Guido to hear about where the idea for the podcast came about and what listeners can expect.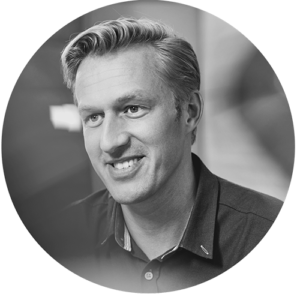 Hi Guido, not long until the first Core of Commerce episode! Can you tell us a little bit about where the concept for the podcast originated?
We work in an industry that's forever shifting, so how do you keep tabs on everything that's going on and know where to focus next so you can consistently drive success? Despite being in the middle of it all I personally already find this very challenging. I'd love to get a more consistent flow of interesting and usable insights into what the frontrunners are working on. And that's exactly what I've set out to do with the Core of Commerce podcast and I hope many will join me on this journey.
You've also hosted podcasts focused on the Magento Community and Conversion Rate Optimisation. What does Core of Commerce bring to the podcast ecosystem that's currently missing?
Globalisation trends are strong, but having carried out user research in eCommerce over the past years I know that there are many local differences in customer behaviour and specific local applications. Most available resources, however, talk about global trends or trends for the USA. I wanted something that applies to my main work area which is Europe.
What types of guests will you be interviewing?
Each episode I'll be joined by one of the brightest minds in the European commerce industry who are all practitioners and are pushing the technological boundaries. We'll be talking about anything from platforms and payments to mobile apps and marketing, machine learning, customer experience optimisation and much much more.
Who is Core of Commerce for—who will it appeal to?
People working in the European eCommerce industry that want to be inspired by what other merchants and agencies are doing and want to learn about the practical tools to help them achieve and exceed their digital commerce goals.