The Vaimo Team is in Las Vegas for the hottest eCommerce event in town — Magento Imagine 2019. It's been great to be back at Imagine and to connect with new and old friends alike. As the curtain comes down on day 1, we're going to look back at some of our key highlights and bring you up to speed on the latest Magento news.
But before we dig into the detail of day 1, let's rewind the clock a little further. Because on Sunday, the Vaimo team was already in full Imagine mode. This started with the famous #BigDamRun—the official 5km run/walk of Magento Imagine. Members of our team braved the balmy temperatures to shake off any hints of jet lag and to get the blood pumping with their fellow eCommerce peers.
A nice (albeit warm) day to get the legs moving at #BigDamRun!

Run completed—well done team!
After a quick cool down, it was then on to the evening Partner Awards to celebrate the Magento Solution Partners that have shown exceptional leadership and growth. As was reported yesterday, we're extremely proud to have won the award for Magento Regional Commercial Partner (EMEA)! This is what Magento had to say about our award:
"Vaimo, a Magento Global Elite partner continues to focus on winning commerce implementations while obtaining achievements in delivering a variety of commerce implementations The volume, variety, and sophistication of omnichannel brand experiences continue to accelerate sales for their B2B & B2C clients."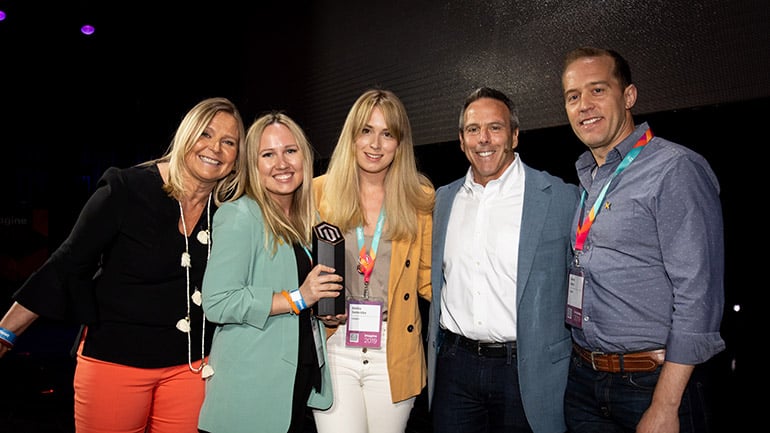 Vaimo — Magento Regional Commerce Partner of the Year (EMEA)

Monday saw the official start of Magento Imagine with the opening General Session and various keynotes. As a Magento Global Elite Partner, our team joined a packed audience to hear the latest updates from the Magento community. Let's take a closer look at some key points from the day's keynotes…
Philip Jackson kicked off the opening General Session as Master of Ceremonies talking about the expansion of opportunity at our fingertips. The Master of Ceremonies last year, too, Phillip has been featured as both a speaker and podcaster at Imagine conferences and was awarded the title of Magento Master three times for his contributions to the Magento community. This year, Phillip has been named one of the first Magento Masters Qualified Alumni.
Gary Specter, VP Commerce Sales, noted the exceptional contribution of Mark Lavelle (Magento's outgoing CEO) and also of the Magento community, the most engaged community in the world. He said that the future of commerce is in the hands of this community—to evolve and expand the experience for customers—and that Adobe is right behind Magento in supporting that vision 100%.
Next up to the podium was Gloria Chen, SVP Strategy & Growth, who's been instrumental in bringing Adobe and Magento together as one. She noted how both, strategically, had a strong and shared vision for experience-driven commerce and that Adobe is absolutely committed to building on and nurturing on the strengths of Magento (the platform, the community and the SMB market).
Rob Giglio, SVP, GTM & Sales, Adobe, reflected on the company's journey from its 'arm-length' relationship with customers to 24/7, close interaction—where it is now. He also outlined 5 eCommerce lessons for its clients in looking towards the future which we at Vaimo can certainly attest to :
You can't get close enough to customers
You can't have enough data
You can't stand still
Test, test, test
Automate, automate, automate
Jason Woolsey, VP, Commerce Platform & Product, opened his talk by commenting on Adobe's positive impact:
"With Magento now a part of Adobe, what is most exciting for me is how these real-time insights will allow merchants to optimise their business and drive and run their entire organisation as a customer experience machine."
He then went on to outline some important pieces of the Magento roadmap, as follows:
Adobe Sensei part of Magento commerce
Adobe experience platform extension, a community-driven project. This will allow merchants to drive deeper insights and create smarter workflows
General availability of the Amazon sales channels and Google Ads shopping
PWA studio's native integration to Paypal's Braintree
Join us tomorrow for more updates from Magento Imagine 2019! 
Well, that's a wrap from day 1 at Imagine. But as always, remember you can follow us on Twitter for live updates, browse our blog and subscribe to our newsletter to get the latest news straight to your inbox.