INC. MAGAZINE UNVEILS RANKING OF EUROPE'S FASTEST-GROWING PRIVATE COMPANIES
Vaimo Ranks No. 3027 on the 2018 Inc. 5000 Europe list with Three-Year Sales Growth of 173%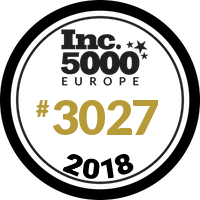 Stockholm, Sweden, March 7th 2018 – Vaimo, a global leading supplier of omnichannel and Magento solutions and the world's largest provider of cloud digital commerce innovation, announced today that it has been named in the 2018 Inc. 5000 list of Europe's fastest-growing companies with a three year growth rate of 173%. The Inc. 5000 Europe represents the only comprehensive look at what may be the most dynamic segment of the world's economy: Europe's fastest-growing private companies. The full list can be found at https://www.inc.com/inc5000eu
"We are delighted and honoured to have been named among such prestigious company and to share a pedigree with some of the biggest brands in the world," said David Holender, CEO of Vaimo.

"Vaimo has experienced great continuous growth through the years—in recent years with expansion into Japan, Benelux and the UAE, a new strategic partnership with transcosmos and securing extra investment from transcosmos in 2017. As a global leader in omnichannel and digital commerce innovation, our strategy is committed to expanding our operations further and empowering more B2B and B2C businesses around the world in reaching and exceeding their digital aspirations."
The 2018 Inc. 5000 Europe list, unveiled this week on Inc.com, serves as a unique report card on the European economy. Within an uncertain economic climate, latest aggregate revenue among the companies on the list actually increased by €101.8 billion, nearly doubling aggregate revenue from 2013. The list features an amazing group of thriving businesses growing at breakneck speed over the past three years:
On average, Inc. 5000 Europe companies grew +473% over the past three years, creating over 380,000 jobs in the process.
To make the top 500, a company had to have achieved a remarkable three-year growth of 1013%.
"Innovation and entrepreneurship are alive and well throughout Europe." says Inc. and Inc.com Editor Jim Ledbetter. "From cybersecurity to renewable energy, the continent's creativity and deep knowledge are showing the world how to grow and profit in the 21st century—and the Inc. 5000 Europe list spotlights those that do it best."
Methodology
The 2018 Inc. 5000 Europe is ranked according to percentage revenue growth when comparing 2013 to 2016. To qualify, companies must have been founded and generating revenue by March 31, 2013. They had to be European-based, privately held, for profit, and independent—not subsidiaries or divisions of other companies—as of December 31, 2016. (Since then, a number of companies on the list have gone public or been acquired.) The minimum revenue required for 2013 is €200,000; the minimum for 2016 is €2 million. As always, Inc. reserves the right to decline applicants for subjective reasons. The full Inc. 5000 Europe list can be found at https://www.inc.com/inc5000eu.
Vaimo is the global leader in delivering award-winning digital storefronts, omni-channel solutions and mobile apps. Their only focus is to accelerate B2B and B2C sales for their brand, retail and manufacturer clients. With 15 global offices across EMEA and APAC and over 300 employees, they provide an international presence that allows them to cultivate close, long-term relationships with clients. With a focus on driving digital innovation their services cover the full-spectrum of Commerce needs ranging from strategy, design, development, optimisation and cloud services. They deliver solutions around B2B, B2C, Omni-Channel, PIM, Order Management and Business Intelligence.
Every year, Vaimo wins awards in recognition of their commitment to technical excellence, innovation and satisfaction. Among others, we have received the Gazelle Award (6th consecutive years), listed as Econsultancy's top 100 digital agencies (2 consecutive years) and Magento has recognised Vaimo's leadership by selecting us as Global Elite Partner in 2017, Commercial Partner of the Year in EMEA in 2017, Omni-channel Partner of the Year in 2016 and EMEA Partner of the Year in 2015. For more information, visit https://www.vaimo.com .
Founded in 1979 and acquired in 2005 by Mansueto Ventures, Inc. is the only major brand dedicated exclusively to owners and managers of growing private companies, with the aim to deliver real solutions for today's innovative company builders. Total monthly audience reach for the brand has grown significantly from 2,000,000 in 2010 to over 19,000,000 today. For more information, visit http://www.inc.com/
The Inc. 5000 is a list of the fastest-growing private companies in the U.S. Now in its 37th year, this prestigious list of the nation's most successful private companies has become the hallmark of entrepreneurial success. The Inc. 5000 Europe list, launched in 2014, covers the 47 member states making up the Council of Europe. For more information on Inc. and the Inc. 5000 lists, visit http://www.inc.com/.