Adobe (Magento) has been selected as a leader by Gartner, Inc in its 2019 "Magic Quadrant for Digital Commerce Platforms" research report.
Adobe Magento Commerce
In an assessment of 13 vendors, Gartner noted the following major strengths of the Adobe Magento platform:
A complete commerce solution: Magento Commerce includes a native WCM module (Page Builder) and provides additional solutions for order management, shipping, and data and analytics.
Application and partner ecosystem: Magento Marketplace is a robust application exchange market that includes over 4,800 extensions to a large number of third-party commerce applications directly from the Magento admin UI.
Adobe acquisition—the Adobe Commerce platform: Magento Commerce was integrated with Adobe Experience Manager prior to the acquisition. Now they are more tightly integrated, enterprises have access to a more comprehensive suite through direct integrations with Adobe solutions for marketing and analytics. ((Adobe Experience Manager, Adobe Analytics, Adobe Target and a services-based commerce integration framework (CIF)).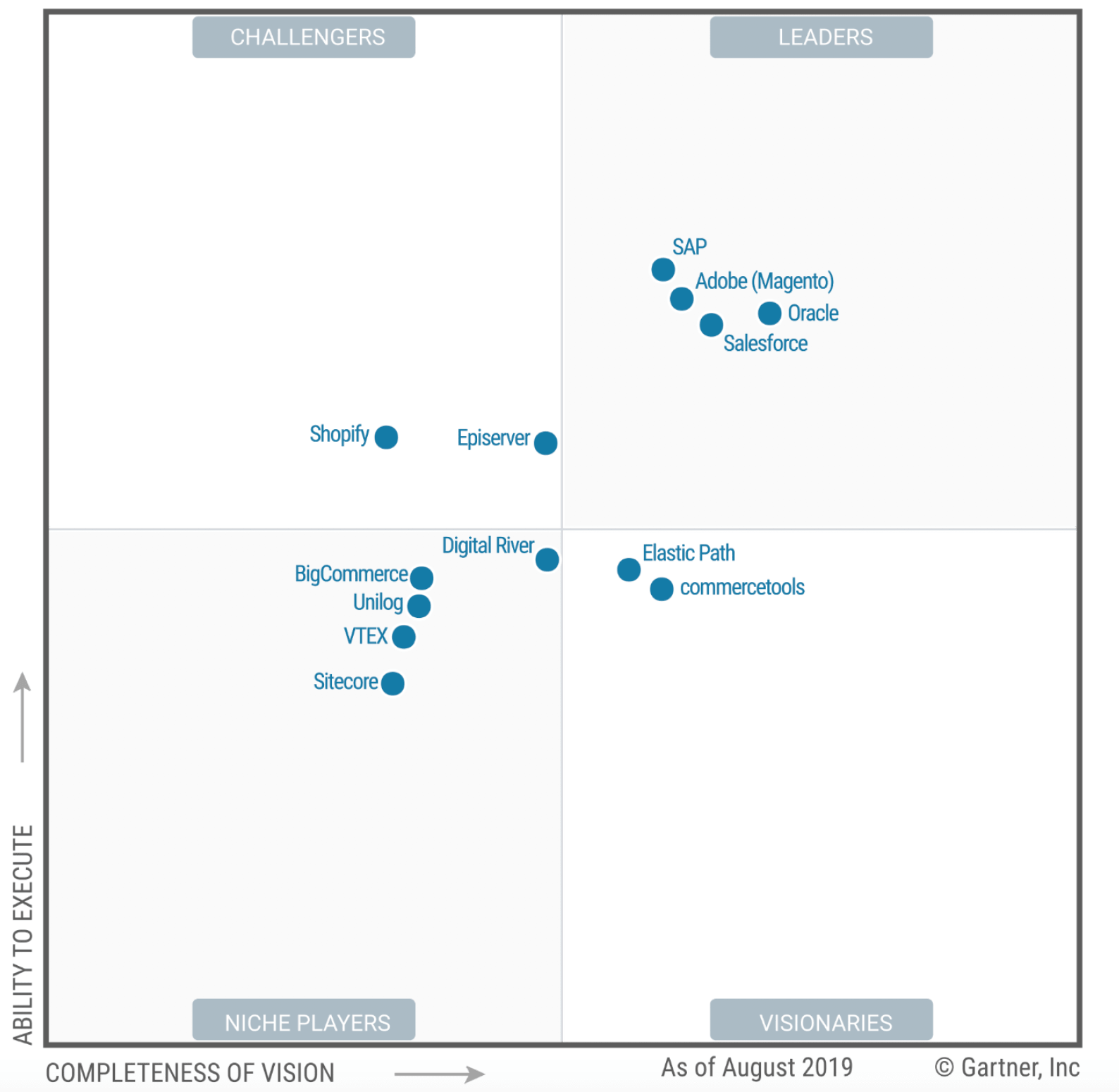 Source: Gartner (August, 2019)
Gartner defines a digital commerce platform as the core technology enabling customers to purchase goods and services through an interactive and self-service experience. The chosen platforms have the out-of-the-box capability or the APIs to support a self-service, interactive commerce experience that includes: storefront, product catalogue navigation, product pages, shopping cart, check-out and customer account.
At Vaimo, we're proud to be helping our brand, retail and manufacturer clients to drive success in digital commerce through the Adobe and Magento Commerce Cloud Platform.
With our Magento Commerce Specialization status, as well as being a Magento Global Elite Partner and Bronze-level Adobe Solution Partner, we're pleased to see Adobe (Magento) recognised as one of the world's leading digital commerce platforms. We're looking forward to continuing on our journey with Adobe (Magento) to help more and more businesses reach and exceed their eCommerce ambitions for long-term success.
Learn more about the Gartner Magic Quadrant here.
To download the full report, courtesy of Magento, visit this page. And to learn more about how Vaimo can help your business drive online growth with the Adobe (Magento) Platform, then just reach out to a member of our team today!