On October 7th, Stephen Hill, Senior eCommerce Strategist at Vaimo, hosted a webinar to help you prove a top-notch user experience on Black Friday. In this article, we will summarise the main topics and take a sneak peek at some of Stephen's advice during the webinar.
Speaker:
Stephen Hill, Senior ECOMMERCE Strategist, VAIMO
What can you expect from Black Friday?
Vaimo works with global brands, manufacturers, and retailers across industries, such as Helly Hansen, Champion, Jaguar, Heineken, and many more. Last year, we noticed yet another dramatic shift in eCommerce.
Our clients' Black Friday results in 2019
Year-on-year growth for all Vaimo clients
78% increase in transactions
96% increase in order volumes
140% combined revenue growth for Vaimo clients
5,000 – 43,000 average order volumes in 2019 for our top 10 clients
In light of the COVID-19 pandemic, you may feel like these 2019 statistics have lost their lustre. However, eCommerce has become the most important and for many primary sales channel in 2020. Brands such as Home Depot, Walmart and Kohls are increasing their online holiday shopping period with great offers over the coming days and weeks. This change means that you should double your efforts to win the trust of online shoppers—and many of them are new to online shopping.
What you'll learn about Black Friday USER EXPERIENCE:
User experience holds a lot of importance during Black Friday. It determines whether your user finds those deals that will increase their average order value and shopping basket size, and how quickly they can checkout and go on with their day.
In the webinar, Stephen goes through three important topics to focus on for Black Friday success:

Let's take a sneak peek at a few examples taken from each section of Stephen's webinar.
Checkout Simplicity: Use in-line validation
There's nothing more annoying than getting to the bottom of a form and realising that you made a mistake, didn't enter all data needed etc. Then, you have to go through the form again and ensure that everything is filled out correctly. Guiding here user, where they went wrong, is highly appreciated.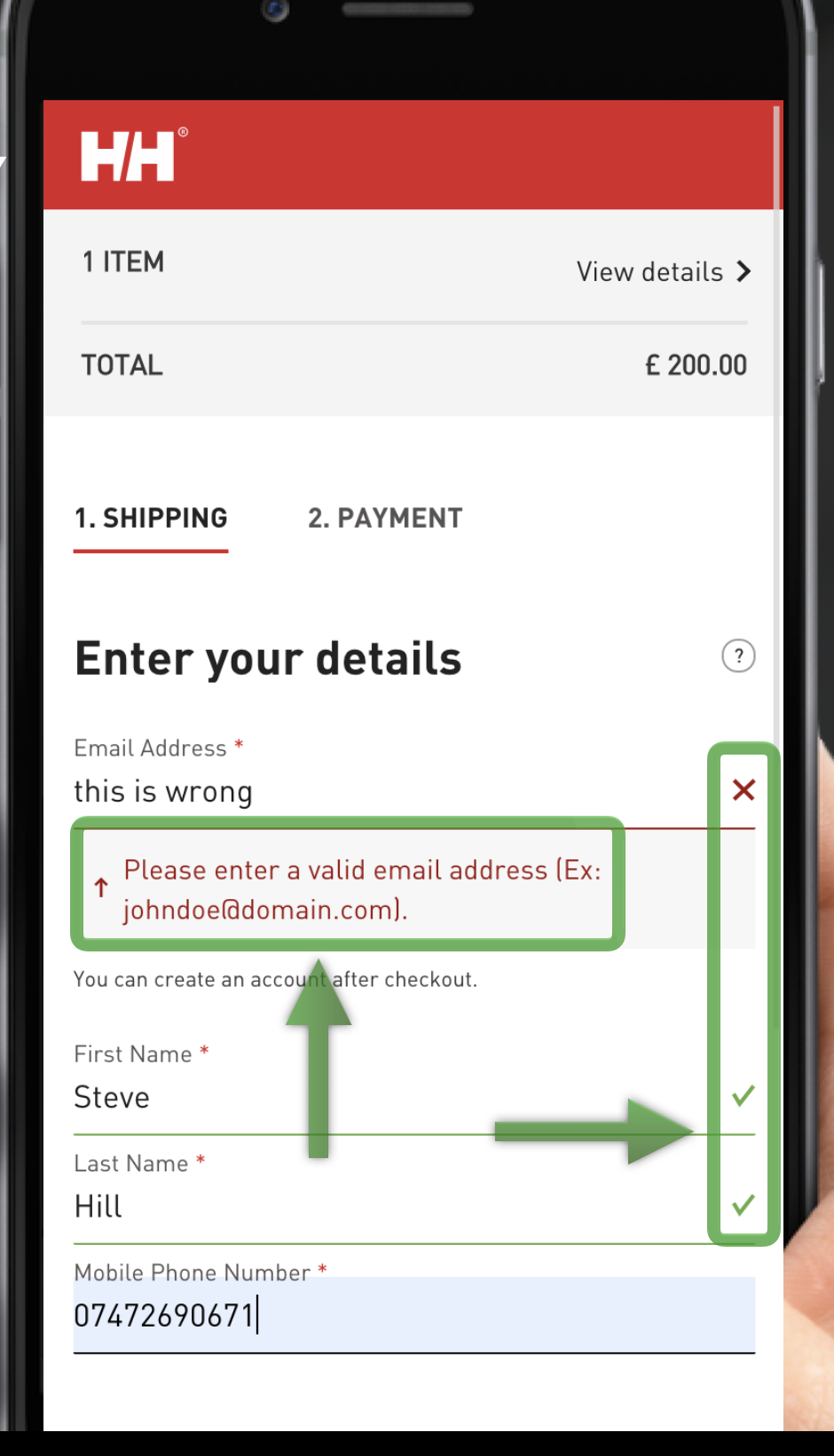 This example from Helly Hansen is great because you get green check marks for fields where the information is correct and a red cross in areas where the information is incorrect or needs to be filled in, in order to continue. With Helly Hansen example, it's obvious how to complete the form correctly and, as a result, as quickly as possible. This is a good example of how to simplify the process for the user.
Offer Visibility – include the BLACK FRIDAY promotion in navigation
Yes, we've had challenges around this before. If you're going to promote your Black Friday sale, you may as well show it.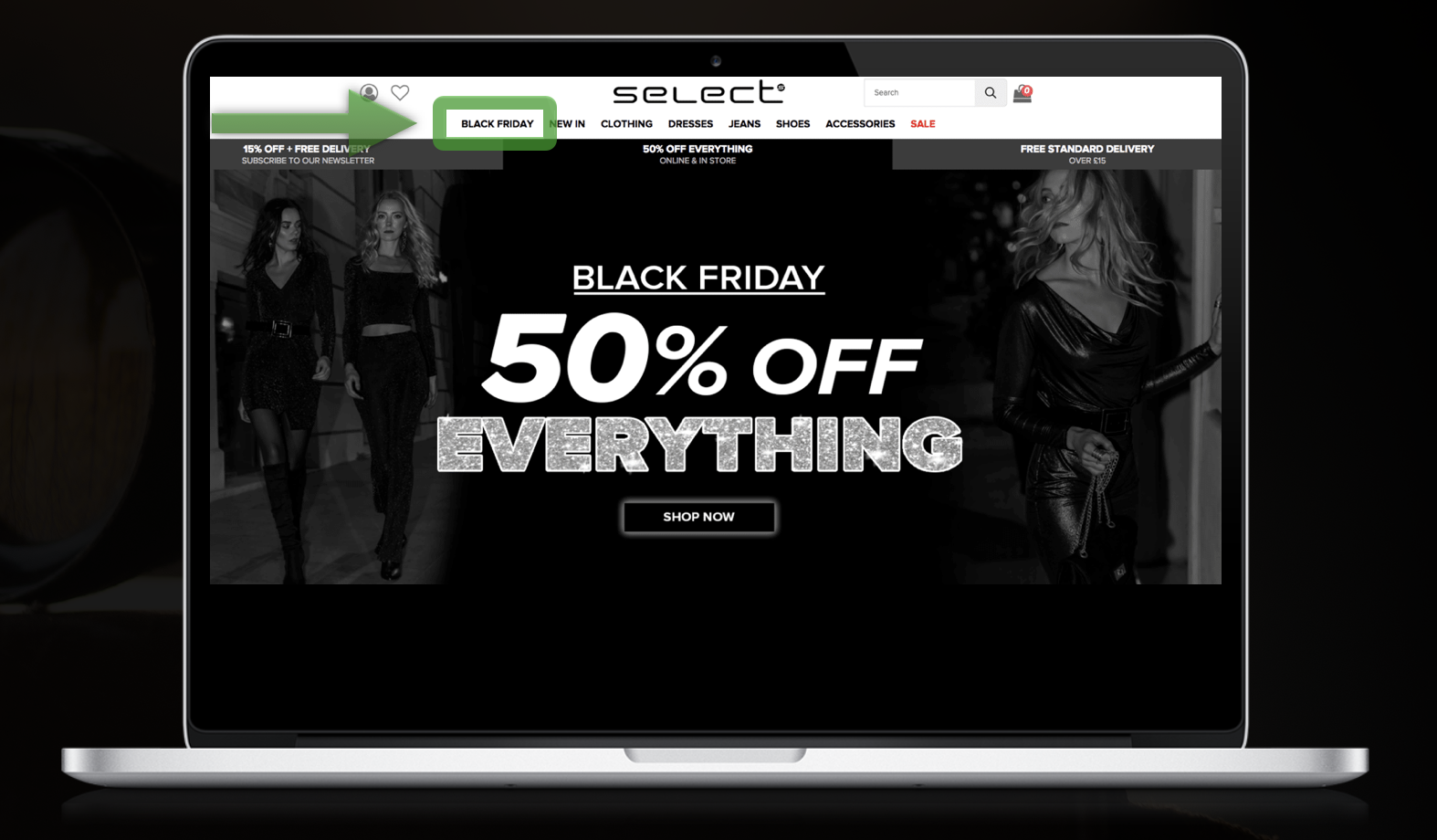 As an example with Select, the promotion is the first one visible in the navigation menu. You could argue that the colour should be altered to differentiate it from the rest of the text. Including your promotion in navigation is an integral part of making your sales offering known on Black Friday. If you're going to take part, do everything you can to make the Black Friday sale as visible as possible, so that you helping to drive in the sales you are planning for the holiday period.
Site Speed – CSS & JS
Concerns about CSS & JS repeatedly create a balancing act between client requests and a fast performing website. Often the scenario would be that we are asked, "Can you improve the Google page speed insight score for this website?" From there, the conversation transitions to removing features and functionality that decrease the site speed. We ask, "Can we remove the chatbot or the social media plugin?" and the response is "No!" because a leading 2020 eCommerce website needs these bells and whistles to compete and provide a quality user experience.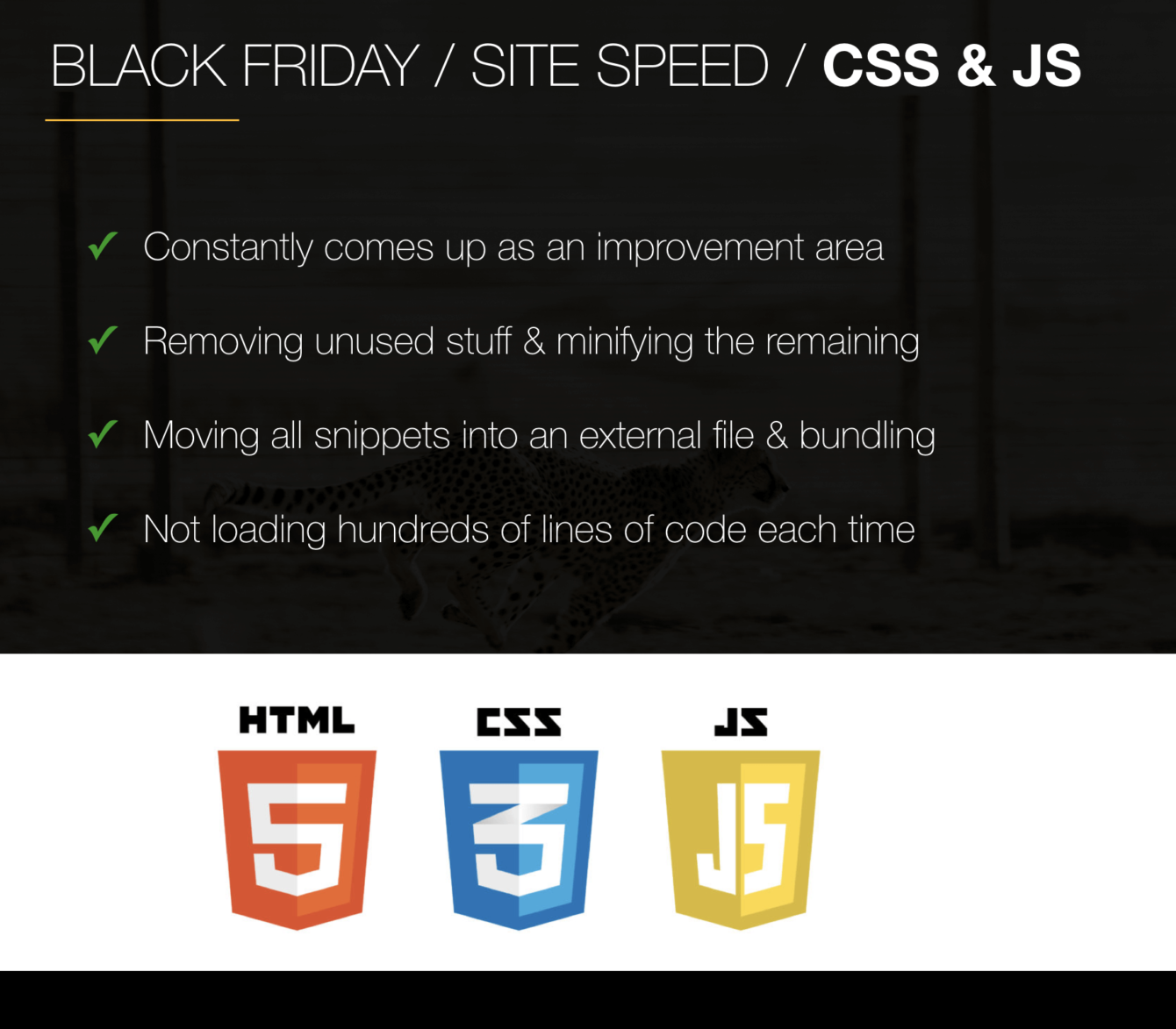 It's not fair to compare a fully-loaded eCommerce site to a flat and non-transactional HTML site as you need Javascript and tracking on an online store in 2020. One solution is to remove unused aspects of the site and minify the remaining things and put all the snippets into an Excel file. Instead, we can avoid loading hundreds of lines of code each time and just load it once and draw parallels about how the caching and CDN is working to make the server's job easier. While it is not the most UX-relevant advice, site speed plays a crucial role in keeping your site visitor happy and converting them on Black Friday.
Want TO WATCH THE FULL webinar?
About Vaimo
Vaimo is a global expert in digital commerce. As an omnichannel agency, we deliver strategy, design, development, and managed services to brands, retailers, and manufacturers.
We drive success in digital commerce with expertise in B2B, B2C, PIM, Order Management, and ERP integrations. With 10+ years of technical excellence, we support clients in business development, digital strategy, and customer experience design.
With offices in 15+ markets across EMEA, APAC, and North America and over 500 employees, we provide an international presence that allows us to cultivate close, long-term relationships with our clients.