As brands prepare for the phasing out of third-party cookies, the marketing landscape will change. The emphasis on privacy and data regulations will only grow, and third-party data and cookies will soon be a thing of the past. Marketers can rely on something other than customer purchase history, social media profiles and website registrations are the most valuable data sources.
The biggest issue is simply the uncertainty. Apple Safari and Mozilla Firefox have already blocked third-party cookies. Google Chrome has also announced plans to phase out support for third-party cookies by 2023. With the cookie slowly dying, it seems no one really knows what the future will hold.
This means most B2C brands and many B2B brands will need to rethink their digital roadmap strategies. While many companies have been preparing for this drastic change, given the early announcements but significantly delayed implementations by the big platforms, many are not ready.
While in the US, 86% of marketers rely somewhat on third-party cookies, 68% of US industry leaders don't expect the death of the cookie to affect revenues.1
However, uncertainty still looms. To help you navigate and prepare for these changes, we'll look at third-party cookies and why they are important, as well as tips on where to get started.

TABLE OF CONTENTS
What is First-Party Data?
First-party data is a term that refers to data that you collect directly from your customers. This data is not collected through a third party, but via channels you own, such as your website, app, or emails.
First-party data includes, but is not limited to:
Data in your customer relationship management (CRM) system
Data from your website, app, and social media accounts
Data from product level purchases
Data from your subscription-based emails
Data from customer surveys
Data from customer feedback
Data from your loyalty program
Third-party data, in contrast, consists of information collected by a party that does not have a direct relationship with the person whose data is being collected. Third-party data is often collected from various websites and platforms and then aggregated by third-party data providers.
Now that we've clarified that! Let's look at some changes affecting what data will be available to brands in the future.
Tracking Google And Apple Privacy Changes
As people have grown increasingly aware of the amount of data that companies are constantly collecting from them, the reluctance to share that data has increased. It's interesting to note that only 13% of consumers state they will miss cookies and believe they create a better online experience.2
Understandably, consumers are concerned about data privacy. Privacy regulations such as the EU's GDPR and California's CCPA have been implemented to increase online privacy and provide transparency to the consumer. The big players have received great pressure to improve data protection.
Apple introduced third-party cookie blocking to Safari back in 2017 with Intelligent Tracking Prevention (ITP). In 2019, ITP 2.2 and 2.3 were released, which meant cookies were automatically deleted after 24 hours. This has, of course, restricted companies' ability to track consumers even more.
And in April 2021, with the launch of IOS 14, mobile application providers are now required to ask their users for approval to gather tracking data. In other words, iPhone users can now opt-in to keep seeing targeted ads in their mobile apps.
Last year, Google announced significant privacy updates that would limit the ability of advertisers to track Android users' activity across apps, especially when it's done covertly. Google assured its partners that it will offer a "privacy-preserving alternative path" to its current ad capabilities and that the changes won't be fully implemented for two years to give the industry time to plan.
Details are sparse, but one specific change will eliminate advertizing IDs, a unique alphanumeric code attached to each Android user. It follows a similar move made by Apple last year that was thought to have upended advertizing practices.
The big "take-away" here is that consumers are more privacy-conscious than ever. Consumers are starting to be proactive about privacy, and the big platforms are forced to react. The solution is not to find ways to circumvent this trend but commit to forging honest, meaningful relationships and adopting a fully-fledged privacy-first strategy.
Related Reading: A Unified Customer Experience with Headless Ecommerce
How Will These Changes Impact Your Business?
The area that is the most impacted by these changes is targeted advertizing. According to McKinsey, programmatic advertizing accounted for 78.4% of US ad spending in 2020.3 And among non-premium publishers, more than 80% of their ad revenue depended on third-party targeted ads. This means a staggering $10 billion is at risk in publisher revenue, which is only in the U.S.
As the possibility of tracking many online actions is reduced, how businesses handle attribution will need to change. The way forward will most likely be to get better at using data from your own sources, such as your website and emails. Brands must also embrace privacy-friendly ways to track and measure online behavior. You can do this by leveraging your own data and tracking interactions with your own touchpoints.
Below are five tips for how to prepare and navigate these changes:
Leverage First-Party Data As The Way Forward
So what does all of this mean for marketers at a hands-on, practical level? If cookies are a thing of the past, then what's next?
These new conditions fundamentally impact how ecommerce brands go to market. Brands will need to shift their focus from third-party to first-party data, which in many cases, means the whole ecommerce strategy needs to be recalibrated and redefined.
The first step toward an efficient first-party data strategy is to get your data house in order. Many brands skip this step and head straight for tactics, which is a mistake. First, ensure you have access to solid/clean data, preferably through a Customer Data Platform. And there are still many options to enhance that customer data with additional demographics and behavioral data.
A centralized data lake creates universal user IDs to enrich customer journeys through touchpoints, allowing for smarter retargeting and marketing. A data lake allows you to store your data in any format and eliminates the need for data silos, building a strong foundation for machine learning and AI-powered analytics.
When you have your data in order, you can start focusing on optimizing every part of your funnel. The best idea is usually to optimize from the bottom of the funnel and then move upward. Get crystal clear on how you're moving users through the funnel and getting existing users to stay.
Once you know this, you can focus on getting new prospects at the top of your funnel, which brings us to the following question: how do you get people to the top of your funnel? Doing so requires new ways of increasing traffic and conversions on your site.
Look At SEO, Not Paid, For Quality
Every brand wants to increase site traffic; that makes perfect sense. But focusing too much on acquiring new traffic can sometimes make marketing teams lose sight of the traffic that is already going to the site. Additional traffic will not help if there isn't already a great website that provides value to users.
By focusing on technical SEO (Search Engine Optimization) a brand can optimize a website that has not been conforming to best practices for search visibility. There is tremendous value in having a well-optimized site from a technical standpoint; however, technical SEO can only help a site improve the visibility it ALREADY has.
Therefore, SEO will become even more critical as ads become less potent. And the overall quality of the content you produce will determine how many visitors you attract and how likely they will return. A revised commerce content strategy may also be in order.
It will also be essential to design better processes for data collection at key touchpoints to get a complete view of the buying journey. Today, many companies inadvertently let large amounts of data pass them by, and then they have to guess to fill in the blanks. The amount of data available to large brands daily can be overwhelming. But revising data capture and reporting processes may yield significant insights.
Build Trust With Customers
Unlike third-party data, first-party data is unique to your business. It's data that you own and can collect with direct consent from your customers and visitors through various interactions on apps and websites and in response to marketing initiatives, like email and loyalty programs. When used well, first-party data will help you build direct relationships with your customers in a way that creates value for them—while boosting your business as well.
And remember, collecting first-party data requires trust. You need to take a transparent, step-by-step approach and gradually build relationships where your web visitors and customers are willing to share information with you. Progressive profiling is your best bet at building up customer profiles that will enable you to personalize your marketing.
Invest In Personalization
Brands know personalization is important. Still, their strategies for learning about consumers haven't always been the most informative. Consumers' preferences are ever-changing; for instance, 90% of consumers in the U.S. who have switched brands or retailers say they will continue to do so in the future.4
This means marketers need to be able to capture live audience insights and translate them into messaging that resonates. Given their short shelf life, cookies are not the best tool to help marketers understand and anticipate consumers' preferences.
Considering that 90% of U.S. consumers have a positive attitude toward marketing personalization, marketers need to understand those that interact with their brand as well as how these insights can change over time.5 Marketers should establish privacy-compliant first-party data collection to deliver the authentic communications consumers want from the brands they engage with.
Related Reading: The Ultimate Guide to Personalized Ecommerce
Look At New Formats And Up The Analytics
Sometimes, making significant strategic decisions like moving your product into a mobile app will be what it takes. Doing so can allow you to collect solid first-party data. The key is to be aware of this evolution and move toward an ecosystem that does not rely on cookies and third-party data.
Marketing technology like analytics systems with attribution capabilities can provide brands with more valuable insights than what will be lost from cookies' disappearance. With better optics into how consumers respond to activations and messaging, marketers can identify their efforts influencing consumers and which need to be adjusted. For example, marketers can see whether a consumer clicks through an in-app advertisement or minimizes it, which clues them into how engaging the ad is and if it should be revised or replaced.
"Consumers are starting to be proactive about privacy, and the big platforms are forced to react. The solution is not to find ways to circumvent this trend but commit to forging honest, meaningful relationships and adopting a fully-fledged privacy-first strategy."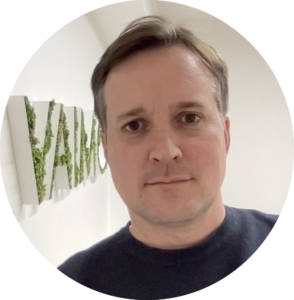 Henry Burr
Commerce Strategy Consultant
Vaimo
How To Get Started
With all of the information, where do you start? Here are five tips to help you think about your first-party data strategy:
Define Your Business Objectives
With a first-party data strategy, you'll need to know what it is you want to do for your customers. Are you trying to understand behaviors better? Or are you looking to prompt real-time personalization? Or add an omnichannel experience? Any part of your strategy can be improved by leveraging first-party data.
Define Your Target Audience
To define your target audiences, you'll need the correct first-party data from channels like web, mobile, CRM, apps, and your product itself. For example, your visitors can be segmented by online behavior, affinity, and common demographics to develop a personalized marketing strategy.
How Will You Collect Data?
After you've sourced the correct first-party data, you'll need to understand which specific data points you need to support your use case. For example, transactional data is meaningless until its put into context, like time since last purchase, lifetime value, product usage and so on.
Where Do You Want to Use this Data?
Segmentation evolves with your access to data. How do you define a VIP or fan? Creating an omnichannel experience tailored to your audience starts with deciding which insights to use in which channels.
How Will Your Measure Success?
What data points will you use to measure success? This is an ongoing process. Your insights will help you get the most out of customer experience and analysis tools. To effectively measure your success, you will need to use reporting tools and platforms, allocate resources, check in from time to time and request feedback.
How Vaimo Can Help
At Vaimo, we're experts in digital commerce. As a full-service omnichannel partner, we can help you with every part of the process—we deliver strategy, design, development, and managed services to brands, retailers, and manufacturers worldwide. So if you're looking for a partner to guide you through these changes and help you understand how to make the most of the new digital landscape, we're here for you.
We can help you recalibrate your ecommerce strategy, implement the technical changes required, and redesign and improve the digital customer experience and buying journey. Get in touch to talk to one of our experts.
Sources:
1 – How will marketers curb their third-party cookie cravings? –– insiderintelligence.com
2 – 2022 Digital Consumer Trends Index –– cheetahdigital.com
3 – The demise of third-party cookies and identifiers –– mckinsey.com
4 – How US consumers are feeling, shopping, and spending –– mckinsey.com
5 – Attitudes towards marketing content personalization in the United States –– statista.com