One of the most interesting client case studies we learned deeper about at Magento's Imagine Commerce 2016 this year was the story behind Frankfurt Airport's completely unique omni/multichannel solution that, according to AOE, is the future of multichannel. As digitisation permeates every aspect of life and business, the shopping behaviour of customers inevitably changes along with it, and requires a cross-channel approach. On the third day of Imagine 2016, Kai Schmidhuber, Senior Vice President of Multichannel, eCommerce, CRM and Strategy at Fraport, the company that operates Frankfurt Airport, and Kian Gould, Founder and CEO of AOE, talked in detail about Frankfurt Airport's new eCommerce solution. Kai relayed that the modern German household has over 9 digital devices on average, and that there are currently 4.8 billion mobile users worldwide. Please note that all information in this blog post is from AOE's presentation at Imagine 2016.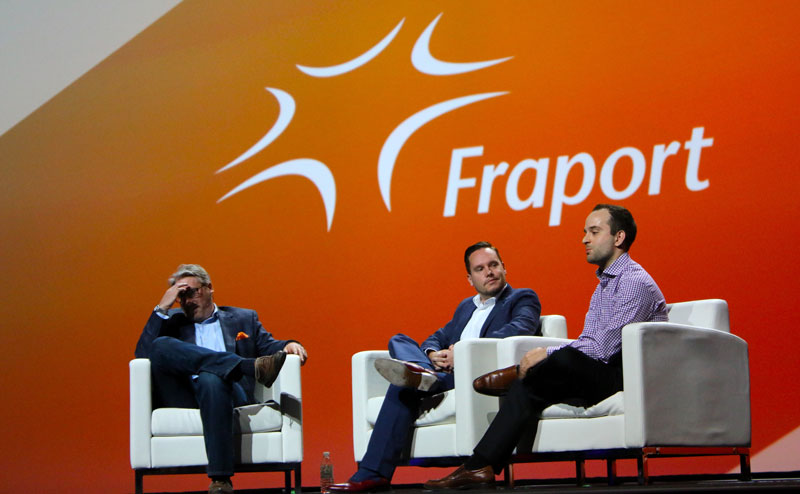 Michael Sonier facepalms Kai Schmidhuber and Kian Gould at Imagine Commerce 2016. Just kidding – we just captured the right moment.
CHALLENGES
Airport shopping is an integral part of traveling, and this inspired the project in the first place. Frankfurt Airport in Germany sees over 60 million passengers per year and features over 300 shops, bars and restaurants, with over 1000 exclusive brands sold. As we know, digitisation has created an increasingly dynamic environment, and this has created new challenges for the airport shopping experience. Branded shops at the airport promote their individual shops online, which channels revenue past the airport. Another issue is spatial restrictions at the terminal, and shops that are scattered across different terminals. I personally am always stuck in a terminal without the Starbucks!
Further challenges include competing with the omnipresence of international commerce giants like Zalando and Amazon and top airport retail locations entering the online retail business. Frankfurt Airport also saw stationary retailers, like the Frankfurt city centre, "move closer" and infringe on the airport's business.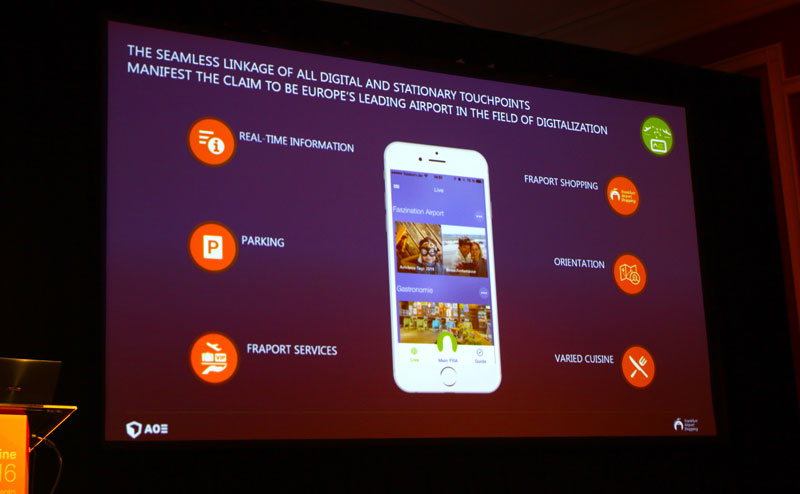 OPPORTUNITIES
However, the dynamic eCommerce landscape simultaneously creates attractive opportunities as well. With the accumulation of new digital devices, there are more communication channels to reach consumers. The digitisation of the travel journey creates new touch points, and more opportunities to create a unique and immersive customer experience and to bring all services and store to the forefront. Digitising an airport is more than creating an app or a web shop, but rather connecting all services and stores to the shopper's fingertips. Also, flight passengers are expected to double by the year 2034 – now that's an opportunity!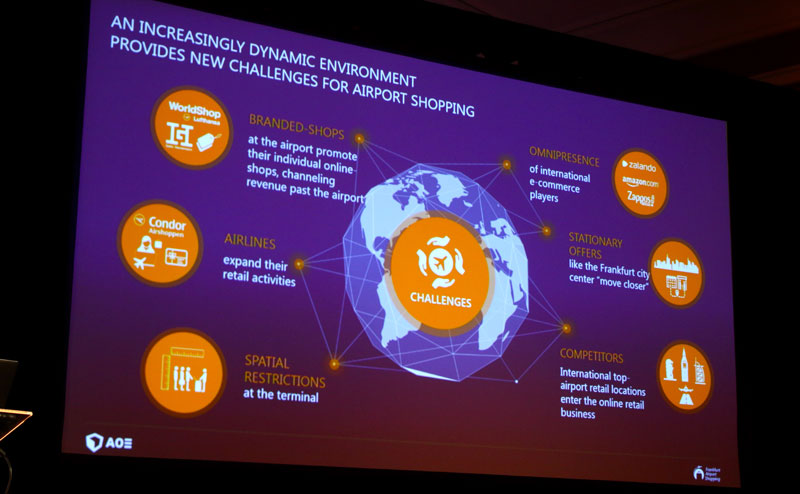 STRATEGY
When it came to the multichannel strategy of Frankfurt Airport, Kai wanted to focus on three points of success.Connection meant personalised communication, initiatives and rewards to shop, and of course, shopping itself.Integration meant establishing an integration of information and interaction channels along all points of contact with consumers at the airport, and finally, marketing meant integrated online and offline marketing for the endeavour.
FEATURES
Kai saw digitisation as an enabler of the potential airport environment of the future. Frankfurt Airport today is fully digitised, and offers a number of cool features such as:
instant booking

one day offices

digital parking

VIP shuttle

airport services

inflight shopping

digital cross-border business

digital notification

beacon info-technology

rollout I-AID: guide and information

home delivery

delivery to gate

online payment

info kiosk

lounge shopping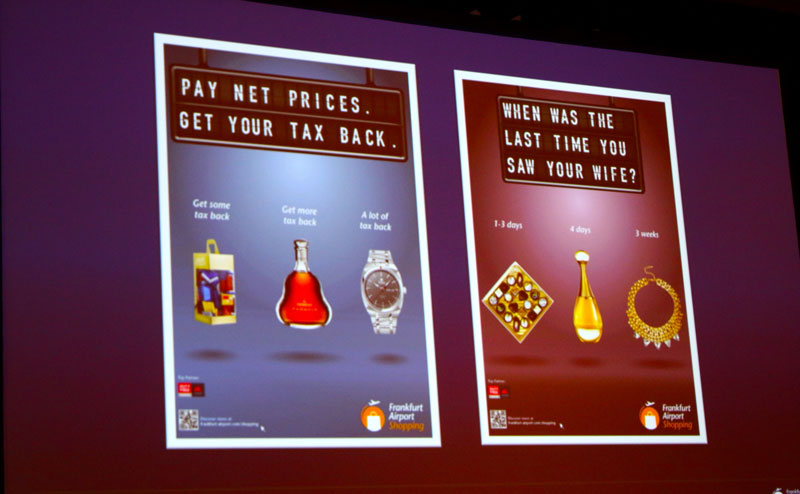 PROJECT DELIVERY
Kian, AOE's CEO, talked about the technological complexities that went into designing, building, and running a complete omnichannel travel eCommerce strategy on the Magento Enterprise platform. The project is supported by 120 servers in 2 data centres, and took 10,000 developer days to complete, or exactly a year from start to launch. The project features 35 services and integrations, and over 70 people in 8 SCRUM teams.
AOE and Fraport won the Best Omnichannel Experience award at this year's Magento Imagine Commerce for their Frankfurt Airport project. Read AOE's take on the digitisation of airports here, and more on the Frankfurt Airport project here.