In September 2015, Vaimo helped to launch a new fully responsive site for Jack Daniel's UK that promotes the brand through rich content and story-telling with the brand's imagery weaving throughout the site. Since then, both companies have worked very close together to improve the functionality and user experience for the site. We took some time with Karen Taylor, UK Ecommerce Manager for Brown-Forman and Andrejs Antonovs, Project Manager of Brown-Forman eCommerce projects on Vaimo's side, to delve deeper into what has happened since the new site launch.
Full Jack Daniel's UK case study available here. 
What's happened during the nearly two years since Jack Daniel's UK went live with the new website? 
We are still in a growing and learning stage; we jokingly say that our web shop is akin to a two-year-old child, and we're figuring out this parenting thing! During the first year that our web shop was live, we were keen to ensure that Jack Daniel's fans knew about it. In 2017, we've focused on driving new traffic to the web shop, specifically shoppers who are looking for personalised gifts. As a result, we have experienced a decrease in our conversion rates as new shoppers more commonly come to the shop to look around before buying. But we can think of no better reason for decreased conversion than by attracting new visitors to our shop! Father's Day this year was a great chance to draw in shoppers, and we offered free engraving on our bottles for the occasion as well.
What are some of the other challenges you have faced since the initial launch?
The Jack Daniel's web shop in Germany and a Brown-Forman branded web shop went live on the same instance on Magento Commerce as the Jack Daniel's UK site. Our sites in different countries share features and the budget to develop them; this means that features developed for Jack Daniel's Germany can be used later for Jack Daniel's UK and vice versa. As a result, we have different staff members working on the site in different time zones, and this has presented some communications challenges within our internal team. We had different Jack Daniel's locations putting in identical requests for eCommerce; ultimately, our Vaimo Project Manager suggested that we pull our teams together from different locations to discuss our "features wish list" for our shared Vaimo resource team. When we aligned and agreed on our priorities, we became much more successful all around.
What new features have you added to the web shop?
We implemented an integration with Nosto, which allows a window to pop up when a shopper tries to leave the site with a reminder of items still in their shopping basket. If the visitor leaves without purchasing the products in their basket, they are prompted to choose to have their basket emailed to them. We also integrated Google Shopping with Magento, which means Jack Daniel's products are displayed in Google Shopping and visitors are led to the Jack Daniel's site.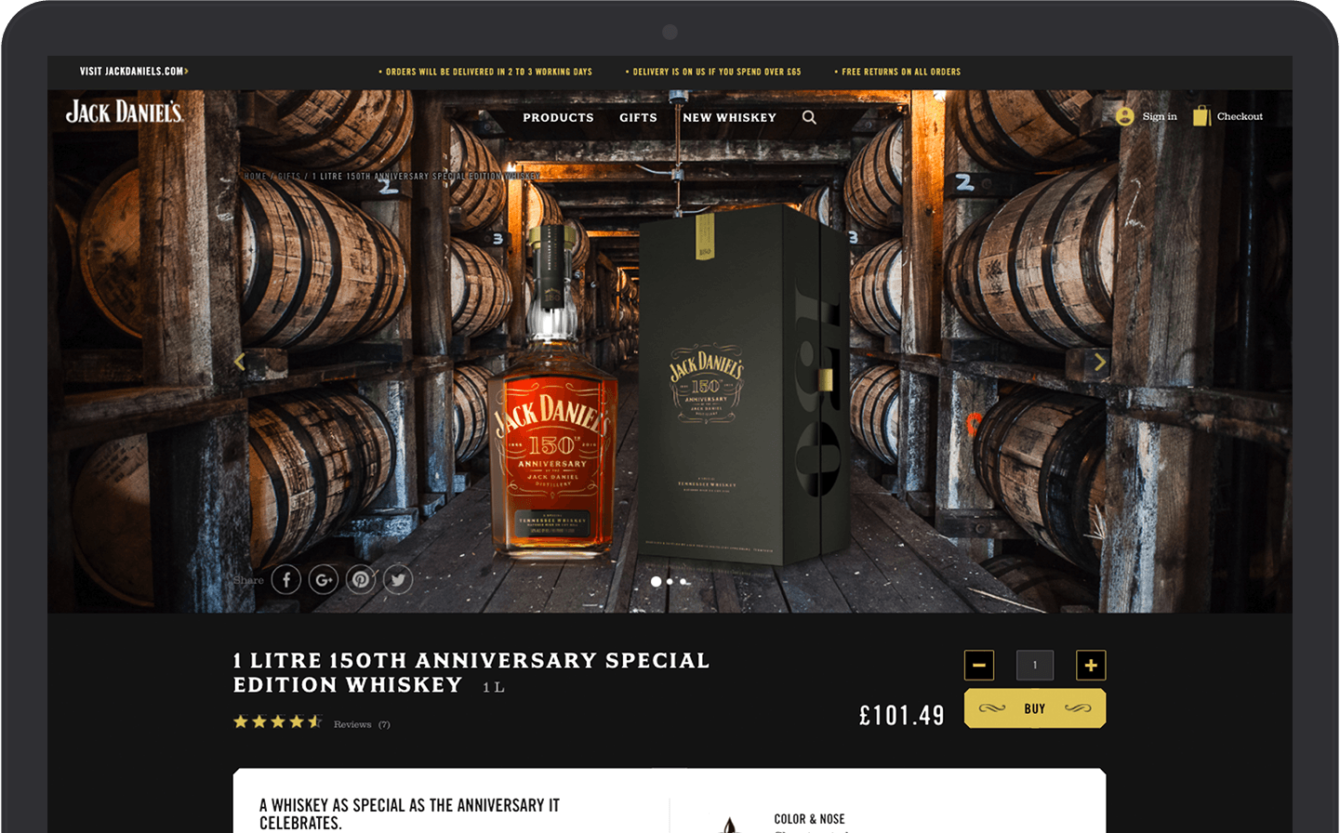 What are you working on now?
We're going through a constant evolution of making small incremental changes to the site. We're working with Vaimo eCommerce Strategist, Stephen Hill, on AB testing to improve our conversion rate and with that, we're reviewing our pain points as well. For example, as a responsible retailer and marketer of alcohol, we keep an age gate on our website. For most online retailers, the purpose of the landing page is to entice people in but the purpose of ours is to keep people out until we have verified that they are of legal drinking age. It's an important commitment but it is one that hurts conversions. We've been testing to see how minor details impact visitors at the age-gate while still complying with our industry commitments.
In general, our evolution is dominated by a focus on user behaviour; while we ensure we include all legally pertinent elements on the age gate, we also strive to make the user experience as simple as possible. The best example is when we look at the age gate on desktop versus mobile; we have found that on mobile, users want basic information displayed all on one screen. With desktop, visitors are more forgiving and allow us to provide additional information on the page, and we can add elements of our brand story for a further reason to provide the required information. The key point here was that we took each channel – mobile, tablet, and desktop – separately, and we defined the challenges for each one.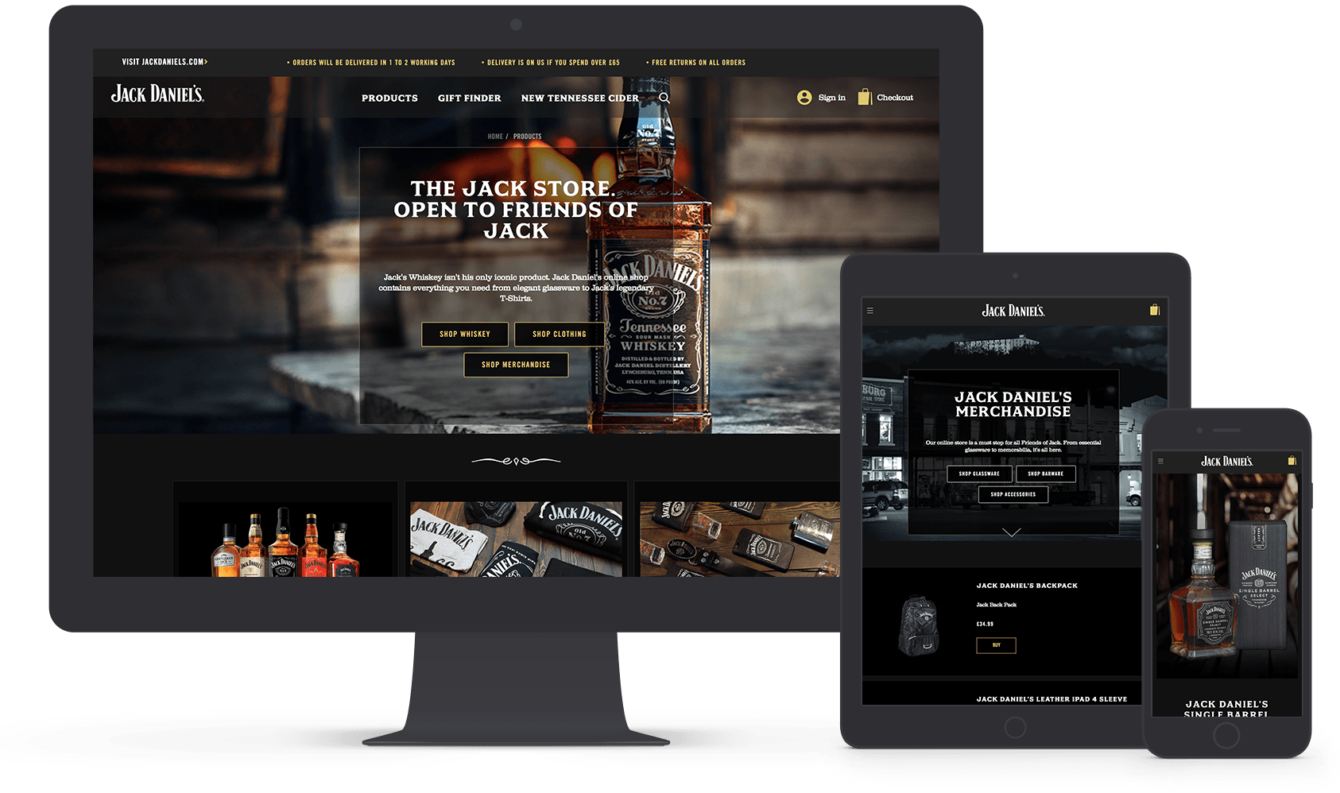 What else have you improved through testing?
One test that worked well revealed the importance of the quality of the images on our website; specifically, product images. Previously, we had fairly basic images of a bottle of Jack Daniel's whiskey in a gift pack. We ran a test where we changed the basic image to a more "premium" looking image with a photo of the whiskey bottle, the gift pack, and the whiskey served in a glass. It showed consumers the best way to drink our whiskey, and allowed them to more easily visualise themselves consuming the product – this is a way to related products to the consumer. Similarly, an apparel website would show clothing on a person, not just on a hanger. We have not fully implemented this yet, but through testing, we did find that this led to an increase in conversions.
Another area we looked at was our checkout; we realised that we were missing the opportunity to sign customers up to our CRM list as many were checking out as guests. We needed to offer an incentive to get them to tick that "Yes, sign me up" box. Through testing, we understood that the page layout was not optimised to motivate visitors to sign up, as the button was at the bottom of the page and easy to miss. We decided to make the checkout process simpler, by requiring less information upfront, and then asking visitors to join our mailing list with a pop-up after the checkout is complete. This way, it becomes a separate experience and we are being more proactive in our request.
What draws in the most traffic to the Jack Daniel's UK site?
Launching new products is very powerful for sales and helps to attract more people to the online store. Our biggest learning is fairly obvious – there's power in the product and in our marketing team to promote this product! Of course, the tech side has to be perfect – consumers need to get through the shopping journey seamlessly.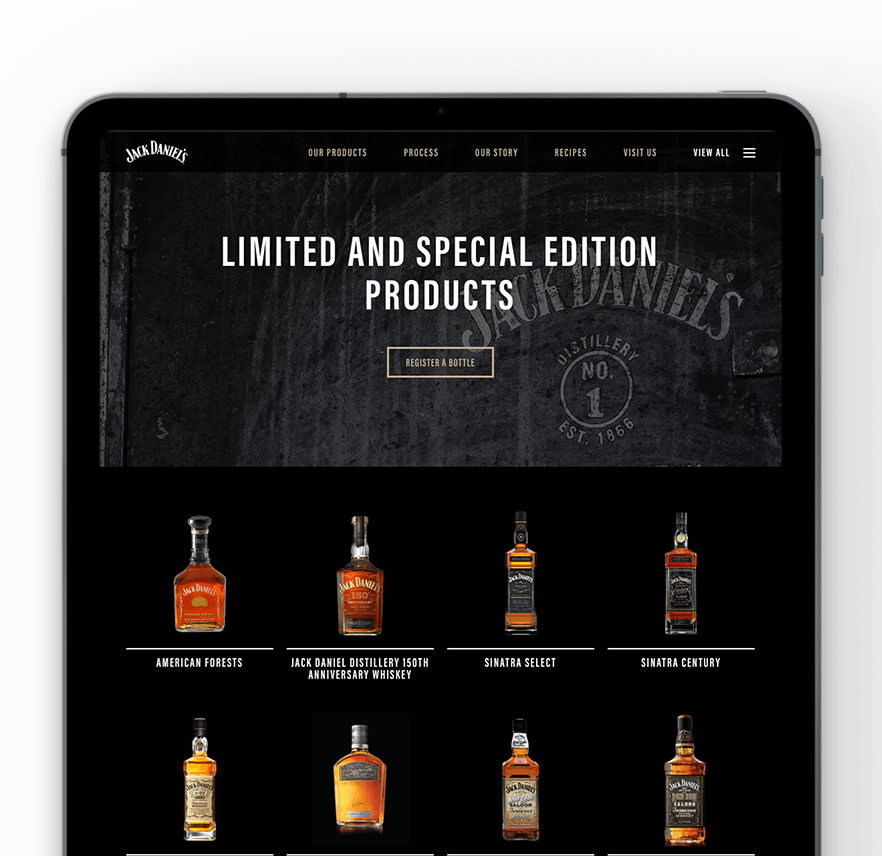 What are your key products?
Our biggest sellers are gift items, and products you can personalise with engraving. Our gift packs are also very popular, like our bottle of Old No.7 in a guitar case gift pack. In fact, about 50% of our engravable bottles are sold engraved. Some retailers do offer this service, but they don't offer the full range of the Jack Daniel's collection as we do. From that point of view, it's a unique offering. The added feature only costs an additional 10 pounds, and that's a relatively minimum charge for a gifting opportunity. Sometimes we offer the engraving service for free during holidays or special promotions. On such occasions, we see about 90% of our engravable bottles sold engraved.
What have you learned from your competitors?
From watching our competitors on the market, we have learned that it's important to offer a wide and diverse selection of Jack Daniel's products that ranges from smaller value items all the way to high-end when it comes to gift items. You need to give shoppers different options and levels of gifts, as not everyone wants to spend 100 pounds on a present. We offer smaller items, such as sets containing miniature bottles and a drinking glass or a hip flask.
What's an element that's unique to your industry?
When it comes to releasing new products or features, we are always overly cautious when it comes to risk. If there is even the slightest chance that a person could be less than satisfied with our product for any reason, we will not release the product in question. For example, it's possible to engrave all types of glass; however, the process of engraving thins glass, and we thoroughly test the glass after engraving to ensure it meets our high standards of quality and safety. If the quality falls short of our standards, we will not sell the product. We want to ensure that our patrons have the best possible experience when consuming our product, and if that experience involves a degree of risk, then it's not the best possible experience.
How do you drive omni-channel sales?
As our Jack Daniel's web store is one out of many places that customers can find our products, we work with our distribution partners and retailers to support them. We are open and honest about our third party retailers, their pricing, and their locations. Omni-channel for us means connecting our consumers with these retailers and making sure our content and imagery is consistent.
How would you describe your journey with Vaimo thus far?
I'm a big fan of Vaimo, and I'm very pleased with our account management services; we have a project manager who is dedicated to us, and who is knowledgeable about our website and our products. If we have problems, our Vaimo team is quick to help us, and they are great at suggesting how to evolve our website. The daily contact is just fabulous! We also have a close contact with our Vaimo eCommerce Strategist, Stephen Hill, who gives us a different perspective on any prospective decisions we are making. While we look at the consumer viewpoint, Stephen gives us a technical perspective; as a result, we have a much more stimulating conversation about what developments can happen. This collaboration, with people from multiple backgrounds, allows us to better develop and evolve our business.
What's the plan for the future for Jack Daniel's UK?
We plan on releasing more products and enhancing services based on our learnings from last year's sales, analytics and customer feedback since we launched the web store. We will actively delve more heavily into product personalisation, and focus on how we can offer our consumers a more personalised user experience in all areas of our service, both on site and through the fulfillment and delivery process. We've also learned that our consumers love understanding how best to consume the products – in fact, our different recipes involving our products draw many visitors to the site. We will continue to drive our brand legacy with our story-telling and rich content, which in turn helps us increase sales.
The Jack Daniel's eCommerce Do's and Don'ts
Always keep an eye on the data – how your sales and traffic are doing, and what's driving any type of consumer behaviour. For example, we've seen traffic spikes that mystified us; it turned out that a Jack Daniel's marketing team in another country had released promotional material that we weren't aware of and the team did not anticipate that it would impact us. Remember to feed the information you find back to the rest of your business too!

Focus on customer service, and get as much customer feedback as you can. Our biggest issues have emerged (and have been resolved) because of customer feedback.

Shop your site yourself in order to gain insight into your own user journey. We've 

created focus groups within our staff members and we've asked them to buy something from our own web shop. Focus groups don't have to be big and the process needn't be expensive.

Don't try to achieve everything at once. We've definitely tried fixing every issue on the site simultaneously; this resulted in various tests impacting one other and the site becoming unpredictable in different ways. Take everything one step at a time!

Have patience; some weeks may feel slow or challenging, but every issue has a solution!

Don't be afraid to fail; we've tried many things that haven't worked. As long as it's within your budget, don't be afraid to try new things.
Ready to take your B2B business to the next digital level? Contact us today!