Last Monday, members of Vaimo's team had the opportunity to attend Meet Magento Sweden to dive into all things Magento.
Earlier this year, Magento was acquired by Adobe which, of course, was a hot topic at the event — and something that we at Vaimo, as a Global Elite Magento partner, were particularly interested in. Even though clarification is still emerging on the details, Magento opened the session by confirming that they will grow stronger as a result of the Adobe purchase. As a mid-market offering, Magento and Adobe believe in changing the world through digital experiences. The acquisition will allow the two to make this a reality.
Magento's Channel Sales Manager, Stephanie Kershaw, opened up the event with some strong numbers for the Nordics, particularly for the Swedish market. The eCommerce industry was worth 20.6 billion Euros for 2017 in the Nordics, with 40% of the revenue share coming from Sweden.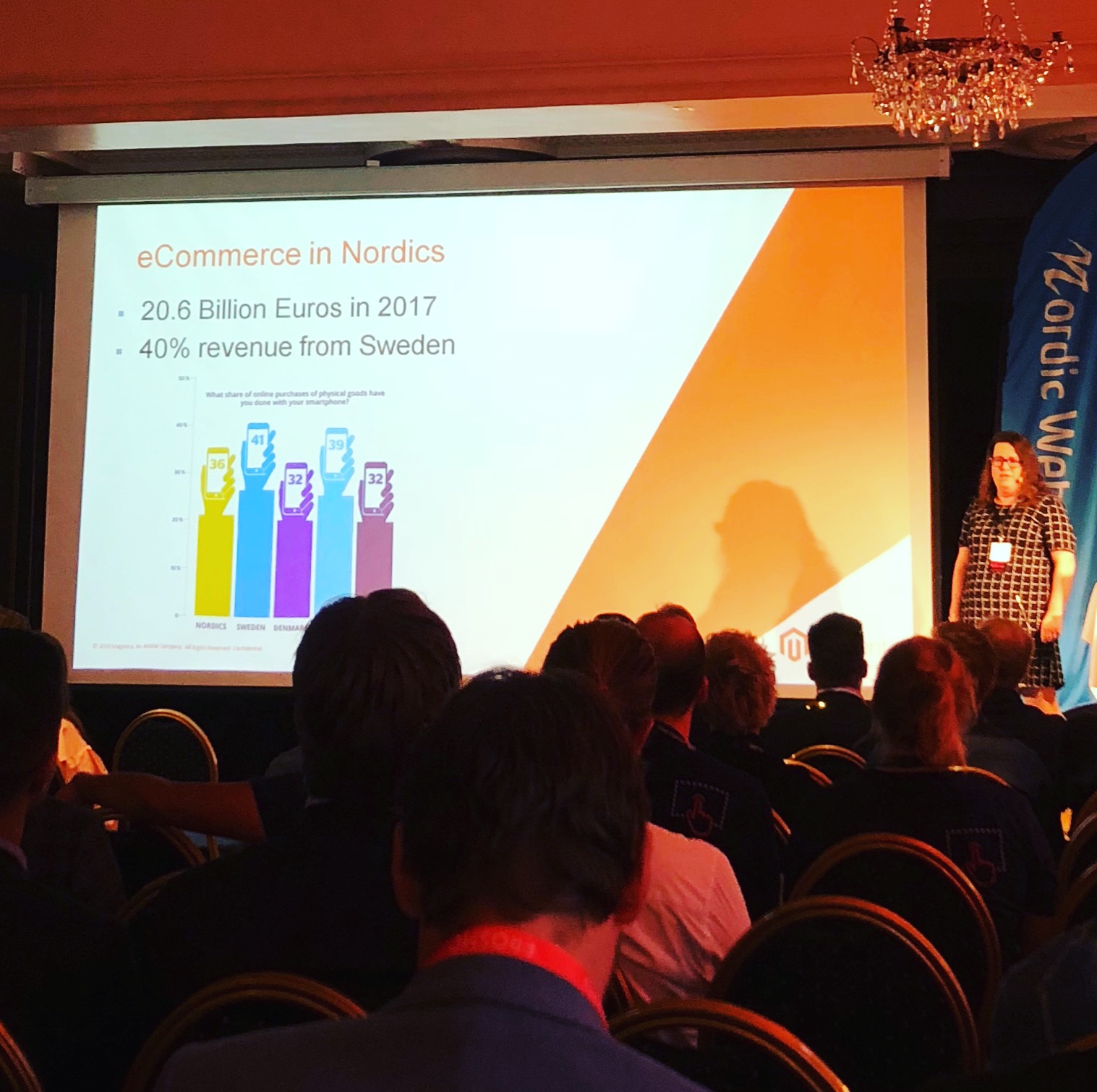 Ben Marks, also from Magento, stressed the need for companies on Magento 1 to make a plan for migrating since support will end in June 2020. Magento is also, for the first time, sharing what they are working on and their future plans. You can have a look here!
Another interesting feature from Magento is their Innovation Lab. Visit the site today and get inspired!
And with regards to success in eCommerce — we found some inspiring answers from the talks at Meet Magento Sweden:
A large emphasis was put on how more and more businesses are shifting to customer experience driven commerce. It's not just the product anymore, but the experience that helps you stand out from your competition. Engage your customers in the experience to become strong advocates for your brand to make them visit your store more and in that buy more.
Everyone is talking about PWA
We also noticed that PWA is getting more and more attention. PWA stands for Progressive Web Apps and is built on a philosophy of fast, integrated, reliable and engaging (FIRE) app experiences. Today there aren't huge numbers of retailers working with PWAs, but Magento has a mission to make the integration easier for retailers.
Loading…
It's no surprise that customers are lost and disheartened if a site takes more than three seconds to load, but this still happens way too often. As of July, Google is using page speed as a way of ranking sites. So it's important to think about the site speed on mobile — because if it's not fast enough, you'll lose that potential customer.
Don't forget that different markets are using different methods
Every market has different payment methods, so it's crucial that you choose the right one(s)!
Even when it comes to the countries in the Nordics, you need to research and understand the payment needs and preferences across countries. This will then allow you to provide exactly what your customers are calling out for. And ultimately, this means more brand advocates and greater success for your business.
Magneto's report on successful B2B eCommerce
Here are some key takeaways from Magento's latest report around what works for B2B eCommerce:
Email still rules B2B e-commerce.
Again, pick the right payment method for your clients. For B2B there is often a need for down payments.
Invest in rich content to support sales and research, especially for more advanced and complicated products. This will increase sales and decrease unnecessary service calls.
How do you structure the products on your site? Make sure you invest in smart search with key features such as synonyms, competitive products, SKU and autocomplete search
Reach the mobile buyer: the next generation of mobile – PWA!
That's all from Meet Magento SE, but don't forget — MagentoLive Europe is just around the corner! As a platinum sponsor, members of the Vaimo team will be in attendance and our CCO, PJ Utsi, will also be taking the stage alongside our client, BAUHAUS.
You can also book a personal meeting with a member of our team to get answers to all things digital commerce.
Article cover image: se.meet-magento.com