Bauhaus Sweden
BAUHAUS brings quality tools and materials for home improvement to one store and they aim to offer the industry's biggest selection and provide effective customer service with knowledgeable staff. BAUHAUS boasts 18 stores in Sweden and a website that serves both B2C and B2B customers.
View Live site
Fail proof authentication
Vaimo implemented the Swedish authentication system using a customer's bank ID and social security number for an iron-clad login system. This connects with the BAUHAUS ERP system which links the correct account. It provides the customer with the possibility to select different companies they are associated with, using just one login credential. Customers simply login with their social security number, bank ID, and then choose their company.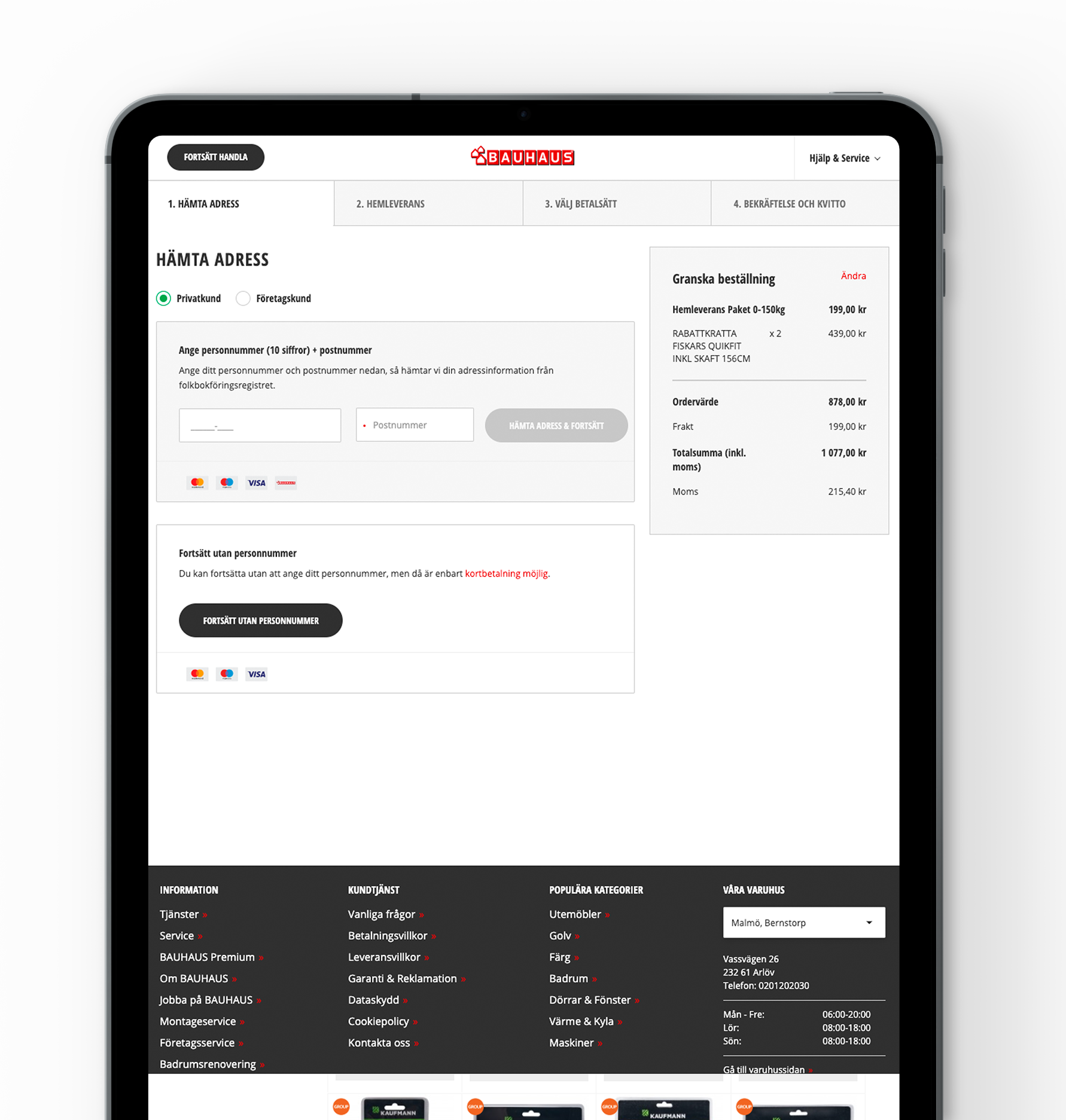 Bauhaus B2B portal
The BAUHAUS B2B portal offers a main account with connected sub accounts. The owner of the account can administer different employees and oversee their individual payment options. The account owner also controls how much credit is left for the overall account. The B2B customer portal is fully tailored and API session-based with its own set of payment options and a BAUHAUS credit card, available exclusively for B2B customers. Vaimo has decreased the lead time from when a B2B client applies online for an account with BAUHAUS by integrating an automatic check from a credit company.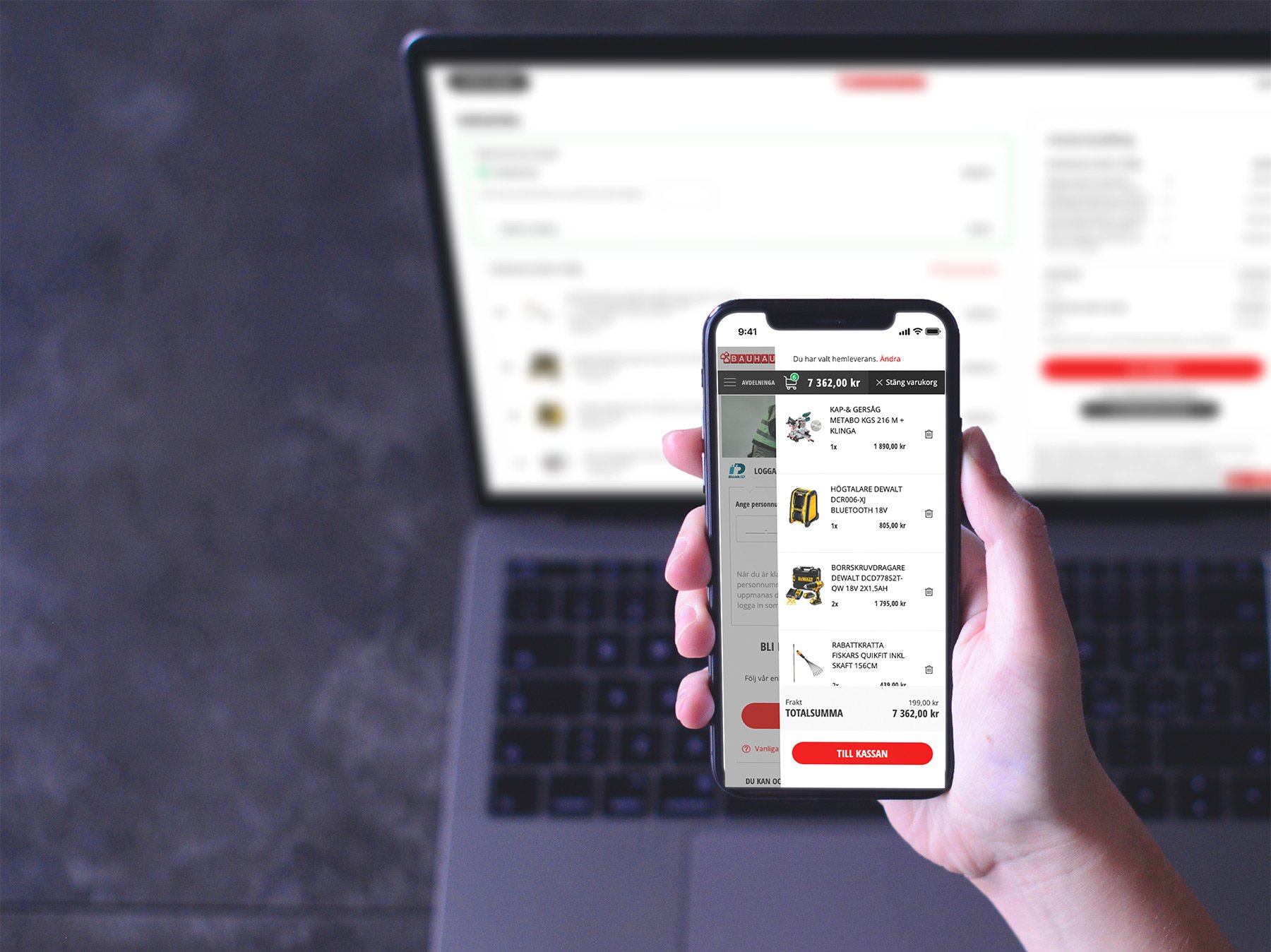 290%
Increase in revenue (2017 vs 2015)
70%
Average increase in B2C revenue per year 2012-2017
90,000
Visitors per day in normal season
115,000
Visitors per day in high season
The solution
Omnichannel
The physical BAUHAUS stores have large touch screens in various locations, where B2B/B2C customers can place orders, browse and search products, and leave customer reviews. There's even the possibility to purchase products and arrange for home delivery. Customers can also send their carts through text message or email and finalise the checkout process on their own device. The result is a more integrated omni-channel experience for BAUHAUS' B2B and B2C customers.
"Vaimo has helped BAUHAUS bring the complexity of home improvement retail to the web in a simple and cost-efficient manner. They have delivered a stable advanced commerce platform through multiple projects that supports our growth and our business. Vaimo is a group of energetic people with a proven track record of delivering valuable solutions on a consistent basis."
Steen Hestehauge
eCommerce and System Manager Delivery
BAUHAUS Sweden takes care of all deliveries by themselves (in specific areas of Sweden) instead of using a partner. The pilot project went live in early 2018 and features BAUHAUS' own logistics solution with the support of a native internal app for BAUHAUS employees which supports deliveries for both B2B and B2C customers. This solution is unique to BAUHAUS, with no one else in Sweden having this function. The native app controls the flow for drivers and distribution centre personnel. There is an integration with a PTV system for routing deliveries and a modified Magento order flow.
Assemble complex products online
BAUHAUS and Vaimo created a guide to help customers buy conservatories. The in-depth guide directs the customer through various choices that require consideration in order to buy the correct product. The final product, along with accessories, is virtually assembled and may be placed in the shopping cart for online purchase.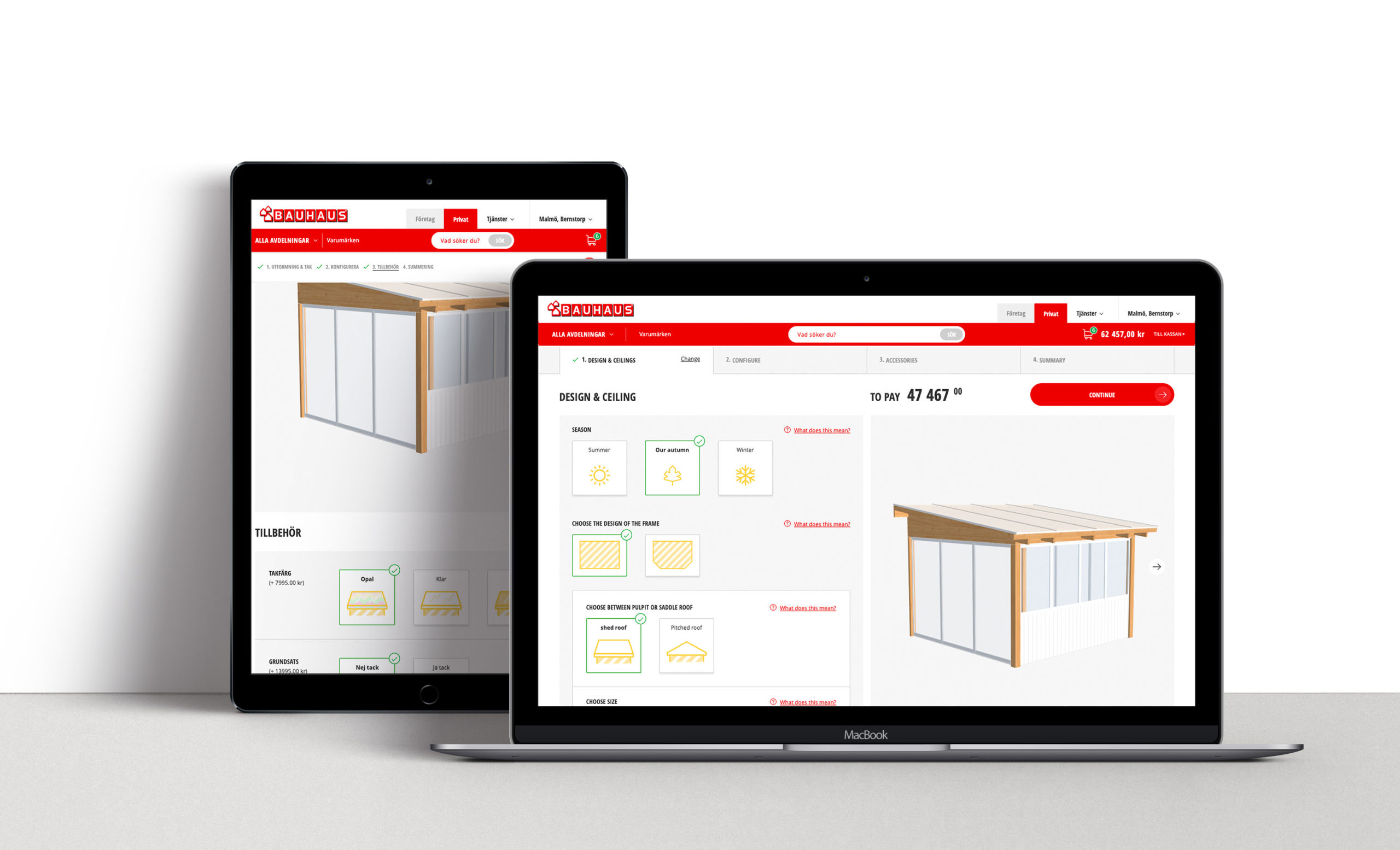 Features implemented
Virtual assembly of final product and accessories
Store locator
Click & Collect
Installation services available on site
Customised API-session based B2B solution
Special pricing with price per unit not package
Possibility for tier pricing
Back in stock notifications
Related products as accessories
Multi-site
Integration of Magento to Nosto and Resurs Bank
Serving both B2B and B2C clients on one site
Cart transfer between two sites for finalised orders
Native app to support BAUHAUS' own logistics solution
Wondering how you can achieve 290% in revenue too?
Vaimo builds digital experiences to help your business drive online sales and growth. Get the competitive edge today by partnering with our team of knowledgable commerce experts whose number one aim is to help your business succeed.
Get in touch