Next week our team will be in Gothenburg for the biggest date in the Swedish eCommerce calendar: D-Congress 2020.
What to Expect from D-Congress 
Hosting 110 exhibitors, 66 speakers and thousands of visitors, D-Congress provides knowledge, insights and inspiration on all things digital commerce. The theme for this year's event is purpose-driven commerce. In our customer-centric world, values ​​relating to the environment, people and society are becoming sales drivers. Value-driven brands are growing twice as fast as their competitors and D-Congress will be analysing their success with real examples.
Tell us your commerce ambitions
Be sure to stop by and meet experts from Vaimo and Magento at stand G07: 04. We'll be pleased to hear about your commerce aims and discuss options for growing your business and omnichannel capabilities.
This year, you also have the opportunity to book a free version of our Customer Experience Rating (CXR). The CXR addresses your commerce challenges and opportunities from an outside-in perspective, analysing 12 areas of CX to measure and benchmark against. With the results, you'll have a comprehensive understanding of the areas you need to focus on to improve your customer experience—and ultimately your sales.
Vaimo's Guido Jansen on Stage
And if all that wasn't enough, Guido Jansen (Senior Digital Consultant & Customer Experience Optimisation Specialist at Vaimo) will be taking to the stage for his presentation 'Persuasive Ecommerce'.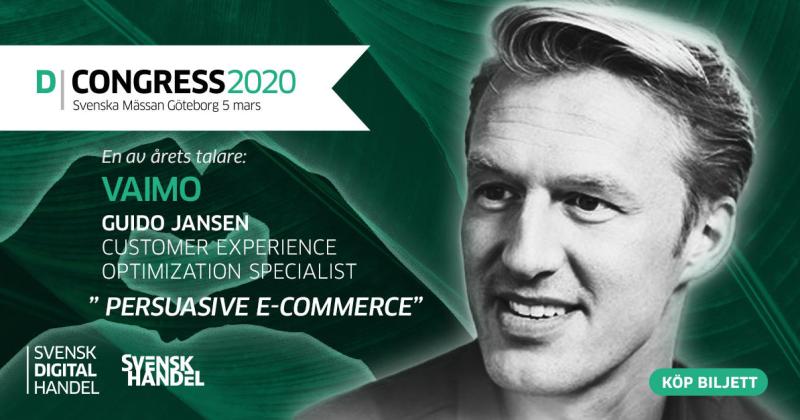 In the session, Guido will be diving inside the workings of the human brain—helping you to connect and engage with your customers. You'll be exploring direct and indirect behavioural influencing according to scientifically proven principles and methods. With this knowledge, you'll be better equipped to nurture relationships, ramp up sales and increase your customer loyalty. Don't miss this thought-provoking talk at 10:30, Stage E4.
Not able to make D-Congress, but still want to talk about ways to improve your customer experience and loyalty? Then simply reach out to our team today!