Last night, July 13th, 2017, marked the second annual dotties awards in London for dotmailer, a global online marketing company and our partner. The awards highlight the individuals, brands, partners, and agencies that make a difference by using dotmailer's innovative digital marketing platform. The evening was opened with a sparkling wine at the reception of the venue – London's iconic The Troxy, followed by food, drinks, and of course, lots of networking. Attendees were treated to live music, and of course, the glamorous presentation of the awards!
We are proud to say that out of the 350 entries, 11 categories, and a shortlist of 70, Vaimo was named the Ecommerce Agency of the Year!
Vaimo's UK Country Manager, Robin Carlsson, Director of Business Development, Charles Heal, and Sales Manager, Maurizio Stella, happily accepted the award for Vaimo.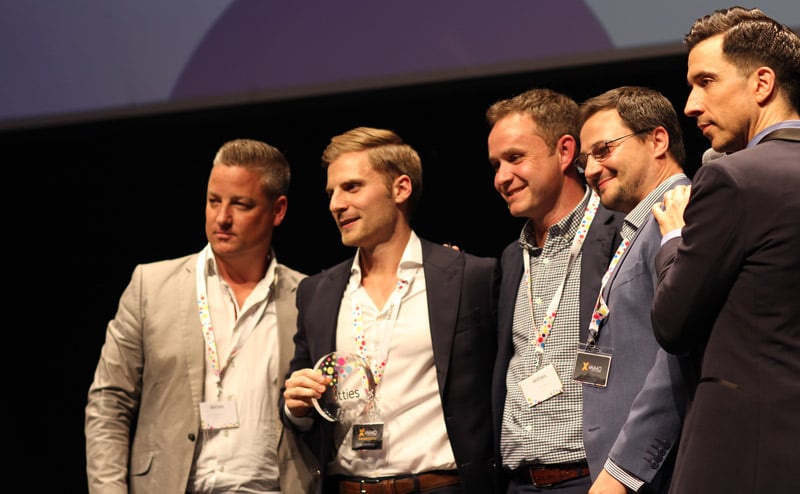 To qualify for eCommerce Agency of the Year, dotmailer judges shared that the agencies in question should live out the dotmailer core values:
"Developing platforms that empower the serious marketer"
"Continuous platform development"
"Collaboration to deliver the best results for the clients and develop a strong partnership"
"Of course being good to work with, fun to drink with and bringing in loads of business doesn't hurt either"

The Vaimo crew poses up a storm in front of the dotties photo wall.
Vaimo was honoured with the award along with our esteemed colleagues:
Tech Partner of the Year – Nosto (Contratulations to Nosto team!!! Nosto is also Vaimo's partner.)
Ecommerce Agency of the Year – Vaimo
Digital Partner of the Year – XCM
We thank our partner, dotmailer, for this honour and we also congratulate all other winners for achieving email marketing excellence! You can read dotmailer's blog about the event here, ans find the full list of winners here. Read more about dotmailer, and contact us if you have more questions!