Vaimo, a global commerce solutions provider driving digital success for B2B and B2C clients, is pleased to announce that it has won the inRiver Partner of the Year Award for Finland and the Baltics. In addition, Vaimo was also named as 1 of 6 finalists in the coveted Global Partner of the Year Award at inRiver's annual PIMPoint event on 12th-13th of April in Malmö, Sweden.
InRiver's PIMpoint Summit is one of the largest PIM-focused events in the world and provides its 700+ attendees with the best in PIM practices, updates on the latest innovations of the inRiver Product Marketing Cloud and celebrates the successes of the inRiver partner community. The pillars of this year's fifth sold out PIMpoint were insights through experience and innovation and learning how to better manage product information for competitive advantage across both digital and traditional channels. Furthermore, keynote speakers and customers testimonials were lined up to provide both inspiration and hands-on tips. The 2018 PIMpoint Summit offered a packed agenda to meet the expectations of any PIM role, with sessions covering strategic outlook, reference cases, technology highlights, partners stories and much more.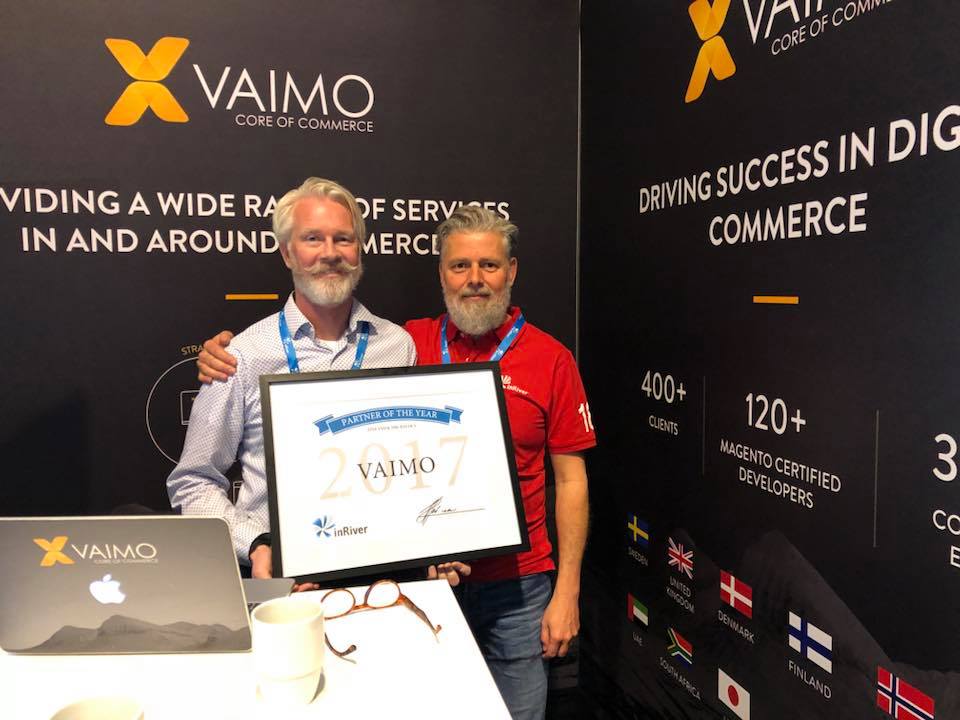 Vaimo has a dedicated PIM Business Unit, which is part of its wider eCommerce service covering strategy, design and technology to drive digital success in B2B and B2C companies. As a partner of both inRiver and Akeneo, Vaimo has the unique ability to provide merchants with the best PIM solution possible depending on the challenges, preferences and budget of the business.
Here are 4 tips by InRiver that will help you streamline product information management, engage your customers and gain a competitive advantage across channels.
About Vaimo
Founded in 2008, Vaimo is the global leader in delivering award-winning digital storefronts, omni-channel solutions and mobile apps. Their only focus is to accelerate B2B and B2C sales for their brand, retail and manufacturer clients. With 15 global offices across EMEA and APAC and over 300 employees, Vaimo provides an international presence that allows them cultivate close, long-term relationships with their clients. With a focus on driving digital innovation, their services cover the full spectrum of your Commerce needs ranging from strategy, design, development, optimisation, cloud services, all the way to wherever merchants Commerce initiatives reach. They deliver solutions around B2B, B2C, Omni-Channel, PIM (on inRiver and Akeneo platforms), Order Management and Business Intelligence.
Every year, Vaimo wins awards in recognition of their commitment to technical excellence, innovation and satisfaction. Among others, they have received the Gazelle Award (6th consecutive years), listed as Econsultancy's Top 100 digital agencies (2 consecutive years) and Magento has recognised Vaimo's leadership by selecting them as Global Elite Partner in 2017, Commercial Partner of the Year in EMEA in 2017, Omni-channel Partner of the Year in 2016 and EMEA Partner of the Year in 2015.
Interested in learning more about the positive impact that PIM could have on your company's operations? Take our Pimometer test now—we'll then be better able to understand your organisation's current situation around product information management and advise on the specific benefits of a PIM implementation for your business!