On June 22, 2016, Econsultancy published the annual Top 100 UK Digital Agencies report, which features the largest digital agencies in marketing, design and build, and technical and creative fields. Vaimo, a Magento 2 agency in London, was ranked as #87 as a "new entry" in the "design and build" category, with a fee income of £4,035,000, and the following top clients: Brown-Forman (Jack Daniel's), Agent Provocateur, Guthy-Renker (Proactiv), and Pavers.
Robin Carlsson, Vaimo UK's Country Manager, stated "We are thrilled and honoured that Vaimo UK is included in Econsultancy's Top 100 Digital Agencies list this year, and we hope to improve our position in the years to come."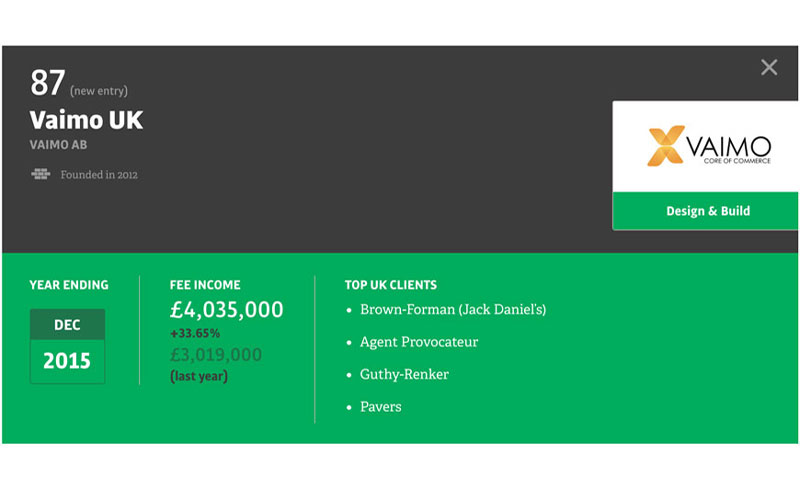 The agencies are ordered according to their fee income from digital endeavours in the UK in 2015. Econsultancy defines "fee income" as the funds that the business retains after any bought-in third-party expenses have been fulfilled. According to Econsultancy, this method of measure provides a better overview of an agency's worth, rather than the overall turnover. Media agencies in the report are also ranked by their gross billings in a separate list. The total fee income of the leading agencies in the list exceeds 2 billion pounds this year.
In addition to the report, Econsultancy includes an inclusive, dynamic online index that provides information on agencies according to fee income, agency type, and region. The Econsultancy report also features the leading 6 most respected agencies and the 7 most influential people, which were compiled based on votes by entrants to the Top 100.
The report features profiles of the 100 leading agencies, as well as the top 8 media agencies, with essential highlights such as lists of top clients, and the business split between digital marketing channels. Econsultancy has also selected 7 key agencies as "ones to watch" in upcoming years due to their remarkable growth, work, and revenue.
The full report and free interactive version is available here.
About Econsultancy
Econsultancy offers a plethora of resources, digital transformation services, and training courses to help their customers excel in digital business, eCommerce, and marketing via training, events, and extensive research. Econsultancy has been analysing digital marketing information since 1999 to provide a deeper understanding of the digital landscape with practical solutions. Econsultancy arms their customers with knowledge and independent advice to help grow their digital business. Visit Econsultancy's website for further information.