Nutrinovate develops, produces, and markets Reserol, a unique product that delivers Resveratrol through Functional Film Technology to create an advanced food supplement that improves overall health and wellbeing. Nutrinovate combines innovative science with proven compounds to provide customers with the latest technology to fight illnesses related to ageing. Nutrinovate aims to prolong human life through disrupting the dosage forms of beneficial nutrients and supplements.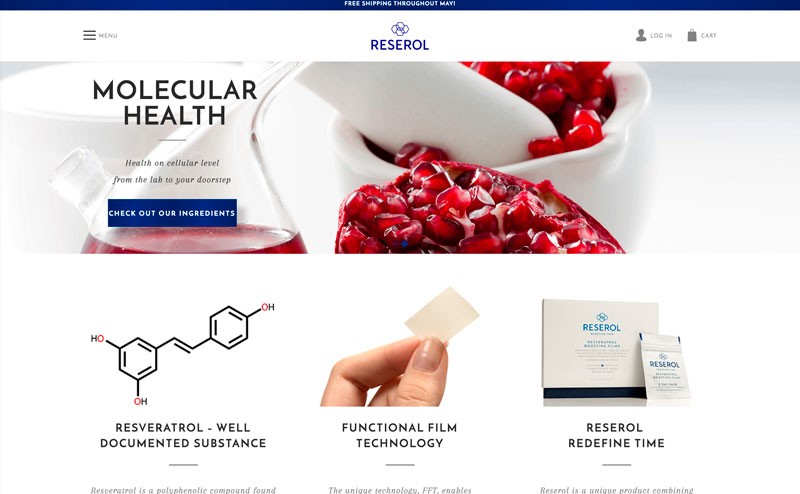 KEY POINTS
Merchant: Reserol
Industry: General health, nutrition, and beauty
Markets Served: Global, with current focus on Sweden and the Nordic countries
Website: reserol.com
Project Plan: 700 hours
MIKAEL LINDBLAD, CHIEF MARKETING OFFICER AT NUTRINOVATE
"Our goal is a lofty one – to increase the lifespan of humanity through a single product. We needed an online storefront that accurately exhibits our product and allows customers around the world to access it. Vaimo provided us with a reliable, well-designed web shop that brought our digital concept to life."
THE CHALLENGE
Nutrinovate launched as a start-up in 2015 with no physical store and a brand-new factory in Sweden for production. The company sells just one product, Reserol, a potent natural substance that increases the human lifespan by acting as a powerful defence against virus, bacteria, and harmful diseases related to ageing. Nutrinovate wanted a fast digital entryway into the market and needed a professional website that would provide access to the product, a way to sign up for subscriptions, and one that is responsive with mobile focus.
THE SOLUTION
On April 11th, 2016, Vaimo launched Reserol's first digital storefront on the Magento platform, with a clean, minimalistic feel that reflects the single, premium product being sold. Vaimo utilised a subscription module from Sellxed and adapted it to work with Payex to enable subscription purchases. Because it's essential to track and trace medical substances, Vaimo developed a module that tracks packages from the production batch to the end customer. Vaimo used a mobile-first approach design, which means there is a similar menu for all devices.
FEATURES

Subscription functionality
Payex as payment provider
Track and Trace Module
UNIFAUN
Vaimo Content Management System

 

PROJECT DELIVERY

The project involved connecting the technical and business aspects with the regulations and specifications of the pharmaceutical industry. Nutrinovate's vision needed to be relayed to Vaimo, and then translated to code, which would bring the correct concept to life. Though the project was finalised quickly, Vaimo managed to produce the perfect vehicle to roll out Reserol to the market fast, and through a digital storefront that accurately reflects the premium product.

FUTURE ECOMMERCE PLANS

Nutrinovate plans to expand the Reserol site, and continue to develop both the product and the web shop. Nutrinovate also wants to photo-document the effects of the product and use the site as a platform for customers to share stories about the product. The company also plans to tailor the digital storefront to each and every market; currently, the site is split into a Swedish site and a global English site. Vaimo is currently working on an app that will support purchases, and remind users to take Reserol on time.

Click here to experience Reserol´s new web site. If you want to know more about this project, don't hesitate to contact us.