When considering selling online, Amazon is the best eCommerce marketplace for you to reach a worldwide audience. Amazon controls half of the global eCommerce market. As Amazon continues to enter new markets, you will need to consider your Amazon business strategy in the years to come.  
An Interview with Maze-One on Amazon eCommerce
To help you get an in-depth understanding of how to get started on Amazon, Vaimo has partnered with Maze-One to handle the intricacies of selling on Amazon and putting your Amazon strategy into practice. Along with this article, we also combined our expertise on Amazon and eCommerce into a free Amazon Readiness Assessment that you can take here.
In this article, we interview Michael Chabert, Partner and Co-founder at Maze-One. Michael has continuously monitored Amazon and has offered insights to various clients across industries on how to use Amazon for success in eCommerce.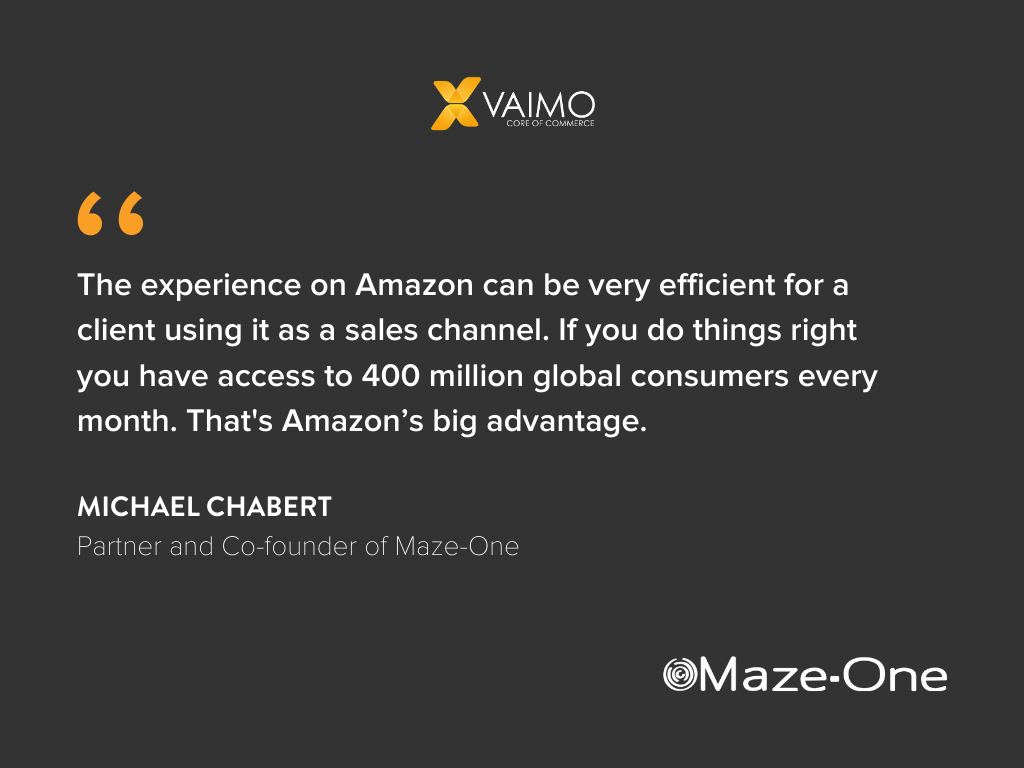 Want to learn how prepared your company is to sell on Amazon? Click here for tailored recommendations from Vaimo and Maze-One!
In this interview, we cover a few essential topics:
The Benefits of Amazon Ecommerce
Amazon Brand Registries and Brand Pages
Amazon Brand Stores for Sellers vs Vendor Central Accounts
What should the reader take away from this conversation? 
1)

What are the benefits of eCommerce on Amazon for manufacturers and brands?
The experience on Amazon can be very efficient for a client using it as a sales channel. If you do things right, you can access 400 million global consumers every month. That's Amazon's significant advantage.
The distribution aspect is enormous. They make it very convenient for consumers to get their products fast. The payment information is given. You don't have to do a lot of things. You choose the product, one-click to buy, and you can receive the product within 24 hours. Some customers, especially in the UK and Germany, get their products in 1-2 hours. That's what brands also mention to us as a major benefit: you can have a lot of sales, and you can provide a very efficient experience by delivering products fast.
Another thing is scalability because Amazon is a platform, and it's digital. Typically, we see clients starting in one country with some products on Amazon. They test and learn what works and what doesn't. When you find the right niche, a combination of products, or the best way to communicate, it is easy to scale to many countries quickly.
When you want to export to other countries, it's usually a mess. You go to a trade fair and meet with potential distributors, select the products to sell, go to their network of resellers, and then you wait to get acceptance from distributors, agents, and resellers. Amazon eliminates the obstacles to scalability.
Then there's a motivation for some clients to protect their home market. Some of our Nordic clients have more than 90% of their revenue coming from one country or a small group of countries.
With Amazon opening in Sweden, suddenly a thousand rival merchants are selling a similar product. A huge sales channel, such as Amazon, arrives and takes up nearly 50% of eCommerce in big markets like the US, UK, and Germany. Of course, brands without a large market outside of the Nordics see Amazon's arrival as a threat. This is why they join Amazon: to understand this new threat.
Only 4-5% of companies with eCommerce activities in the Nordics are active on Amazon compared to 80-90% of companies in Germany, the UK, and the US. If you ask a company in the Nordics if they have a Google Search strategy, the answer is 'Yes.' Do they have a social media strategy? The answer is 'Yes.' In 5-10 years, 90% will have an Amazon strategy. Companies in the Nordics are just beginning to adjust to Amazon's arrival.
Not everyone should be on Amazon, but every company should sit down and do some research and understand what the experts have to say. Because not figuring out Amazon's role in your sale's strategy would be a mistake.
2) Can you talk more about Amazon Brand Registry and Amazon Brand Pages

?
Amazon resellers and brands differ on what they can do on Amazon's eCommerce marketplace. If you're the brand owner, Amazon gives you specific rights and advantages. That means brands can control their brand content on Amazon, such as a brand store. Both resellers and brand owners can do product pages, but a brand store (a small website on Amazon where you can tell your full brand story) is only available to brand owners.
If you're a brand owner, taking an active role towards Amazon is essential. For example, you should get your brand registered. Maybe it doesn't make sense for your brand to be selling on Amazon right now, and there can be many reasons for that. But, you should complete a brand registration, because Amazon only recognises trademarks if you register your brand on its website. Otherwise, they won't recognise your ownership.
For this reason, you should get on Amazon and register your brand. Many companies aren't doing this because they don't know how important it is. It can only take a few hours to complete with the help of Maze-One.
But, what are Amazon brand pages?
There are a few names for it: Amazon brand store, Amazon brand pages, Amazon storefronts. They all mean the same thing: it's a page on Amazon where brand owners tell their company story while showing their entire range of products.
Amazon doesn't win the prize for being the most beautiful website. It's a slim product page that looks the same everywhere, whether you're selling fashion or table tennis products. It's the same. Now, Amazon provides tools for companies to tell their brand story, which appeals to the consumer more than just understanding the hard facts of the products. That's what a brand page is an example of, and it is an acknowledgement that brands are still important when it comes to selling. Amazon resembles the physical world where good brands convert better and try to make brand stories more elegant on its platform.
3) What's the difference Between an Amazon seller and a vendor?
Only brand owners or manufacturers can own an Amazon brand store, but a brand owner can be a vendor or a seller. The difference between both options is that Amazon vendors are invite-only. In this context, Amazon comes to you and offers to buy 1000 items of your product. You then sell to Amazon, which sells your products to the consumer and controls the price.
Some brands fear losing control of their prices on the market as Amazon algorithms choose the price. For some brands, they believe this method decreases their brand's value. Certain brands, instead, have a strategy to control what products appear on Amazon, selling some items and managing the retail price to the consumer. Brands looking for more control would opt for an Amazon seller account, a self-service tool. You can access an account, but you must drive sales and activities.
4) What should the reader take away from this conversation?
You should compare Amazon with your eCommerce website. Each consumer is different: some want to shop on Amazon and others don't. Maybe they want to go to speciality shops or to an eCommerce store that brings them even closer to the brand's story and customer experience. But, it's also essential to have a multichannel or omnichannel strategy. With Amazon having 400 million monthly users, it's a difficult channel to ignore and an easy one to use.
Thanks again to Michael for this informative interview!
Do you want tailored feedback on your readiness to sell on Amazon? Click this link!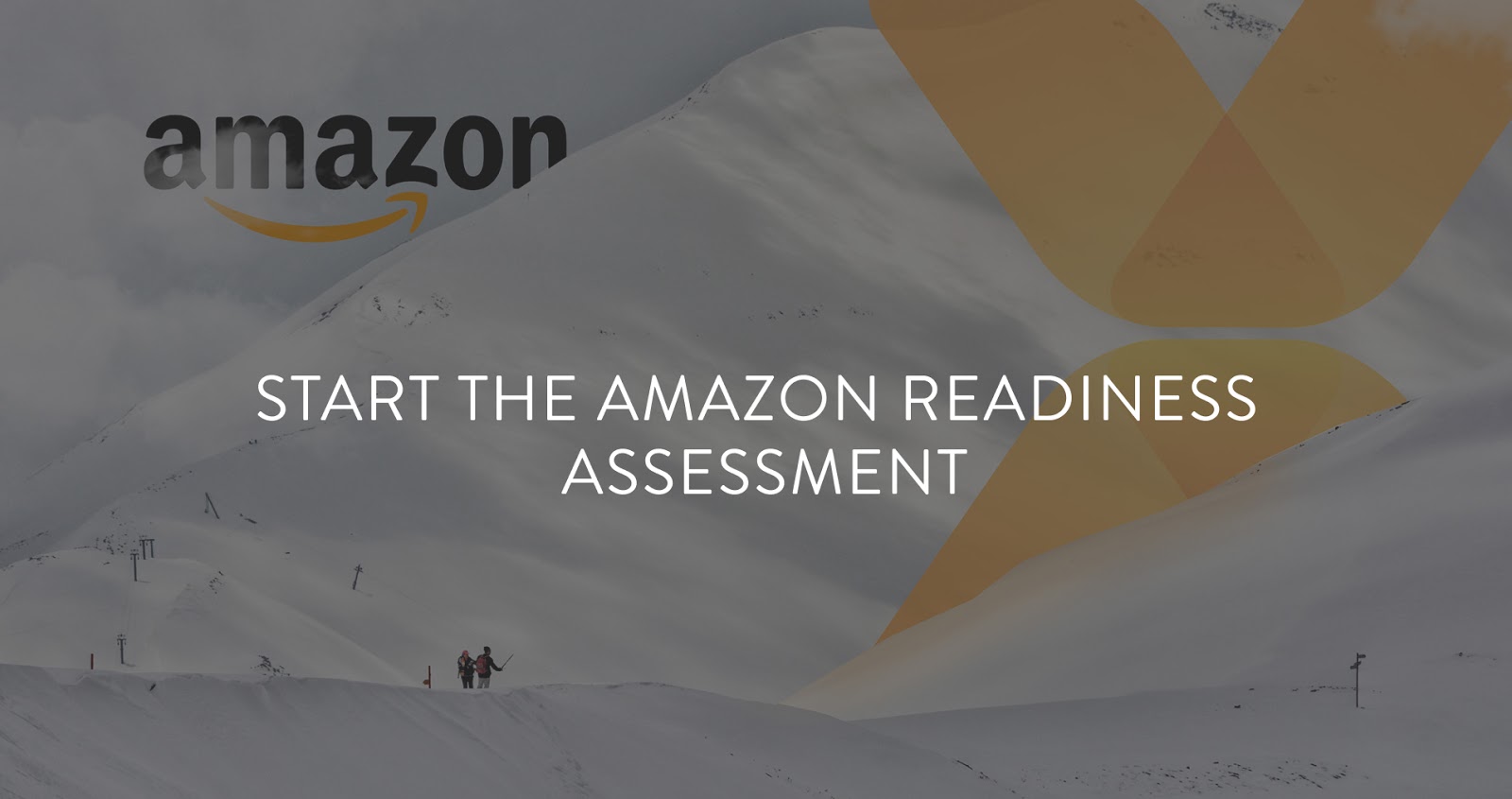 About Maze-One
Maze-One is a full-service Amazon agency that is completely focused on marketplaces, which means that they can help with all facets of Amazon, bol.com, and other marketplaces. They believe that close cooperation with their customers is the basis for success.
Their fast-growing team consists of 35+ specialists and consultants with a vast expertise working with Amazon. They have offices in 5 markets and have already helped more than 100 large and smaller brands in ten markets with their platform objectives.
About Vaimo
Vaimo is a global expert in digital commerce. As an omnichannel agency, we deliver strategy, design, development and managed services to brands, retailers, and manufacturers.
We drive success in digital commerce with expertise in B2B, B2C, PIM, Order Management, and ERP integrations. With 12+ years of technical excellence, we support clients in business development, digital strategy and customer experience design.
With offices in 14+ markets across EMEA, APAC and North America and over 500 employees, we cultivate close relationships with our clients.
If you would like to learn more about how we can help you drive success in digital commerce, contact our team here.