Digitalization, digital transformation, and now digital enablement. There are few business leaders in the world right now who are not confronted with these terms on a daily basis—whether in industry articles, external consulting firms, or internal employees. And this is especially true in ecommerce, where the race is on for meeting the continually changing expectations of the customer and where the winners will be those brands that make the transition to truly BEING DIGITAL.

With today's digital landscape, consumers expect seamless digital experiences throughout their journey with you. And delivering on that often requires a change in technologies, a change in operations and most importantly, a change in culture.  While "Doing Digital" represents an important step in your transformation, "Being Digital" is crucial to rapidly developing your digital presence and responding to consumer needs.
So what then, is DIGITAL ENABLEMENT?
Related reading: What Is A Phygital Experience? 6 Real-World Examples
Digital Enablement: A Definition
Digital enablement is one of those terms that gets thrown around a lot these days as companies work hard to accelerate their digital transformation. The term is relatively new and can get a bit diluted in the context of all the other BUZZwords. This is not helped by the fact that many definitions that you'll find online are pretty fluffy and don't really say much.
One definition from the dictionary that we find helpful is this: Digital enablement is the act of making a device or system operational.  
If we apply this definition to the enterprise, then we are referring to the action of making the enterprise operational. Simply stated, this means connecting your digital or commerce strategy, to your business objectives and roadmaps, and, most importantly aligning operations, technology, and culture so you can become a digital organization.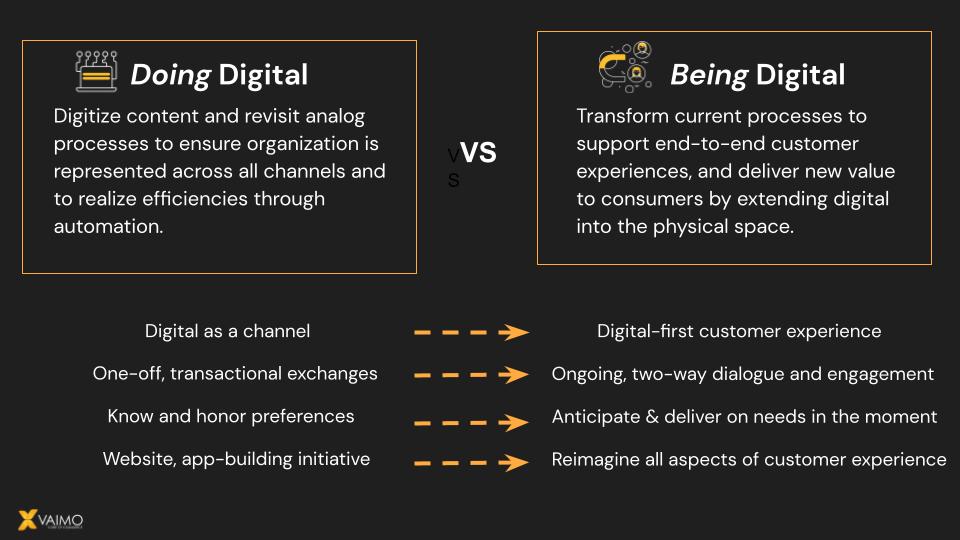 The Five Key Steps to Digital Enablement in an Enterprise
1. Get Buy-In From All Stakeholders
It doesn't matter how many brilliant new platforms and processes a company invests in, if in the end, nobody is using them, or if they're used in the wrong way. The key to successful digital transformation lies in adopting the new technology and the new business practices that come with it.
It's important to remember that many people are inherently adverse to change. It's also important to acknowledge that, yes, initially, all change requires some extra effort. Failing to recognize these two simple truths set businesses up for failure and are an all too common reason why many digital transformation processes strand midway.
Getting buy-in beforehand from everyone in the enterprise is an essential step to ensure the overall adoption of new technology and business practices. It's vital to help everyone understand how the chosen tools will support your company's strategy and business objectives. Paint the picture of the future state vision you're heading towards so that everyone has a chance to understand the need and motivation for change.
Build an efficient technology ecosystem optimized for organizational and industry-specific needs. At times a reduction and replacement of current platforms is more beneficial than the blind amassing of technology.
Objectives and key results (OKRs) can come in handy here to establish action-oriented goals and measures tied to the future direction of the enterprise. Make sure goals are ambitious and bold with a set time frame.
2. Make Time For A Well-Planned Onboarding Process
Onboarding is a crucial component in the transformation journey and will enable your teams to adopt the platforms and processes fully. Onboarding will usually not only include the use of new technology but also often involves changes in the organizational structure and new ways of working.
Modify the structure of the organization and operations to deliver world-class digital, recruiting talent, and building teams to execute against the roadmap and rapidly change course depending on shifting consumer and enterprise needs. The composition and structure of resources must suit the stated goals of the enterprise.
The core message that needs to be clearly communicated is that this is not just a new platform or process, this also means that there will be new ways of working. New interaction models, new roles, new interfaces between teams. Beware that at this point, some employees may feel threatened or insecure as a result of the changes, and some may even resist them. It is essential to convey the value of the new ways of working, to communicate how it will help them attain their business unit goals.
Want more advice on this topic?
3. Align The Organization Around the New Processes and Goals
One of the benefits of digital transformation is its potential to break down departmental silos within organizations and provide everyone with shared processes and a shared roadmap. To enable this fully, It's important to get everyone aligned around the new processes and define them together. Adopt a lean governance model to support the increased pace of digital, including new agile product development approach, funding model, and potentially spinning out high-impact projects.
Take a multi-channel marketing campaign approach, for example; the marketing team is just one of many business areas involved. The analytics team, IT, developers, and compliance may also have key roles in the initiative. A lean governance or operating model can be helpful in articulating who does what in the different stages of each process.
Understanding the varying degree of processes, approvals, or involvement across the various stakeholder groups is an important element. Specifics include defining the different roles across the organization, how they relate to strategic objectives, as well as documenting their responsibilities. This "operational alignment" is a critical component of digital enablement.
4. Provide The Necessary Training For Everyone Involved
As we've already mentioned, a shift in mindset is a critical component of digital enablement. But the ultimate goal is also to upskill the different parts of the organization so that everyone can fully leverage the new technology. This training can be provided through various methods, ranging from intranet to workshops, training seminars, ad-hoc support clinics, and sometimes larger-scale programs.
The average company today has around 254 SaaS applications, but only 45% of those apps are used on a regular basis. This goes to show what happens when digital enablement is not working. Creating training content in multiple formats will help employees adopt and start using new tools and working methods.
Communicate digital best practices as a thought leader throughout the enterprise to establish a culture of innovation across the organization. Driving awareness of the importance of digital to all levels of the organization ensures opportunities are not missed
5. Create An Efficient Ongoing Communication Program
A good communication program will reduce the time and cost required to adopt new platforms, processes, and ways of working. It's important to remember that all information is not relevant to everyone, and avoid information overload. Identify the various stakeholders, their degree of involvement in the new platforms, and the level of detail they each need to be able to use the new tools.
Setting up the communication structure and planning ahead will significantly improve the success of your program. Make an inventory of the material you will need, such as weekly newsletters, dashboards, demo videos, and any other methods for keeping everything on track. The communication program should boost efficiency and productivity throughout the digital transformation.
While technology is usually straightforward to implement, changing culture, people, and behaviors is often what proves to be the most challenging part. Since the 1970s, organizational transformation projects' failure rate has remained constant at 60-70%. What is often missing from the equation in these projects is understanding the people element. But if you focus on people as much as on platforms, you're on the right track.
Related reading: 8 Steps To Building A Winning International Ecommerce Strategy
Key Takeaways
​​Many enterprises assume that technology or automation will have a positive impact on operational efficiency and productivity as a matter of course. But, as most find out along the way, this is not the case. Digital transformation is as much about change management and fostering a new mindset as it is about tools and technology.
The goal of a digital transformation is to shift from "doing" digital things to" being" a digital organization. You achieve this goal by building best-in-class digital experiences, technologies, teams, and processes to ENABLE the transition.
In this article, we've looked at five critical steps necessary for a successful digital transformation journey:
Get buy-in from all stakeholders
Make time for a well-planned onboarding process
Align the organization around the new processes and goals
Provide the necessary training for everyone involved
Create an efficient ongoing communication program
If you fulfill those five steps, you'll be well on your way to a successful digital transformation. A clear digital strategy, backed by leaders who can foster a culture of embracing change, is critical to the digital remaking of the enterprise and achieving digital enablement.
At Vaimo, we're experts in all things ecommerce. We work with brands, retailers, and manufacturers all over the world to create winning ecommerce strategies and great customer experiences. We'd love to help you with digital transformation and digital enablement, to take your online business to the next level.
Get in touch with our team of experts to explore how we can help you supercharge your ecommerce growth.
At Vaimo we help brands, retailers, and manufacturers all over the world to drive success in digital commerce. Reach out to us if you want to hear more about how we can improve your customer experience strategy, go to market plan or explore how technology can enable success.