In our latest case study, we go behind the scenes on Pure Waste's new eCommerce site delivered by Vaimo.
Pure Waste Textiles, a Finnish retail company, was launched in 2013 and has strived to increase awareness around issues plaguing the textile industry. They do this by making environmentally responsible products, such as 100% ecologically sustainable yarns, fabrics, and garments. 
The Challenge
Before working with Vaimo, Pure Waste had a Magento 1 site. They understood that moving to a new site would help their team be more productive and also increase sales. But this move required the help of a skilled outside agency to ensure a successful migration and assistance after the launch. 
Since 90% of sales came through B2B commerce, Pure Waste knew that they had great potential to sell their apparel to B2C shoppers. By increasing their share of B2C sales, they could also gain shoppers' attention outside of Finland and continue raising awareness about issues in the textile industry.
Since Pure Waste's values lie at the core of their products, the story of ecological responsibility needed to be visible on every page. They wanted online shoppers to become more aware of the need for sustainable apparel while searching for their products. Pure Waste partnered with Vaimo to build their key concerns into an eCommerce site that would carry them into the future.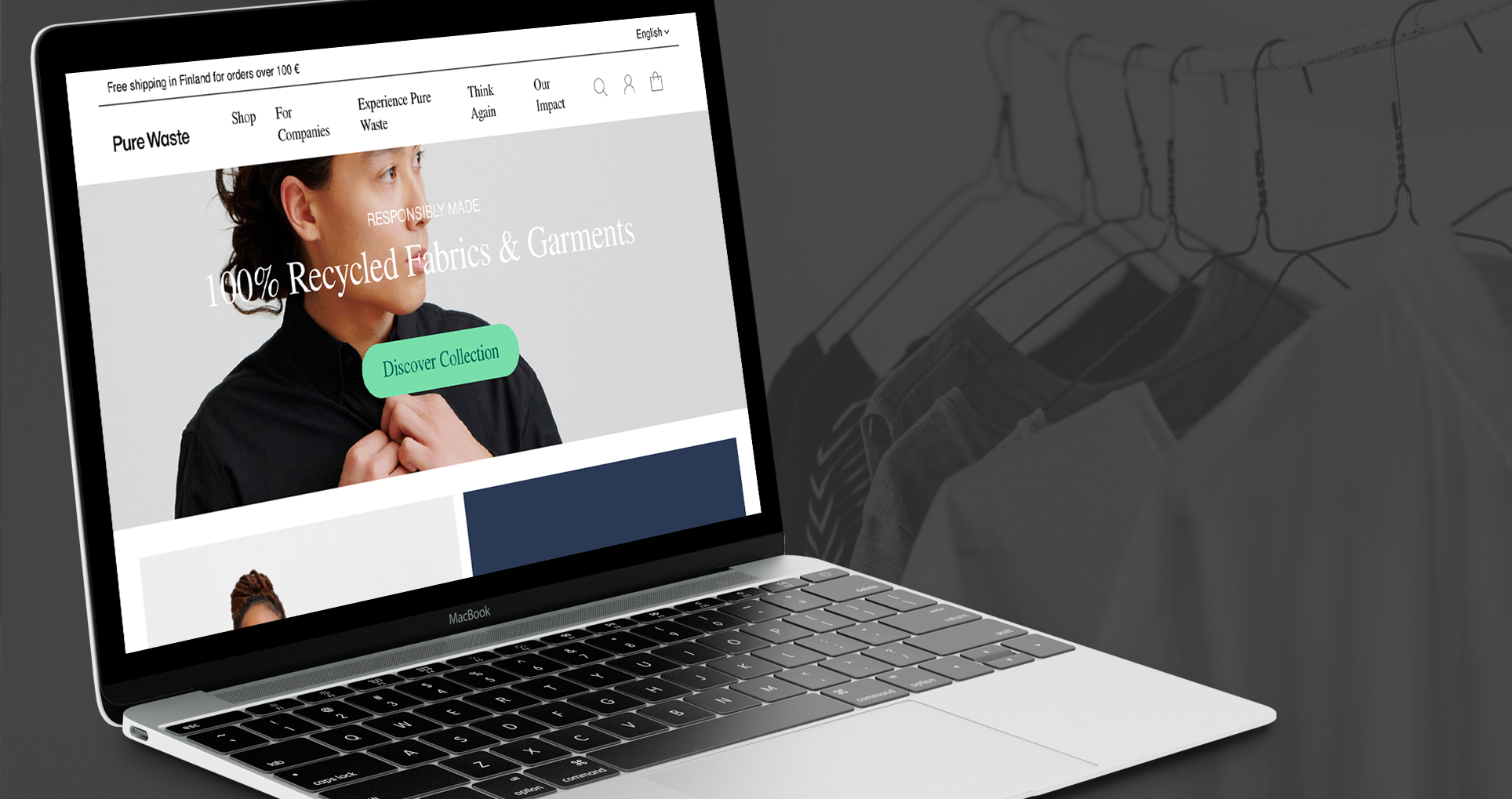 The Solution
Vaimo provided an Adobe Commerce solution built on Vue Storefront, a Progressive Web Application (PWA), that allows for lightning-fast mobile speeds and countless other benefits. This solution will enable Pure Waste to influence a new generation of shoppers, looking for an easy path to making online purchases and a quality product that revolves around sustainability. 
The Vaimo team also integrated Instagram feeds, Nosto, and a WordPress blog feed. Now, when they update any content, it will appear on the site.
In addition, Vaimo worked with Pure Waste to integrate eco-features, such as a Carbon and Water Footprint Report that calculates the carbon and water footprint at checkout and on product pages to indicate how much their purchase impacted the environment.
This feature also helps B2B buyers include a more data-driven assessment regarding their ecological impact on various stakeholders. With the help of Vaimo, Pure Waste's new eCommerce site brings the shopper on an important journey to change the textile industry for the better. 
Check out the full story to hear more about the eCommerce build: