In our latest case study, we go behind the scenes on Postery's high-performing digital solution, built on Adobe Commerce. Postery is a global brand across Europe, North America, and Australia. They currently have 18 sites in 13 languages and ten currencies, built in the same Adobe Commerce solution. In the last year and a half, they have been able to make the most of this solution and have scaled up in markets and added three sites. Their posters also appear on H&M's website and have been shown off through influencer collaborations.
Postery was founded in 2018, as a startup selling affordable high-quality posters in Scandinavian designs. They focus on craftsmanship and offering interesting talking pieces that fit all homes. Postery's goal has always been to create great customer experiences. Through a strategic and technical partnership, Vaimo and Postery have created a user experience based digital commerce solution with a contemporary design, which can compete with other major players.
From Startup To Full-scale Ecommerce
Postery first went live on Magento Open Source platform. As a burgeoning startup, they were looking for a platform that could develop their visual identity and offer their visitors an outstanding customer experience. With the help of Vaimo, they were able to go from an idea to a full-scale company with their own production in less than a year.
In the summer of 2020 Postery decided to upgrade to an Adobe Commerce solution, to continue their upward trajectory. This solution provided them with an improved backend that, among other things, simplified the internal processes of creating content and adding new languages and currencies.
After this upgrade, Postery has seen improved results on key business metrics, for example, a 547% increase in online sales and a 446% increase in online orders. In addition, the investment made has already yielded results and Postery has already achieved a quick ROI.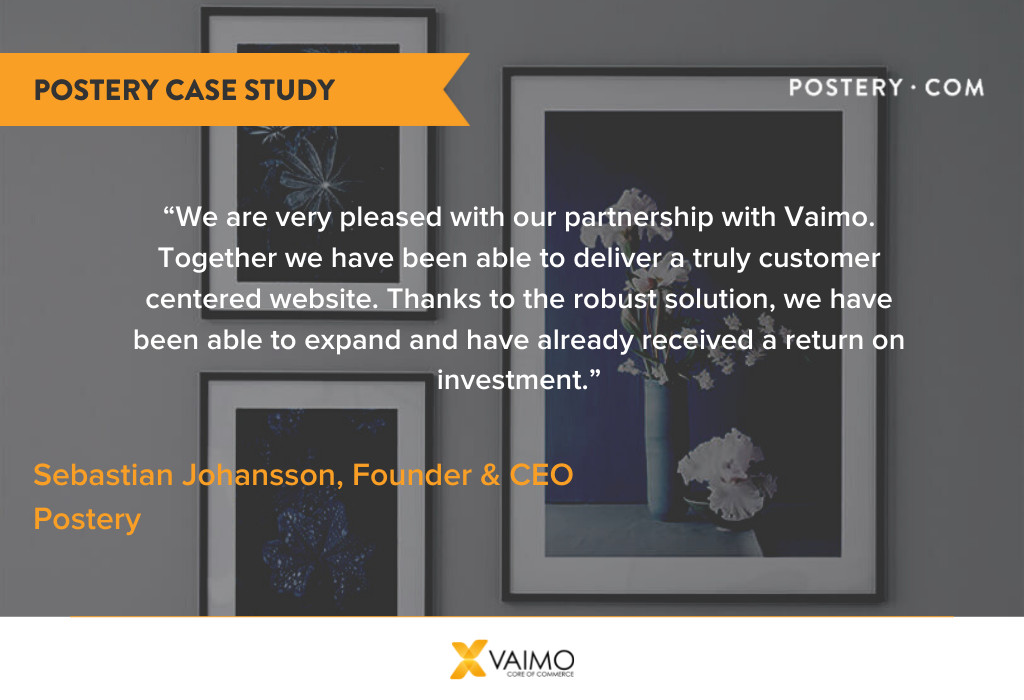 For more information on Postery's success, including more statistics, click here to take a look at the case study
The Future Of Digital Commerce At Postery
Postery is excited to continue their growth, partnering with Vaimo, keeping the same customer experience focus. They are working on an AR solution that lets customers virtually place the posters on the wall at home with their mobile phones. Postery is also planning to implement a built-in Adobe Sensei function for personal product recommendations to customers.
To learn more about Vaimo's clients and how you can take your digital commerce site to another level, visit Vaimo's work page, or follow the link below to get in touch with our team of 500+ digital commerce experts.