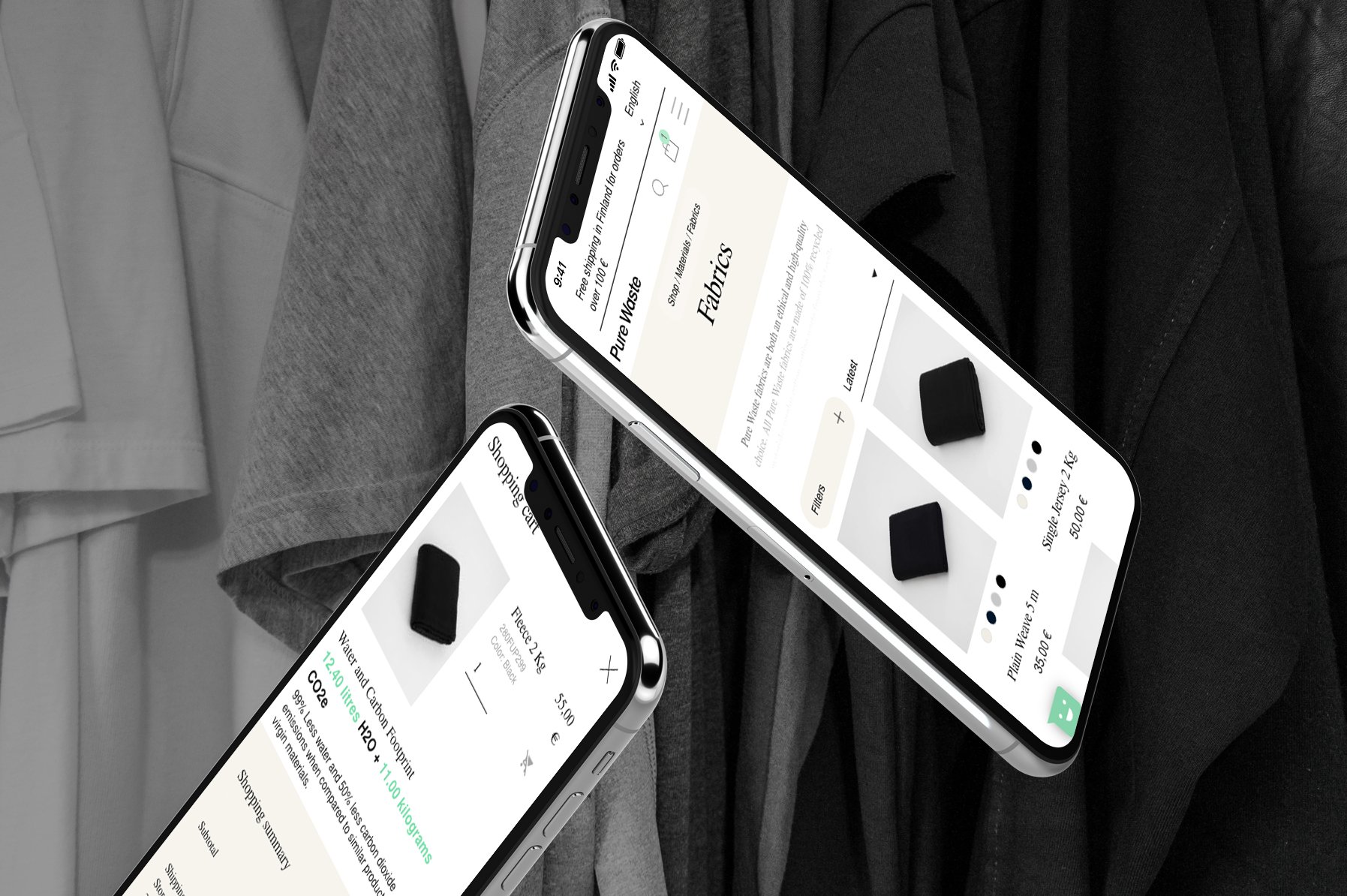 Pure Waste
Pure Waste Textiles, a Finnish retail company, was launched in 2013 to make 100% ecologically sustainable yarns, fabrics, garments and save a lot of water along the way.
Learn about their new online store launch in November 2020 below.
Live site
The Challenges
Before working with Vaimo, Pure Waste operated on a Magento 1 platform. They wanted to improve their commerce solution that could help their back office and salespeople do more through the help of an online platform and store. However, this also required the help of an outside agency to ensure a successful migration to Magento Commerce 2 and assistance thereafter.
Since 90% of company sales in the past came through B2B commerce, they lacked the resources to make a streamlined e-commerce platform for B2C shoppers and the shopping channels they use. Though Pure Waste operates a brick-and-mortar store in the heart of Helsinki, they knew that their future growth needed to target online sales in both B2B and the B2C sectors and have the possibility to target shoppers outside of Finland.
Since Pure Waste's values lie at the core of their products, the story of ecological responsibility needed to be visible on every page. Pure Waste wanted online shoppers to feel like they were becoming more aware of the issues in the textile industry while searching for their products.
Pure Waste partnered with Vaimo on a new commerce solution build that allowed them to take their future into their own hands, access the critical technical knowledge necessary, such as with Progressive Web Applications (PWAs), and to understand how to carry their site eCommerce journey into the future.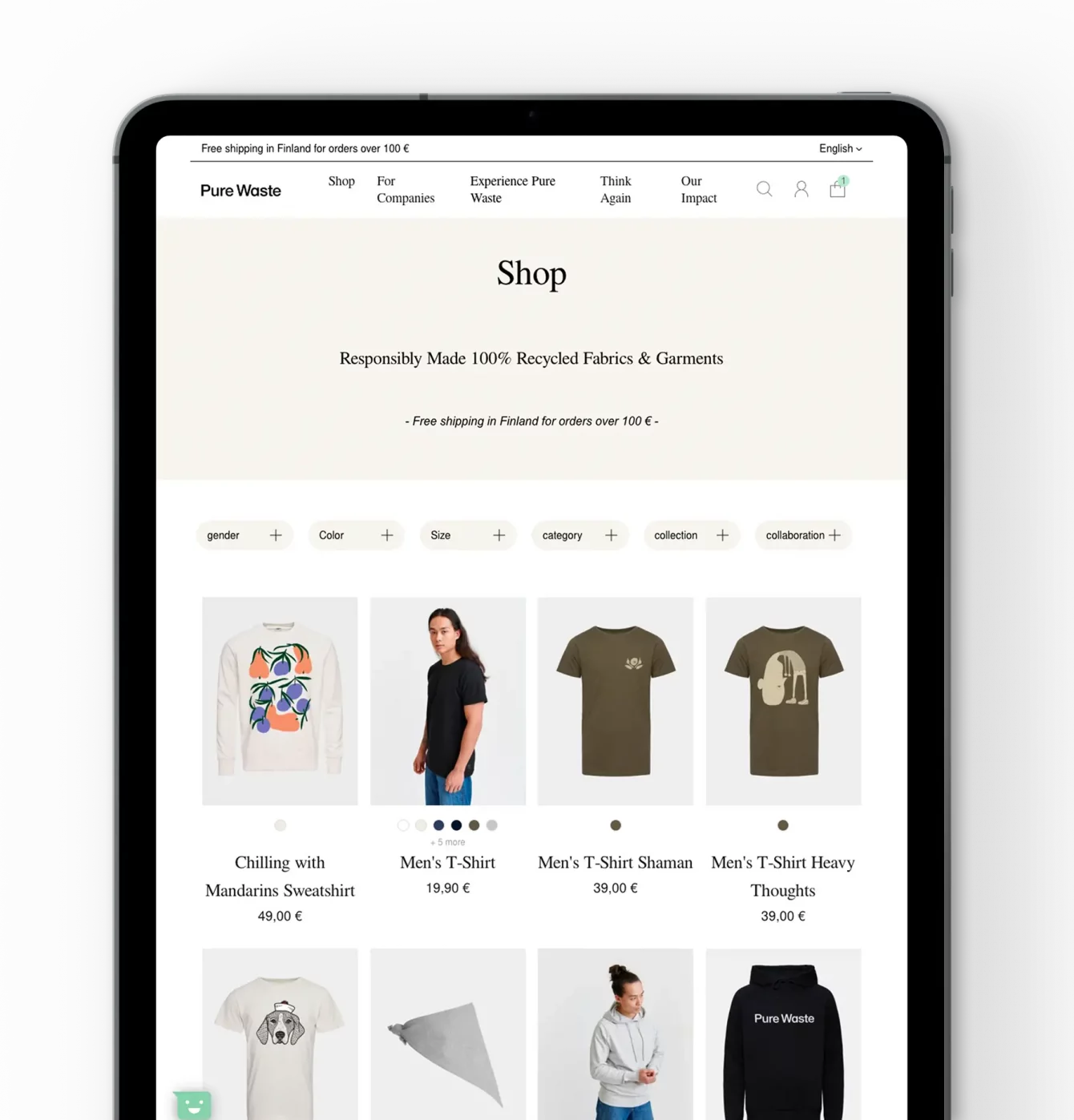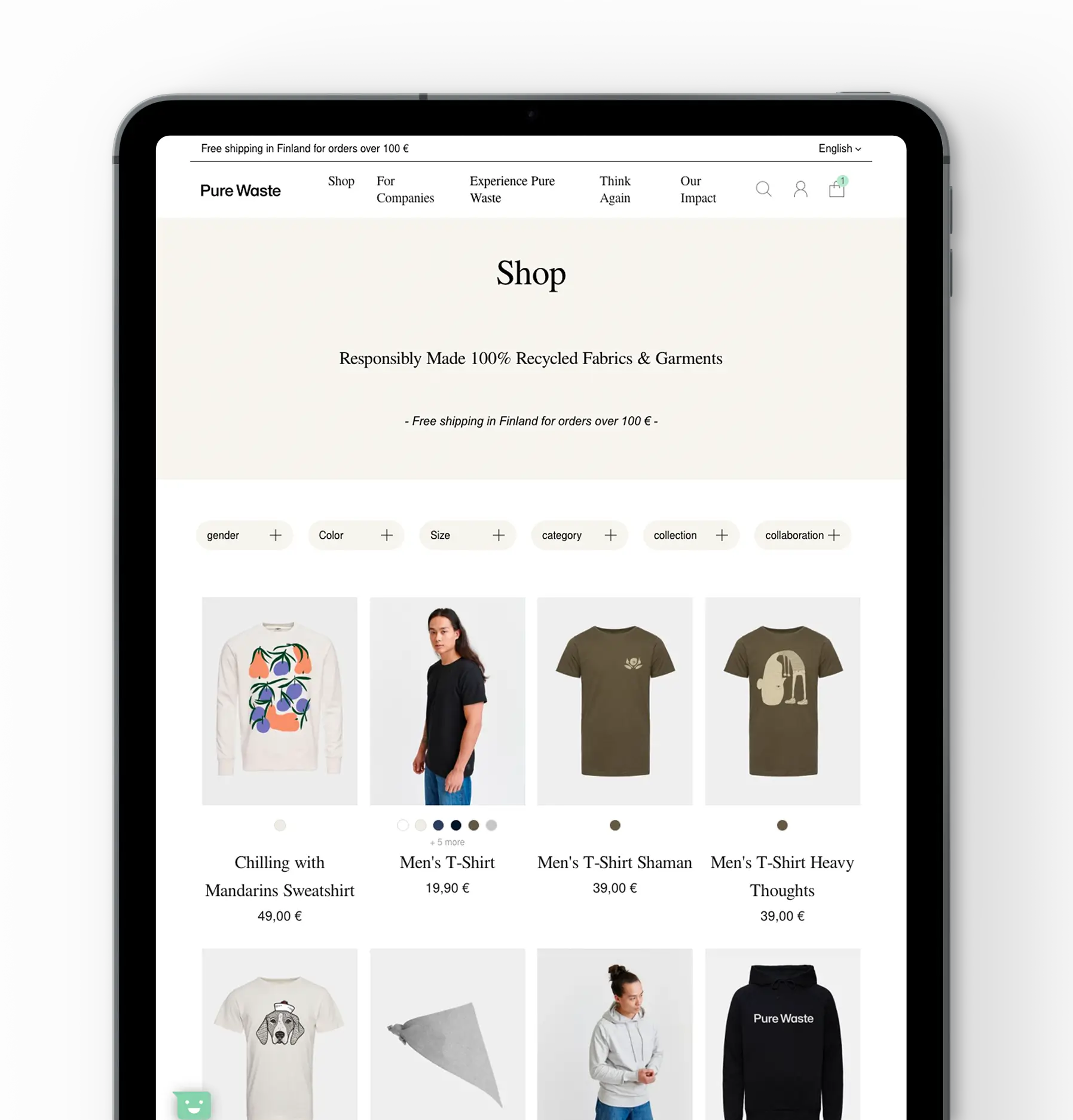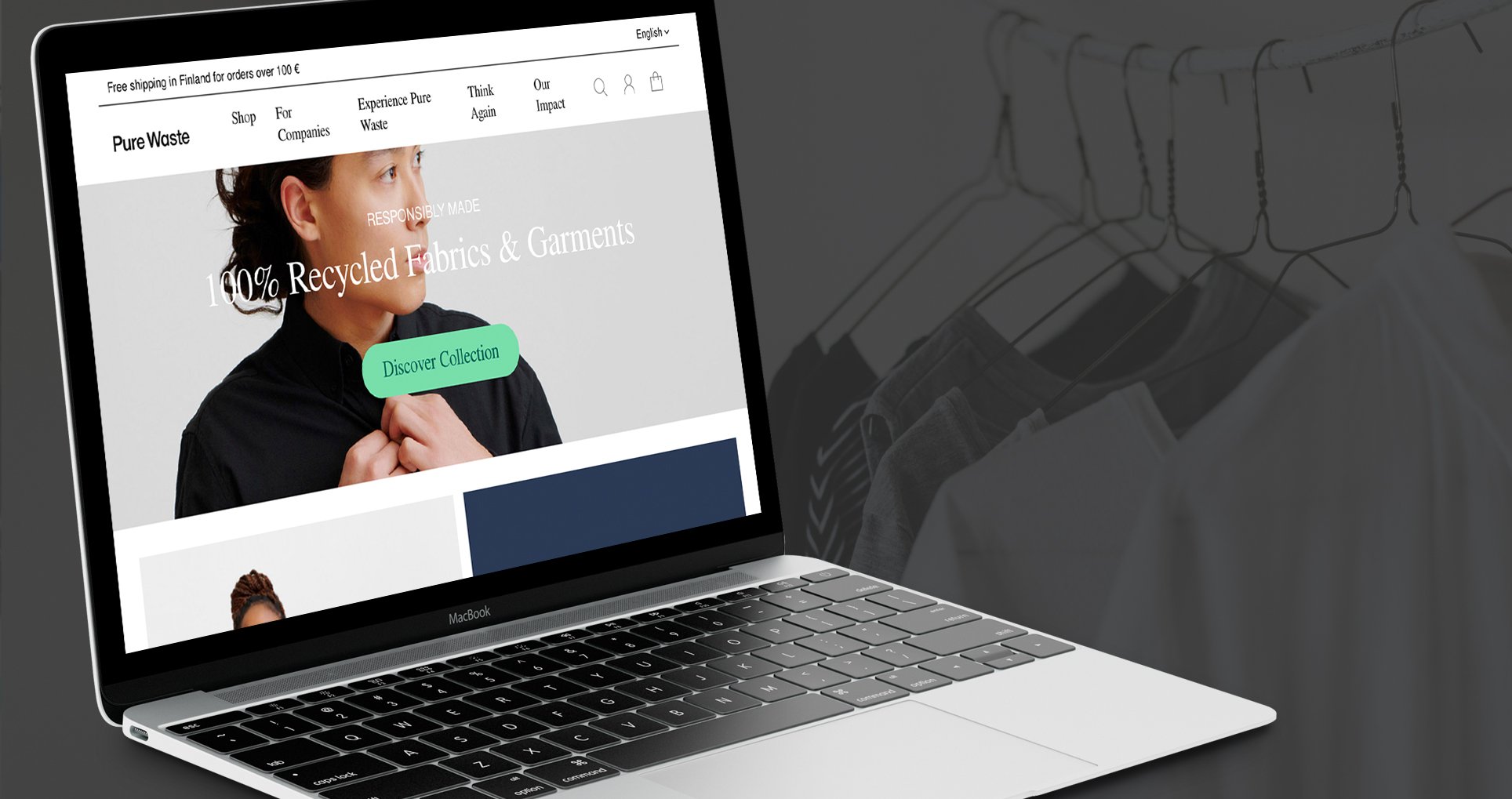 "What is really important for us is that we have someone telling us what to do next and how to structure our future site. It's important not to have a partner who doesn't just say yes, thinking about getting the most billable hours. Vaimo thinks about what's reasonable and of value for us."
Noora Alhainen, Project Manager The Future
Vaimo and Pure Waste's cooperation has been flexible and open, and both can trust each other to accommodate new ideas and find the best technical solutions to move forward. Communication has been clear, giving Pure Waste an easy path to communicate with the Vaimo team despite the remote work caused by COVID restrictions.
Pure Waste believes in the power of their new eCommerce store and wants to increase sales through their site and their own channels. This experience extends to their emphasis on sustainability: they want to use their site to highlight the need for change in the textile industry, and in today's digital world. Their new site forms the basis for highlighting this global issue to people around the world.
As Pure Waste remains mostly a B2B company, they intend to update their site with a B2B portal that will help their team be more productive and also give their clients an easier way to make orders on the go.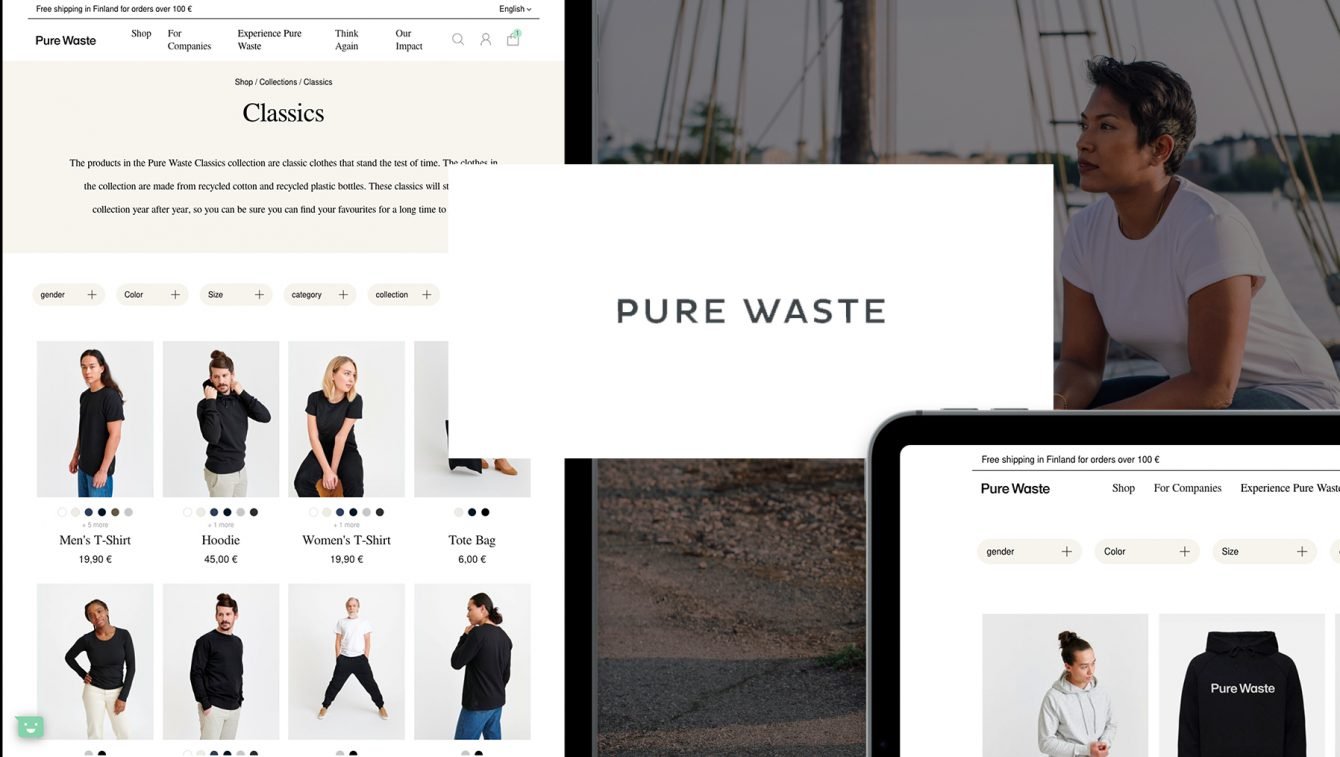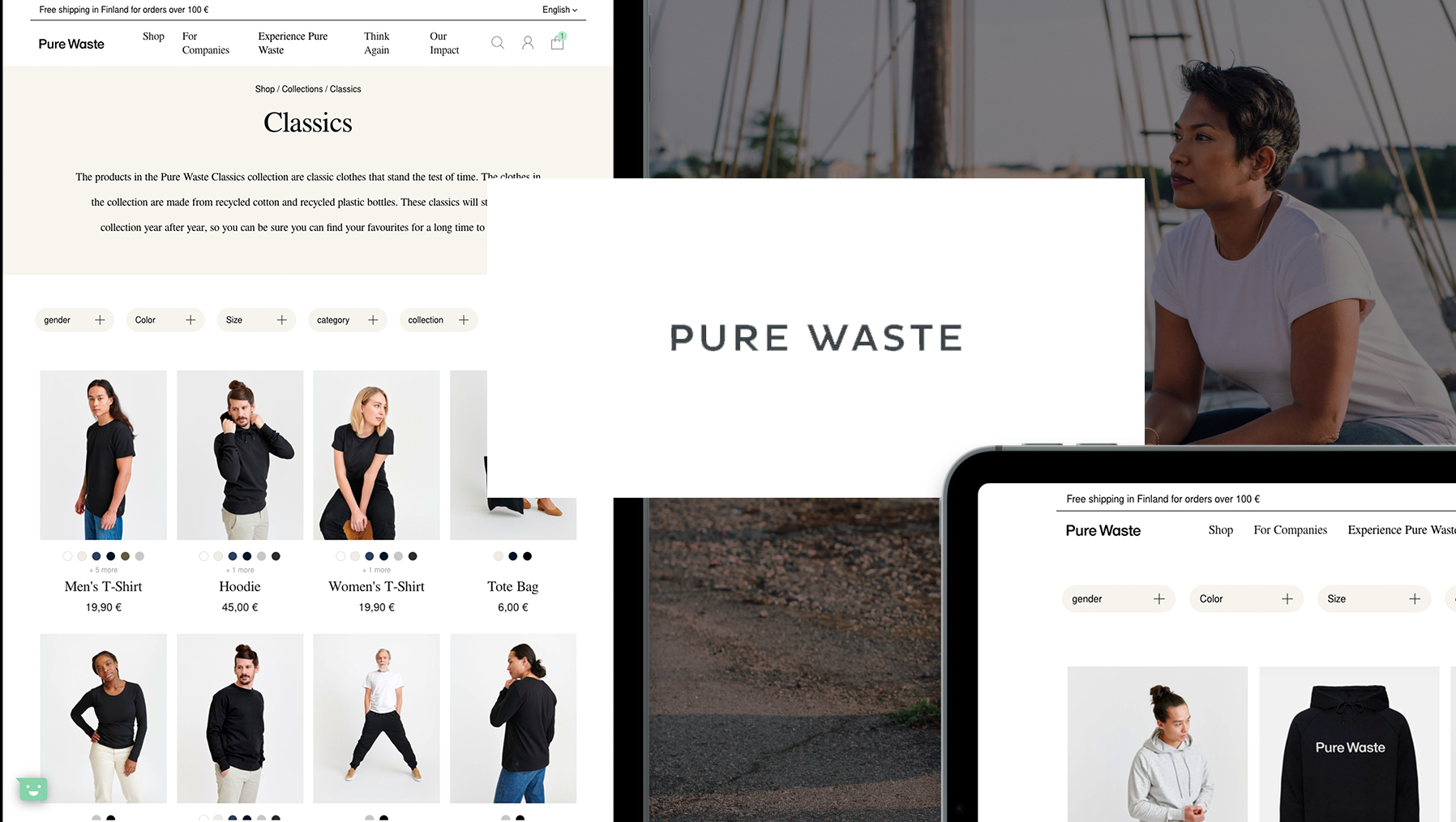 Notable New Features & System Integrations:
Nosto
Social Media Feed
WordPress integration
Vue Storefront
Carbon and Water Footprint Calculator
Are you looking to take your online experience to the next level?
Vaimo builds digital experiences to help your business drive online sales and growth. Get the competitive edge today by partnering with our team of knowledgable commerce experts whose number one aim is to help your business succeed.
Get in touch