Today, we'll be going behind the scenes again to see how Vaimoers are adapting to a COVID-19 world. Those of you that joined our post this time last week will remember, amongst other things: energy boosting dances, virtual coffees, remote working best practices and helpful pets. Luckily, not much has changed in this regard, so get ready for another dose of Vaimo's remote collaboration!
Before we get into our remote work life, just a quick word on the current situation. Although we said that life at Vaimo hasn't changed much in the last week, the impact of coronavirus obviously has. As COVID-19 spreads, we're hearing devastating statistics on a daily basis of the virus' impact throughout the world. Our thoughts go out to all affected both directly and indirectly. In these troubled times, it's more important than ever that we as Vaimoers come together to support one another, our clients, our loved ones and our communities. And it's in that spirit that we'll be shining a light on some uplifting stories from across our organisation.
Optical Zoom
Towards the end of last week, we really did put Zoom to the test. And we're pleased to say that it passed with flying colours!
Nearly 300 Vaimoers jumped on a call with our CEO, David Holender, to pose questions and hear about our business continuity and commitment to helping our clients. And while it's true that we've all had to adapt to our new remote work setups, the impact for Vaimo as a whole has been minimal, if that. For over 10 years, we've been working globally, with teams collaborating across countries to help drive success for our clients. As a result, remote working is second nature to us. It's our thing.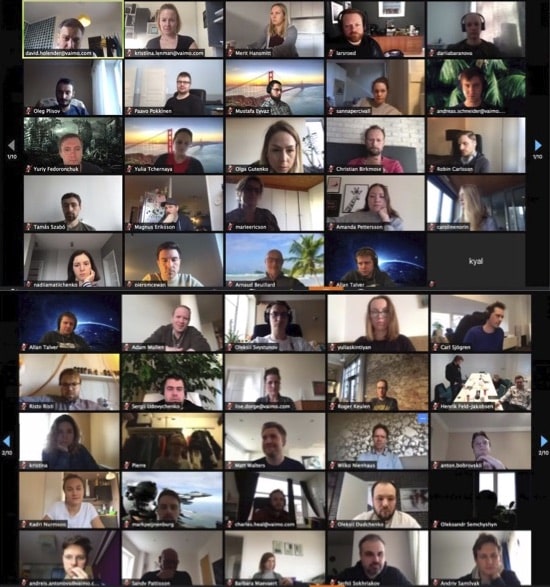 Team Vaimo listens in to CEO, David Holender
So overall, a meeting like no other. Except, well… Has anyone else noticed colleagues in Zoom calls in strange locations? Because there certainly were in this meeting.
Vaimoers calling in from spaceships, rainforests and the Golden Gate Bridge to name but a few. It seems that Zoom's virtual backgrounds are really coming into their own, especially at a time when we're staying home. So although we can't travel anywhere physically, that doesn't mean to say we can't be somewhere in spirit. For your next call, give it a try and load up your favourite destination as your background. Not only does it take you away from your home office momentarily, but it's a nice talking point as you start off your dailys!
Active Body—Active Mind
In last week's remote working tips, we talked about the importance of keeping active. When working at home, and without access to gyms, it can be easy to sidestep your usual exercise routine. "I'll do it tomorrow"—we've all heard that one. But, it's more important than ever that we keep these up. After all, physical exercise stimulates the development of new mitochondria within cells, which means more energy for your brain, mental output and productivity.
With that in mind, we've seen a number of sessions across Vaimo to keep us moving! Some of our favourites have to be the yoga sessions—popular across our country units, and also a company-wide energy boosting session, run this week by Country Manager (Sweden) Robin Carlsson!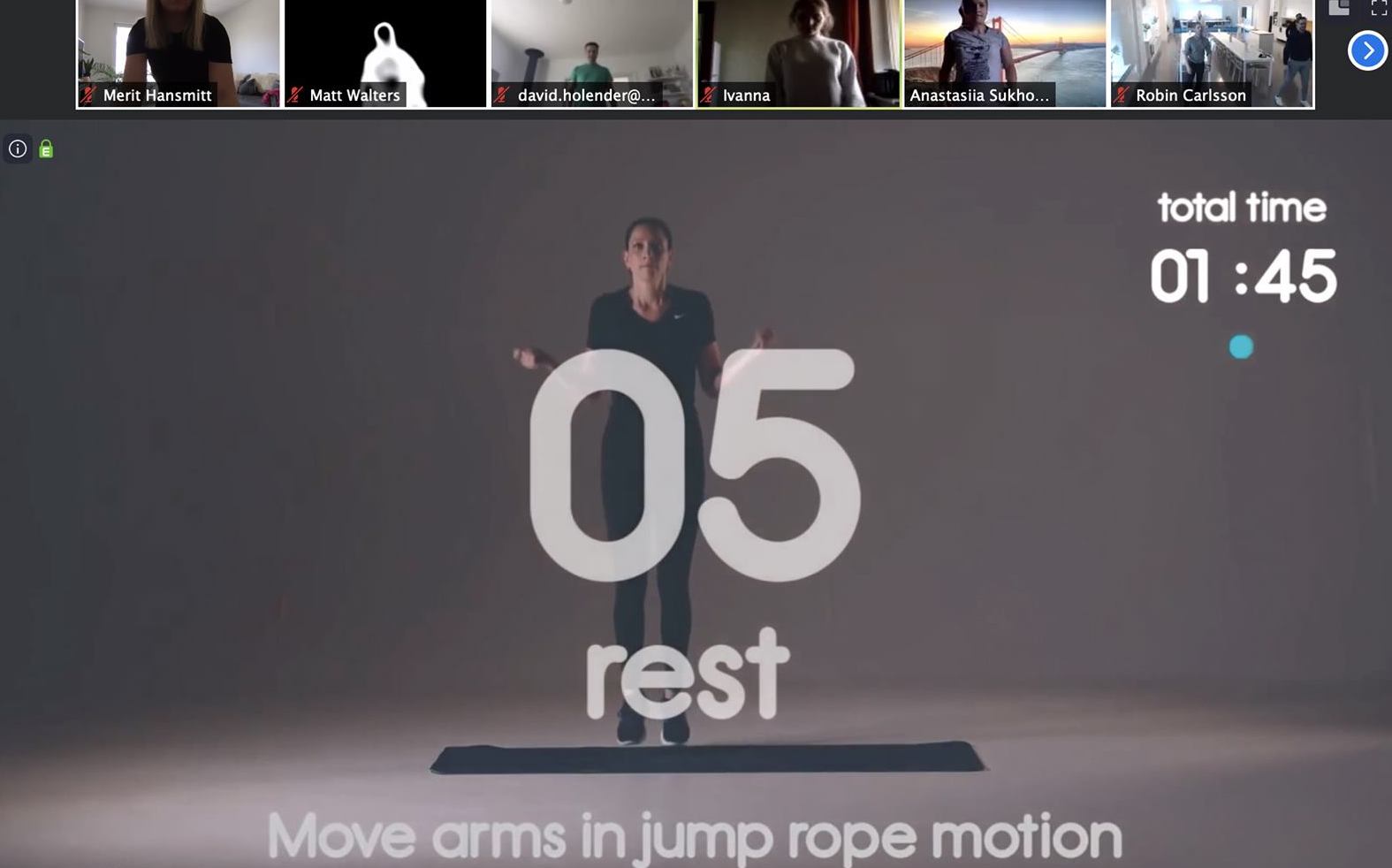 Robin (top right) showing us how it's done!

The Secret Lives of Vaimoers
As a little bonus to this post, we ran a poll with a selection of Vaimoers to hear what they're getting up to at home when stepping away from the laptop in the evening and at weekends. Let's take a look:
Well, well, well. Eating at number 1. But I think we can be forgiven with all the extra time indoors sat next to the fridge. Right? In true Vaimo spirit, though, it appears we're matching that eating with equal amounts of runs, walks and home workouts. Great work, team. Calories in are most definitely calories out.
Scanning the list, everything is roughly what we might have expected—reading, of course, can't be beaten when spending extra time indoors. And it's nice to see that we have some budding Chopins, Mozarts, Claptons and McCartneys taking up an instrument. Everything looks normal until we get to… 'Singing to neighbours'? Many obvious questions here: Through walls? Across streets? Over the garden fence? Anyway, we'll ask for some photo evidence in time for our next post. We look forward to seeing you there!
Thanks for tuning in to our look behind the scenes at Vaimo's home offices. Check back on our blog next week for more stories of how our global teams are collaborating in these unprecedented times.