Working in eCommerce since 2008, it's always been natural for me to research and educate myself online before bigger personal purchase decisions. But in most cases, I still ended up in a physical store to touch and feel the product. Or so that I could instantly make a purchase when my brain decided what to go with.
The Impact of COVID-19 on Ecommerce
Going through these current times, however, I started changing my purchase behaviour to online—and both the numbers and the fact that delivery networks are under pressure, tell the story that many people are doing the same thing.
For me, this has happened quite naturally without further consideration.
I'm in my early thirties, consider myself healthy and have recently moved with my family from Denmark to Sweden. This situation hasn't naturally provided me opportunities to make many new contacts, besides a closed group of friends, colleagues and family. And since I've no commute (I'm currently working from home) and don't have the same daily movement as usual, ordering online has simply been more convenient.
I've also caught myself ordering online from new product categories, such as groceries, meals and generic household items—things I'd usually pick up from the mall or supermarket.
Whether my behaviour is unique is hard to tell. Many of us have been 'pushed' to order our groceries online since the COVID-19 outbreak, since we want to avoid going to stores. But habits are easy to form and we might find that we create new habits as a result of COVID-19 given that we prefer the convenience of shopping online. And the general numbers do show that eCommerce is on an all-time rise with more people shopping from the comfort of their homes.
Online sales started to accelerate in mid-March and are growing
Digging into online publications and our clients' statistics, it confirms the same growth trend starting in the middle of March. Across most industries, sales started to slowly increase week by week. And what's more interesting is that the numbers keep growing despite some countries slowly opening up again.
Fashion retailers had a short dip around the time when the COVID-19 outbreak put most of Europe into lockdown. But I'm seeing most catching up on this lost revenue and performing 20-30% better compared to last years' numbers.
Elsewhere, the majority of categories (except for travel retail and tourism services) have been stable since the initial lockdown measures began.
The below charts show how sales started to kick off during mid-March in different continents..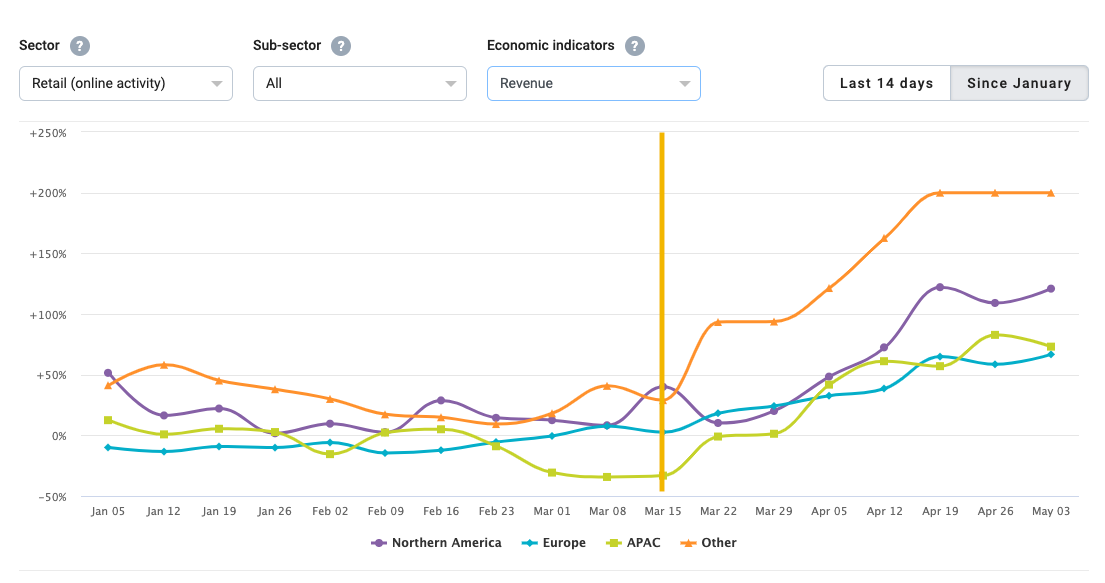 Data snapshot May 6th from https://ccinsight.org/ – Emarsys created CCInsights.org to help businesses by drawing from the eCommerce and retail data of more than one billion consumers and 2,500 brands worldwide to provide an up-to-date view and trends of the economic impact of the COVID-19 pandemic on online retailers.
Data snapshot May 6th from https://contentsquare.com/covid-19-ecommerce-impact-data-hub/ – Contentsquare has analysed more than 7 billion sessions across +20 industries and 26 countries.
The same peak in deliveries as with Black Friday sales
On May 5th 2020, one of the Nordic's largest logistics providers, PostNord, reported the same peak of deliveries as seen during Black Friday—without any special event or reasoning. In Poland, the national postal service, InPost, is rewarding parcel receivers if they pick up their parcels quickly and are also expanding deliveries to seven days a week.
And I'm hearing similar trends happening across all the countries we are operating in—more pressure on logistics systems due to increased online sales.
How COVID-19 is pushing digital transformation
We've seen companies freezing investments due to uncertainties or supply chain impacts. And others have been forced to close their primary sales channels due to local lockdown restrictions.
On the other hand, I also engage with companies that, due to COVID-19, have put eCommerce and digitalisation at the core of their strategy, with a strong push from the board and shareholders. Others are ramping up investment and want to move faster to monetise on the trend and get ahead of competitors.
I've come across many business leaders who had digitalisation on their radar, but always put the core business model first—and digital was an outlier in their strategy. That has changed for many during COVID-19 as they see the impact on society, business and their personal lives.
As someone working with digital enablement and transformation, helping companies to onboard and grow eCommerce, I have a very positive outlook on how this will make the change management and organisational anchoring of digital easier.
In our Practical Guide to Ecommerce in a COVID-19 World, you can access a free, ungated resource provided by our experts on topics such as COVID-19's impact on Black Friday, eCommerce, Cybercrime, and Customer Experience.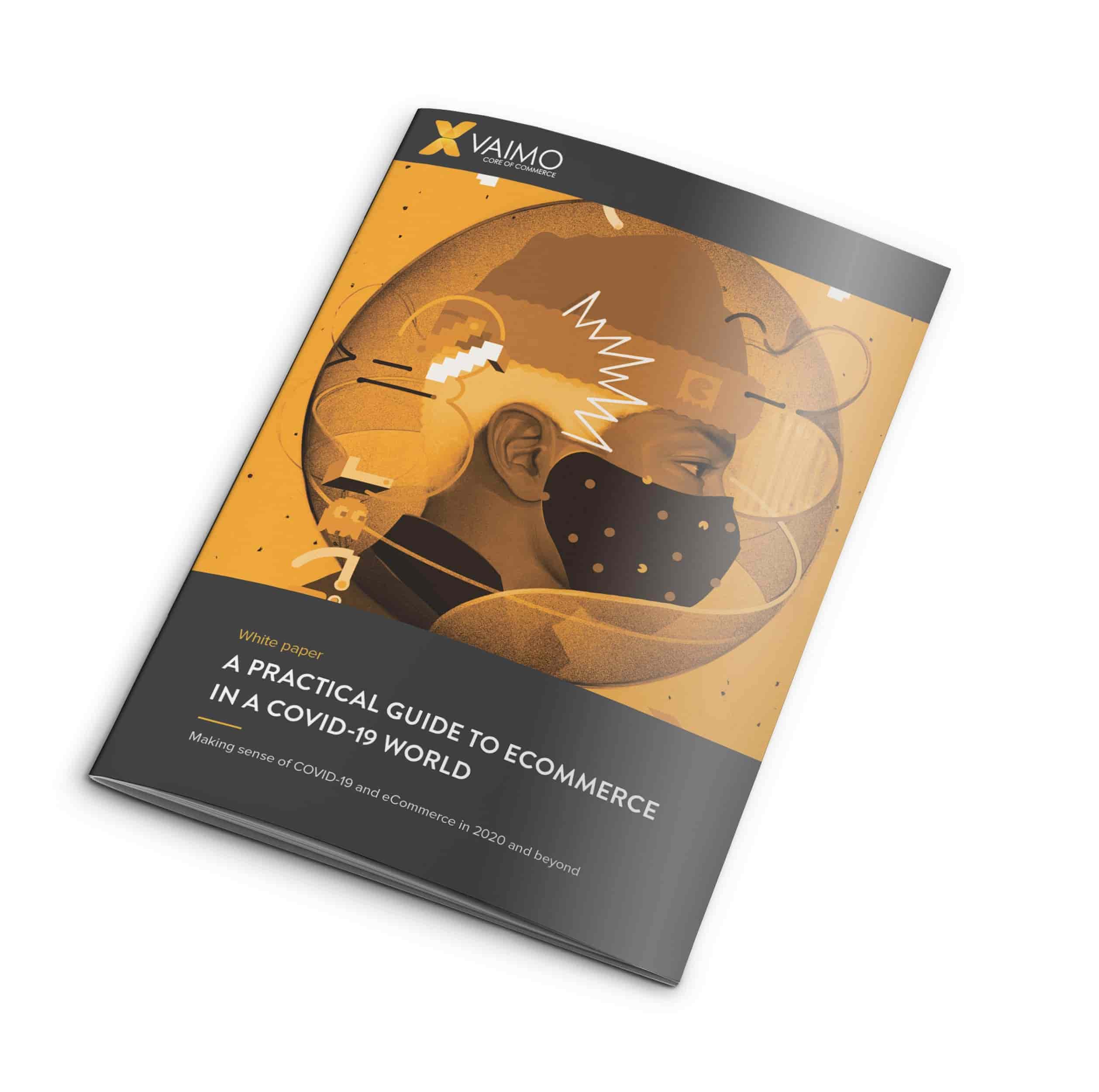 The outlook for Ecommerce post COVID-19
Ecommerce will most certainly not keep its current growth rates as we are slowly easing lockdown measures, but the baseline will for sure be higher. In light of the improvements and services implemented during COVID-19, such as more flexible delivery options, online assistance and better availability, eCommerce has taken a big leap forward over the last couple of months.
The duration of the lockdown and the expected restrictions during the next few months also mean that we are settling into new routines—and some things will just become the new normal. Will I continue to buy groceries and meals online? I personally don't see why not.
Though eCommerce is already seeing double-digit growth rates in most European countries, I'm sure at the end of 2020 we'll see some further unexpected growth numbers which might not have taken place without the pushes in our own behavioural changes.
So if you're currently not online—and not available for your clients and customers as a result—now is the time to make it happen.
As Sandy Shen, Director of Research at Gartner puts it:
"This is a wake-up call for organizations that have placed too much focus on daily operational needs at the expense of investing in digital business and long-term resilience. Businesses that can shift technology capacity and investments to digital platforms will mitigate the impact of the outbreak and keep their companies running smoothly now, and over the long term."
If you want to fast track your eCommerce onboarding and digital transformation, reach out to us and learn more about how our Quick Launch Accelerator and best practices help retailers, brands and manufacturers to launch at speed and with success from the start.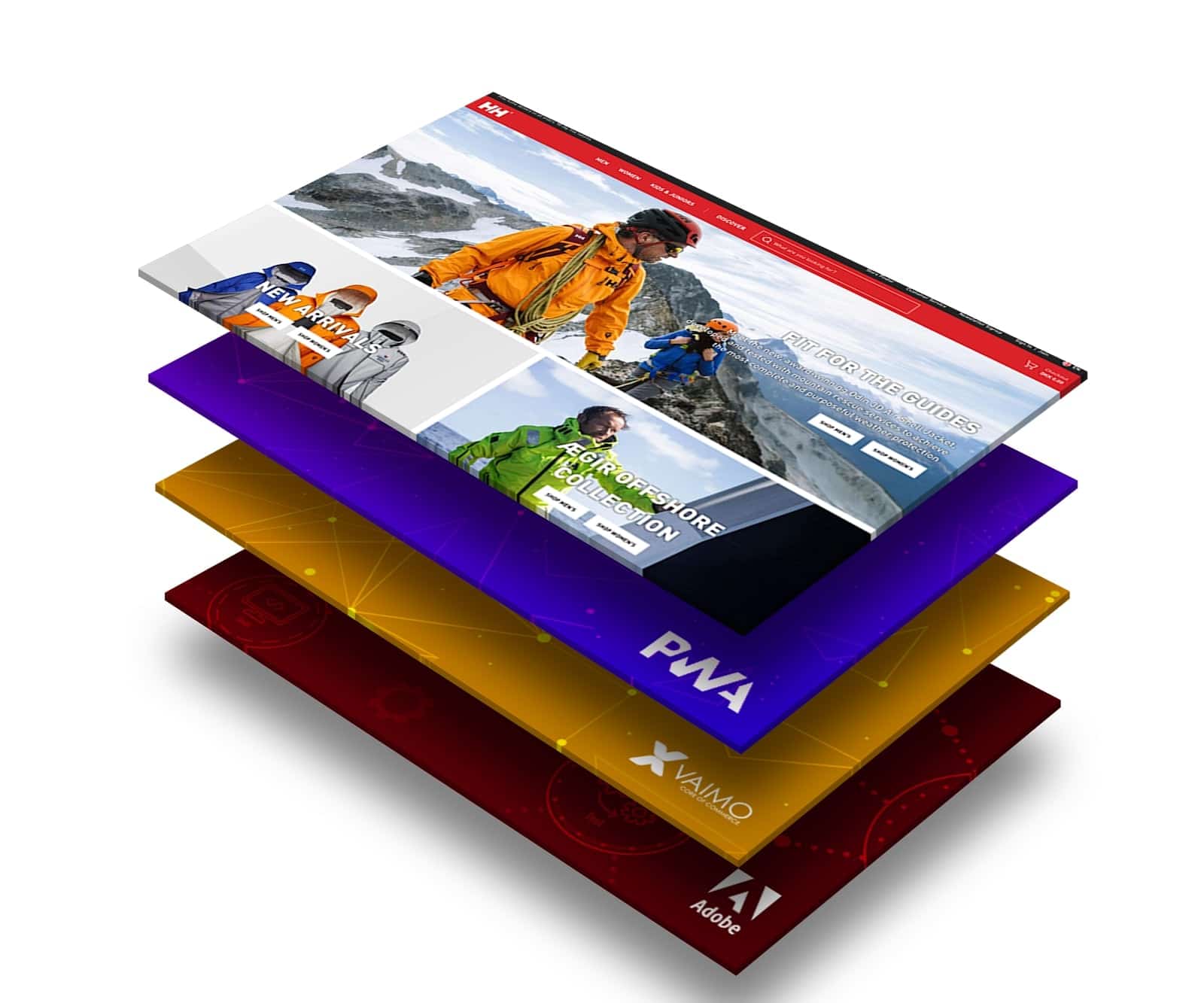 And if you're looking to upgrade your customer experience then be sure to complete Vaimo's Customer Experience Rating (CXR) report to get clarity on how you can drive conversions, sales and loyalty.