The sale's highlight of the year — Black Friday and Cyber Week — is over. As mentioned in our Black Friday Results article, this unusual year has brought stellar growth in eCommerce and fundamental changes in the global economy.
One great success was our client, Elon, which increased its revenue by 91.27% in 2020 compared to the previous Black Friday. Moreover, they increased their revenue by 171.93% during Cyber Week 2020 compared to 2019. This exceptional sales period plays into Elon's larger strategy to accelerate its online presence in 2020.
"We are very happy with our results on Black Friday — we couldn't have asked for a better start to the holiday season. The close collaboration we had with our dedicated team at Vaimo to prepare for Black Friday and the support we received during this critical week has been invaluable."
Jakob Dahlner, Ecommerce Manager at Elon.
Elon's results: black friday & cyber week
| | | |
| --- | --- | --- |
| | Black Friday 2020 | Cyber Week 2020 |
| Revenue | +91.27 % | +171.93 % |
| Users | +44.06 % | +57.55 % |
| Orders | +43.35 % | 89.19 % |
| Conversion Rate | +1.75 % | 16.44 % |
* % change in 2020 compared to 2019
The Journey to Elon's Black Friday & ecommerce Success
In 2019, Elon partnered with Vaimo to create a new brand concept and eCommerce experience that would boost their online sales. This journey started under difficult circumstances, as Vaimo helped Elon launch its new Magento Commerce site during the height of the COVID-19 pandemic. Despite the challenging time, Elon benefited from its eCommerce investment immediately, increasing its 2020 online sales by 100% compared to the previous year.
Read more about their eCommerce launch here: https://www.vaimo.com/work/elon/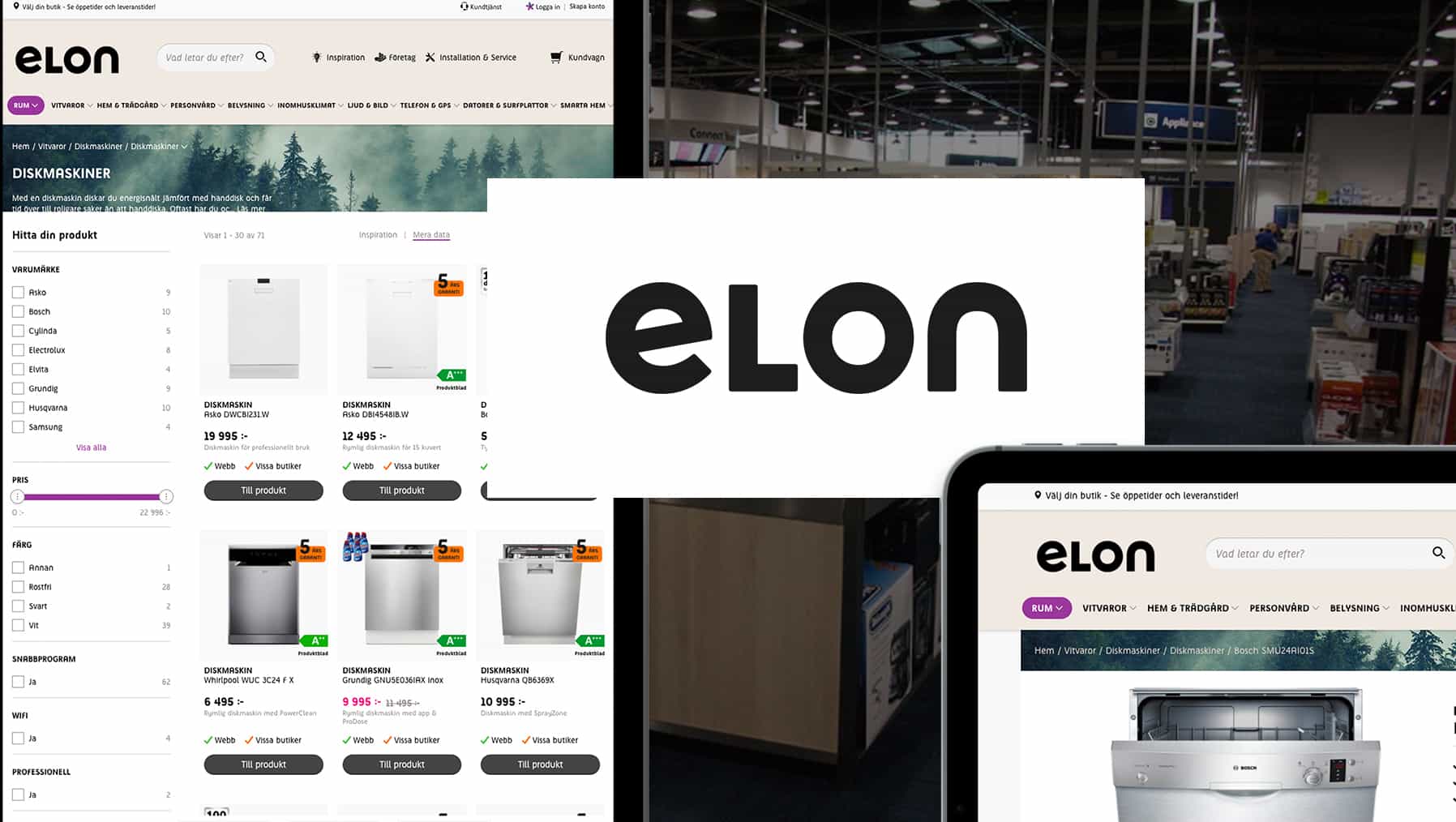 With a new site in place, Elon had the perfect opportunity to take full advantage of Black Friday. They started the 2020 peak season by promoting sales, and a week before the actual Black Friday, Elon increased its traffic and sales by 46% compared to the 2019 Black Weekend (Black Friday to Cyber Monday). During each day of Black Weekend, Elon's results eclipsed the numbers for the entire Black Weekend in 2019.
How Elon & Vaimo Prepared for Black Friday 2020
With holiday shoppers staying at home on Black Friday, Elon needed to change their tactics. First, Elon offered online sales over a longer period. Second, to prepare for a fully digital holiday experience, Vaimo and Elon ran load tests and implemented measures to maximise sales during Cyber Week. In the end, Elon's site operated without any major issues and achieved record-breaking results.
Vaimo's knowledge of eCommerce tools helped Elon succeed in November. This knowledge came into effect in the area of search, which is essential for shoppers seeking a specific product or category on Black Friday. Vaimo responded to Elon's need by implementing a maintenance-free crawler, Elasticsearch, which creates a powerful search experience. With Elasticsearch giving an enhanced customer experience and internal analytics to improve content, Elon exceeded customer expectations.
Are you interested in taking your eCommerce to new heights? With local offices in 15+ markets across EMEA, APAC and North America and over 500 employees, Vaimo provides an international presence that allows us to cultivate close, long-term relationships with our clients. Contact us today to learn more.