Vaimo Estonia's Product Owner, Märt Aab, spoke at BCS Itera's "Conference for Leaders: A Look at the Future from the Inspiring Perspective of Business and IT Leaders" on November 15th, 2016, about how ERP systems and eCommerce platforms can work together through the example of MS Dynamics NAV and Magento. The talk was aimed at merchants who already have an existing ERP system, and are either in the process of building, updating, or optimising an online store. The following is a detailed summary of the presentation.
YOUR ERP SYSTEM AND ECOMMERCE PLATFORM
Märt first looked at a schematic that describes the activity around an eCommerce platform. The top section represents systems and functions that are tied to the processes of an online store, while the middle section shows the data which (is meant to) moves between systems. The bottom section conveys the exterior systems that need to communicate with customer orders.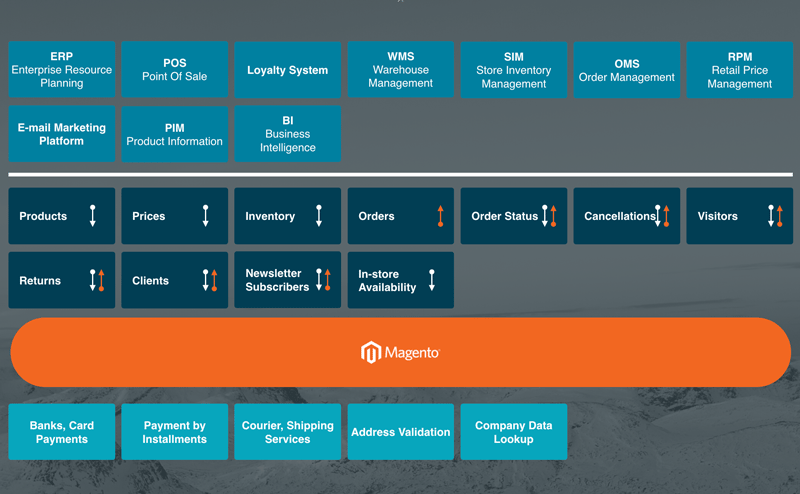 Should these different points be connected? If so, which ones? When and how should they work together? These are all fundamental questions to decide upon when building an online shop.
When we look at the main data that is needed for an online store and for its processes to work, our main components are products, and all the information that is tied to your products, such as categories, inventory, prices, photos, etc. The next set of data applies to your clients – whether they are one person with a B2B and B2C account, their login details, etc. The last set of data belongs to the eCommerce platform: order management, shipping, returns, documentation, etc.
The product data may be stored in an ERP system, PIM, Excel, CSV, etc. An online shop may require more data than a regular ERP system is able to support, but bare in mind that different data sources can be utilised for eCommerce. It's important to note that product data should be divided into two groups that should be handled differently: static (categories, photos, SKU, titles) and dynamic (online inventory, availability in-store, prices, campaign prices).
Here's a few examples of different solutions to managing static product data.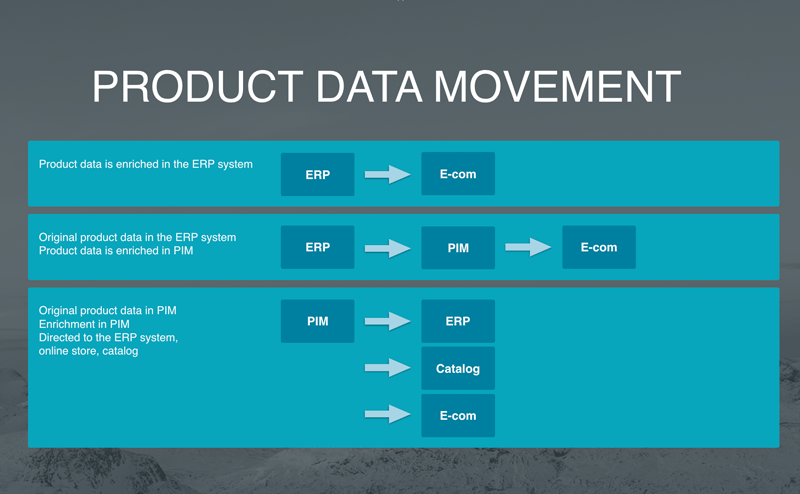 The strategy for integrating product data successfully is dividing the static and dynamic data and setting them up using different integrations. It's vital that dynamic product data is managed separately.
This becomes more complicated with client data. It depends on the situation, but if you want to implement an omnichannel approach to your web store, then your customer (if a loyalty system exists) should be recognised both in-store and online using a secure method. A new hurdle appears when a B2B store wants to cater to B2C customers, or vice versa. The challenge is in the fact that one company may have several individuals linked to it; and one individual may be connected to different companies, and may also have a personal account. So a person logging in should have the choice to choose their particular "role."
Märt shared that it's important to firstly consider which data to import and store in an eCommerce platform. It's not always necessary to even import the data that is needed to be shown to the customer in your eCommerce platform, but instead, query the information during the session instead.
Our Itera NAV & Vaimo Magento solution is constructed exactly like this (for Vaimo client Klick); upon logging in with Magento, the customer is not shown data saved by Magento, but instead the data is pulled up during the login from NAV directly. This means the customer has an overview of his order history and can download directions and guarantee policies connected to the products purchased.
EXAMPLES OF ORDER MANAGEMENT SETUPS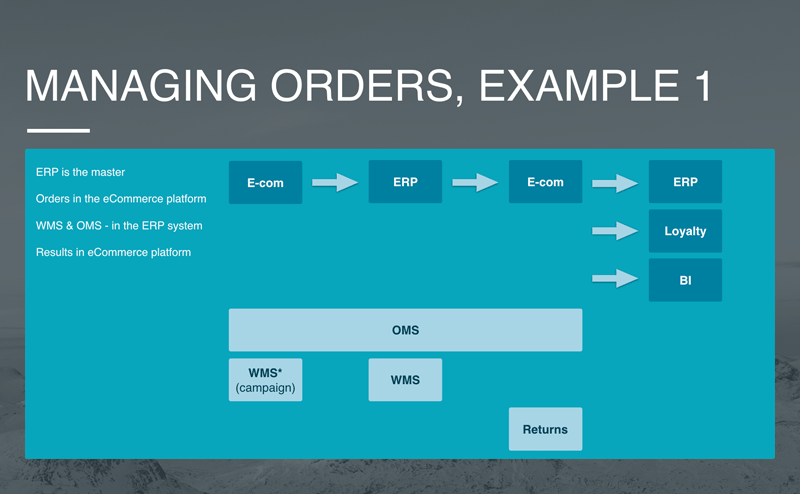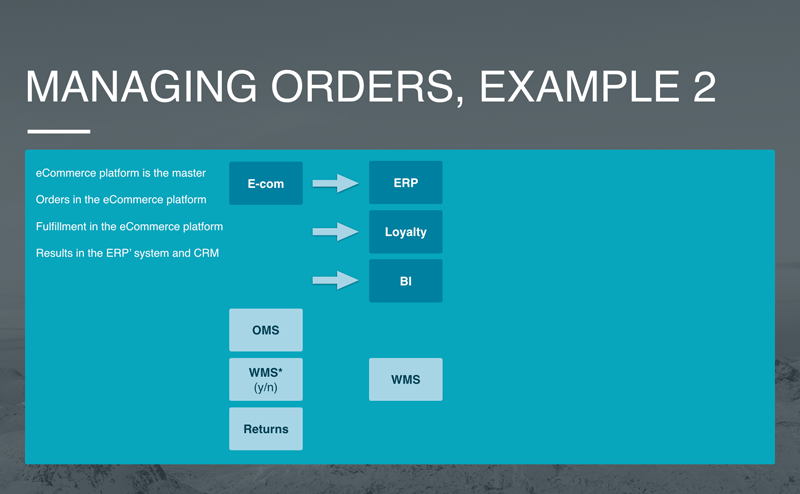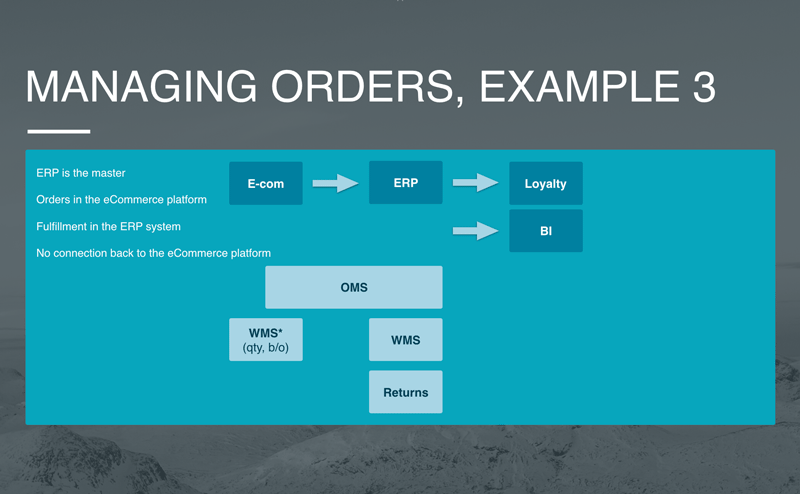 When building an online shop or updating and optimising your current digital storefront, it's important to establish the big picture and acknowledge all of the systems and platforms involved, from product management and order processing all the way to marketing and analytics, and understand the internal and external processes and how they may evolve in the long term. Only after doing so will you be able to decide upon your master system, and whether you can utilise your existing system or build a new one that will accomodate your business needs.
REMEMBER..
Omnichannel: Your eCommerce solution does not include systems that operate independently, and eCommerce is an inseparable part of your commerce.
Market Expectations: A professional and functional Commerce site is the standard and what customers expect.
How Your Online Store Affects Your Whole Business: A multichannel merchant's online store affects the business on a wider scale; so don't compare online costs/investments with solely online revenues.
For more information, feel free to contact us.