The Vaimo team was very happy to be able to be part of the 8th Magento Imagine! For 4 of us it was our first ever Imagine and for one of us, it was the 7th time attending! So here's our recap and some key highlights we wanted to share with you. 
Magento Imagine 2018 consisted of a three-day conference programme (+ a partner day on Sunday). During the 3 days, we had a chance to listen to insightful keynotes, attend interesting breakout tracks, enjoy the Legendary Imagine Evening Event and network with key merchants, partners and developers who had congregated in Las Vegas for Imagine 2018.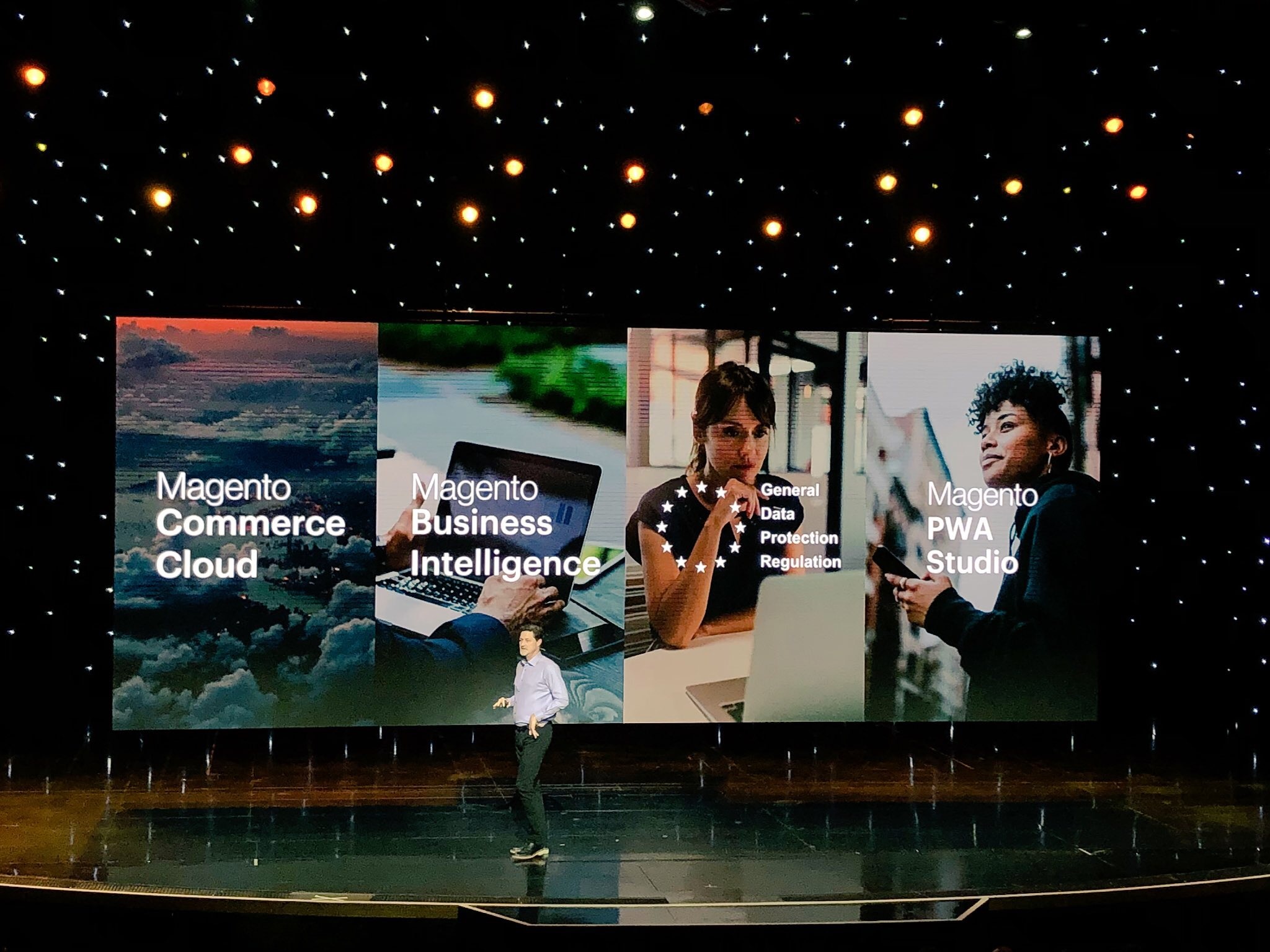 The 8th edition of Magento Imagine attracted over 3000 attendees from 60+ countries and featured 100+ industry experts with over 65 sessions to inspire us! This year's agenda covered 4 key topics: Magento Commerce Cloud, Magento BI, GDPR and Magento PWA Studio. 
Here are the key highlights: 
Magento updates
PWA Studio – Magento announced Magento Progressive Web Applications (PWA) Studio at this year's Magento Imagine. It's a suite of tools for building online stores with app-like experiences. PWA Studio will enable the delivery of fast and simple front-end experiences on mobile devices.
Some of the features include:

Personalisation – Tools to personalise content and add local preferences;
One code base, one deployment and app -to build and manage all channels and experiences
Purpose-built developer tools – to support fast prototyping, helpful debugging, rich feedback, and increased productivity

Read the press release from Magento for a more detailed overview.

PageBuilder – The name of the module probably explains itself quite well. PageBuilder will have drag-and-drop functionalities that will give the admin user more freedom to update and modify their site's content. In addition to standard components (rows, columns, buttons), PageBuilder offers one the possibility to build additional components that can then be placed in many different areas of the shop.

All content pages, blocks and dynamic blocks can be edited using PageBuilder as well as the product page. The new type of blocks called: "dynamic blocks" can be targeted to different customer segments. Interested in finding out more? Join the PageBuilder Early Access Program or get PageBuilder Beta.

In addition to these great features, many other smaller features were also announced, such as: cache management, multi source inventory, GraphQL support and Web APIs.
What's coming next?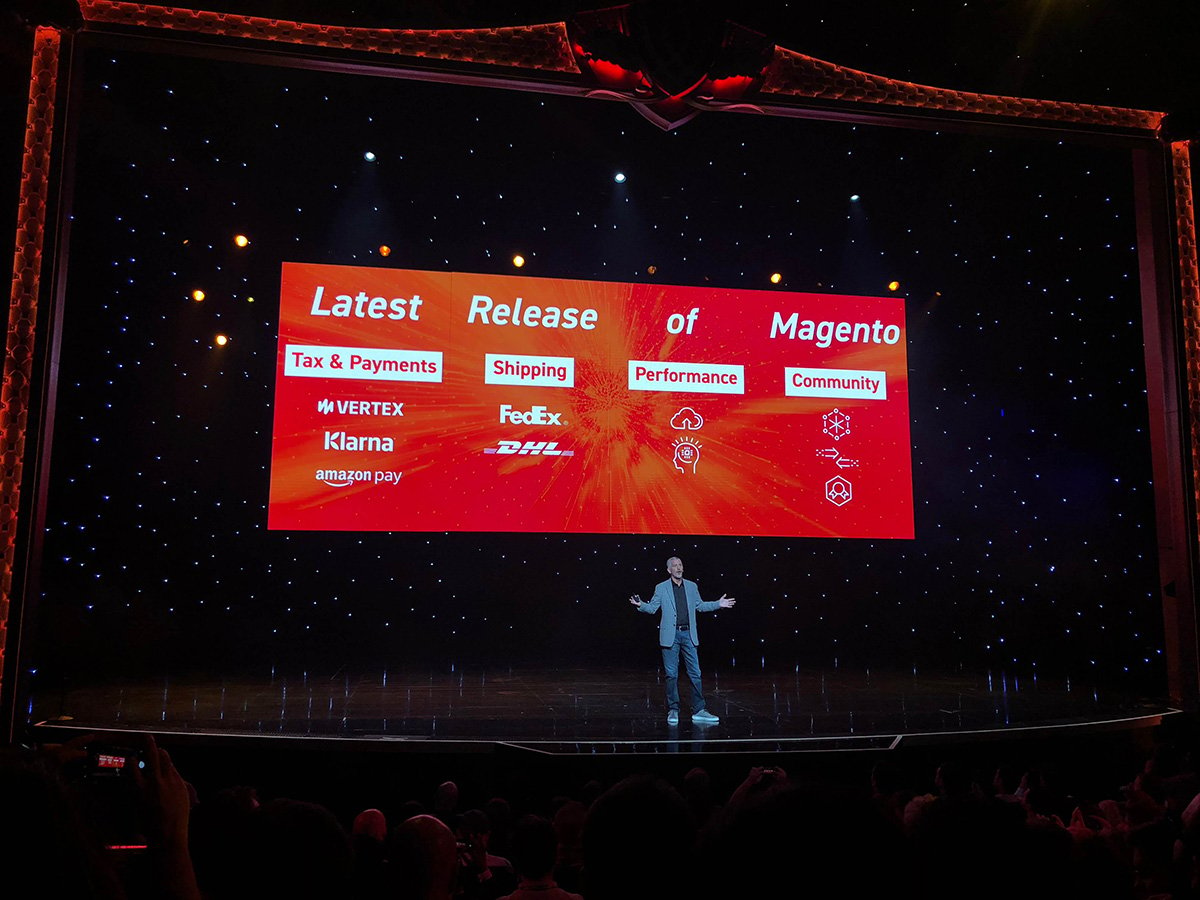 Jason Woosley, SVP Product & Technology, gave a high level overview of what's in the Roadmap for 2018.
Superior Shopping Experiences – A new revolution for superior shopping experiences, including the new PageBuilder and many exciting B2B features
Omni-Selling & Fulfilment – Improved Magento order Management
Merchant Intelligence – PWA Studio, Multi Source Inventory and Innovations Lab
Open Platform and vibrant ecosystem – Bringing the community together
There were a lot of interesting breakout sessions that were attended by our team! See the highlights of Day 1 at Magento Imagine and Day 2 at Magento Imagine. Also, you can find the latest session presentations on the Magento agenda descriptions page.
What inspired us?
Lead the charge was the theme of this year's conference and is also Magento's overall purpose. Magento uses this message to build clarity around the need for everyone to lead the charge, which in turn equals an aligned mission, vision and purpose. We felt very inspired after leaving Mark Lavelle's (CEO of Magento) session on leadership and values. 
Magento's Vision – Envision a world of commerce without limits. A world where technology is open to everyone, available everywhere, and powered by human ingenuity
Magento's Mission: In the rapidly evolving digital world, Magento Commerce builds the software that allows people and businesses to achieve their dreams. Their open solutions inspire collaboration, contribution, and community which drives innovation and growth at unprecedented scale and speed. Together with Magento's merchants, partners and developers, they create meaningful customer experiences and empower brands to realise their potential, and thrive—on the last platform they will ever need. 
This message inspired us because at Vaimo we are continually driving alignment around our purpose and values. We believe that it is when we are all aligned with our core values, purpose and goals, that the magic happens and is ultimately when we achieve success.
And finally…
The Vaimo team would like to thank everyone for another great Magento Imagine this year; we loved the breakfast meetings with our existing clients, meetings with prospects and partners, and re-connecting with familiar faces! We hope to see you again next year at Imagine 2019 …and in a few months time at Magento Live Europe 2018 in Barcelona!