The second day of Imagine 2018 began with a bang—due in no small part to some awesome keynotes: Melissa Ben-Ishay founder of Baked By Melissa, Eric Broussard, VP of International Marketplaces & Retail from Amazon and Emmy-nominated television host, educator, filmmaker and self-proclaimed 'futurist' Jason Silva. When listening to the keynote sessions, it was very easy to resonate with what this year's Imagine conference was all about – Leading the charge!
Photo taken by Magento 
The Baked by Melissa talk by founder, Melissa Ben-Ishay, was a truly inspiring brand story. It was a great way to start the second day of Imagine 2018. Magento has written a story about Melissa's success and the keynote session here. 
"When you find yourself being challenged, please see it as an opportunity."
As a futurist, Jason Silva spoke passionately about the destiny of human and technological coexistence—a very relatable topic for the Magento community. 
"The tools to change the world are now in everybody's hands."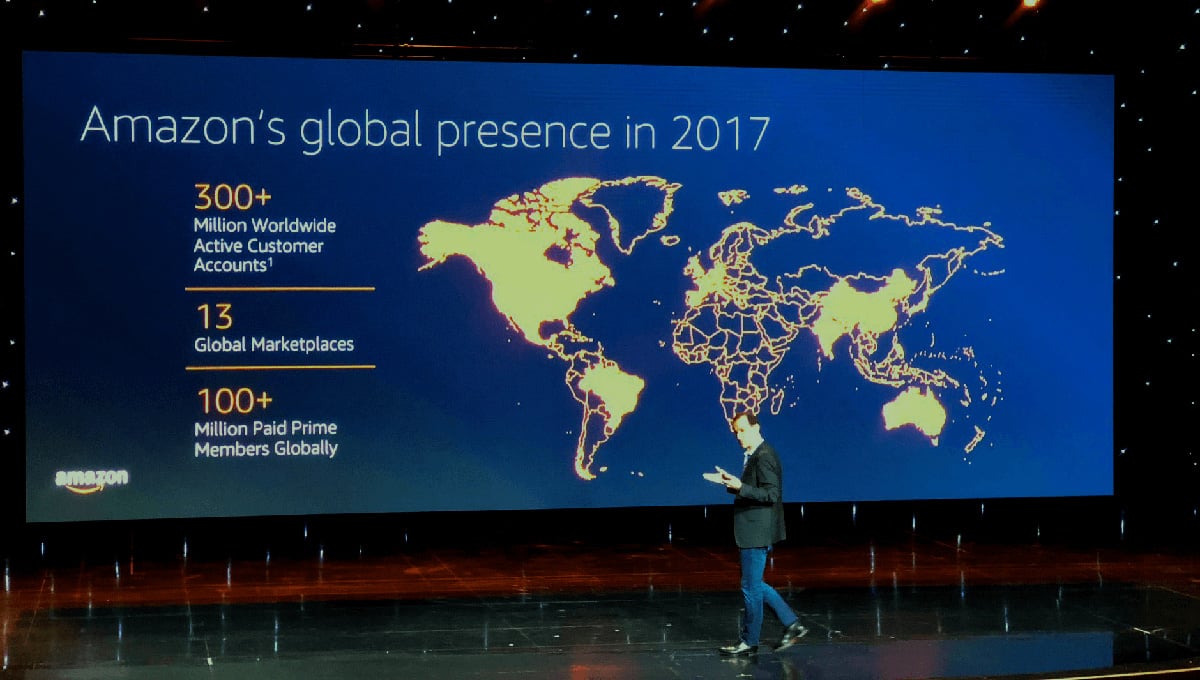 As part of the keynote session on Tuesday morning, Amazon's Eric Broussard, VP of International Marketplaces and Retail, inspired us all to Lead the Charge.
"Over 25% of global revenue generated by sellers on Amazon in 2017 comes from cross-border sales. This is a tremendous opportunity as you have control over your brand and you choose the country you want to sell into."

After the keynotes, our team attended various sessions which covered a broad spectrum of topics. Here are our key highlights: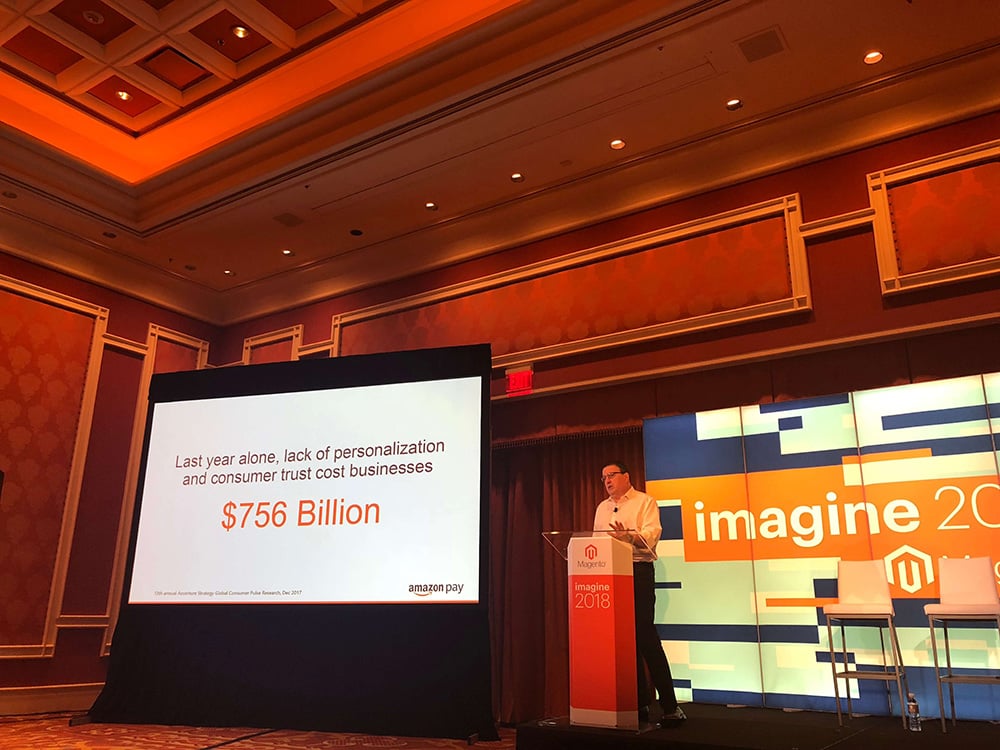 Amazon Pay – Patrick Gauthier (VP of Amazon Pay) gave an insightful overview of how voice-based personal assistants are opening up an entirely new frontier in commerce and how they represent one of the most important developments in the industry today. Voice is not just about the interface, it's also about the context. 
'What's interesting about voice? It's an opportunity to change the way you talk to consumers. It is an instant connection with a customer.'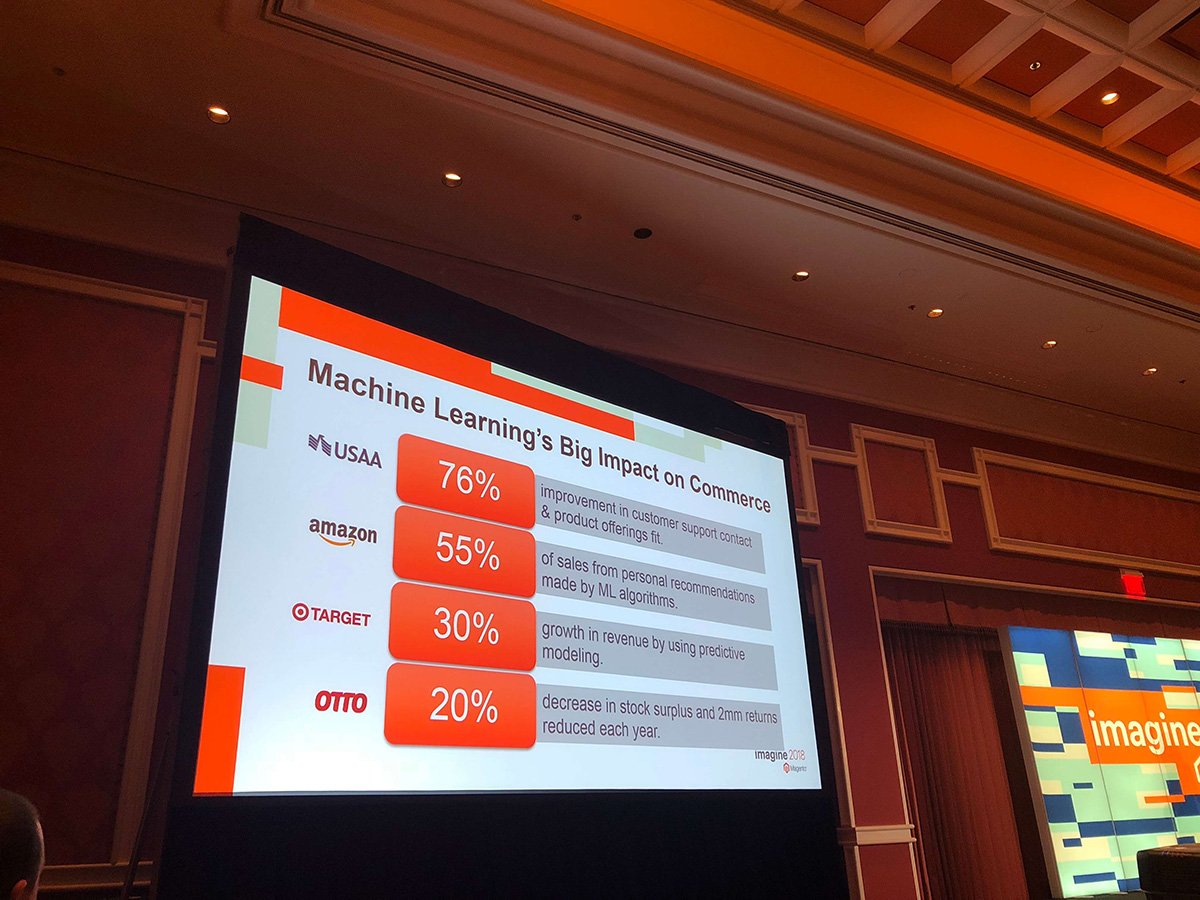 Machine Learning – Anita Andrews, Head of the Magento Analytics Practice, gave us an overview of Machine Learning and how Magento is driving success in AI. AI and Machine learning are becoming more and more of a reality and we are already witnessing the impact they are having on the commerce industry. When implemented correctly, it can help businesses grow and save them valuable time. The strength of machine learning begins with the clean data feeding it, and continues to the humans optimising it. Anita highlighted how AI is driven by people and that in order for it to work well, companies need a holistic approach: good data, good tech and good people. 
Magento 2.3 and new features 
We learned more about the release strategies for Magento 2.3. Here's a high level overview of the new features available:
GraphQL for fast PWA 
Two Factor Authentication
Instant Purchase
Google reCAPTCHA
Cache Management ACL
Import/Export improvements
Page Builder
Package Versioning
WYSIWYG Update
Multi Source Inventory (MSI)
PHP 7.2 Support
Message queue moved to Open Source
Elasticsearch Updates
Upgrade Patches
Asynchronous Web API
Release date Autumn 2018
The evening session concluded with the Imagine Excellence Awards which celebrated the achievements of merchants across different categories. This year's finalists included 45 companies doing business in 63 countries, handling billions of dollars of commerce. This year there were 260+ entries for 16 categories. Vaimo is very proud to announce that our client Helly Hansen received an award for the Best Sales Channel Growth!
Two of our other clients got a mention as well as finalists for two of the awards: 
SLO – Best Overall B2B Implementation

BAUHAUS – B2B Growth
Magento's CEO Mark Lavelle interviewed the evening's keynote speaker, Academy Award-winning actor, Grammy Award-winning musical artist and renowned comedian, Jamie Foxx about the story behind his success. The night closed with a huge bash at the Encore Beach Club, featuring live music and a huge area surrounding pools for attendees to eat, drink, dance, and mingle.


Driving digital success in our clients is what we pride ourselves on, so if you see one of the Vaimo team at the event, please come and say hello—we'll be happy to see how we can help you with your digital aspirations. Connect with us on Instagram & Twitter to see the latest updates from this year's Imagine!