Information. It's what we use to navigate our way through life. Our choices are fuelled by both the existing and brand-new information stored in our brains.
So the more the better, right? Well, almost.
What happens when you have lots of information that's scattered, spread across different sources and hard to get at? Information is no longer empowering — it actually becomes a hindrance.
Something we can all relate to is a busy calendar. Meetings followed by travelling followed by family matters followed by, yes, more meetings.
Imagine for a moment that every new appointment from now on was given to you in a different format. Forget a centralised online calendar which syncs with your email and other platforms. Your next seven appointments are recorded in the following formats:
– post-it note on your fridge door
– email invite from a client
– scribbled down date and time in a notebook 
– WhatsApp message from an old friend
– conference invite recorded in iCalendar
– Doodle Poll for an internal meeting
– text message
If you were to be dropped into that situation right now, it'd be difficult to make all of your appointments without error. Plus, think of the time you'd have to spend rushing around, searching, not knowing if you'd covered every diary event. The end result would be messy. On top of the wasted energy and lost time, you'd run the risk of getting a meeting time wrong and upsetting a customer or client. And in the worst case scenario, you might forget something entirely.
Luckily, you don't have to go through that stress. Your online calendar or organiser likely holds all your appointments in one convenient place and syncs to your other systems to record your upcoming events. It saves you time, cuts down on confusion and improves your overall efficiency.
If you had to choose between the two approaches, there'd be one clear winner.
But what about when it comes to your business and product information? Have you ever thought about how your business is storing and arranging product information?
If your company's product information is spread across different business systems, spreadsheets and paper documents, then you're going to face the same issues as in the above example. Your departments might also all be managing information in their own separate ways which ruins the chance of any efficient cross-company information flow.
This will be manifested in errors due to manual processing, wasted time, unhappy customers and confused employees.
Not good. But it doesn't have to be this way.
You can implement a PIM (Product Information Management) to act as a single source of truth and central hub for your complex product information. Product information should be treated the same way as your customer information. In order to increase the chance that customer adds a product to shopping basket, the information needs to be precise, clear, create emotion, personalised and this from all customers point of contact.
In the current eCommerce landscape and against the pace of change, PIM has become a necessity for many businesses looking to scale and succeed. The key benefit of a PIM is that it consolidates, manages and enhances your product information. It collects data from all your sources, enriches it, and then automatically publishes to your sales, marketing and digital channels.
As a result, a PIM:
1. Ensures consistency between channels and devices
2. Manages product information (product numbers, SKU data, images, videos, translations, documentation etc) from one, single interface
3. Increases business efficiencies by eradicating data silos
4. Empowers employees with greater autonomy
5. Allows your business to scale and open to new markets at speed and with ease
All of which ultimately means faster and more engaging purchasing experiences for your customers. And with customer expectations increasing at rapid rates, a PIM is something that can benefit your business immediately.
If you want to evaluate your company's need for PIM solution, visit and fill out our online Pimometer survey.
Discover how we implemented a PIM  for Swedish brand Proove to transform its business processes.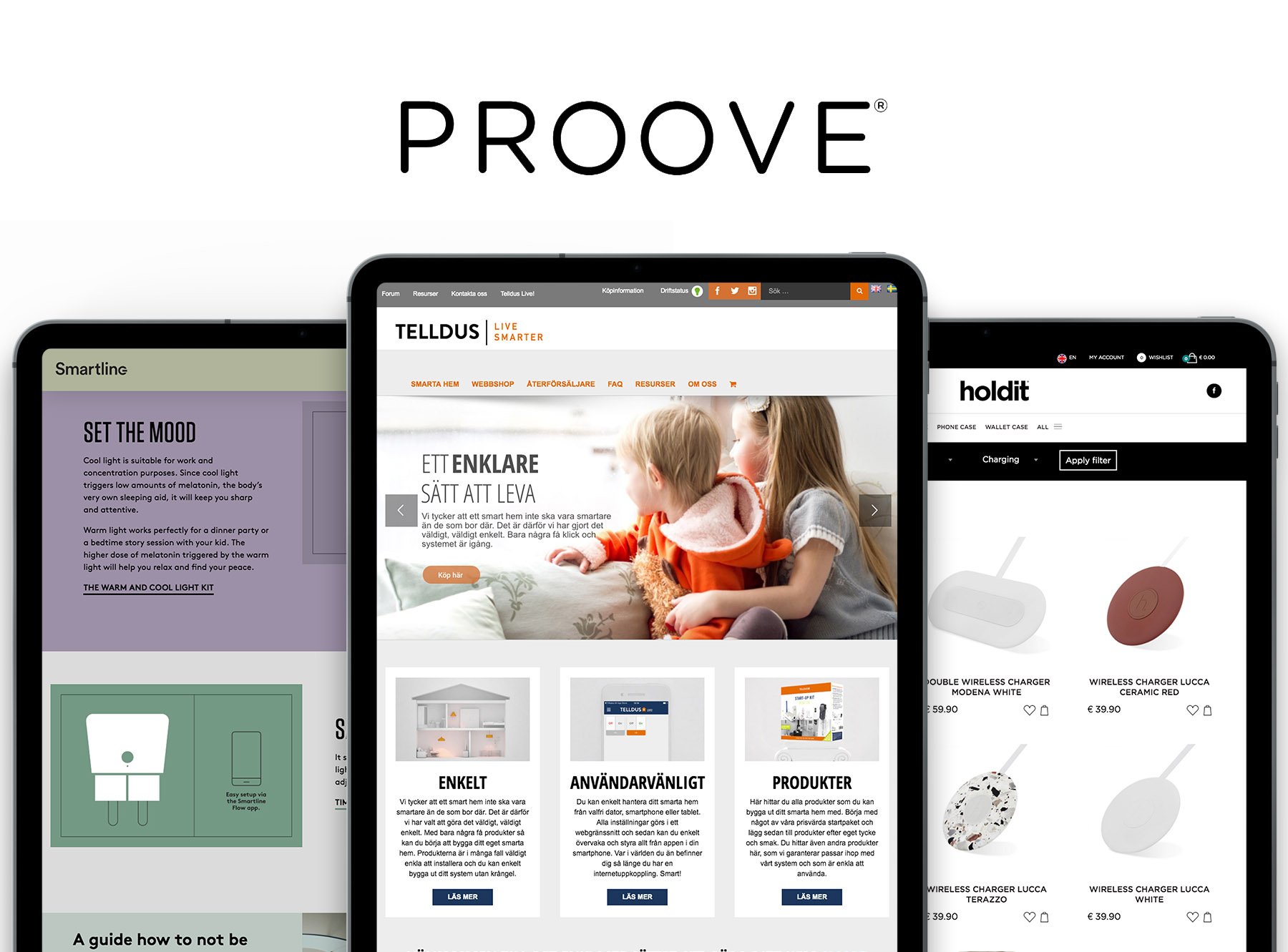 At Vaimo, we help you define your requirements on Product Information Management and then select the best-suited platform and approach with support during all steps of the implementation. Contact our team today and discover how a PIM can transform your digital capabilities!