Tallinn, Estonia. 26.06.18 – Vaimo, a global commerce solutions provider, has been awarded the status of 'Strongest in Estonia' with a 2018 credit rating of AAA (excellent) by the international credit information company—Creditinfo Eesti AS.
Only 0.6% of Estonian companies hold the AAA credit rating. This demonstrates Vaimo's position as a national leader in terms of economic, financial and payment behaviour.
The international credit information company—Creditinfo Eesti AS—acknowledges industrious Estonian companies whose economic situation is deemed as excellent (AAA), very good (AA) or good (A) according to the Creditinfo rating. A high credit rating is indicative of good economic status and financial results as well as exemplary payment history. A Creditinfo rating is developed on the basis of international models and is accepted both in Estonia and abroad.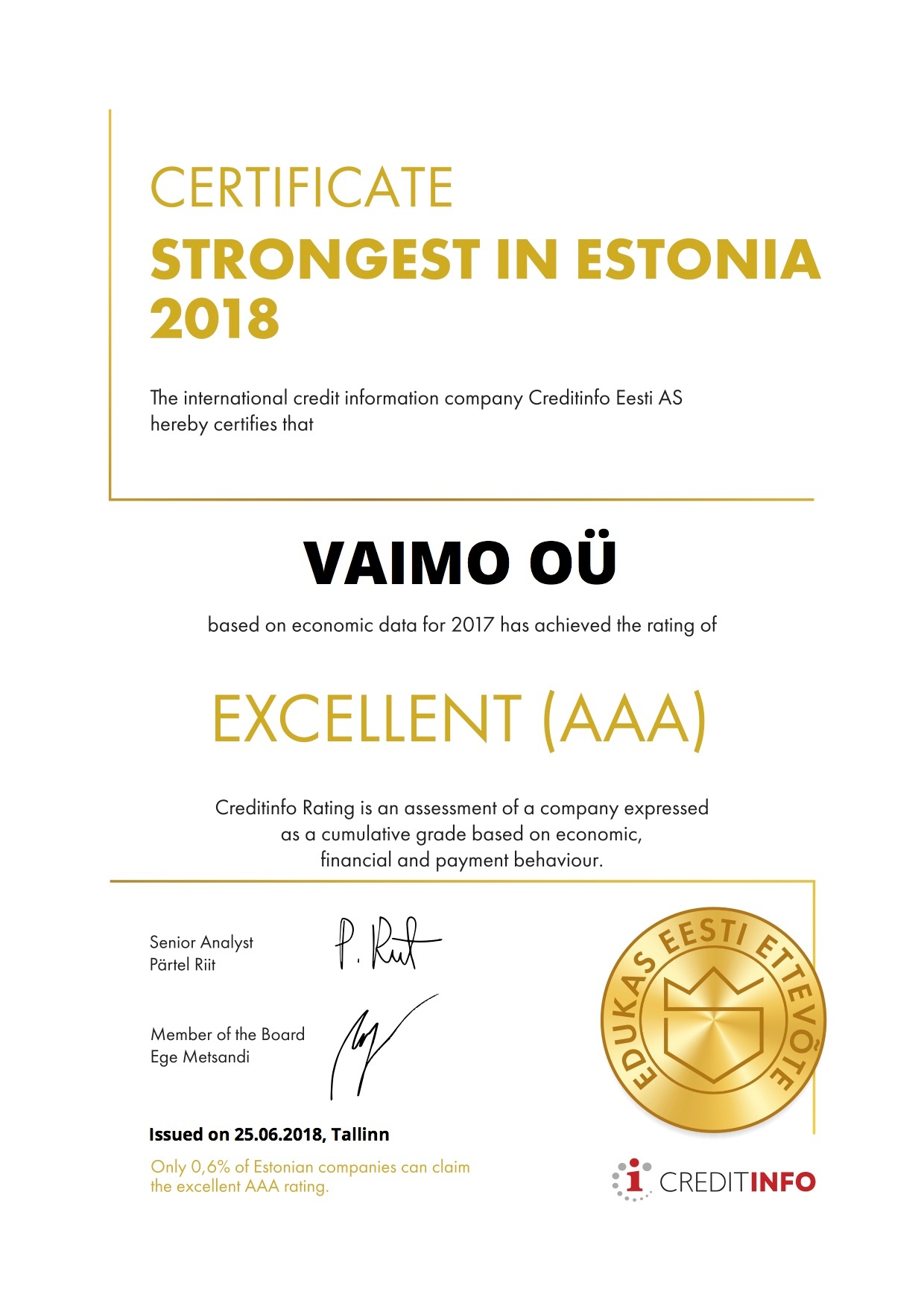 If you would like to learn more about Vaimo's services in driving digital commerce success for B2B and B2C clients in Estonia.
Have a look at two of our most recent local case studies:
Vaimo's work environment thrives on a passion to succeed together. We're always looking to hire new talent! If you got what it takes, apply here: https://careers.vaimo.com/
About Vaimo – www.vaimo.com 
Vaimo is the global leader in delivering award-winning digital storefronts, omni-channel solutions and mobile apps. Their only focus is to accelerate B2B and B2C sales for our brand, retail and manufacturer clients. With 15 global offices across EMEA and APAC and over 300 employees, we provide an international presence that allows them to cultivate close, long-term relationships with clients. With a focus on driving digital innovation, their services cover the full-spectrum of Commerce needs ranging from strategy, design, development, optimisation and cloud services. Vaimo delivers solutions around B2B, B2C, Omni-Channel, PIM, Order Management and Business Intelligence.
Every year, Vaimo wins awards in recognition of our commitment to technical excellence, innovation and satisfaction. Among others, we have received the Gazelle Award (6 consecutive years), listed in Econsultancy's top 100 digital agencies (2 consecutive years) and Magento has recognised Vaimo's leadership by selecting them as a Global Elite Partner in 2017, Commercial Partner of the Year in EMEA in 2017, Omni-channel Partner of the Year in 2016 and EMEA Partner of the Year in 2015.