We are incredibly proud to announce that Vaimo is teaming up with award-winning mountaineer, social entrepreneur and business executive, Saray Khumalo, as she attempts to become the first black African woman to summit Mount Everest.
Saray is no stranger to feats of immense physical and mental endurance. Over the course of 7 years, she's summited some of the world's most challenging climbs including Kilimanjaro (5896m), Mera Peak (5467m), Elbrus traverse (5642m), Lobuche East (6119m) and Aconcagua (6980m). And in 2017 (following 2 other previous attempts), she reached Everest's South Summit (8749m) making her the altitude record holder for black women climbers.
Saray now returns to take on the world's highest mountain once again!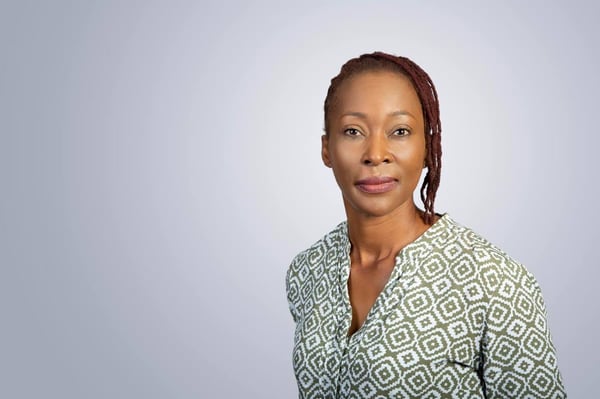 Saray Khumalo
Along with a keen interest in hiking from a young age, Saray is fuelled by her commitment to making a positive difference in her environment and for future generations. Her previous climbs formed part of the '7 Summits With a Purpose' initiative which within the first 5 years raised over ZAR 1 Million towards literacy and education. This included building an outdoor gym for Kids Haven, feeding over 60,000 children through The Lunch Box Fund and building libraries as part of The Mandela Library Projects.
Saray also acts as a Mandela Libraries Ambassador and continues to campaign for more libraries for underprivileged schools across South Africa. By ascending Everest, Saray aims to not only provide the means for more libraries but to inspire the next generation of leaders to pursue their dreams and goals. The Vaimo team is very happy to be helping Saray on this important mission in increasing the number of libraries in schools. And as part of the Everest ascent, Saray will also be supporting the Dr Thandi Ndlovu foundation which helps to educate orphaned children at university level.
Currently in the early stages of the expedition, this past week has seen Saray complete an altitude acclimatisation climb to the Everest Hotel and meet the only surviving member of the first successful Everest expedition in 1953!
Keep up to date with the latest news via the Summits with a Purpose Facebook page and follow Saray's Garmin progress here as she nears Everest's colossal 8848m peak.
No matter how large or small, you can donate to Saray's mission to support the education of young children in South Africa here. And you can donate directly to the Dr Thandi Ndlovu foundation here.
We'll also be posting regularly on our blog to keep you up to speed on Saray's progress, so check back next week for more updates. We're honoured to be able to support Saray on this huge undertaking and wish her much success and strength in reaching the peak and impacting the world!