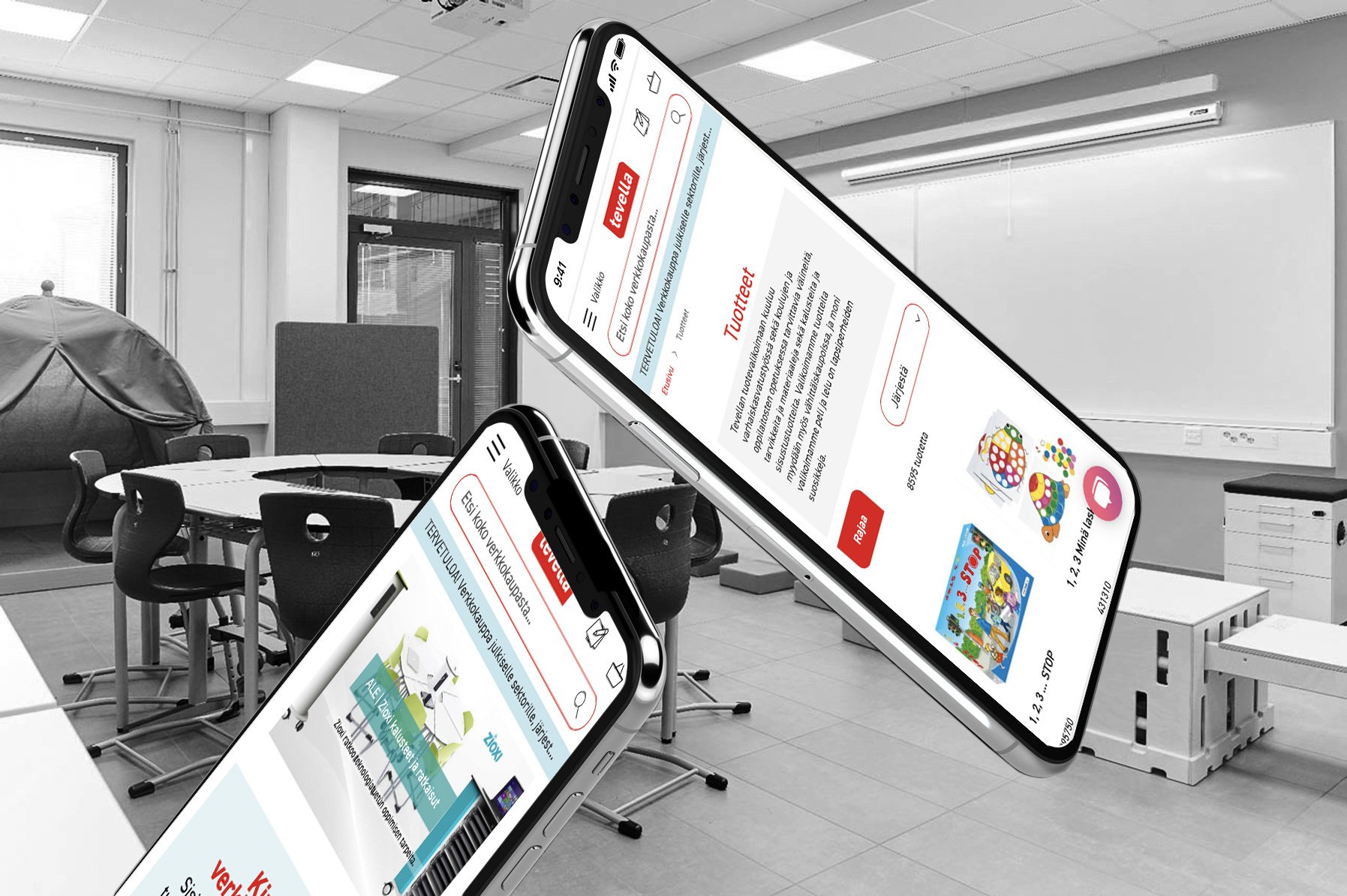 Tevella
Tevella was founded in Tampere, Finland, in 1984 and is an importer, wholesaler, and institutional supplier of many products in the education sector. Their expertise is in designing, furnishing, and equipping school and early childhood learning environments and other educational, teaching, and play spaces.
Live site
The Challenge
Tevella operated on the Magento 1 platform and wanted to upgrade their site to create more value for their customers and increase the success of their online store.
In particular, Tevella saw the user experience as an area to improve their B2B commerce site. On their Magento 1 site, Tevella's customers continued to purchase the same items without trying to discover new ideas or products. For this reason, on-site search represents a key area for improvement.
Content creation was also difficult on Tevella's Magento 1 site and restricted Tevella's ability to educate their customers. Moreover, Tevella also wanted to use their content to become a knowledge hub, which would also help them rank better on Google. With the hunger to provide value to their customers and revivify their B2B commerce site, Tevella partnered with Vaimo.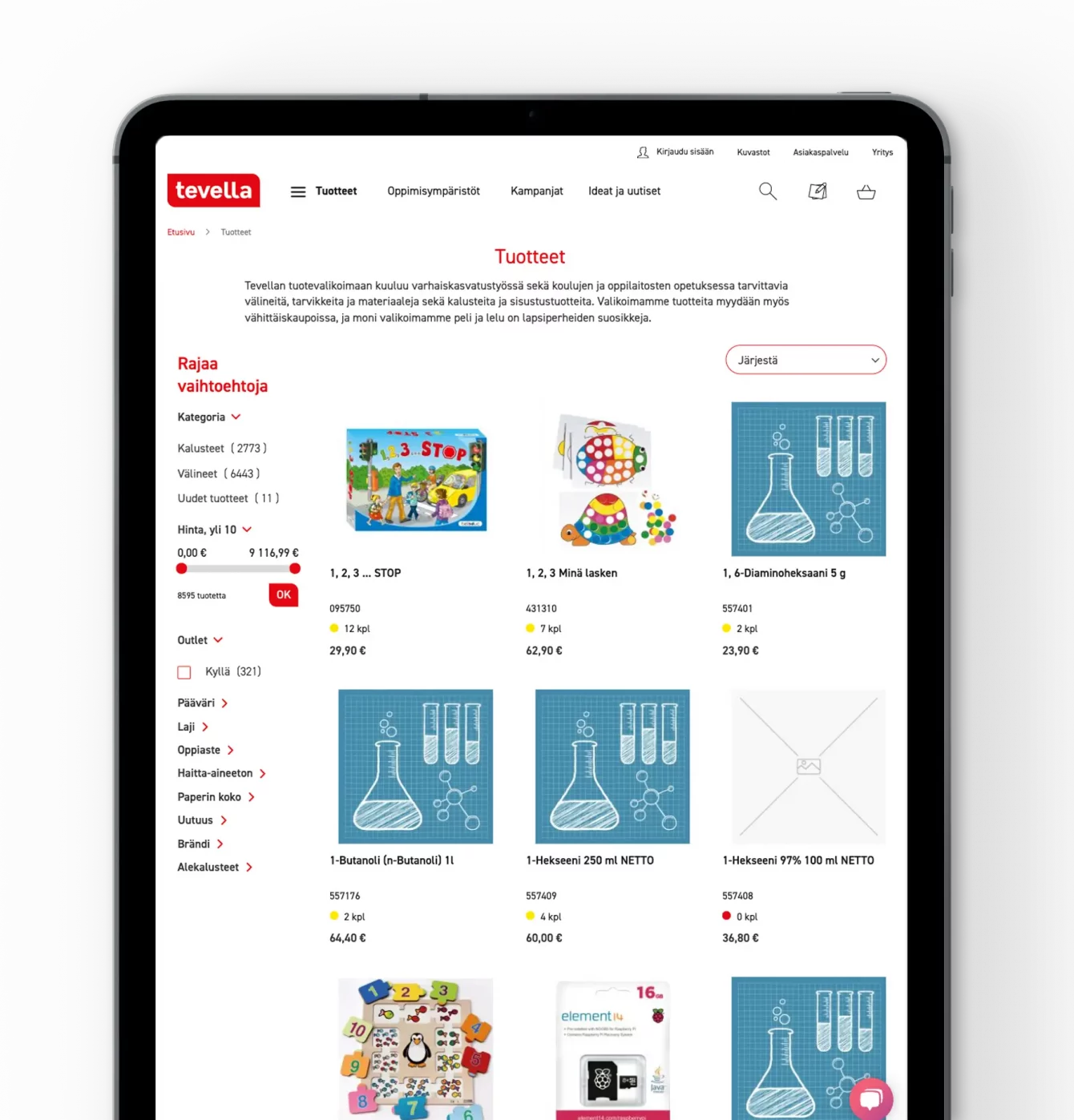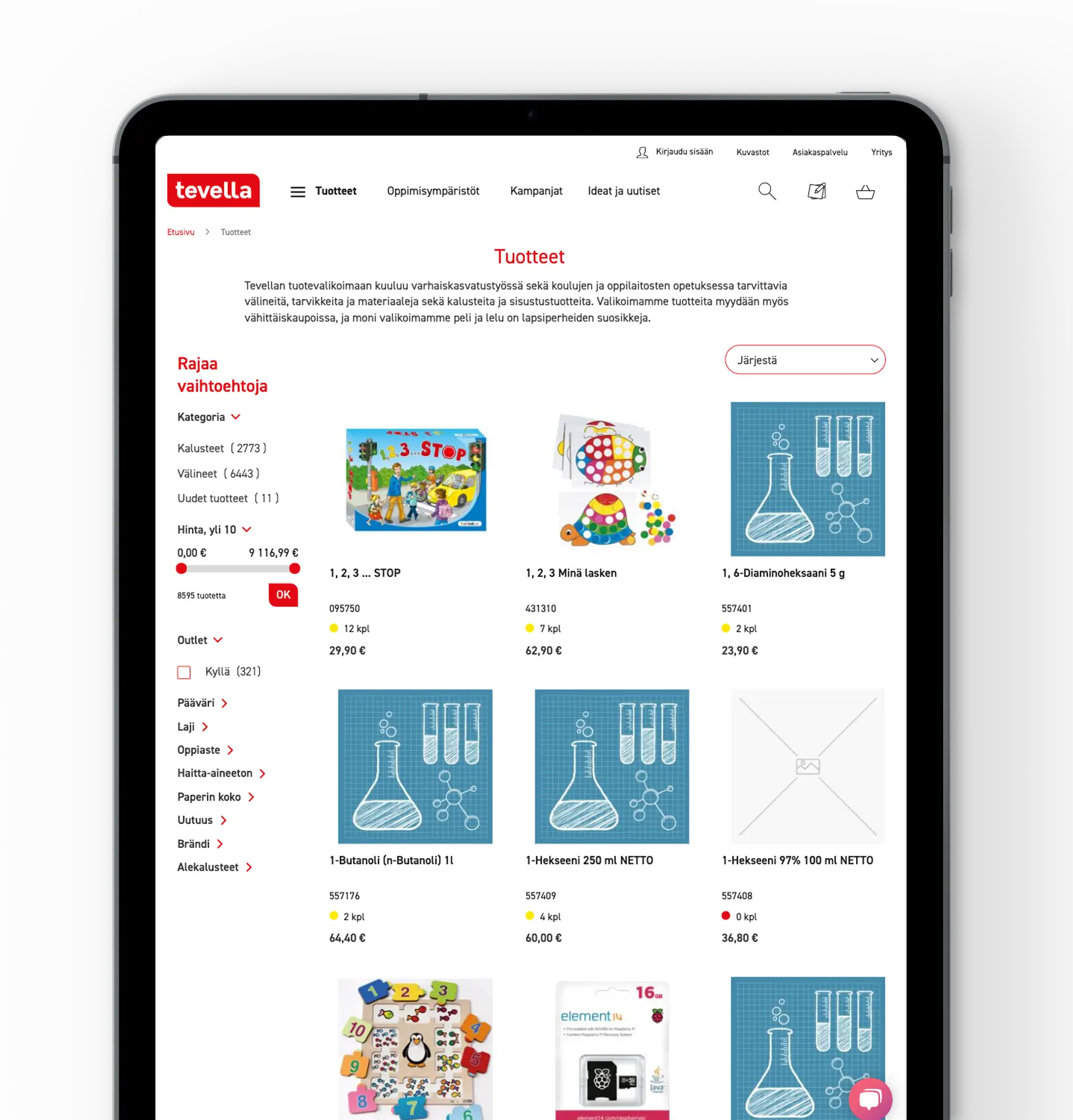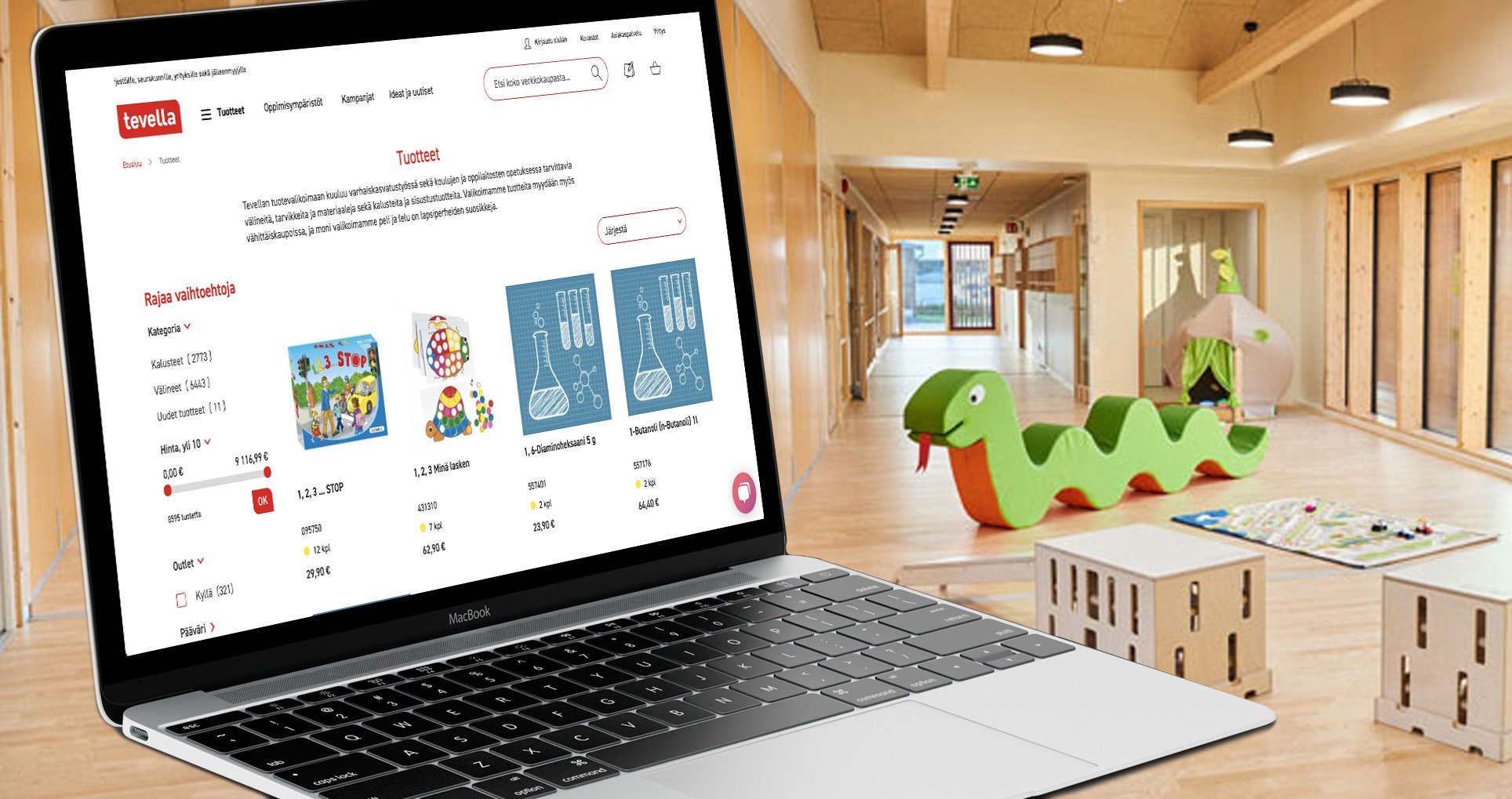 The Project Delivery
Vaimo and Tevella partnered with a tight schedule to release a minimum viable product (MVP) on the Magento Open Source platform in 6 months. The project was delivered on time, and communication was clear with both teams working successfully to stay on schedule and on budget in launching the site.
"The communication was good and open all the time. I think it's amazing that we actually achieved this, as I thought we would end up behind schedule. Our project manager was accessible 24/7; he always responded. We felt like we were in it together."
Anni Mielonen, Ecommerce Specialist, Tevella The Future
Tevella wants to grow their business significantly in the next few years. In eCommerce, they intend to sell and deliver more of their basic products, such as toys, games, materials for arts and crafts, furniture, and other educational supplies and equipment and deliver volume around these orders.
The B2B commerce experience is headed online, and Tevella intends to put even more emphasis on digital commerce to be at the cutting-edge of this trend. The new site will be a centre for inspiration where customers can find fresh ideas and discover other advances to provide an unparalleled learning experience.
Tevella has plans to work further with Vaimo Consulting and UX & Solution Design teams. Already, they have put together a roadmap to advise Tevella on their future and make data-driven decisions regarding their user experience and on-site navigation. This desire to be more hands-on also extends to customer service, where Tevella hopes to make further strides in the future.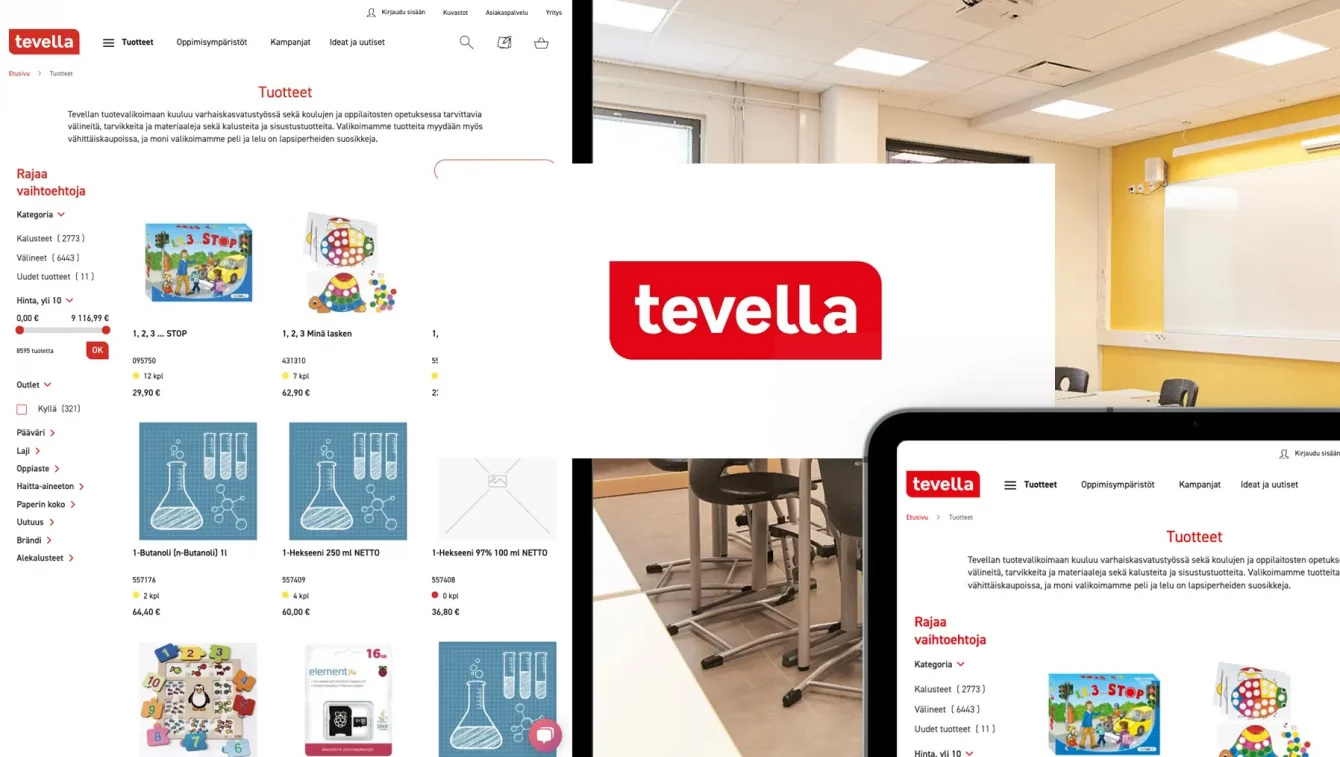 Notable New Features & System Integrations:
Would you like to streamline your B2B commerce?
Vaimo builds digital experiences to help your business drive online sales and growth. Get the competitive edge today by partnering with our team of knowledgeable commerce experts whose number one aim is to help your business succeed.
Get in touch