Over the last three years, rumours have been swirling around Amazon's potential entry into the Nordics, and the day has finally arrived. Amazon has launched in Sweden!
In this Amazon and the Nordics article series, we'll be cutting through the noise of speculation and provide actionable advice around what Amazon's introduction means for your business and how you can succeed. Amazon is here to stay. How will you respond?
AMAZON AND GLOBAL ECOMMERCE TRENDS
Since our first Amazon and the Nordics post in 2019, a wave of speculation washed over the Nordics regarding when Amazon would arrive in Sweden. On October 28th, Amazon launched in Sweden. Before diving into Amazon's arrival in the Nordics and what you can do about it, it's important to get a global perspective on Amazon and eCommerce marketplaces in general.
Every decision Amazon makes impacts the world, and every new seller on Amazon's marketplace joins a truly global marketplace. In Part 1, we discuss a few trends in Amazon eCommerce and eCommerce marketplaces in general. Then, we narrow our scope to Amazon and the Nordics, and what it means to get involved in a marketplace that is transforming commerce.
Both Amazon and eCommerce are growing at a rapid pace. In 2019, marketplaces contributed to 52% of global online retail sales. After all, online marketplaces account for the majority of global sales nowadays. In Europe, where many already have access to the internet, eCommerce grew by 14.2% in 2019. The global concerns around COVID-19 also accelerated the focus around eCommerce, allowing Amazon to grow 63.3% during the crisis thus far.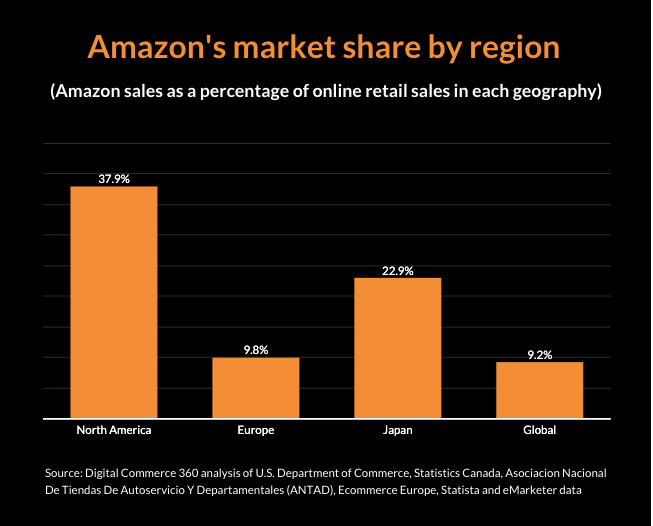 Amazon's strategy is foundational to its success. A lot of pieces contribute to this puzzle: customer loyalty, owning buyers with the highest search intent, then selling their customer data. The firm focuses on continuously enhancing customer experience and lowering prices along the way. 
Under Amazon, customer service wins, and who is prepared to fight them? Wholesalers and retailers have a lot to consider as Amazon remains omnipotent in today's market. Most importantly, businesses also need to make strategic decisions around Amazon and marketplaces in general. After all, Amazon has many pros and cons. Before jumping into the specifics of why you should sell on Amazon, let's examine Amazon's strategic advantage.
Customer loyalty
Amazon Prime has attracted over 150 million users. While Amazon Prime members are free to shop anywhere, they receive endless benefits for sticking with Amazon. The power of this program keeps members glued to Amazon's product pages for exclusive deals. With more customers and products joining every day, the benefits will only grow. 
Dominate Search
With such a dominant customer loyalty program, Amazon leads the advertising market by welcoming the person who wants a VR headset for under $150 right now. Unlike Google and other search engines, Amazon attracts individuals who have their wallets and their card details ready. 
This difference becomes visible when comparing the shopping habits of users on Google and Amazon. 23% of searchers go to Amazon for inspiration, and around 28% go there for a particular product. This difference is large compared to Google, with 32% going for inspiration and 31% searching with specific products in mind. This higher purchasing intent is useful to online marketers and is reflected in Amazon's growing share of ad revenue. In 2020, Amazon's ad revenue will continue growing by 23.5% while Google's will decrease by 5%. In the long term, Amazon's ad revenues will outpace Google's annual growth. This kind of information helps Amazon divert advertising revenue in their direction.
Winning the Buy Box 
For any given item, there can be more than one seller of any given product. If the Amazon search bar attracts high-quality leads, then the Amazon buy box puts your products in the top spot to convert those leads. It is estimated that the Amazon buy box wins around 80%, but this percentage could be a lot higher in different cases. With this high conversion rate, Amazon puts the buy box up for sale to the highest bidder. 
The highest bidder does not throw cash at Amazon, but rather they fulfil Amazon's criteria for giving the best customer experience. A quality customer experience includes low pricing, the fastest shipping, customer reviews, and closest stock to the buyer. For instance, a seller may decide to avoid Amazon fulfilment and opt for a slower fulfilment option. This choice may push you out of the buy box if another seller offers same-day shipping. As you can see, Amazon controls who wins the customer, something unbeatable anywhere else due to Amazon's global position and endless product choices which attract shoppers. 
AMAZON'S DEMAND-SIDE PLATFORM: CUSTOMER DATA
Unsurprisingly, the data for Amazon shoppers is valuable. However, sellers and vendors don't get access to that data. Instead, Amazon makes their data available to advertisers to promote their products on and off of Amazon. Armed with this data, many companies can target would-be buyers with increased accuracy and conversion rates. The minimum cost to retrieve Amazon's shopping data equates to $50,000. Of course, large brands stand to benefit from this high threshold.Moreover, the cost and availability vary for the Amazon demand-side platform, which is not yet unavailable in the Nordics.
Every Company is a Customer Service Company
Amazon is a major part of eCommerce and a leader in customer service and customer experience. In the shifting landscape, formerly dominant wholesalers and retailers now stand on uneven ground. Amazon often narrows purchasing criteria down to price, listing, and on-site reviews. Whether operating on Amazon or not, brands still have the opportunity to influence the purchasing experience with quality products and a trusted customer experience. One thing remains clear: every eCommerce strategy should have the question: "What do we do about Amazon?" 
Amazon and the Nordics: Norway, Sweden, and Finland
Let's turn our attention to Amazon and the Nordics, where Amazon already holds a substantial market share. The eCommerce market is ripe for Amazon to boost sales from putting a fulfilment centre in the Nordics. Even before COVID-19, 62% of the Nordic population reported making an online purchase in the past month. Moreover, Amazon lacks a true rival in the region. 
The Amazon ranking as an online store in The nordics by country 
(Source: Black Friday Sverige & Dansk Erhverv):
| | |
| --- | --- |
| | 4th Largest Online Store in Sweden |
| |  11th Largest Online Store in Finland |
| | 7th Largest Online Store in Norway |
| | 10 Largest Online Store in Denmark |
What can your business do on Amazon Sweden?
Here are the questions we will help you answer if you read on:
How do I compete with Amazon?
Do I need to compete with Amazon?
What's the difference between my eCommerce store and Amazon?
Should we sell only on Amazon?
How can we leverage Amazon as a platform to help our business?

Together with Vaimo eCommerce Consultant Andrew Heap, we'll be sharing key insights and knowledge so that you'll have all the tools to succeed in a potential Amazon era.
Read more in part 2 as we explore how and where Amazon can fit into your current commerce operations and whether it's the right fit for your business. 
Want to skip straight to building your Amazon business case? Start now!