Expanding your business to new regions has never been easier.
The Digital Revolution has yielded a brand new set of rules when it comes to business operations. It's now possible to infiltrate overseas markets which even just a decade ago may have seemed off-limits.
This presents new opportunities for B2B businesses who can now tap into the benefits of an international expansion programme. Namely: A higher potential for growth, exposure to new markets, diversifying to lower the risk from local market changes and the ability to detect new industry trends with data from multiple countries.
But that's not to say that overseas expansion is a leisurely walk in the park. It can be confusing and presents its own particular set of headaches. These are good problems to have, though—because it means that your business is growing and has ambition.
International Ecommerce
To better prepare you for this next stage in your company's development, we look at the below key areas you need to consider before taking the leap into global expansion:
Analyse your target markets

Localisation areas you need to cover

Design and user experience—how users will interact with local content

Managing and fulfilment of orders

Utilising product information management for driving your expansion success
Do your Homework on Target Markets
With the advance of the Internet and eCommerce, it can be tempting to think that global domination is the obvious next route for your business. But whilst it might be, you need to consider the rationale for this decision.
Does the data show significant organic traffic to your site from overseas markets?
Is there sufficient demand for your product in the target country?
If so, what's the competition like and how would you differentiate your business?
Are there any barriers to entry to contend with?
And, based on these forecasts, do the potential benefits outweigh the costs associated with expanding into the new market?
You should ask yourself these questions to assess whether expansion is a viable strategic decision at the present moment. And asking these types of questions will help you better plan your next move.
Localisation
Localisation, in its many forms, provides the bare-essential building blocks of any internationalisation campaign. It encompasses everything from accepting payment in the local currency to the structure of the domain URLs to the translation of your site and providing culturally relevant content. Localisation thus acts as a form of personalisation by geographic location.
Let's take a closer look at the key building blocks of your localisation strategy:
Translation If you expect your English language website to cover all bases as you open your doors to international customers, then you might be missing out on sales. The latest research shows that English represents just 25% of overall internet traffic. So in this case, the English site is inaccessible to a whopping 75% of global internet users.
Language is the biggest barrier that a potential customer can face. You cannot rely on automatic translation to get it right and you cannot expect customers to try and decipher what you are trying to tell them. These are hurdles which leave potential customers feeling confused and deflated.
Why let your business give off this kind of first impression? Above anything else, ensure that you have accurate translations for countries you are looking to target.

Price Along with an alien language, showing a price in a different currency is equally as disconcerting for a new customer arriving at your site. Not only will customers be forced to work out the price conversion themselves (adding a layer of friction to the purchase) but showing a different currency to their own will create a disconnect between your brand and the potential customer. It may likely affect the trustworthiness of your site and will display a lack of understanding that your business has of this new market. These factors combined act as hurdles to a purchase and hamper the overall customer experience on your site.

Culture Understanding cultural and local needs is a fundamental part of delivering on your localisation initiative. If you are planning to target 5 new markets, you need to think about the display and the messaging on your site in these 5 geographic areas. Indeed, you can use this to your advantage to better connect with your different target audiences. Perhaps there is a national event or holiday in a region that you can point towards in order to better connect with your audience? At the very least, you should ensure that the basics are addressed, namely local contact details and customer service options based on the time zone of the particular region.

IP Geolocation Geo-targeting underlines your overall localisation strategy. It makes your store as accessible as possible to new audiences. By automatically determining the location of your visitors, its then shows them relevant content, prices, language, etc. This has a direct positive impact on the user experience, removing extra steps and allowing for a quicker and more efficient visit to your site.
Vaimo's client, Filippa K, began operating in Sweden only but have since become a truly global brand. Learn more about how Vaimo worked with Filippa K to expand their eCommerce presence around the world.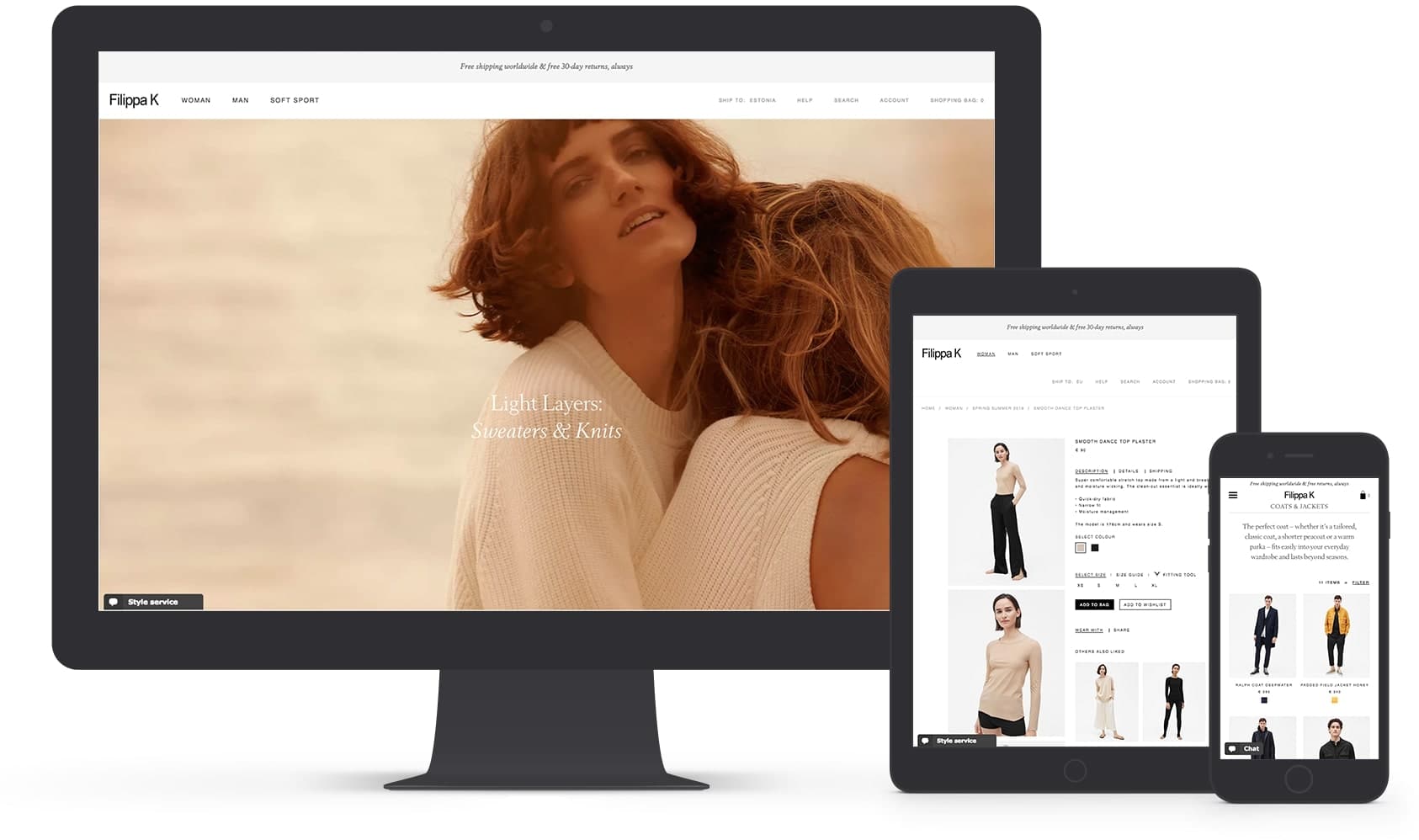 Design and user-experience
On top of the various localisation strategies above, it's crucial to think about how users will interact with these localised sites. You might think that once the appropriate translation and currency adjustments have been made then that's it. But it's not.
Word length and structure varies across countries. Just plug in a few of your product names and translate these into Dutch, Finnish or French and you'll start to see. Let's take the word zip (for clothing) as an example. Three characters in English but 12 in Dutch (ritssluiting), 17 in French (la fermeture éclair) and 4 in Japanese (ジッパー). Now consider the thousands upon thousands of words that your website might hold. You can begin to see how translations can affect the layout of your sites, i.e in terms of alignment, word spacing and the overall design and feel. This means that your team will be presented with new and often unique issues for each site, so it's worth noting this in terms of the time that you build into the project.
In addition to language, something like your country switcher needs to be thought through in order to save friction for your customers. In theory, when a customer chooses a location on the country switcher, what are they actually choosing? Language, content, currency, current location, shipping destination? Again, you want to lessen the amount of friction, so you'll want minimal options—just one option on the country switcher which represents where someone shops from and where they want the delivery made.
For Filippa K the country switcher is based solely on where the order should be delivered. This is made explicitly clear (as per below) avoiding any unnecessary confusion for a visitor to the site.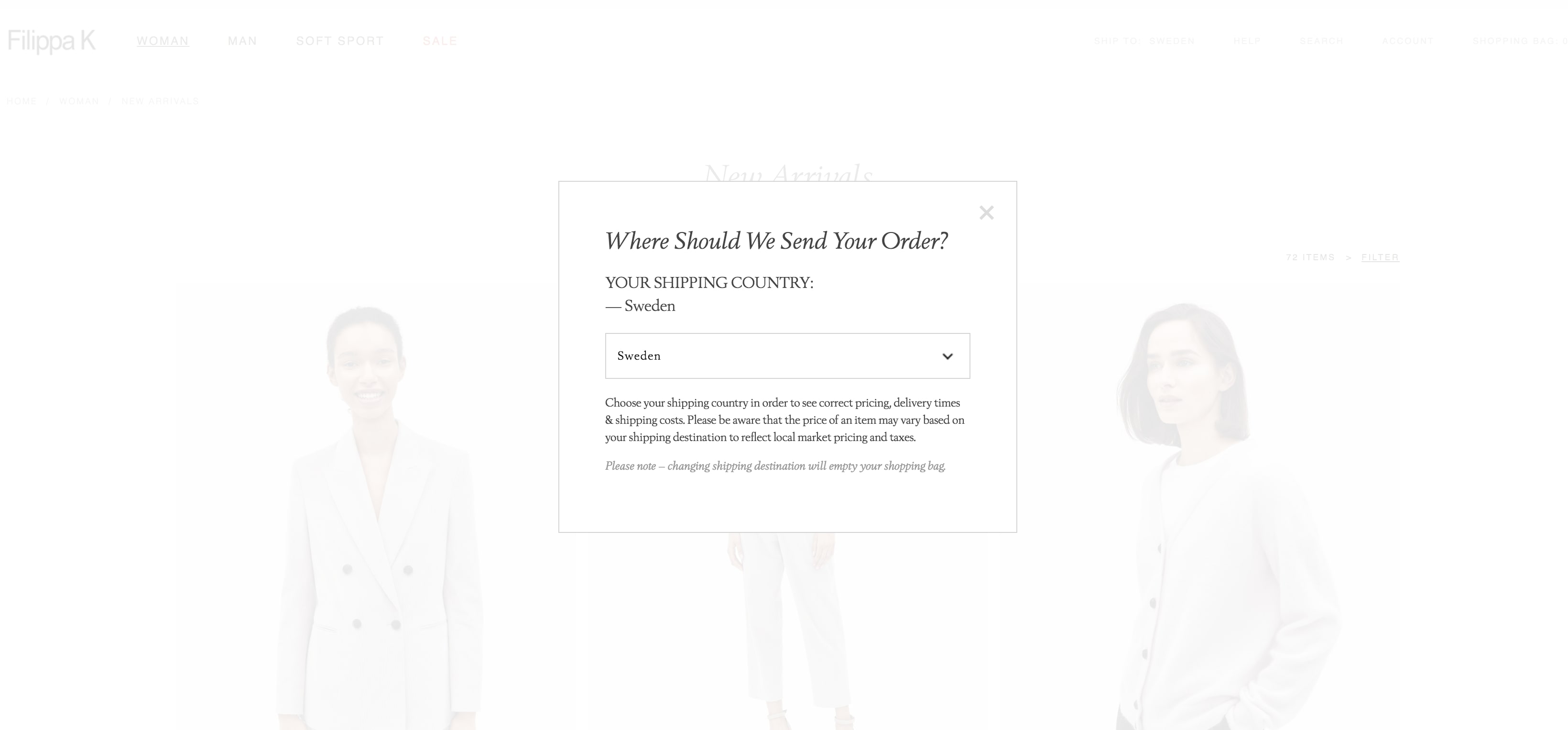 And lastly, with the ever-growing proportion of mobile shoppers, your sites will need to be designed in the context of a mobile shopping population. Indeed, the latest research indicates that by 2021, mobile sales will account for nearly 75% of global eCommerce sales.
Order management and fulfilment 
In terms of deliveries and returns, you'll want to make it as local as possible, as fast as possible and as free as possible. Without doing so, the competition will capture the bulk of the market share. In this regard, research your target country and think about the options for localised distribution capabilities. You'll need to find a partner who can assist with navigating local regulations, fulfilment and dealing with returns. This will need some preparatory work and investigation but will be worth it in the long-term.
Of course, you won't necessarily be able to compete with the big industry powerhouses on such things as speed and price. However, you can still work to provide the best customer experience possible . And by differentiating your brand through the experience you provide, you can add extra value in other ways to entice customers.
For further practical advice on developing relationships with customers and increasing customer lifetime value, check out these pointers!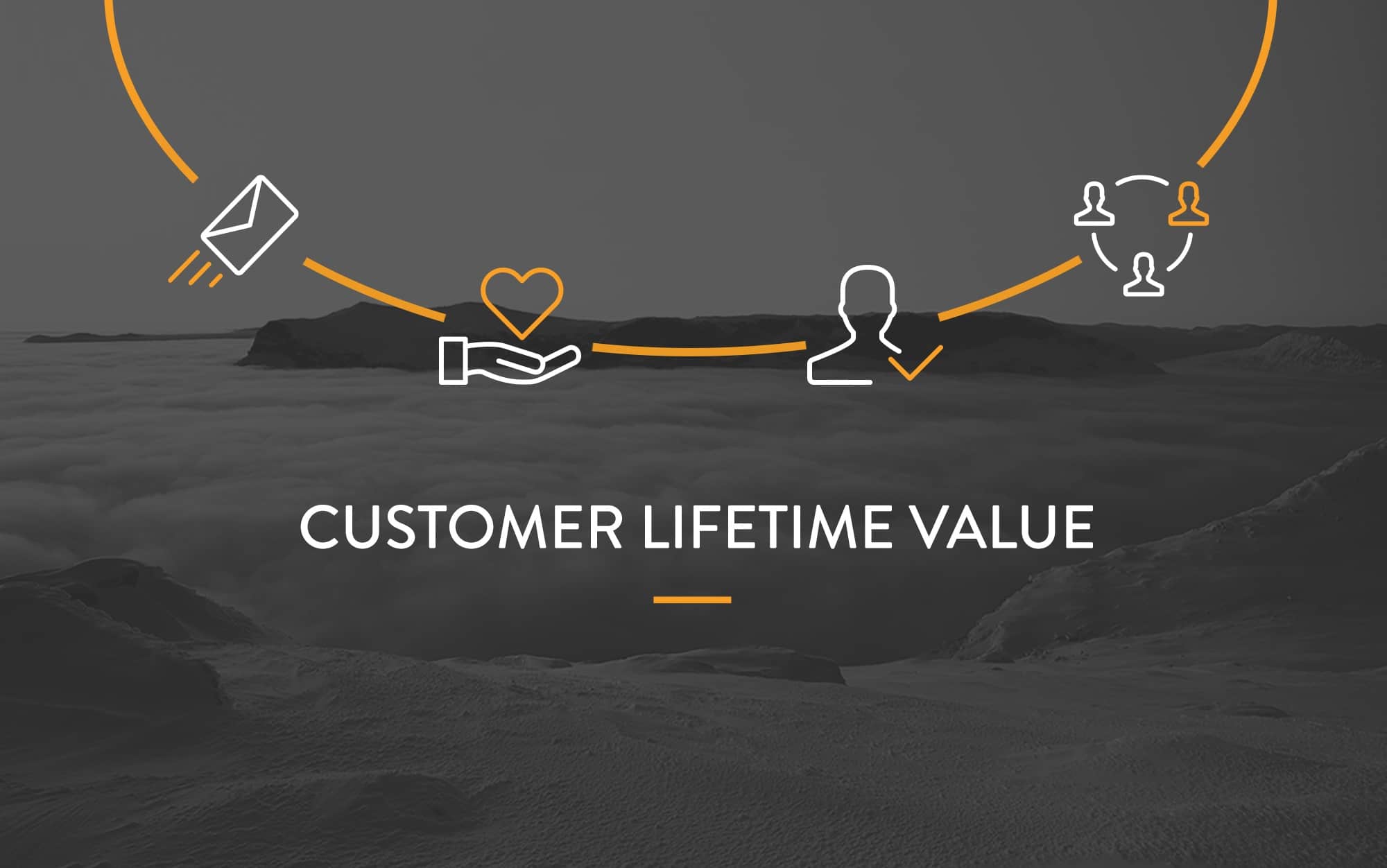 Product Information Management
Expanding into new locations and sales channels will result in a huge product data increase. For this reason, a Product Information Management solution is vital for quickly and efficiently scaling your business.
Without a PIM, diversifying your offerings becomes a tedious task. The introduction of each new channel or location would require unnecessary effort and cost due to the multiple values of each of your product attributes. In short, it becomes messy and overwhelming. With all information under one roof, however, (via PIM) and benefitting from a number of automated processes (such as product content translation), you'll be in a much stronger position to take products to market at speed.
The efficiencies from a PIM will allow your business to be more agile and more proactive. Ultimately, your business will be equipped to offer a greater number of products and locations, maximising the potential for growth in the process.
Learn more about the specific benefits that a PIM solution can bring to your business.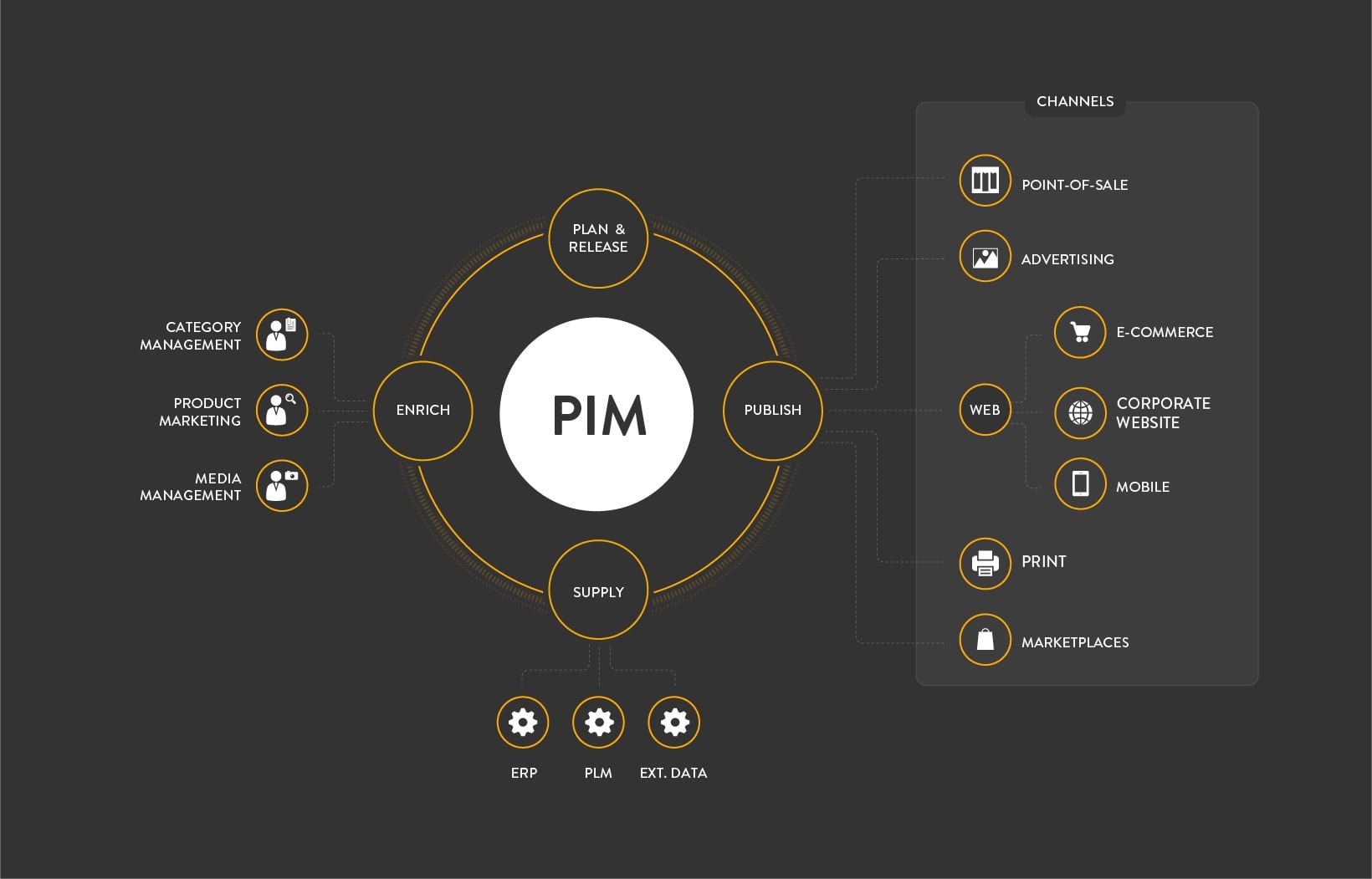 At Vaimo, we have helped numerous clients expand into new markets across the world, increasing their growth in the process. If you'd like to learn more about the ways in which we can help drive forward your digital commerce success, then get in touch with a member of our expert team today!