Fractional ownership, a purchase model in use for quite some time, is a style of ownership that allows multiple people to invest in a high-value asset together. Its use has historically revolved around luxury purchases, such as private jets, real estate, and exclusive clubs.
However, today, a shift is occurring—It is no longer limited to a small portion of the population. Instead, it's making a move into omnichannel, with consumers becoming increasingly accustomed to the concept in fascinating ways.
Whether you've seen this trend in your own sector, or you're just beginning to explore the landscape, your brand needs to take note of where this type of ownership is headed, and how this should factor into your omnichannel marketing strategy going forward.
So let's dive in and learn more about how a creative approach to this purchase model could unlock new potential for your business in the years ahead.
What is Fractional Ownership?
The age of fractional ownership is upon us. What started with high-value tangible assets now has mass application. Consumers can own infinitely small pieces of anything from bitcoin to luxury cars.
At the core of the concept, this type of ownership is about accessibility. Historically, it has revolved around assets that fall into niche markets. A luxury jet, for example, is not something that the average person could afford. Even among the wealthy, purchasing a jet and paying for its upkeep is out of reach. This splintered ownership has made it possible for these high-end items to be offered to a select group of people in a more accessible way. However, the market for it remained small. The common consumer is not purchasing a jet share.
Today, however, it is pushing the bounds, opening up numerous markets to a much wider audience.
For example, Masterworks allows people to purchase a small fraction of collectible artwork, cashing in on the profits of the future sale of the piece. Similarly, Rally allows the average person to invest in collector cars, memorabilia, sports cards, watches, and more, with purchase costs beginning in the $20 range.
While fractional ownership has recently gained popularity as a form of investment, it is about more than just investing in a high-end piece of art or seeing profits from the potential sale of a collectible car.
It is about a mentality shift in which consumers are using technology to gain access to items and lifestyles previously out of reach in a more sustainable way. The trend is only beginning and promises to gain steam as brands catch up and engage in creative ways.
A Booming Trend Across Industries
Recently, American Express added a new feature to their mobile app called "Send & Split." The concept is simple: within the app, you can purchase any item, whether that be dinner and drinks, a Vegas pool cabana, or a Gucci belt, that you intend to consume, share, or enjoy with one or more friends. At the same time, you can request each person's share of the cost, creating mini fractional ownership of an experience or item.
What once might have seemed like a threat to traditional retailers now presents a huge opportunity for growth.
For example, consumers today are looking for ways to curb overconsumption, with an increasing focus on sustainability and environmentally friendly shopping habits. Fractional ownership is an incredibly powerful tool for reaching these consumers, creating brand loyalty, and repeat business while simultaneously tapping into previously unreachable markets.
Worried about purchasing a new luxury handbag because of how that might impact the planet? What if you and your friends could instead invest in the same gorgeous shared bag? Thus, creating a more sustainable approach to shopping. Better yet, what if, because of the power of pooling funds, you could upgrade to a bag previously far out of reach?
Brands that encourage sharing among friends are spreading awareness between consumers, creating new relationships with groups and communities they may have never had access to in the past.
Another prime example is Rent the Runway. When Rent the Runway first launched, brands were left in a panic, assuming that consumers would simply rent their wares and stop purchasing them. However, this didn't come to fruition. Instead, brands realized that once someone finds out how much they like your dress from their one-time formal rental, they actually become a loyal customer. The result is that brands created passive income flows from these one-time rentals.
The very brands who first resisted the model are now evangelists, even offering their own rental models, making it important for savvy brands to focus on where it will take off next and how.
A Blend of Intangible and Tangible
Combining the intangible assets with tangible brands is a logical next move for fractional ownership. Non-fungible tokens (NFT) make it possible to create a digital asset that is wholly unique and incapable of being duplicated, unlocking incredible potential for luxury markets.
According to Glossy, NFT technology is already beginning to transform beauty and fashion. In a look at how NFT will blend intangible and tangible assets, they cite luxury watch brand Jacob & Co. According to Glossy, Jacob & Co promoted an NFT auction in collaboration with NFT platform ArtGrails across its social channels, calling it the first-ever NFT luxury watch launch.
This NFT watch might feel like an idea born out of science fiction, but it is only the beginning of where the future might head.
Those who are thinking in this direction and taking chances on fractional purchases of tangible or intangible assets of their brand are showing a commitment to the future and garnishing both the press and the fans that come with that.
An NFT luxury watch might sound bizarre, but by launching the first-ever NFT luxury watch, Jacob & Co is taking the lead in a market ahead of the pack.
In the same glimpse into the future of NFT in retail, Glossy also pointed toward more practical applications of NFT. Avery Andon, the founder of ArtGrails, pointed to examples like Prada. In the future, Prada could embed an NFT in every physical product it sells. Or, embed a ticket to a Prada fashion show in 10 randomly selected pairs of shoes.
With the recent boom of intangible investments, digital currencies, NFTs, and paid influence, it is clear that the modern investor is willing to buy a fractional piece of assets the same way the traditional investor once envisioned a mutual fund. Through phenomenal innovation, the current landscape of shared investment is growing consistently and, despite leagues of traditional nay-sayers, has yet to slow.
According to Mark Hall at Forbes, the appeal of fractional ownership involves limiting and distributing risk and any potential downside. Meanwhile, the sharing economy enables people to use what they want, when they want, without having to own it.
Companies that don't embrace these new models, at least at the behavioral level, are going to miss out on an audience of engaged consumers who are willing, if not focused, on these types of transactions.
How Does Digital Commerce Stay Ahead of the Trend?
With this type of ownership growing, how can digital commerce stay ahead of the trend? What will the future of omnichannel marketing look like for brands who wish to offer a version of this ownership to their consumers?
While platforms like NBA TopShot can certainly afford to build incredible solutions to solve for this variety of engagement, most popular eCommerce platforms do not have native functionality for fractional ownership, leaving brands without a clear roadmap into the future ahead.
The good news is that while most brands cannot invest in a custom solution, platforms are already beginning to emerge in response to this trend.
For example, with the prevalence of digital payment platforms and digital wallets becoming the most common form of payment globally, companies are beginning to develop solutions to solve the concept of this ownership. Tools like Digital Asset have developed an end-to-end token exchange for the fractional ownership investment market.
Yet, the application of this technology for digital commerce is wide open.
Whether the future involves main eCommerce platforms developing internal offerings or payment and shipping companies developing applications that allow for shared payments and part-time ownership, the reality is that changes are coming.
Stepping into the Waters of Fractional Ownership
Brands that buy into the philosophy of shared ownership, sustainability, and cutting-edge relationships with consumers must embrace the future of fractional ownership. Those who don't will miss out on a stream of revenue that only omnichannel commerce can provide.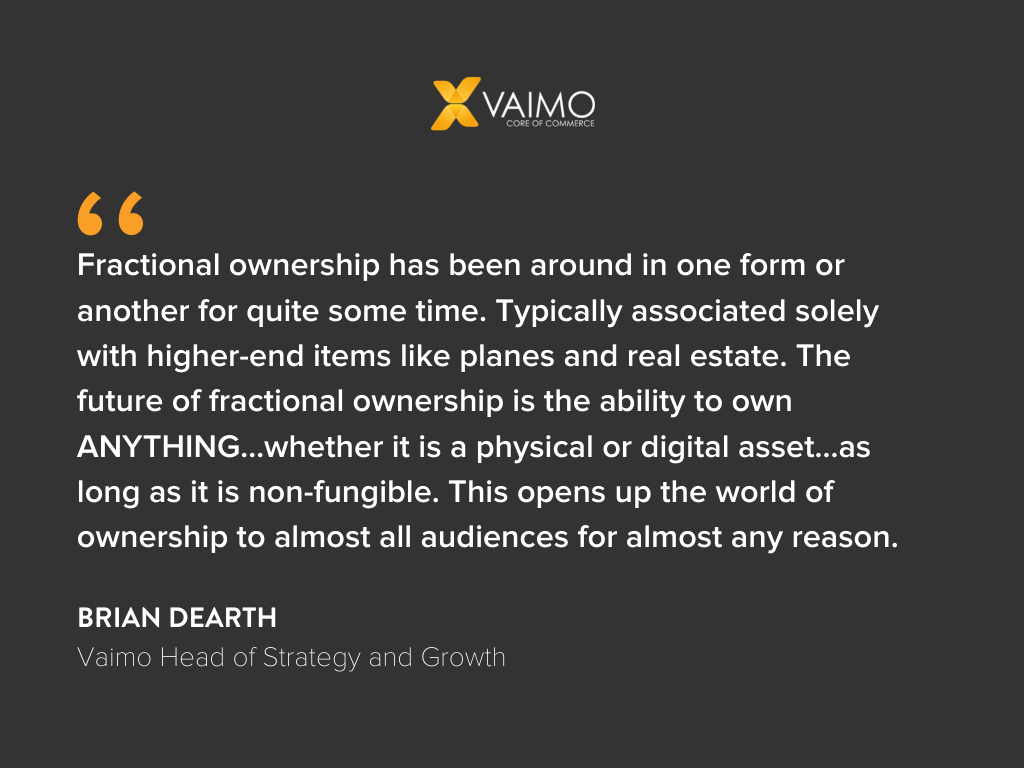 The key to embracing this for any brand is to keep an open mind. The future has yet to be determined, allowing innovative businesses to pave the way. Consumers are ready. The question simply becomes, how will your brand respond?
At Vaimo, we believe that the key to a quality omnichannel strategy must involve a constant look to the future. By gathering data on consumers in real-time, we help brands test new ideas, allowing for iterative innovations and new strategic approaches to forward-moving trends.