Last week, commerce professionals from around the world descended upon London's ExCeL for the highly anticipated Adobe Summit 2019. Members of our global team joined the crowds to get the lowdown on building expert digital experiences with Adobe. With so many sessions and labs taking place (over 150 across 12 separate tracks!), we're going to take a look back at some key highlights from the event, including a major success for our client Helly Hansen.
If there was one thing on everyone's lips that first morning at Adobe Summit (apart from coffee, that is), then it had to be 'Customer Experience Management.' A large portion of the day's sessions explored how brands are harnessing the functionality of Adobe Commerce Cloud to provide for the modern-day customer. Speakers including Jane Moran (CIO, Unilever) and Sanjay Brahmawar (CEO, Software AG) reinforced the notion of the changing dynamic between merchant and customer. Gone are the days of indirect, transactional interactions—businesses need to be leveraging technology to develop direct conversations and meaningful relationships across the buyer journey.
As was summarised by Peter Sheldon (VP Strategy, Magento), the key to future commerce success is,
"Making every moment personal," and "Making every experience shoppable."
Fuelling these initiatives are the changing habits of modern-day customers. Let's not forget that they have access to almost endless information, embrace multiple technologies during their interactions and expect seamless experiences across touchpoints. As was reported in one of a number of breakout sessions, The Adobe Commerce Cloud with the Magento platform at its core, allows merchants to offer these things. A number of Vaimo clients including Lecot and Helly Hansen were referenced in creating and executing experience-driven commerce strategies.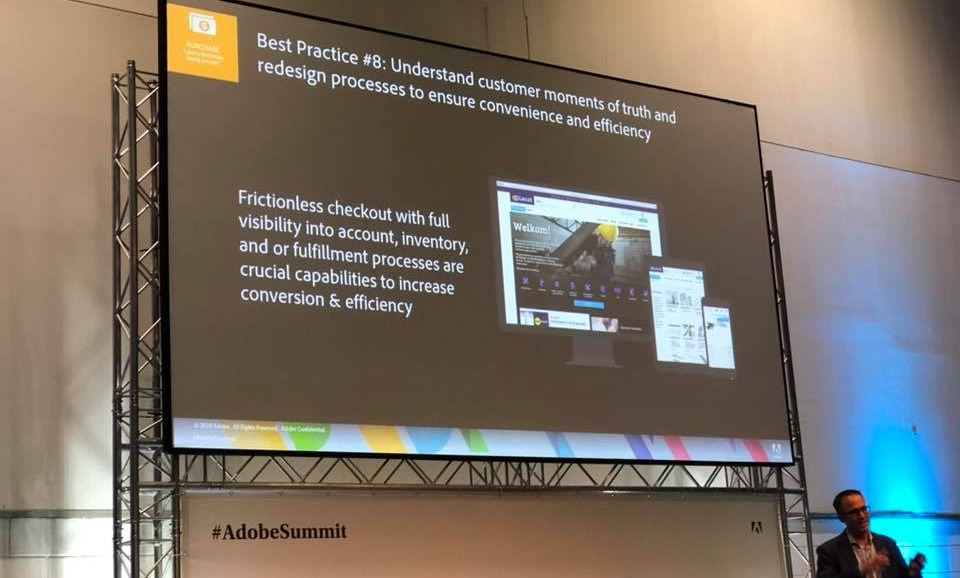 Vaimo client and B2B giant, Lecot, is highlighted in the Adobe 'Best Practice' session for its advanced B2B functionality
This year's Summit saw the introduction of the Adobe Experience Maker Awards. Awarded across 12 categories, these awards recognise those brands at the forefront of digital experiences in the Adobe community. And as was announced last week on our blog, we are incredibly proud that our longstanding client, Helly Hansen, won the award for 'Best Commerce Experience.' A huge congratulations to Helly Hansen on this fantastic achievement!
Helly Hansen's Theodor Tollefsen with the 'Best Commerce Experience' Award
Alongside the multitude of inspiring talks from some of the world's leading minds, a number of valuable takeaways came from the famous Summit Sneaks. This showcase gives a glimpse of various technologies currently being developed in Adobe's Research and Development labs. Let's take a look at this year's proposals:
#ExpertAssist

brings Adobe Sensei's features to a number of popular apps. For example, this will allow customers to use AI to automatically edit images in messaging apps such as Slack.

#IntelligentAgent

uses text recognition and AI voice control so you can use voice commands to talk to documents and quickly gather relevant information.

#AugmentedOffers

brings personalised experiences direct to the airport. It's AR airport zones will allow customers to explore stores and unlock tailored offers and promotions. No more boring layovers!

#DataUnbound

brings Experience Cloud data to users making it more accessible than ever before.

#JourneyGenius

uses AI and Adobe Sensei's deep-learning to provide insight on the customer journey

#CarSmarts

again makes the most of real-time data so that users are empowered to make proactive decisions—this time for keeping their cars in good shape.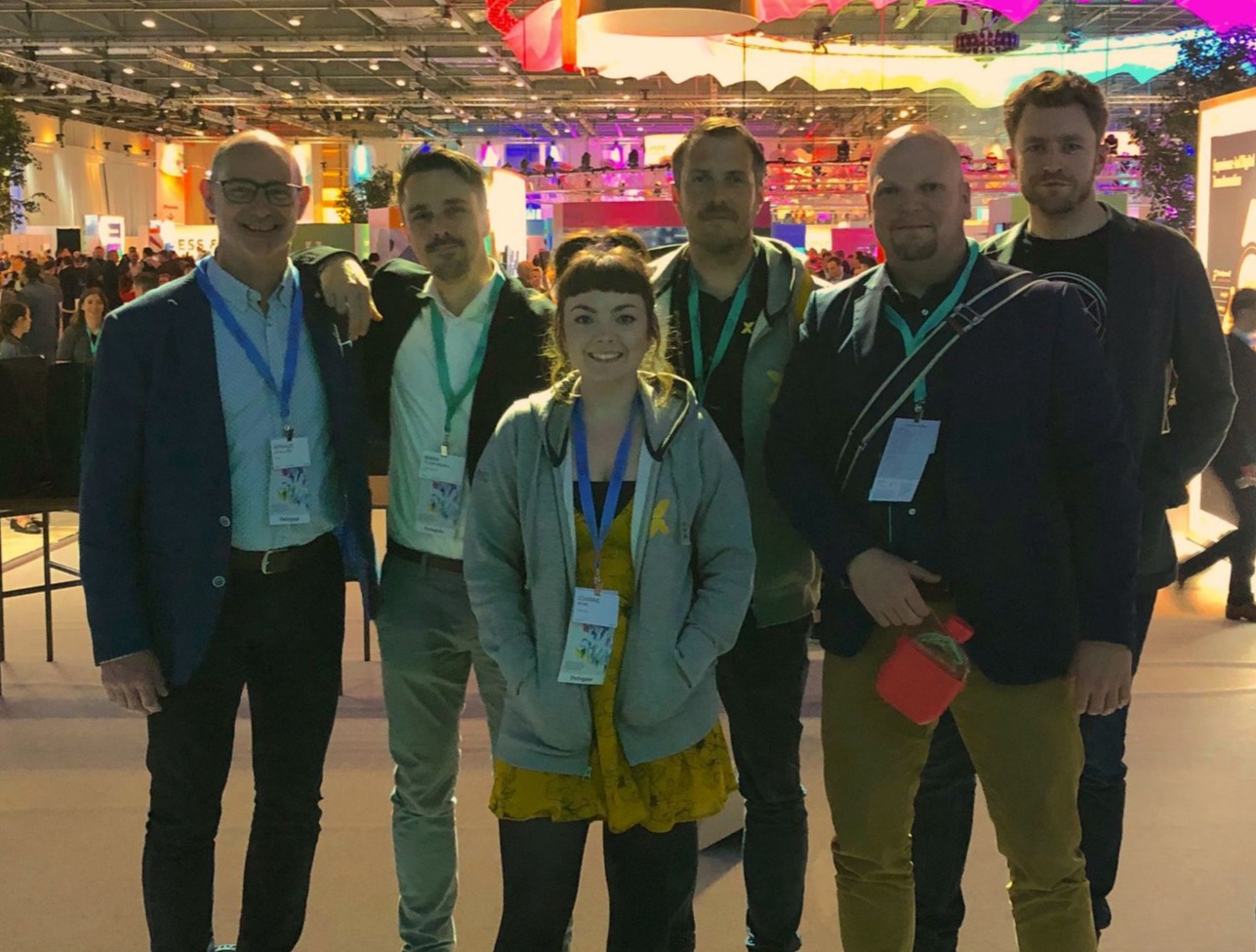 Members of the Vaimo team pose for a quick snap before getting stuck in to the day's sessions
That's all for now on what was a jam-packed 2 days in the heart of London's Royal Docks! A big thank you to Adobe for a great event and a huge congratulations again to our client, Helly Hansen, who continues to set the gold standard for engaging digital experiences across channels and touchpoints.
As a full-service agency, we help brands, retailers and manufacturers all over the world to drive success in digital commerce on the Magento and Adobe Commerce Cloud Platform. Contact our team if you'd like to hear more about how we can transform your digital capabilities.