Lecot
Lecot is a leading B2B supplier for the building industry in Belgium and the Netherlands. In 2016, it had a turnover of €168 million and this figure was achieved with more than 60,000 active customers, served by over 600 employees.
View Live site
B2B eCommerce platform
Prior to starting working with Vaimo, Lecot used an old eCommerce platform that did not function consistently with their ERP and PIM systems, was difficult to update, could not handle the high volume of products and only received maintenance from their internal team. Lecot decided it was time to revamp their eCommerce site with a new B2B platform. While the old site was only used as a tool for online ordering of products, Lecot wanted a visual-rich, modern site that would actually bring in new customers and drive eCommerce with better presentation of products. Additionally, Lecot needed to automate product flow and selling procedures, and receive high quality enterprise level support. It was also important to retain their ERP system, which stores all logistical data and offers warehouse management functionality. It was challenging for Lecot to find an Enterprise-level service provider in Belgium, so they turned to Vaimo to help drive success in digital commerce.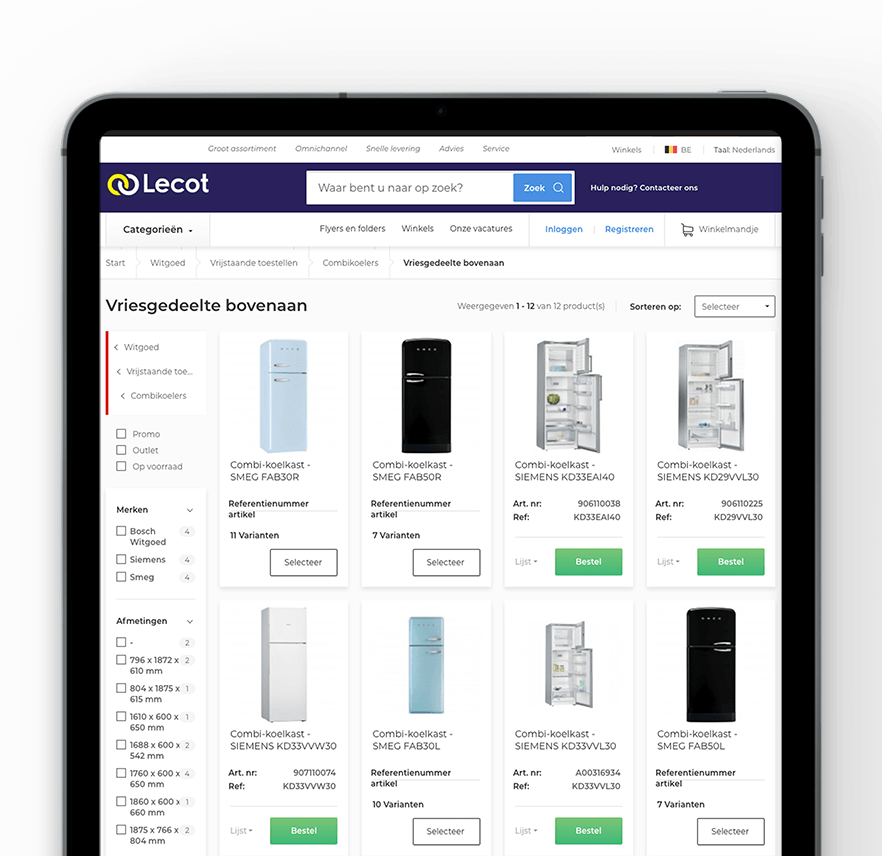 47%
Increase in online transactions
60%
Increase in average time spent on site
75%
Increase in online sales
50%
Decrease in bounce rate
Comparing Sept - Dec 2017 to Sept - Dec 2016
The solution
B2B eCommerce integrations
Vaimo constructed a B2B site that is integrated with IBM AS400 ERP software and inRiver PIM. The Magento site handles around 350,000 products and has a customised shipping solution with a shipping calendar to ensure ease of purchase for customers while allowing Lecot's employees to work more efficiently. The customised user structure allows companies to have administrators who can approve new user registration, and set user roles directly from the front-end. The role-based access restrictions based on Vaimo ACL means certain users cannot buy, see prices, or place orders, but they can send orders for approval. Companies can have multiple users, and users can be connected to multiple companies. Users can switch companies without having to log in again, and are therefore able to login under another company based on user role. The Quick order lists allow users to store and share order lists, while fast entry allows users to quickly look up products by SKU, name or item number even if they are not in Magento. The site also features an integration with an Android scanner app over REST (Representational State Transfer) and receives scanned lists that are converted to orders after approval.
"We needed an eCommerce solution provider that would create a complex and highly customised B2B solution for us from the ground up. Vaimo built our new digital presence with our exact needs and specifications in mind for our B2B business."
Eddy Evens
Chief Information Officer

eCommerce design and development
The project started in November 2015 and the new B2B site was launched in February 2017. Vaimo managed the project all the way from design, through development, testing and the final deployment.
Lecot is currently in maintenance mode, where Vaimo helps to finetune all aspects of the site for maximum performance. The next focus will be on mobile optimisation of the site.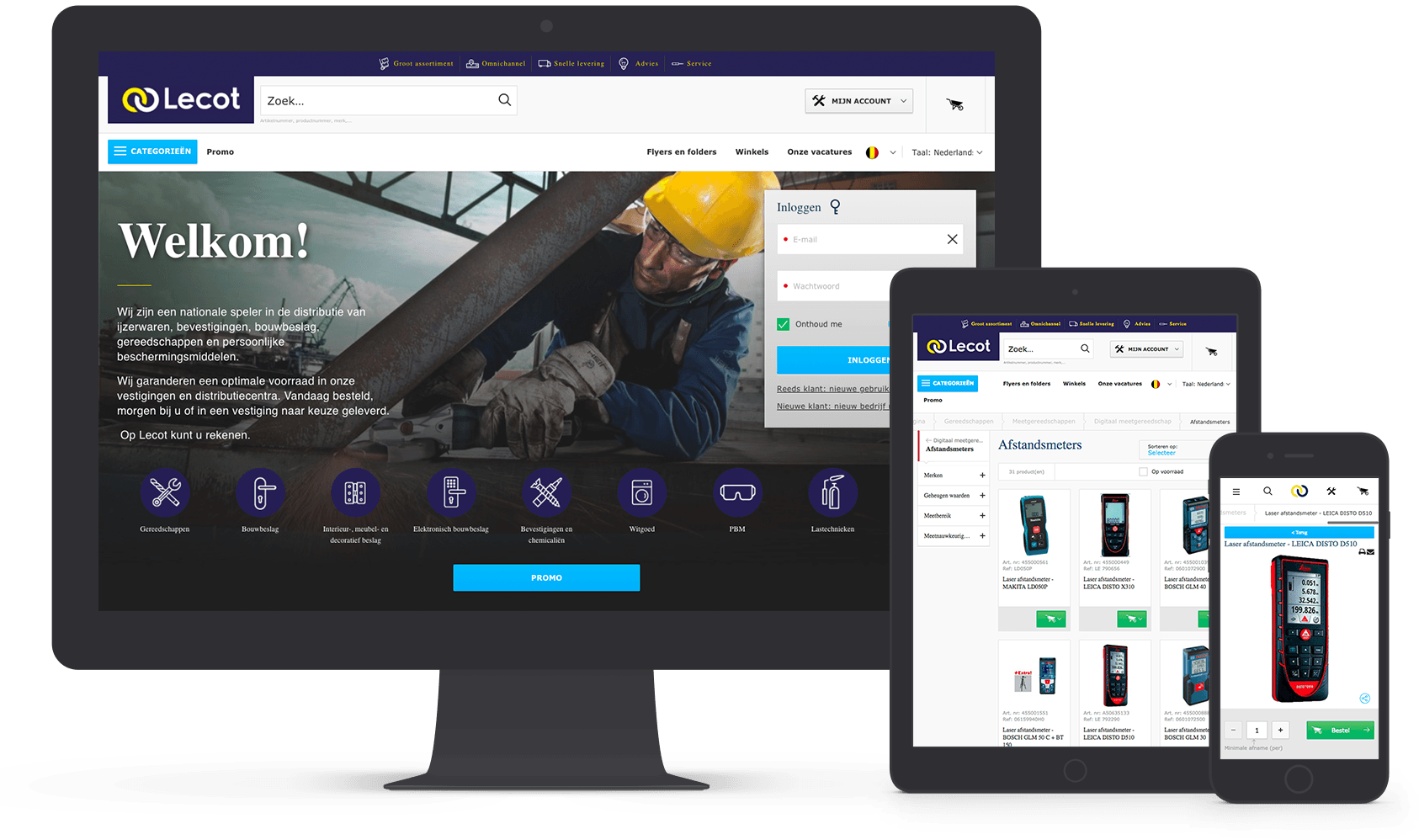 Features implemented
Custom User Structure
Role-Based Access Restrictions with Vaimo ACL Stock
Integration with Lecot's ERP solution
Hettich Configurator
Integration with inRiver PIM (Product Information Management)
OCI Integration with SAP SRM (Supplier Relationship Management)
Shipment Calendar
Fast Entry
Scanning
Klevu Search
Adyen Payment Services
Quick Order Lists
Want to outshine your competitors?
As one of the leading solution providers for Magento Commerce, Vaimo builds digital experiences exclusively on the Magento platform. As a Magento Global Elite Partner, our international staff is composed of the most knowledgeable experts in omnichannel and Commerce.
Get in touch