Whether a business started with a website designed specifically to host a product catalog or invested in a platform geared toward content management and marketing, eCommerce initiatives evolve and platform requirements must be upgraded as their business matures. In many instances, these enhancements may be accomplished through customizations and integrations. Yet, extending the capabilities of legacy systems can be costly in terms of time and money.
As a business matures, it is critical to ensure that investments are allocated effectively before the sunk costs and technical debt inhibit future growth.
If you are considering changing eCommerce platforms, it's important to consider the what, why and when of this decision. Specifically, what key factors are influencing the change, why it is important to replatform, and when is the ideal time for your company to implement this change.
The goal is to achieve the least amount of friction during replatforming with the highest amount of reward towards your eCommerce strategy.
The Key Dimensions Impacting Your eCommerce Solution
Ecommerce platform requirements are never static. As your brand expands its revenue goals and customer base, the underlying processes, integrations and your commerce platform need to stay ahead of the curve.
When we look at the scale of business, there are five key dimensions that impact an optimal commerce solution:
Commerce revenue (size and traffic)
Go to market strategy (channels, languages)
Commerce capabilities
Content complexity
Digital team size
Many of these dimensions are impacted by the current stage of your business.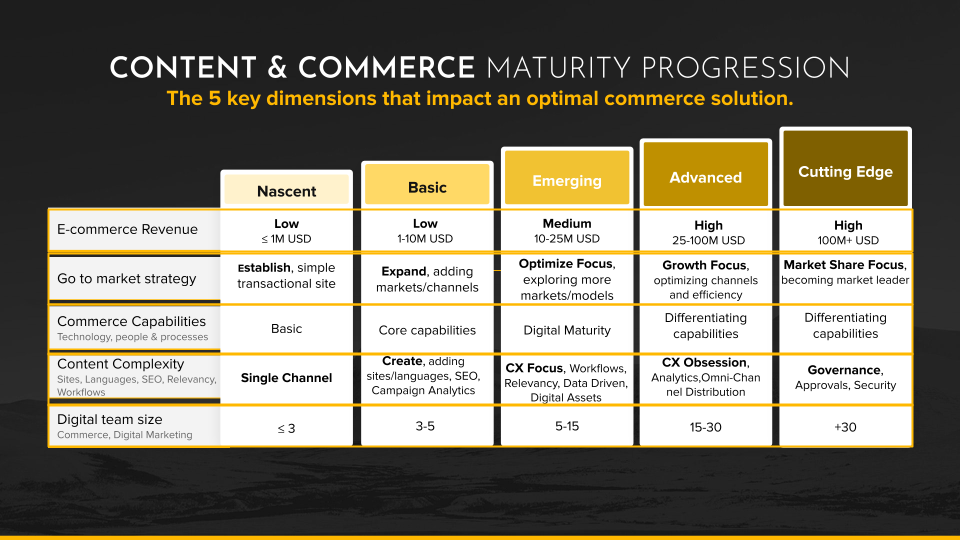 For example, there is typically a lower need for content management for companies in the nascent stage. Often, a simple B2B website or basic D2C platform will suffice. For these brands, an ordering-only portal is often where it all begins.
For companies in the basic and emerging stages of growth, traffic and revenue begin to grow exponentially, as do the number of campaigns and channels required to support this growth. At this point, the amount of content you need to manage is increasing, requiring more than just a simple ordering platform.
Companies in these stages often begin to use the content for traffic acquisition, with a greater focus on Search Engine Optimization (SEO). At the same time, these businesses' digital teams are growing, especially on the traffic acquisition and campaign management side. This means more people will be involved with content management and marketing strategies.
As business complexity grows, the challenges of working with multiple sites and systems increase. Potential errors can occur from overlapping changes, and low re-usability means time wasted on double work.
This point in a brand's journey is when the business case for replatforming your commerce solution emerges.
Evaluating a New Platform Investment
For businesses that have reached the point where a new platform is a worthwhile investment, it's key to ensure they spend the right amount of time evaluating a platform switch.
As you evaluate this investment, take into consideration the following key factors:
Integration Requirements: Make a note of any business requirements to integrate with other internal or external platforms, which might include ERP, CRM, PIM or WMS platforms to create real-time order flows, updating pricing, and automating the addition of products.
Global Accessibility: Consider the potential necessity for adding multiple languages onto the site and managing numerous price lists, multiple VAT/tax environments, and different shipping options by country.
Intelligent Inventory: Inventory is a key cost driver, look for a platform with the ability to add in a new inventory source and manage inventory in an intelligent and automated manner across multiple countries or regions.
Complex Reporting: Choose a platform that will allow your team to add in more complex reporting needs. This can be critical when expanding reporting to C-level stakeholders and business partners.
Payment Options: Opt for a platform that allows you to offer various payment methods to drive global commerce and meet all your customers' needs.
Content and Commerce Integration: To improve future scalability, explore options for integrating content and commerce onto a single platform. This is important for your business as you start to have more complex content needs which a pure commerce-focused platform can't manage.
Exploring a Decoupled Solution
As your business grows, a new need becomes evident — the ability to decouple the customer layer of your eCommerce strategy and the internal commerce engine.
A decoupled solution helps in many unique aspects. To begin with, a decoupled solution allows companies to adopt a content-first strategy, which you can then tightly integrate into the commerce journey. This is a critical component of a robust eCommerce strategy in a world where customers constantly consume content. By decoupling the internal commerce engine from the content management side of the house, teams can work more efficiently with less risk of stepping on each other's toes.
Additionally, as the business scales, providing a decoupled engine allows you to scale significantly faster and with far less risk. Rather than being reliant upon development teams to handle every single change, a decoupled solution empowers marketing, customer service, and sales teams to work independently toward the same goal.
By decoupling complex routines from the customer experience, the loading of core systems is reduced, and data is only accessed as needed and when required. This can have huge implications for site speed and usability.
Through a decoupled platform, businesses have the chance to target new markets. Multi-channel ordering becomes a risk-free reality, making it possible for your team to tightly integrate store ops, B2B sales ops, and partner sales through a single channel.
The good news is that today, platform choices that were once limited to a few big names have now expanded to include numerous business types, such as B2B, D2C, and hybrid marketplaces. Many more options are on the horizon, allowing businesses across all verticals the chance to reinvent their eCommerce strategy.
As you look to replatform, it is important to consider your current needs and where your commerce strategy will take you in the future. Ideally, the option you pick should meet your immediate needs while allowing you free reign to grow your brand and innovate in the future.
Scaling Before You Are Buried in Technical Debt
In contrast to replatforming, you have the option to continue to try to scale your existing system. However, this can be fraught with issues, as well as be extremely expensive for two main reasons:
Your site was ultimately not designed for integrations, limiting the power of the API layer and necessitating a lot of remedial work. Messy code and an inefficient system are often the results. In many cases, this happens at no fault of the digital team but rather the result of growing pains. Digital teams did not design your eCommerce platform for future needs but instead built a platform to meet immediate requirements.
Business growth is capped due to an inability to cope with manual order volumes and large catalogs in the current system. Propping up a system with custom-built tools to bridge ERP or other integrations at the back-end is not organic and ultimately is extremely costly.
If you wait too long to admit that it's time to make a platform switch, your technical debt will only continue to accrue. In fact, 60% of CIOs surveyed felt their organization's tech debt had risen perceptibly over the past 3 years. Pulling the trigger on a new platform might not be easy, but continuing to invest in a non-scalable, non-strategic platform is limiting and costly.
Don't forget:
As your business matures, it is critical to ensure that investments are allocated effectively before the sunk costs and technical debt inhibit future growth. 
You need to manage this transition with the least amount of friction to the existing business
As today's eCommerce conversions rely heavily on seamless customer journeys and experiences, legacy systems fall behind more quickly. If your team is in the process of evaluating new platforms, and you are running into more questions than answers, our team is here to help. Reach out for a consultation today.