For the fourth year running, Adobe has been named a Leader in the Gartner Magic Quadrant for Digital Commerce.
The Gartner report evaluates the viability of 15 vendors to help application leaders supporting digital commerce make informed decisions. For the purposes of this report, Gartner defines a digital commerce platform as 'the core technology enabling customers to purchase goods and services through an interactive and self-service experience', which also has 'out-of-the-box capability or the APIs to support a self-service, interactive commerce experience.'
"We're incredibly proud to be partnering with an industry-leading platform to help our retail, brand and manufacturer clients. Through Adobe Commerce Cloud and Magento Commerce, we're able to leverage cutting-edge tools and applications to help our clients make every experience shoppable. And in a competitive and often unpredictable eCommerce environment, Adobe and Magento provide the robustness and scalability to help our clients drive conversions and sales."


David Holender
CEO
Vaimo
In its assessment of 15 vendors, Gartner highlighted the following strengths of Adobe and its commerce offering, Magento Commerce:
Global span: Magento had one of the largest increases in new customer numbers, relative to other vendors evaluated for this Magic Quadrant. Magento has grown its market share through its extensive global solution integration partner network, its dominance of the midmarket, and its expansive reference customer base for both B2B and B2C digital commerce models.
Commerce scope: Clients often choose Magento because of its expansive feature list and robust app marketplace. Magento Commerce includes a native web content management (WCM) module (Page Builder) with its commerce platform, and provides additional solutions for order management, shipping and analytics.
Adobe ecosystem: Under Adobe's ownership, Magento is beginning to benefit from Adobe's ecosystem of capabilities, especially in complex B2C commerce scenarios. Adobe Experience Manager, a market-leading digital experience platform (DXP), has been bundled with the managed services offering of Magento to form Adobe Commerce Cloud. Gartner expects Adobe to continue to build its momentum by competing for digital commerce market share with a growing suite of capabilities.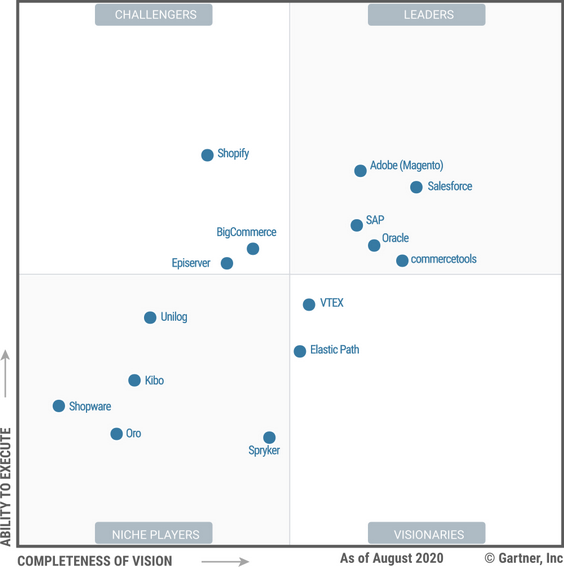 Source: Gartner (August 2020)
Download your complimentary copy of the report (courtesy of adobe) here!