As a global leader in the digital commerce space, Vaimo is committed to driving innovation and empowering success in our clients around the world.
We're pleased to announce our presence at two upcoming commerce events in the Netherlands! If you are attending, come over to our stand for support and guidance to help you grow in the ever-changing omni-channel and eCommerce arena.

Photo source: ecommercelive.nl 
First up: Emerce E-commerce Live!

https://ecommercelive.nl/
When? May 30th, 2018
Where? Amsterdam, Netherlands
We are pleased to announce that the Vaimo team will be at this year's Emerce Ecommerce Live! In addition to being a gold sponsor of the event, members of Vaimo's Strategy Team will also be presenting at the leading eCommerce event in the Netherlands.
E-commerce Live! is the must attend event for all eCommerce professionals and decision-makers. Featuring an extensive programme of round tables, panels, pitches, demos and more, this event provides cutting-edge knowledge and practical insight on all things eCommerce. Plus, this year features a sub-event around the topic of fulfilment and logistics in the eCommerce space. That's 2 events in 1!
You can view the full programme here and see the full list of guest speakers here. Don't delay, register your place at Emerce Ecommerce Live! here
Be sure to check out presentations from members of Vaimo's Strategy Team: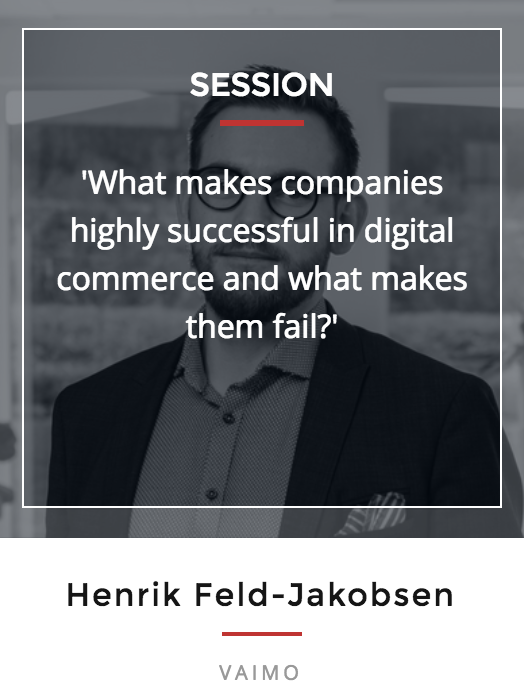 Why is it that some companies are extremely successful on their digitalisation and digital commerce journey, while others are struggling and failing to gain any real momentum? Henrik will share some core beliefs and insight in how to achieve success in digital commerce, based on practical experience with retailers, brands and manufacturers across Europe
Henrik Feld-Jakobsen – What makes companies highly successful in digital commerce, and what makes them fail?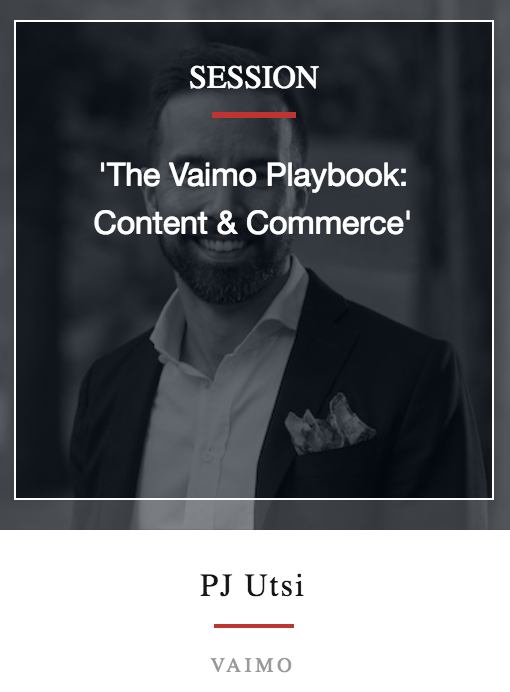 What are the successful strategies and tactics in digital commerce when it comes to content? What works and what doesn't? What are the winners doing? PJ will share some core beliefs and insights on how to drive success with content in digital commerce, based on long practical experience working with retailers, brands and manufacturers across Europe.
PJ Utsi – The Vaimo Playbook: Content & Commerce
Next up: Meet Magento
https://www.meet-magento.nl/ – use a code Discount_HalfOff_VAIMO to get 50% off from your ticket
When? June 1st, 2018
Where? Utrecht, the Netherlands

Photo source: https://www.meet-magento.nl/
Just one day after Emerce Ecommerce Live!, the Vaimo team will be heading over to Utrecht for Meet Magento where we are a gold sponsor. For this, its 10th edition, the Dutch Meet Magento Conference will see over 500 attendees gather to discuss all things Magento and eCommerce.
As a Magento Global Elite Partner, Vaimo is transforming the growth of businesses around the world on the Magento platform. If you're looking to expand your digital commerce capabilities then be sure to speak with a member of the Vaimo team. We'll be pleased to discuss your eCommerce requirements in order to take your business to the next level!
You can register for Meet Magento here—we look forward to seeing you there.
Make sure you come and visit us at any one of these events where our team of experts will be happy to discuss your eCommerce needs. If you cannot attend on this occasion then please just get in touch with the BeNeLux team at any time if you're looking to grow your digital commerce aspirations.
And are you interested in joining the Vaimo team?
We are currently hiring for a number of positions in front and back-end development, quality assurance, project management and sales. You can view all new opportunities here!