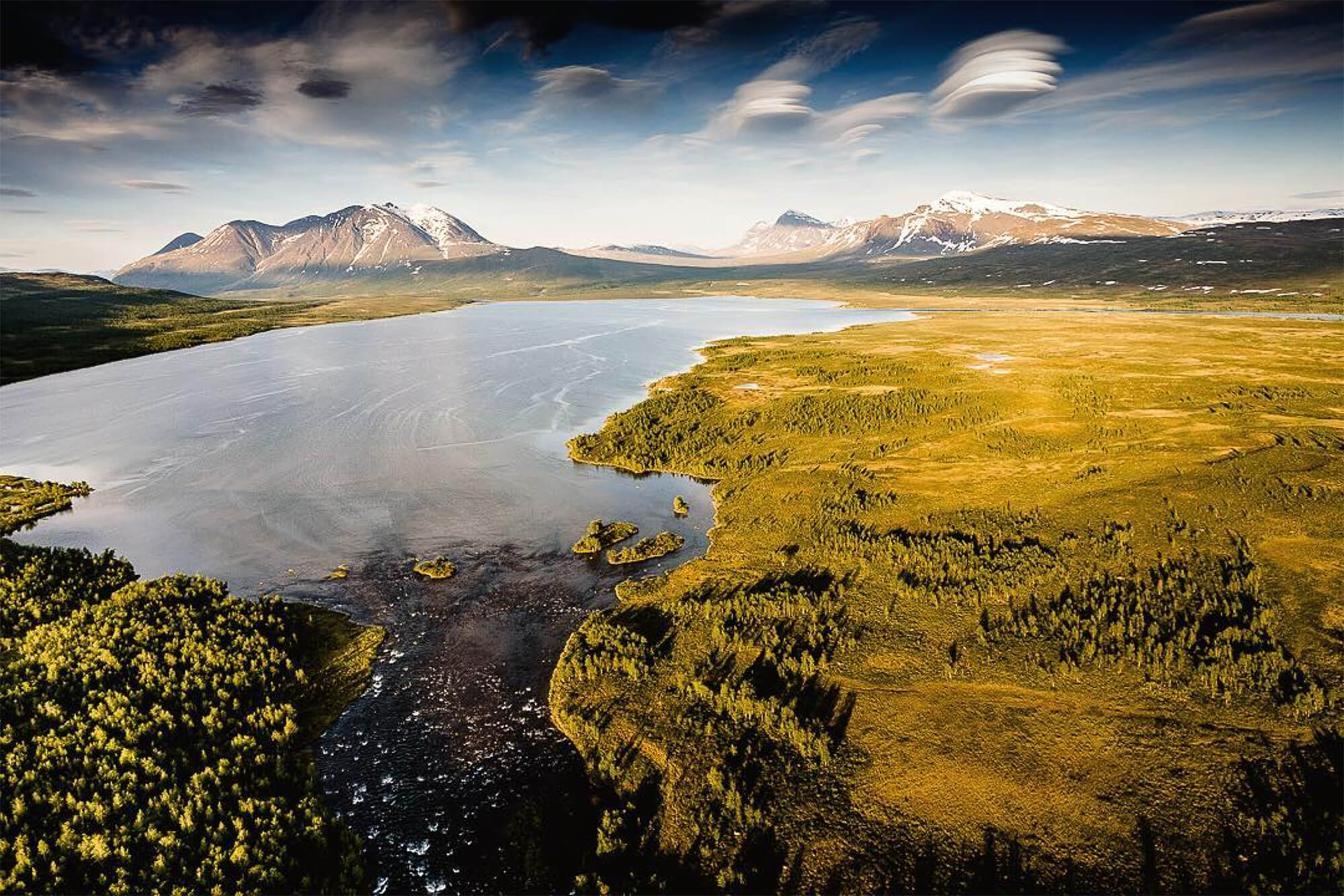 Contentsquare
Unlock the potential of your customer data with Contentsquare–the premier digital experience analytics platform
Understand your customer behavior on a deeper level
Capture a complete picture of a detailed customer experience from your websites and mobile applications into one central platform. Contentsquare takes complex customer experience data and visually represents it in an easy-to-understand, intuitive manner. Your teams can easily align on challenges and opportunities and conduct a top-down or bottom-up analysis to understand the experience in greater depth and agree upon an action plan.
As a world-leading customer experience analytics solution, Contentsquare is used by more than 30% of global Fortune 100 companies.
What is Contentsquare?
Contentsquare is a digital experience analytics platform that helps businesses unlock how customers engage with their digital products. It offers deep insights into customer behavior, and empowers businesses to optimize their digital experiences and increase conversions.
What is digital experience analytics?
What does Contentsquare help you achieve?
Contentsquare is the only solution that addresses all stages of the complete customer journey on your websites and mobile applications. It helps you align and empower your team to make faster and smarter data-driven decisions.
+ Experience Insights
Build a rich portrait of customer behavior, perception, and attitude across all touchpoints.
+ Holistic customer view
Capture UX (user experience), performance, and merchandizing insights across the customer journey and at every touchpoint.
+ Sharpened focus with AI
Prioritize decision-making based on what matters the most for your customers and what has the biggest impact on your business.
+ Act faster
With visual insights, your team is more empowered to make decisions – quickly. They don't have to wait for data to be pulled by IT or interpret spreadsheets and tables.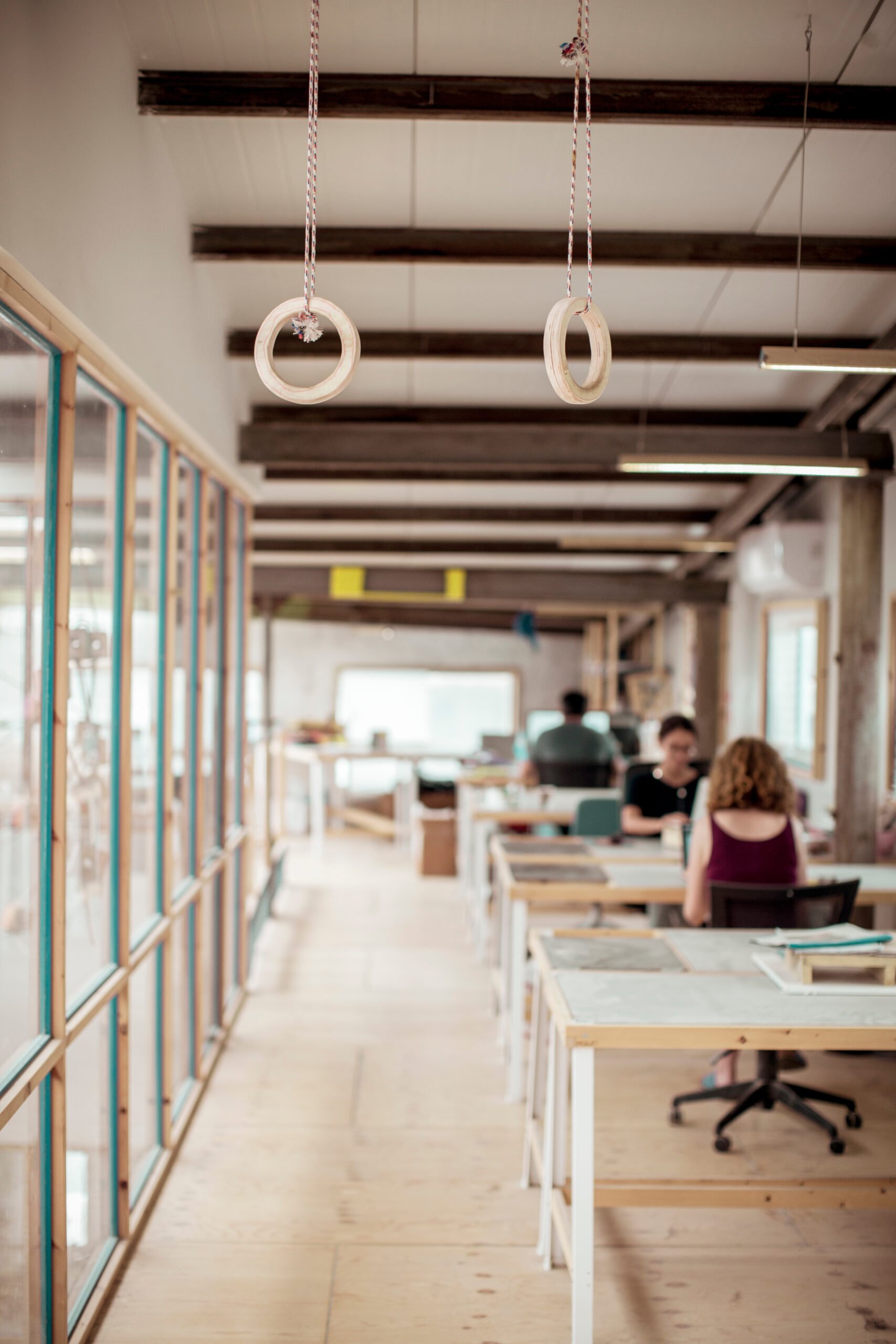 The key features of Contentsquare
ContentSquare offers cutting-edge digital experience analytics that can be used to power products and help businesses gain insight into customer intent, emotions, and behavior. This understanding can then be used to make decisions that can revolutionize the business, all while ensuring the highest levels of security, intelligence, and privacy.
Customer Journey Analysis: See how visitors progress through your site, page by page, from entry to exit. Discover your biggest opportunities and frustrations within minutes.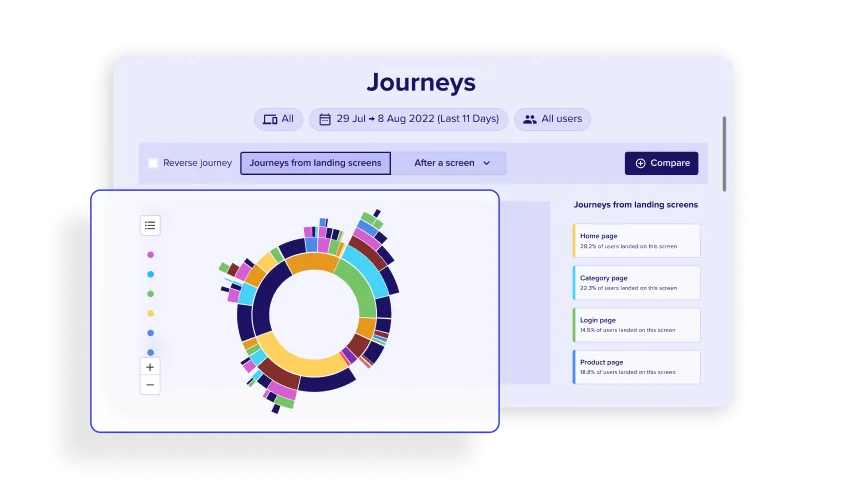 Zone-Based Heatmaps: Visualize how visitors interact with each element on your site. Combine unique metrics to tell a story about how your content, navigation and merchandizing helps or hinders your customers from achieving their goals.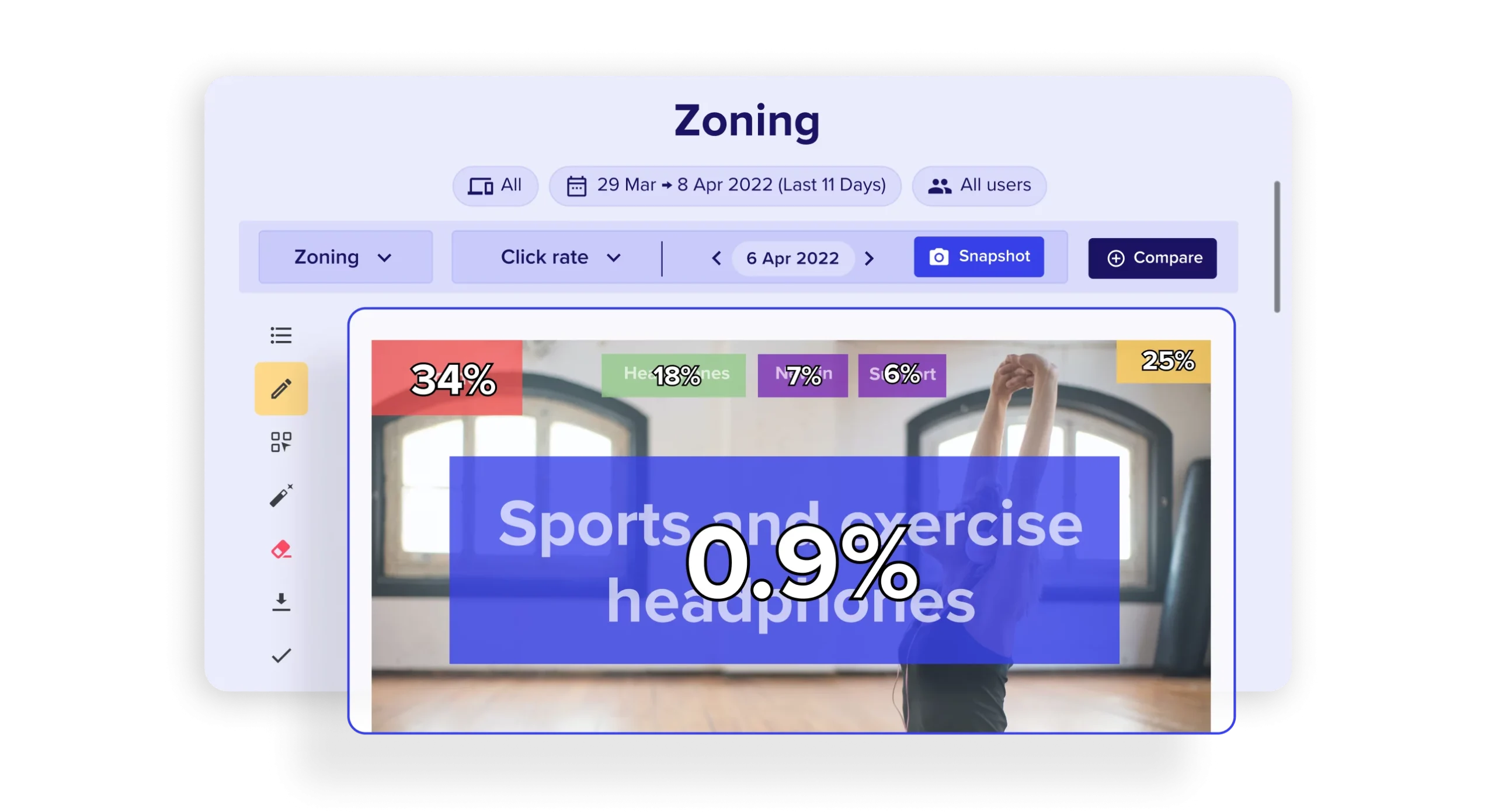 Form Analysis: Gain insight into how people use your web forms by tracking every click, scroll, and hover. Identify areas of difficulty and drop-off points to improve form conversions.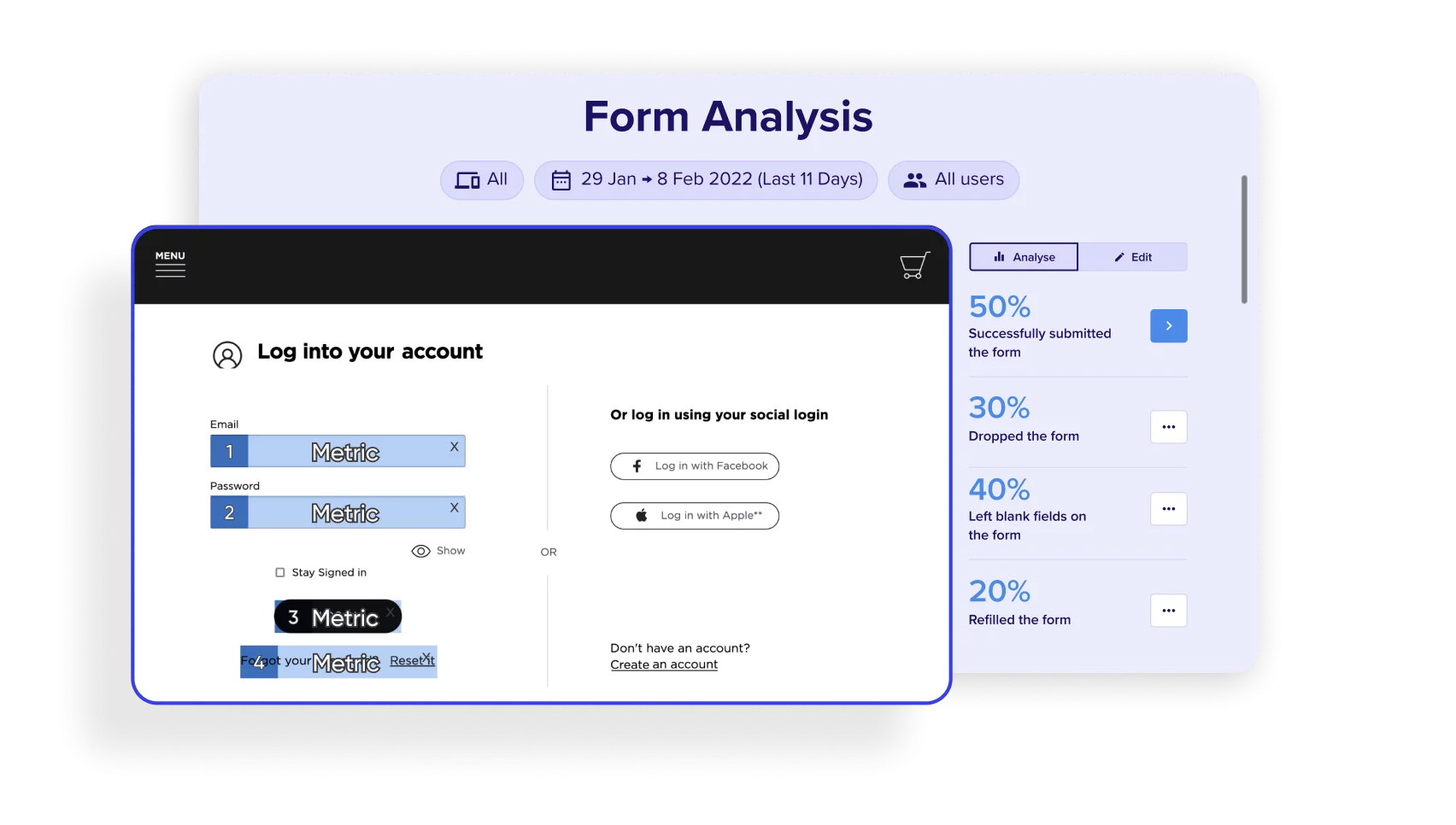 Session Replay: Reconstruct a visitor session from a sample set of total visits. Use this in combination with macro level insights to get a quick understanding of why certain behaviors are happening and to confirm a specific hypothesis.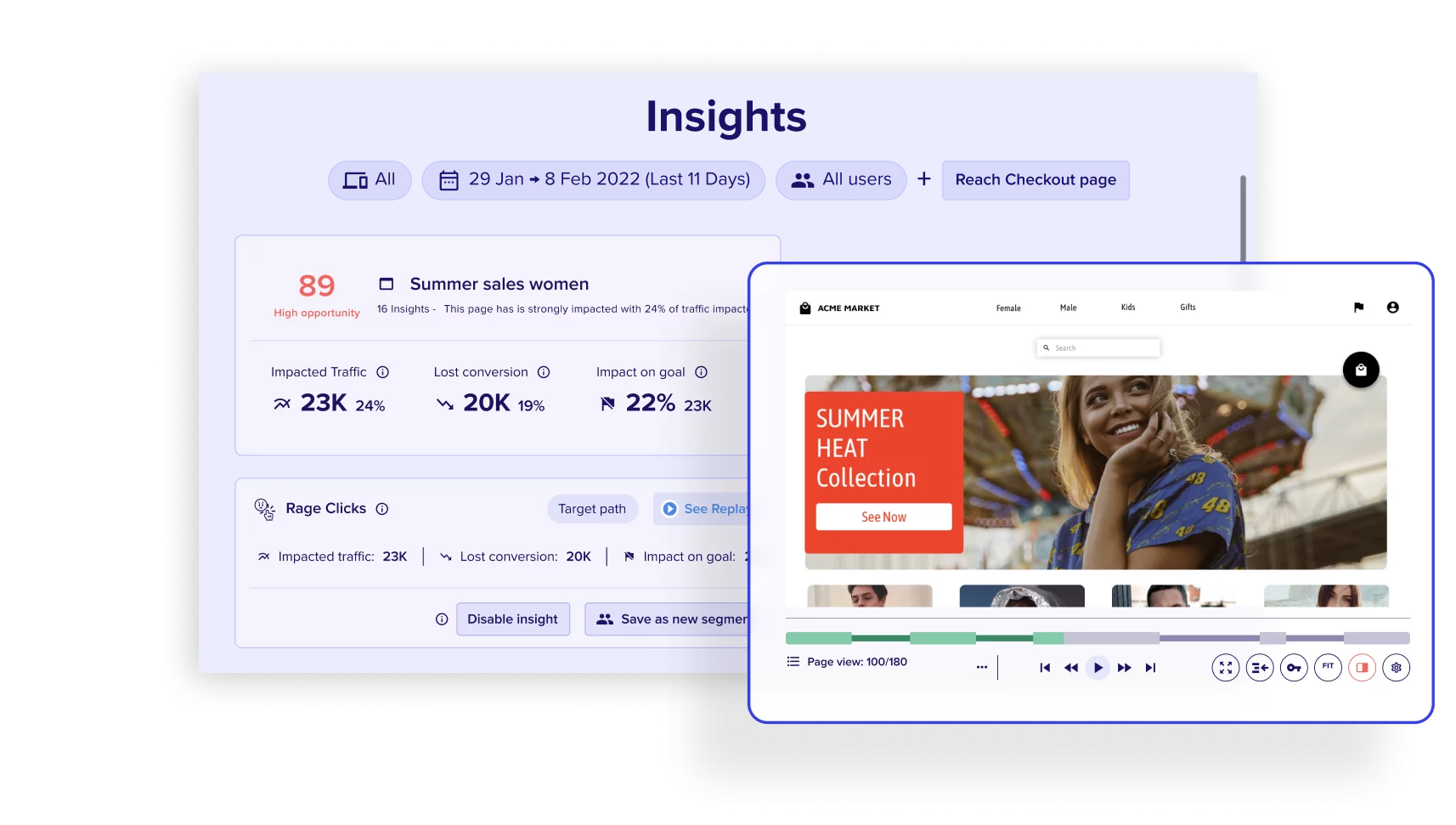 Impact Quantification: Quantify how many users behave in similar ways or experience similar issues in order to prioritize action – directly in line with visuals and replays.
Contentsquare benefits
When face-to-face with customers, it's easier to gauge their reaction to the complete customer experience, including direct communication, products, offers, or content. However, in the online world, it's much harder to interpret the customer's reaction. Contentsquare allows you to understand your customer's unique behaviors, feelings, and intentions in the digital world as if you were face-to-face.
Customers aren't always going to tell you about the quality of their experience on your site. When they do, it's usually through a complaint via support or, worse, on a public channel. Contentsquare allows you to actively understand where customers are experiencing friction, alerting you to not only what's happening but the impact that will have on your business.
Your teams spend a lot of time building digital experiences you think customers want, but customers often interact with those experiences very differently than expected. Contentsquare gives your teams what they need to build experiences customers want and find useful. It provides quantifiable data that your teams can use to measure the quality of the experience you deliver and prioritize actions to deliver customer experiences that achieve customer happiness and deliver business impact.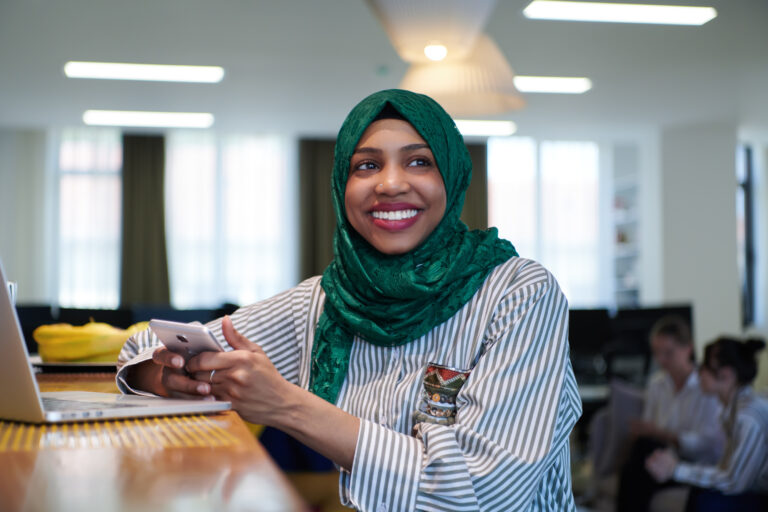 Contentsquare FAQs
By incorporating a lightweight tag onto your website or an SDK in your mobile application, Contentsquare enables anonymous tracking of all mouse movements, clicks, and mobile interactions occurring within your site or app. The gathered data is securely transmitted to Contentsquare servers, where it is consolidated and made ready for analysis. Utilizing this anonymous data, Contentsquare generates valuable insights and recommendations for your team. With no requirement for a tagging plan, the platform is capable of collecting all digital experience data, granting you the ability to retrospectively access any data you need.
Contentsquare operates as a "prioritization layer" situated between your analytics tools (like Google and Adobe Analytics) and your testing or Voice of Customer (VOC) tools, enhancing your understanding of a user's digital experience and guiding your testing roadmap. By collaborating with most leading technology partners, we offer you supplementary insights into your existing audience segments.
Yes, the Contentsquare platform is entirely GDPR/CCPA-compliant. It is crucial that the customer's unique implementation of Contentsquare complies with GDPR, CCPA, and any other pertinent privacy regulations.
No, Contentsquare does not have any impact on user experience. The lightweight tag does not cause any delay in page load times, while the SDK does not affect App performance. The tag size is only 15kb and is engineered to respond within 200-300ms. Moreover, the tag is loaded asynchronously with the page content and is stored in the browser cache for up to 15 minutes, eliminating the need for reloading during subsequent pageviews.
Contentsquare offers a straightforward and transparent pricing model, which is determined by the monthly number of pageviews on your website or sessions in your mobile application.
No, Contentsquare does not collect a sample of site visitors. To ensure a comprehensive understanding of the user experience on your website, Contentsquare gathers 100% of engagement data at all times.
Contentsquare offers complete support for various browsers to capture data, which includes:
Google Chrome
Google Chrome mobile (iOS / Android)
Safari
Safari mobile (iOS)
Firefox
Internet Explorer 9+ (IE 11+ for some features)
Opera
Opera mobile (iOS / Android)
The tag is compatible with all JavaScript frameworks, such as Angular, React, and others.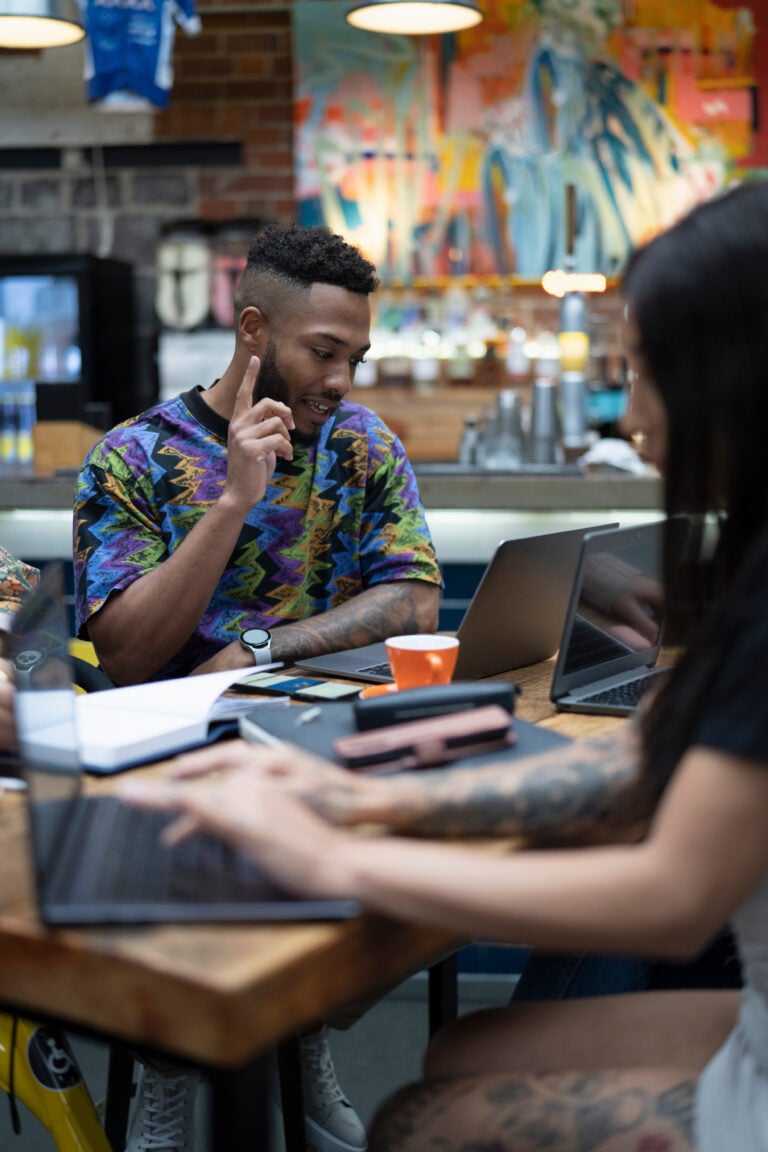 The dream team: Vaimo and Contentsquare
🚀 Together with Vaimo, you'll discover:
1 – What opportunities exist for your organization, and how competitors are driving success
2 – What you should consider at the preliminary investigation stage
3 – How to forecast the first projects and create a roadmap for the future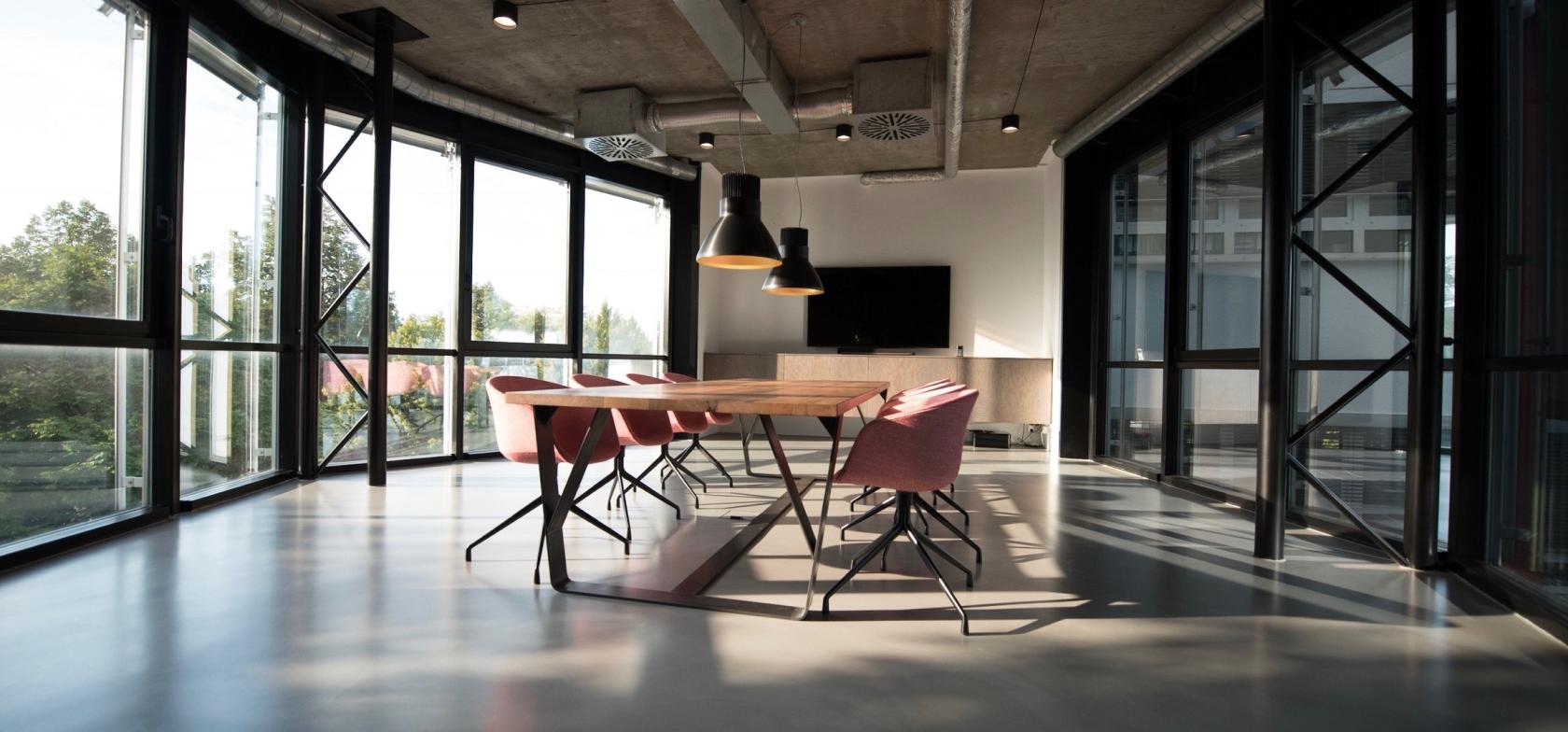 Vaimo is a certified Contentsquare partner. The Vaimo team has exceptionally broad experience in Digital Analytics (Tag Management, web and mobile analytics), UX and Conversion Analytics (heatmaps, form analysis, session replay, user feedback), Conversion Rate Optimisation (Ab-MVT testing and Experience targeting) and Cross-channel Personalization (Customer Data Platform) with data management at the heart.