Shoppable content is part of an optimized eCommerce strategy that makes everyday digital experiences an opportunity to purchase without leaving the platform that a customer is already using.
It tightens the moment of influence and the point of sale. While, historically, content struggled to create a clear connection to sales, shoppable content cuts out the middleman. It produces content that is, by nature, the ideal conduit to closing a sale.
For brands interested in learning more about this new, emerging trend, we will look at how shoppable content works. We'll begin by turning an eye to the brands that are currently trailblazers, ending with practical insights for businesses ready to utilize this unique strategy to convert more digital sales.
Turning Emotion into Action
Shoppable content allows shoppers to see products presented in different scenarios, such as through an Instagram post or a YouTube video, and instantly make a purchase when they see something that strikes them visually. The power of shoppable content is that it turns emotion into action with one click.
Even if a customer is uncertain, they can instantly share the content with a friend and get feedback.
Envision it like this:
Previously, two friends would go to the mall together. They would try on clothes, pop out of the fitting room, and ask their friend, "What do you think?"
This conversation is essential in closing sales. Humans are social shoppers by nature. Shoppable content allows consumers to once again engage in this exact manner, even from hundreds of miles away.
Susan sees a dress on an Instagram post. The influencer wearing the dress has a similar build as she does. She quickly shares the post with her friend Kade with a quick message, "WDYT? Could I pull this off?" Within seconds, Kade sends back "👍🔥." Two seconds later, Susan is purchasing the dress.
Shoppable content is a powerful customer experience tool because it folds physical realities into the digital world.
An Intersection of Information and Inspiration
Customers are now looking to this type of content for designer-curated inspiration paired with meaningful product information. Not only that, but they now expect shoppability at the touch of a button.
In a study by Popsugar, 67% of millennial women said they wish they could take advantage of the benefits of shoppable content and instantly purchase the products they see in digital content, such as articles, photo galleries, or videos.
With shoppable content, brands can do all of the following through one centralized medium:
Drive sales
Build a social presence
Offer inspiration
Motivate consumers to purchase through emotion
Increase eCommerce conversion rates
Create brand loyalty
It essentially takes an activity that shoppers are already engaged in and adds the possibility to hit Buy Now.
This isn't so much a part of the commerce purchase journey but rather part of an overall digital commerce strategy. Potential customers don't even have to "go shopping" to stumble upon the perfect pair of sneakers. Instead, those sneakers seem to magically appear at just the right time and, with one touch, are on their way to their doorstep.
While some tech and social-savvy brands have been at the forefront of this trend, others are starting to catch on. According to an article in Forbes, some best practices have begun to emerge largely through trial and error, and some brands have shown real revenue increases in the triple digits. Specifically, "TikTok is one of the most downloaded apps with global downloads reaching beyond 2 billion, with Q1 of 2020 marking 315 million downloads in a single quarter. The platform generated $115.3 million from user spending in 2019, yet only about 4% of U.S. social media marketers were using the platform at that time."
With the surge in popularity of platforms like TikTok and Roblox, the trial phase is in full swing, invariably leading to more innovations in shoppable commerce unimaginable today.
Below are five examples of brands that are charting the waters with fresh ideas and amazing results:
1) Ralph Lauren: Virtual Experience
This meticulously designed site allows a customer to enter the Ralph Lauren retail store's virtual front doors, surrounding them with a perfectly curated experience of beautifully displayed clothing, upbeat yet timeless music, and the ability to use a finger or mouse to glide through the awe-inspiring architecture.
Each room of the virtual store is fitted with a series of items in a carefully selected palette of complementary colors. Shoppers can hover over products for basic details or click to add them to a wishlist, a cart, or to buy now.
Shoppers can create outfits, buy a baby gift, or simply replace a staple item with the click of a button, all while being inspired and tempted by the complementary pieces.
2) Warby Parker: Taking Advantage of UGC
This genius move by Warby Parker allows the use of UGC (User Generated Content) to highlight photos and posts made by customers that feature their products.
Kenny, pictured above, is the subject of their ongoing "Frame Crush Friday," likely because his mom posted this photo on social media, and Warby Parker was using social listening to jump on the opportunity.
In this scenario, the customer is doing the content creation for the brand, and they are re-posting with the product details and links straight to their eCommerce site, shopping cart, or wishlist. Execution like this requires a well-conceived digital customer experience but can be incredibly powerful.
3) Mogu: Livestreaming
Mogu was named the Number 1 High-Tech Fashion Startup in China when it hit the NYSE. They pioneered the shoppertainment movement, where live video broadcasting and short-form fashion video content have grown 15-fold since the beginning of the global shopping adjustment in 2020.
This industry has grown to the point that livestreamer is now a formal job title, according to the Chinese employment and labor laws, and its influencers account for more than $60B in retail sales.
Likewise, the lifestyle social platform, Little Red Book, employs a group of influencer stars who are driving the consumption of typically female products — from cosmetics to mother and child supplies — all through live-stream shoppable content.
Although these methods are being pioneered in China, they are certain to catch the eye of brands in the US.
4) Ted Baker: Experience Through Video
"No need for frantic shopping sprees or hours spent online — simply watch Ted's fantastical film, filled with shoppable gifts."
Ted Baker was able to take advantage of their creative team's extreme attention to quality details, high-end luxury feel, and flippant humorous side to create a set of shoppable videos that are as entertaining as they are effective.
The viewer can elect to hover over hotspots in the video series to see product information and interact with the live chat if they have any additional questions. Hotspots ultimately make it incredibly easy and intuitive for views to buy now.
These video pieces are an extremely effective way for Ted Baker to express their impressive brand identity and increase ways for customers to interact with and purchase their wares.
5) Epic Games: The Art of the Giveaway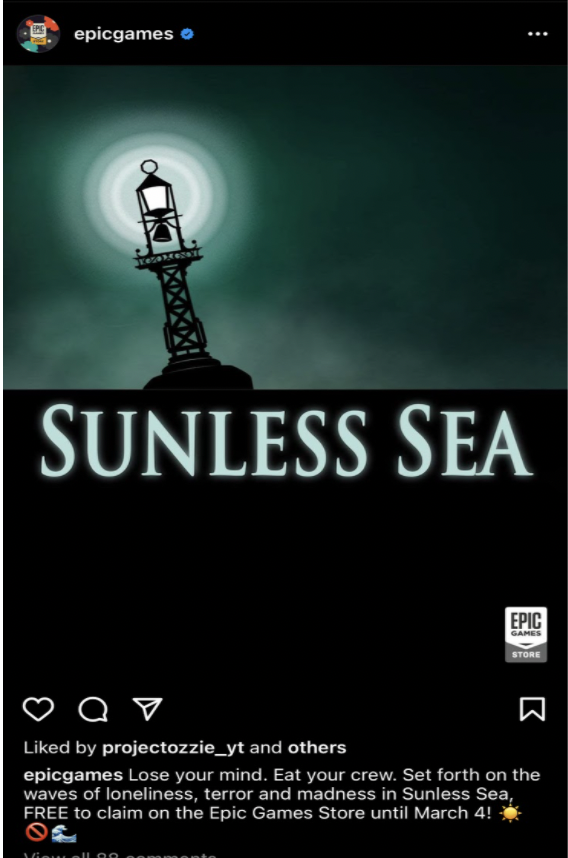 Giveaways and incentives that are pushed through social media are tactics that game companies often use to promote shares, likes, and interactions among gamers and their own social media feed.
Once people take advantage of the offer, they are immediately privy to other digital offers, including additional games, merchandise, and partner or affiliate products.
The ability to sell within a gaming platform is also eased by the fact that they already house the user's credit card information, and the purchases can be made with zero friction. No shopping cart is required, making conversion almost mindless.
Making Shopping Fun, Easy, and Seamless
Ecommerce has constantly been asking for ways to create a seamless shopping experience, and shoppable content answers this call.
From the consumers' perspective, this content type is easy, fun, and takes little to no effort. Content that caters to a specific niche makes consumers think "This brand really knows me."
Not only that, but it is the perfect blend between the physical world and the virtual world. With interactive concepts, such as Ralph Lauren's virtual experience, which allows consumers to walk through rooms, to quick-sharing abilities which enable friends to pop out of the fitting room, shoppable content is an incredibly powerful tool when used well.
Creating a Brand Strategy Around Shoppable Content
From the brand point of view, shoppable content is unfortunately not that easy. The content needs to be part of an overall digital strategy that pays particular attention to the consumer experience.
Brands executing well on this strategy will see a positive impact on sales and brand loyalty. However, poor execution, or worse yet, execution without a strategy, will likely have the exact opposite effect on the omnichannel customer experience.
Shoppable content is a perfect example of an unbeatable equation:
Content + Commerce + Community = Increased Sales and Brand Loyalty
It isn't easy to do without a solid eCommerce strategy.
At Vaimo, we help brands re-envision their customer journey, optimizing the experience of shopping through multiple channels. However, we don't stop there. Using data and years of expertise, we help brands build a robust strategy for a seamless omnichannel customer experience.
If your brand is interested in exploring shoppable content, talk to our team today. We can help you navigate these new waters to determine the right eCommerce strategy for your brand.