Björn Borg
Björn Borg was founded in 1997 under the same namesake as the Swedish tennis legend. Starting with underwear, the company is today a global brand with all types of sportswear and high recognition all over the world. The brand's mission is to build the best sports fashion brand for people who want to be active and attractive.
View Live site
The Challenge
Björn Borg first came to Vaimo in 2012 with the need for a new eCommerce site. Björn Borg presented Vaimo with multiple challenges. Their previous site was not user-friendly, and the check-out process required navigation through a number of screens—a problem that may have contributed to cart abandonment. Magento was chosen after an initial recommendation and Vaimo due to its extensive knowledge and expertise in the platform and eCommerce.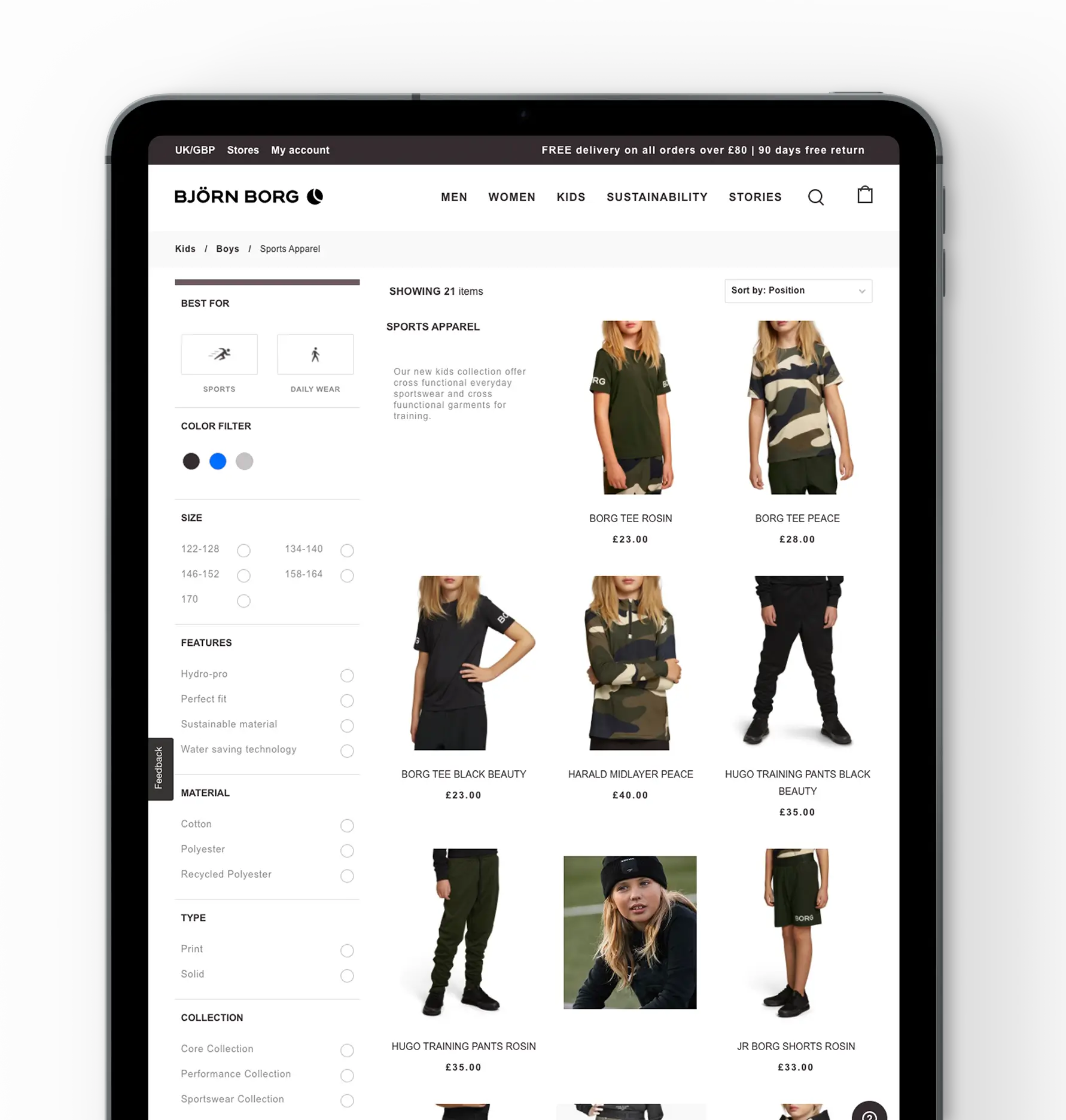 28%
Increase in conversion rate
77%
Ecommerce sales increase
The solution
Smooth and frictionless shopping
Björn Borg's view that eCommerce is strategically important to total sales came true during the COVID-19 pandemic. When their stores shut down, Björn Borg's eCommerce site mitigated a decline in sales. Ecommerce grew 77%, allowing the company to celebrate a 4.4% sales increase in Q2 of 2020 compared to Q2 of 2019. Vaimo's solutions assisted in this growth through numerous critical features: a new product filtering functionality; the option to select various colours when viewing clothing items; developed the functionality for displaying related items on product pages; a simplified checkout process, which is now only one step; and a cross-selling functionality added to the checkout page. The localisation of currency and languages simplifies the overall purchasing experience, giving customers the chance to checkout quickly and avoid undue stress.
"Vaimo has proven to be a loyal partner in our journey of transforming our brand and taking our site to the next level. The dedicated team with skilled project managers, frontend and backend developers are keen to see that your projects become as successful as possible"


Martina Lundberg
E-com Project Manager The Future
Björn Borg has just invested in a new, highly automated omni-warehouse in Sweden which will create synergies between the physical and digital commerce, showing a true omnichannel presence and their sustainable approach.
Features implemented
Klevu

Yotpo

Nosto
Floxbox
VWO
Adyen
Socital
Zendesk
Hotjar
InRiver PIM
Navision
Voyado
Badge Module for Magento 2
Style product module for Magento 2
Want to accelerate your online sales?
Vaimo builds digital experiences to help your business drive online sales and growth. Get the competitive edge today by partnering with our team of knowledgable commerce experts whose number one aim is to help your business succeed.
Get in touch